PPV
Price
US$24.99
RIZIN.33 will be broadcasted LIVE on SkyperfectTV, streamed on RIZIN LIVE PPV and Exciting RIZIN with Japanese commentary. English commentary stream is provided by LiveNow (https://www.live-now.com/en-int/page/rizin-33).
LiveNow commentary
International PPV with English commentary will be available on LIVENow with Joe Ferraro and Damien Brown as commentators along with Johnny Case making a special appearance on the mic.
EVENT INFO
EVENT
Yogibo presents RIZIN.33
Date
Dec 31, 2021
Doors are expected to open at 11:30AM with the Opening Ceremony at 1:30PM on December 31st (Fri) at the Saitama Super Arena.
Venue
Saitama Super Arena
≫ Acces(Google Maps)
Promoted by
RIZIN FIGHTING FEDERATION
The main sponsor
Yogibo
Powered by
Saitama super arena
Supported by
Saitama-shi / Saitama sports commission / Saitama sightseeing international society
Yogibo presents RIZIN.33 complete fight order
FIGHT CARD
Kai Asakura vs. Kenta Takizawa
RIZIN MMA TOURNAMENT Rules 61.0kg / 134.8lb
A battle between 2 heavy strikers will be kicking off the Semi-Finals of the Bantamweight GP. Asakura applies heavy pressure and shows his variety of attacks early to dictate the pace of the fight. All strikes have enough power to end the fight once it lands and his kill instinct has been sharpened. Takizawa uses his reach to strike from a distance and uses his footwork to create angles. How the fight will plan out will depend on how Asakura will approach the fight, will he take the risk to end the fight early or will he fight safely and take the fight to the ground. Takizawa has great defense and is durable and will be hard to finish early in the round and he possesses the stamina to finish the fight in later rounds, this fight will show Asakura's adaptability in the fight and the fact that this will be a one-night tournament will also affect both fighters' game plan and execution. The fight between 2 solid strikers will either end early or a grueling 15-minute war.
Hiromasa Ougikubo vs. Naoki Inoue
RIZIN MMA TOURNAMENT Rules 61.0kg / 134.8lb
A matchup between 2 of the top Japanese Bantamweights will take place in the Bantamweight GP Semi-Finals. Both fighters are extremely well rounded and have the ability to compete against world class fighters and this fight has the potential to show all aspects and appeals of MMA. Ougikubo has the ability to come up with a solid game plan and execution along with phenomenal grappling skills using his physical strength. Inoue has fabulous speed and his finish rate on the ground stands out. The fact that this will be the first fight of the one-night tournament makes the fighters want to advance with minimum damage and to save stamina but Ougikubo's determination in beating Inoue with all costs will be a huge threat for Inoue. If Ougikubo chooses to win by points he is probably the best fighter in Japan to do so. Inoue fights smart and is efficient with everything he does along with tremendous defense so Ougikubo must think 2, 3 steps ahead to execute his game plan. What kind of game plan will Ougikubo bring against a much faster opponent with impeccable defense and how will Inoue deal with whatever Ougikubo brings?
Yuki Motoya vs. Kintaro
RIZIN MMA TOURNAMENT Rules 61.0kg / 134.8lb
Motoya is well rounded and has very little holes in his game plan. His opponent Kintaro possesses striking power that will knock down anything it lands. Motoya suffered a shocking TKO defeat in the Quarter-Finals of the GP and will be extra cautious against his hard-hitting opponent. Kintaro showed great effort in the Quarter-Final bout and lost by decision but he had much to learn from and if he can utilize that experience in this upcoming fight it will work as an advantage. The winner of this reserve bout also has potential to fight twice in one night so Motoya should not fight Kintaro's fight and stick to where he is most comfortable at. Kintaro needs to stick to his style and include takedowns between combinations to create more openings. This fight will have an intense atmosphere with extreme striking exchanges and will eventually hit the mat. Who and when will initiate the ground game first will be the key of this fight. Both fighters will not be able to be taken down with single attempts, so timing and accuracy will be important for any takedown attempts. Expect intense striking exchanges mixed with takedown attempts and scrambles.
Roberto Satoshi Souza vs. Yusuke Yachi
RIZIN MMA Rules 71.0kg / 156.5lb
Souza's first title defense and Yachi's redemption will be the theme of this title fight. This is the best matchup that RIZIN can put together with the domestic Lightweight roster that has been building throughout the pandemic. Souza dominated Yachi in their first meeting, but Yachi has added "logic" to his gifted athleticism and natural strength in the past year and has improved significantly and made his way back in becoming a title challenger. Souza won his title in July and although this will be his first defense, he still possesses his world class Jiu Jitsu that his given him a 100% finish rate in his 12 victories. The Champion has been working on his striking in order to utilize his Jiu Jitsu more effectively and has been turning into an unstoppable threat to all Lightweights in the world. Souza wants to dominate this fight to secure his status as the definite RIZIN Champion while Yachi wants to wrap the belt around his belt to prove his evolvement as a fighter. The key to this fight will depend on how Yachi will stand his ground and deal with Souza's takedowns and pulling guard. Will it be the continuation of the Champion's Japanese dream, or the story of a man's redemption who once hit rock bottom.
Yutaka Saito vs. Mikuru Asakura
RIZIN MMA Rules 66.0kg / 145.5lb
The most anticipated rematch in recent RIZIN matchups has been booked after a year. There first meeting was an exciting and thrilling fight. Saito has went 1-1 since that fight winning and losing the Featherweight title in the process while Asakura has gone 2-1 since their first meeting. Both fighter claim that they are now totally different fighters so the fight will be completely different then their first fight. They have definitely added more tactics and techniques to their arsenal, but the intensity and thrilling atmosphere will be the same. This fight has the potential on becoming a stale mate and the first one to make the move will lose. Both fighters will have several weapons ready for certain situations and a single mistake will cost them the fight. Asakura will be in a disadvantage if he chooses to fight like the first meeting so he will need to adjust his style to where he will get the nod when the fight goes to distance and how will Saito deal with Asakura's strategy is something to look forward to. This fight will keep you on the edge of your seat guarantee.
Ayaka Hamasaki vs. Seika Izawa
RIZIN Woman's MMA Rules 49.0kg / 108.0lb
The rising star of Japan's women's MMA Izawa will be challenging the undisputed queen Hamasaki in a non-title affair. 22 years of experience vs 2 years of experience. Izawa was 12 years old when Hamasaki made her professional debut. Despite the significant experience difference, Izawa has the spark that make people think "maybe she'll pull it off". The youth and undefeated mentality, strong mentality, variety in her takedown setups, her gritty and strong ground control are all aspects to give the Champion a hard time. However, Hamasaki is a well experienced fighter and has been through almost every situation imaginable and she will deal with what Izawa brings and force her style during the fight. Izawa will need to show up with a game plan that will give Hamasaki a hard time to adjust, and will need to be relentless with her attacks. The key to this fight will be jabs and wrist control. Hamasaki has been upgrading her boxing skills and has been utilizing her jabs effectively to dictate the pace. If Izawa can deal with the Champ's jabs and not let her create rhythm the fight will become extremely interesting. Hamasaki will deal with Izawa's gritty takedown attempts with the double wrist lock, and how Izawa deals with wrist control will shift the fight momentum significantly. Will the rising prospect be able to overcome the massive obstacle that stands in front of all women's MMA participants, or will the wall continue to reject new challengers? A very important fight for the future of women's MMA in Japan.
Kyohei Hagiwara vs. Hiroaki Suzuki
RIZIN MMA Rules 66.0kg / 145.5lb
A matchup that reeks of violence. Both fighters are devastating strikers but Hagiwara has the MMA striking experience while Suzuki is a true striker. Suzuki will have the advantage in striking ability and physical strength, and Hagiwara will have the MMA striking and fight experience. Hagiwara had fought a kickboxer under MMA rules and fully utilized the ground aspect but will he be able to do the same with Suzuki? Suzuki has much experience under Shoot Boxing which allows throws and standing submissions and has been training with RIZIN Lightweight Champion for his ground. Suzuki's physical strength and takedown defense has been proved in his MMA debut and Hagiwara will need to have several tricks under his sleeve to take the striking specialist down. On paper this is a fight for Hagiwara to win but this fight is much closer than it seems. Hagiwara's fight IQ and Suzuki's adoptability will be tested during this fight. Will Suzuki be able to take everything the Cinderella boy has worked for since the pandemic, or will Hagiwara solidify his spot as the poster boy. NYE events have always been filled with a variety of fights, but this Psycho thriller genre is a fight you don't want to miss.
Koji Takeda vs. "BlackPanther"Beynoah
RIZIN MMA Rules 71.0kg / 156.5lb
Beynoah has been taking the hard road ever since entering the MMA scene and has been given another tough challenge for NYE. Takeda is the current DEEP Champion and has defeated the current Pancrase and Shooto Champion and has proved that he is top Lightweight in Japan. If Baynoah beats Takeda in this bout, this will be the fastest fighter in RIZIN history to make his way to a potential title shot since his MMA debut. But Takeda will represent MMA fighters to stop Baynoah's ambitious attempt with all costs. Takeda has utilized his wrestling and mental strength to put on wars throughout his career while Baynoah has shown his spectacular striking along with his adoptability and potential to MMA. How Takeda approaches the fight against a striking specialist will be the key to this fight and how Baynoah deals with Takeda's attempts and keep the fight where he wants meaning defending takedowns and standing up when taken down will be something to look for. The defining moment of this fight where be when Takeda closes distance and ties up with Baynoah. What happens from there will define the fight outcome. The battle and pride of 2 fighters representing separate sports adds great flair to this intriguing matchup.
Shoma Shibisai vs. Hideki "Shrek" Sekine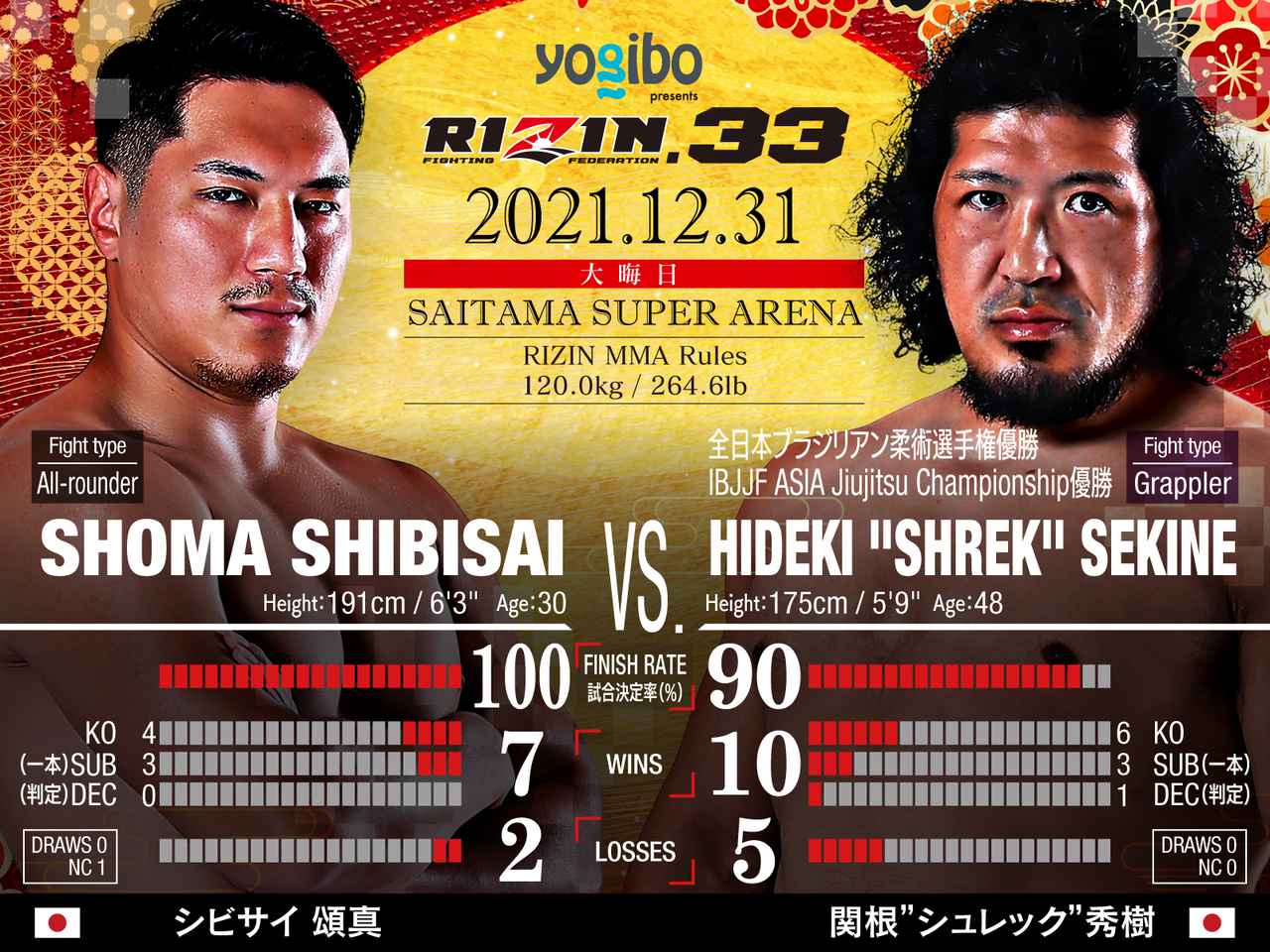 RIZIN MMA Rules 120.0kg / 264.6lb
Japan's best Heavyweight fighter will be determined on NYE. Shibisai is currently on a 3 fight winning streak and although he has a Judo background he can strike and always has a great game plan and his 100% finish rate backs it up. Sekine is a grappling specialist with a 90% finish rate. Shibisai fought smart in his last fight utilizing calf kicks and strikes to finish with a RNC and would like to fight the same way in this upcoming fight. Sekine would like to get the fight to the ground as soon as possible and work his game from there. The key point for this fight will be footwork and Shibisai's kicks. Sekine moves in a straight line while Shibisai uses lateral movement to create angles to deliver devastating strikes. How will Shibisai execute his kicks and how will Sekine deal with them. Sekine will be stepping onto his dream stage and will do everything it takes to take home the win and how will his determination affect Shibisai during the fight. Who will be the one to be representing Japanese Heavyweights taking on international competition once the boarders open up, we'll find out.
Shibatar vs. Yuta Kubo
RIZIN MMA Special Rules 90.0kg / 198.4lb
A matchup that fits the NYE festivities. Former Kickboxing Champion Kubo will be fighting his 2nd MMA fight against a significantly larger Shibatar who will be fighting his 17th MMA fight. Kubo has the clear striking technique advantage but will he be able to hurt the bigger and heavier opponent. The Youtuber has fought a Kickboxing Champion in his last fight but he was able to manage everything his opponent landed and delivered a knockdown of his own. Once the fight hits the mat, it will be the beginning of the end. Kubo has no chance. The key of this fight will be how the striking Ace can deliver damage from the outside. Watch to see how this modern day David vs Goliath fight will end.
RENA vs. Si Woo Park
RIZIN Woman's MMA Rules 50.0kg / 110.2lb
A matchup between 2 solid MMA strikers. Both fighters have many variations of attacks and have the power to finish the fight so expect an intense atmosphere and thrilling exchanges. RENA hasn't fought a solid striker in a while and it will be very interesting to see how RENA will fight against Si Woo Park who will not avoid exchanging strikes with the striking Ace. RENA is extremely crafty and always comes with a few tricks hidden in her sleeve and what kind of curveball will she have ready this time, and will Si Woo Park be able to adjust to the curveball. If their striking offsets each other the fight will eventually hit the mat and whoever has more weapons there will have the clear advantage and a possible submission. Expect high level striking exchanges and many scrambles in the women's bout.
Kazuma Sone vs. Shinobu Ota
RIZIN MMA Rules 61.0kg / 134.8lb
Ota will be fighting his third MMA fight after making the transition from wrestling against former Shooto Pacific rim Champion Sone. Ota has been understanding what he can do with his athletic abilities and has been utilizing his strengths the right way in his fights. Sone is very well rounded and has a great amount of experience in MMA wrestling along with legitimate striking. On paper Sone has the advantage but Ota's potential can overpower all experience. Sone will need to fight with wisdom and have several tricks ready. How Sone expose Ota's mistakes and capitalize will be the key for this fight. Whoever utilizes the "space" between the two will have the greater advantage. Will the elite athlete prevail or will the crafty veteran take home the win.
Kouzi vs. YA-MAN
RIZIN Kickboxing Rules 62.0kg / 136.7lb
Kouzi will be making a quick turnaround and take on the heavy hitting YA-MAN. Both fighters have the ability to bite down and trade. Both fighters are coming off of fantastic wins and would like to use the momentum in this fight. Kouzi is great at solidifying distance and throwing sharp, tight punches while YA-MAN utilizes the lead hand well and can explode from mid-range. The key to this fight is who will be able to land more strikes in super close range. This will be the sole kickboxing fight on this year's NYE event so both fighters are determined to put on a memorable performance to make a statement. Let's expect a manly slugfest from these two.
Kota Miura vs. YUSHI
RIZIN MMA Challenge Rules 66.0kg / 145.5lb
A fight that represents NYE festivities. A prospect watch and nurture fight. How will these 2 prospects perform on a stage with great attention. We hope for bold and exciting performances from the 2 debutants.
Follow RIZIN FF
Website - http://www.rizinff.com/
Facebook - https://www.facebook.com/rizinfightingfederation/
Twitter - @rizin_English
Twitter - @rizin_pr
Instagram – rizin_pr
TikTok – rizinffofficial
News