Yogibo presents RIZIN.33 at the Saitama Super Arena. Super Atomweight Grand Prix Finalist RENA makes quick turnaround against top DEEP atomweight Si Woo Park. Olympic Silver Medalist Shinobu Ota takes on 46-fight veteran Kazuma Sone. Son of soccer legend 'King Kazu', Kota Miura makes his MMA debut against YUSHI under RIZIN challenge rules. KOUZI welcomes YA-MAN to the RIZIN ring.
TOKYO – December 22nd, RIZIN CEO Nobuyuki Sakakibara, held a press conference and announced updates about RIZIN.33 - the promotion's 9th and final event of the year.
RIZIN CEO Nobuyuki Sakakibara stated "We are extremely excited to announce that we have sold out the Saitama Super Arena at full capacity, and will be adding about 1,000 outlet seats for sale next week. Outlet seats are seats that we usually close out due to productional purposes but because of the high demand we will be selling those seats with a discount." Although the Japanese government has closed down the international borders due to the new variant, there will be no restrictions for domestic events. "We are also pleased to announce that we will bring back the fight expo at the Saitama Super Arena Community Arena, where we will have many vendors and concessions with free entry, to lighten up the NYE festivities." The end of the year events have traditionally had the fight expo, but for the past 2 years it has been canceled due to the pandemic. "Fuji television will be broadcasting this event and they have committed to a 5 hour 45 minute window on NYE this year. We will be announcing 3 fights today, but we are not finalized yet, we would like to continue to negotiate to put on the best card that we can."
RENA (12-3, 11-2 RIZIN FF) vs Si Woo Park (5-4, 0-0 RIZIN FF)
2017 RIZIN Super Atomweight Grand Prix finalist RENA (11-3) . RENA is the 4-time Shoot Boxing Girls S-Cup Champion, and carries a 35-5-1 (11 KOs) combined kickboxing and shoot-boxing record. The 14-fight RIZIN veteran carries a 11-3 record under Japan's premier banner, with 9 stoppages and is currently riding a 4-fight win streak dating back to Bellator 222 - a loss against Lindsey VanZandt that she avenged later that year. She most recently scored a spectacular 2nd round TKO victory over Miyuu Yamamoto in the main event of RIZIN.32 last month, catching the 3-time wrestling world champion with a knee before following up with ground strikes which prompted the referee to call an end to the contest. Si Woo Park is the 2021 DEEP Atomweight Grand Prix Semifinalist. After starting her career 0-2, she put together a 5-fight win streak, notably defeating former DEEP JEWELS Strawweight Champion Emi Tomimatsu and DEEP JEWELS Microweight Champion & Atomweight Grand Prix Champion Saori Oshima. Despite coming up short in a rematch against recent RIZIN debutant Oshima in the aforementioned grand prix, she remains a top contender in the division, only losing to Oshima and Seika Izawa in her last 7 bouts. She also challenged Panchan Rina in a kickboxing match at REBELS 61 in June 2019, dropping a unanimous decision in her sole kickboxing match. This fight has huge title implications for the Super Atomweight division.
Shinobu Ota (1-1, 1-1 RIZIN FF) vs Kazuma Sone (24-21-1, 0-3 RIZIN FF)
Shinobu Ota's credentials as a wrestler is unparalleled by any current mixed martial artist. The 2016 Olympic Games Wrestling Silver Medalist, 2018 Asian Games Wrestling Gold Medalist, and 2019 World Championships Wrestling Gold Medalist has had a rocky start to his MMA career. A submission loss to 67-fight veteran and 2011 DREAM Bantamweight GP Champion Hideo Tokoro in his debut followed by a labored unanimous decision victory over multiple time K-1 Champion Yuta Kubo. Now, he will stand across the ring against another JMMA veteran in Kazuma Sone. Sone has challenged for and won multiple domestic titles in Japan, notably capturing the Shooto belt with a majority decision victory over Mamoru "Fullswing" Uoi in January of 2018. He snapped a 5-fight skid with a win against UFC veteran Teruto Ishihara at Shooto 2021 last January, before being upset by eventual Grand Prix participant, Shian at RIZIN.27 in March. Can Sone score his first win in RIZIN - the biggest stage of his career - or will Ota prove to be another contender in RIZIN's ever growing featherweight division?
Kota Miura (Professional debut) vs YUSHI (Professional debut)
The son of Japanese super star Kazuyoshi Miura, who holds the longest career in soccer and the oldest player ever in a football match in the highest national division worldwide, Kota Miura (0-0) will be making his MMA debut under RIZIN Challenge rules. Miura has been training kickboxing for about 3 years and has recently joined Olympic wrestler and MMA veteran Kazuyuki Miyata's team to pursue his passion for MMA. His opponent YUSHI, is an amateur kickboxing tournament winner who holds a 8-7-1 amateur kickboxing record and has also competed in several body building tournaments in Japan. This fight will be held under RIZIN CHALLENGE RULES which consists of 3 rounds x 3 minutes, No face stomps and knees to the head of a grounded opponent. Elbows and soccer ball kicks will be allowed.
KOUZI (29-15-2, 10 KOs) vs YA-MAN (9-3, 3 KOs)
KOUZI welcomes YA-MAN to the RIZIN ring in a 62kg kickboxing bout. YA-MAN is riding a 3-fight win streak that saw him score stoppage victories over RISE 65kg title challenger and former RIZIN competitor Yuma Yamaguchi, as well as a 43-second KO against Tomohiro Kitai. KOUZI's run in RIZIN until now has been far from ideal for the former K-1 star. His debut at RIZIN.24 in September 2020 against Tenshin Nasukawa until his unfortunate hometown one-night kick tournament at RIZIN.29 last June rounded out a 4-fight winless skid. KOUZI claimed his first victory in almost exactly 3 years when he defeated mixed martial artist Kazuma Sone at RIZIN.32 via unanimous decision, with his prior victory coming against Seiya Kawahara at K-1 WORLD GP 2019 JAPAN Yokohama Matsuri. Now, he will continue to carry the torch for kickboxing in RIZIN against the surging 25-year-old contender.
RENA
"It's only been about a month since my last fight but I appreciate the fact that there is still a demand for me. I know my opponent is a great striker so I'm excited to put on a thrilling fight against a great striker."
Si Woo Park
"I helped Miyuu Yamamoto prepare for her fight against RENA so I am determined to avenge her loss. I've followed RENA's fights from her Shoot Boxing days so I am well aware about her abilities and I know this will be a great fight."
Shinobu Ota
"I made my MMA debut against Tokoro last NYE and I'm happy to be back again, but I'm not pleased with the opponent. He's washed up and won't be a match against me. I will finish him in the first round."
Kazuma Sone
"I respect Ota as an Olympic medalist. I respect his accomplishment so much I even bought an Olympic silver medal on Amazon. But this is MMA and I know I am much better than him in MMA. Regardless of the result, I hope to put on a fun show with him."
Kota Miura
"I was supposed to be fighting a Brazilian fighter but there has been some changes due to the pandemic. I truly appreciate everybody involved who made this fight happen. I want to put on a fight that will please the fans."
YUSHI
"I know many people are thinking, me and my opponent don't deserve to be here to fight on such a prestigious stage, and I am well aware of it. But I do think that there is a fight that only we can put on, and some things that only we can bring to the event. My goal is to show that and make sure people are entertained and hopefully make many fans in the process."
KOUZI
"Pea-man should be grateful that I got him a Christmas present that got him on such a prestigious card. This kid was a nobody until he got involved with me. Good luck pea-man"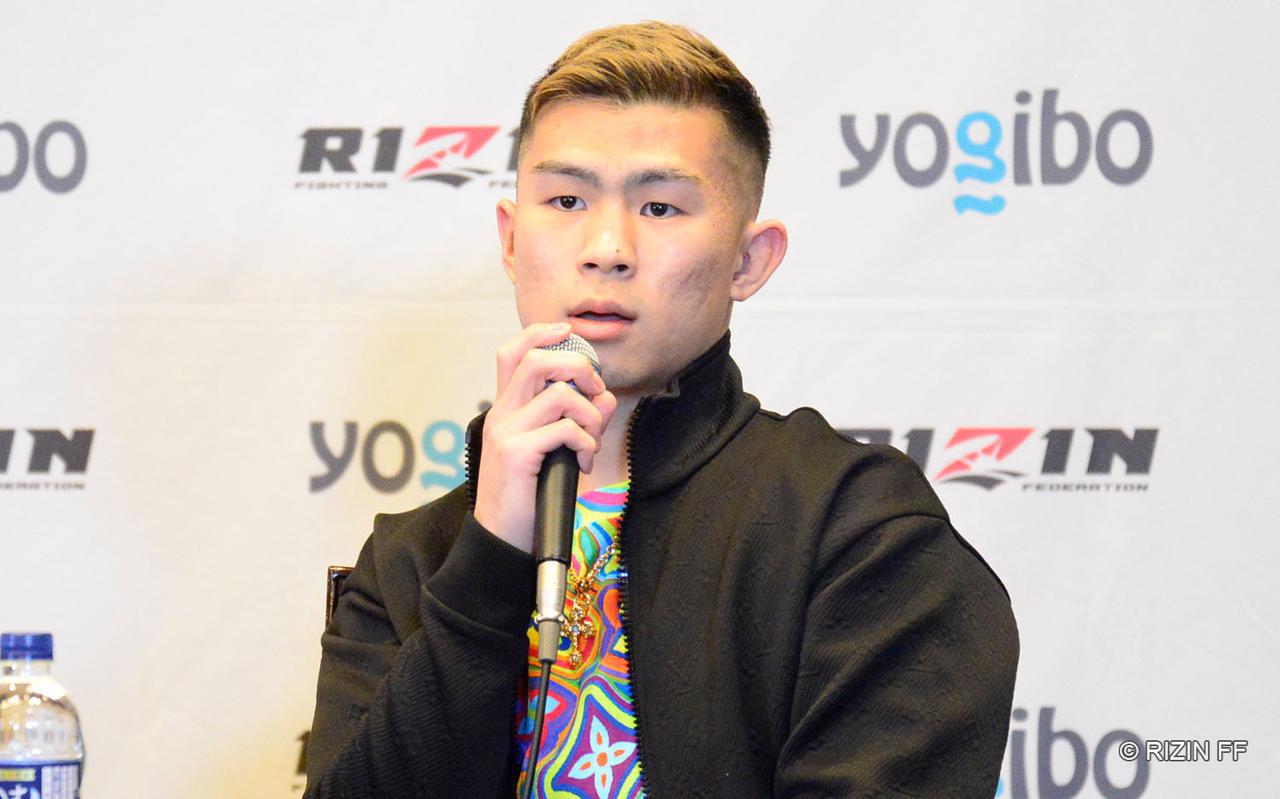 YA-MAN
"KOUZI used to fight great fights that inspired people, but his recent fights have been boring. I will bring the fight to him to bring back his fire."
Confirmed Bouts
RIZIN.33 Saitama Super Arena, December 31st
RIZIN Bantamweight GP Finals
Winner of SF1 vs Winner of SF2 (or reserve bout) [61kg - RIZIN MMA rules]
RIZIN Lightweight Championship bout
(C) Roberto "Satoshi" Souza vs Yusuke Yachi [71kg - RIZIN MMA rules]
Mikuru Asakura vs Yutaka Saito [66kg - RIZIN MMA rules]
Ayaka Hamasaki vs Seika Izawa [49kg - RIZIN MMA rules]
Kyohei Hagiwara vs Hiroaki Suzuki [66kg - RIZIN MMA rules]
Koji Takeda vs Beynoah [71kg - RIZIN MMA rules]
Shoma Shibisai vs Hideki 'Shrek' Sekine [120kg - RIZIN MMA rules]
RENA vs Si Woo Park [49kg - RIZIN MMA rules]
Shinobu Ota vs Kazuma Sone [66kg - RIZIN MMA rules]
Kota Miura vs YUSHI [66kg - RIZIN Challenge rules]
KOUZI vs YA-MAN [62kg- RIZIN Kickboxing rules]
RIZIN Bantamweight GP Semi Finals
Kai Asakura vs Kenta Takizawa [61kg - RIZIN MMA rules]
Hiromasa Ougikubo vs Naoki Inoue [61kg - RIZIN MMA rules]
RIZIN Bantamweight GP reserve bout
Yuki Motoya vs Kintaro [61kg - RIZIN MMA rules]
RIZIN.33 will be broadcasted LIVE on SkyperfectTV, streamed on RIZIN LIVE PPV and Exciting RIZIN with Japanese commentary.
International PPV with English commentary will be available on LIVENow with Joe Ferraro and Damien Brown as commentators along with Johnny Case making a special appearance on the mic.
Doors are expected to open at 11:30AM with the Opening Ceremony at 1:30PM on December 31st (Fri) at the Saitama Super Arena.
Follow RIZIN FF
Website - http://www.rizinff.com/
Facebook - https://www.facebook.com/rizinfightingfederation/
Twitter - @rizin_English
Twitter - @rizin_pr
Instagram – rizin_pr
TikTok – rizinffofficial
English News
RIZIN.44 さいたま大会 大会関連情報
RIZIN LANDMARK 6 in NAGOYA 大会関連情報
RIZIN LANDMARK 7 in Azerbaijan 大会関連情報
のむシリカ presents 超RIZIN.2 powered by U-NEXT 大会関連情報
おすすめコンテンツ