PPV
RIZIN.29 will be Streamed LIVE on SkyperfectTV, and RIZIN LIVE PPV with Japanese commentary. English commentary stream is provided by LiveNow (https://www.live-now.com/en-int/page/rizin-28-29).
Price
RIZIN.29 Event ticket price
$24.99
RIZIN.28 and RIZIN.29 set ticket price
$29.99
LiveNow commentary
EVENT INFO
EVENT
Yogibo presents RIZIN.29
Date
Jun 27, 2021
Doors are expected to open at 0:00PM with Opening Ceremony at 1:30PM(JST)
Venue
MARUZEN INTEC ARENA OSAKA
Promoted by
RIZIN FIGHTING FEDERATION
The main sponsor
Yogibo
Yogibo presents RIZIN.29 complete fight order
FIGHT CARD
Kintaro vs Kuya Ito
RIZIN MMA TOURNAMENT Rules 61.0kg / 134.8lb
Kintaro fulfills the long-awaited return to RIZIN. GRACHAN champion Ito was nominated in the first round of the bantamweight GP. Kintaro is a total fighter who stands out for his skill and strength in exchanges on the feet, but he can also attack and defend on the ground. On the other hand, Ito also has a lot of movement, and he is an inexhaustible stamina type fighter who can always attack in the flow of the match, chaining his wrestling in off of his striking. The key to the game is the grappling offense and defense. It's a match you can't take your eyes off of.
Takafumi Otsuka vs Shian
RIZIN MMA TOURNAMENT Rules 61.0kg / 134.8lb
Otsuka, the 2017 Grand Prix Semifinalist, returns to RIZIN. Is this Japan Grand Prix a culmination for Otsuka, who has fought 48 matches in 15 years as a professional? Shian, on the other hand, won a shocking KO victory in his RIZIN debut, booking his ticket for the bantamweight tournament. Looking at the record and experience alone, Otsuka has an overwhelming advantage, but in MMA you never know what will happen. What kind of tactics does Shian have to cut down Otsuka? Will this match be the triumphant return of Otsuka, the rise of Shian, or a back-and-forth war for the ages?
Kenta Takizawa vs Imanari Masakazu
RIZIN MMA TOURNAMENT Rules 61.0kg / 134.8lb
Imanari, who boasts more than 20 years of experience in his professional career, makes his RIZIN debut. Imanari's career and fighting style have popularized the term "Imanari Roll" in MMA. With his deadly ankle locks, there is a unique and tense atmosphere in the ring where Imanari stands for fans and his opponents. How far does the striker Takizawa go with Imanari's grappling, or can he last at all? Takizawa wants to overcome the veteran and reach the top eight. Will the new generation striker or veteran grappler prevail?
Kazuma Kuramoto vs Alan "Hiro" Yamaniha
RIZIN MMA TOURNAMENT Rules 61.0kg / 134.8lb
Shooto top ranker Kuramoto collides with Alan Yamaniha, who is ranked first in Pancrase. Kuramoto makes full use of his wrestling background to take down his opponents and work his vicious ground and pound. Yamaniha is overall strong and is aggressive in striking offense and defense. The key to the game is who can take the initiative when the fight hits the ground. Whether or not they can take it to their advantageous position in scrambling will greatly change the course of the game. Will it be Kuramoto's power or Yamaniha's technique?
Yusuke Yachi vs Yuki Kawana
RIZIN MMA Rules 71.0kg / 156.5lb
RIZIN's Lightweight division is growning as more regional Champions join the roster. This survival match between Yachi and Kawana shows how competetive this division has become. Both fighters have faced international competition and have all the reason's they cannot lose this fight. Both fighters are extremely well rounded and have the ability to fight whereever the fight goes. This fight will showcase not only world class skills but extreme dedication and determination. The one with the stronger will be the last man standing in this highly anticipated bout.
Rikuto Shirakawa vs Jin Aoi
RIZIN MMA Rules 66.0kg / 145.5lb
An intriguing card between two hard hitters. 29 year old Shirakawa worked his way through The Outsider, DEEP and Pancrase and finally made his way to RIZIN. 24 year old Aoi has spent his entire amateur and professional career in Shooto. Both fighters made their RIZIN debute in August of 2020, and now they meet in their hometown Osaka. Shirakawa is a well balanced fighter who has good technique and mostly utilizes his hands to dictate the pace of the fight. Aoi utilizes both kicks and punches early in the fight while occasionaly throwing explosive, wild punches. This fight will be technique vs power.
Yusaku Nakamura vs Daichi Kitakata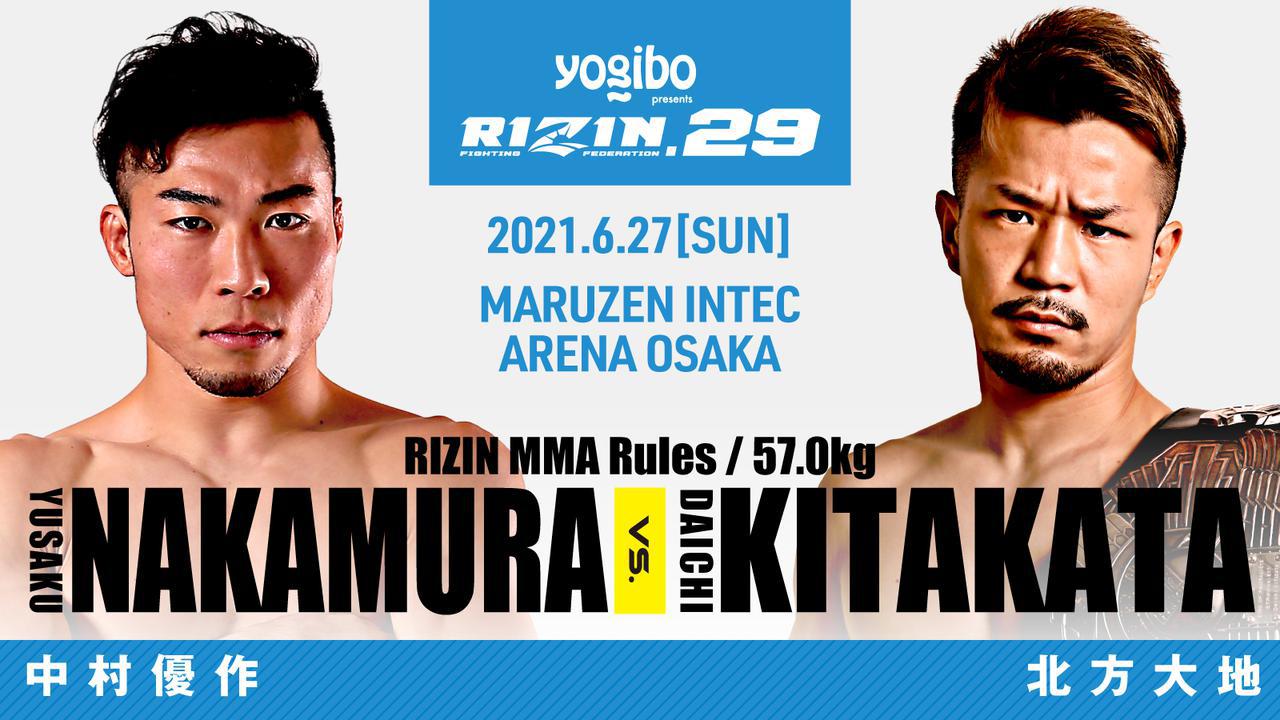 RIZIN MMA Rules 58.0kg / 127.9lb
Japan's top Flyweights will meeting in their hometown Osaka ring. Nakamura possesses quick footwork and crisp striking while Kitakata stays in the pocket with constant presser willing to stike. Kitaka will most likely press forward and stock Nakamura down while Nakamura will utilize his footwork to keep distance looking for the right timing to blitz in. All exchanges will be lightnening quick with both fighters delivering unfriendly exchanges. Expect an intense atmosphere in RIZIN's most fastest division.
Taiju Shiratori vs Ryo Takahashi
RIZIN Kick Tournament Rules 61.0kg / 134.8lb
Takahashi was one of the first to nominate himself in this one day tournament. The middle brother of the famous Takahashi brothers will be facing RIZIN kickboxing main stay Shiratori. While Shiratori has his eyes set on KOUZI in the finals, he brings elite boxing skills and will be an extremly tough test for Takahashi who will be stepping up a weight class to participate in this opportunity of a lifetime. Shiratori utilizes his boxing skills and can fight in a wide variety range while Takahashi has high level striking technique and a strong left kick. This fight will be the first fight of potention 2 fights on the same day, so the strategy brought in from both sides will be interesting to see. Expect a fight that can only be seen in a one day tournament.
Kouzi vs Genji Umeno
RIZIN Kick Tournament Rules 61.0kg / 134.8lb
KOUZI suggested the one day tournament in his home town Osaka so RIZIN would put more emphasis on kickboxing. He meets Muay Thai journyman Umeno in the opening round of the tournament. Umeno has many accomplishments in Muay Thay and possesses a great ability to control distance. KOUZI aims for the finals but Umeno is no pushover and will use all of the facts to his advantage. Umeno utilizes his leg kicks and front kicks to initiate the pace and once he takes control he will never let go. KOUZI uses his powerful right hand and crisp combinations along with his explosiveness to dictate the pace. The fact that this is just the first fight of the one day tournament makes this fight much more intriguing.
Nadaka Yoshinari vs Chikai
RIZIN Kickboxing Rules 52.0kg / 114.6lb
Chikai became the NJKF Flyweight Champion at the age of 19. His style consists of powerful right kicks to the body and legs along with a flurry of punches. His Muay Thai style gives him with the core strenghts during clinches and has a strong heart that is hard to break. Yoshinari is the same age as Chikai, and has mastered his skills in Muay Thai. Once he figures out his distance and sets the pace, the 20 year old Champion will never let it go. Chikai needs to be setting the pace and keeping Yoshinari on his heels from the beginning of the fight. Chikai needs to turn this into a brawl against Yoshinari who posses world class defense and offensive skills.
Seiki Ueyama vs Jyosei Izumi
RIZIN Kickboxing Rules 56.0kg / 123.5lb
RIZIN regular Ueyama with the acomplished boxing skills, faces local foe Izumi in his first RIZIN appearance. Izumi will utilize his crisp kicks to measure distance and rhythm against Ueyama, who mostly utlizes his jab in the feeling out process. Izumi with his kicks and Ueyama with his jabs during at the beginning of the fight will determine who takes initiative. Ueyama delivers a combination of fast-rotating hands in the punching range, and Izumi will respond with a quick one-two. Both fighters be determined to win in front of the home town crowd and have all the reasons not to lose. Both fighters fight with constant and heavy pressure, so spectators can see the mental game being played during the fight. Which will be the first to back peddle, we'll find out
Yuma Yamahata vs Kiyoto Takahashi
RIZIN Kickboxing Rules63.0kg / 138.9lb
Yamahata makes his second appearance in RIZIN when he meets the youngest brother of the famous three Takahashi brothers in Osaka. Yamahata has a wide variety of left kicks, and Takahashi has a wide variety of left punches, which can effectively land from various angles. Yamahata, who fought a fierce battle and lost by close decision in his RIZIN's first showing, will do whatever it takes to get the win. Takahashi wants to make a statement by putting on a performance that will shine brighter than his brother who will be participating in the tournament. Which fighter will commit first from mid range? Who will have more desire to get the win in their home town?
Follow RIZIN FF
Website - http://www.rizinff.com/
Facebook - https://www.facebook.com/rizinfightingfederation/
Twitter - @rizin_English
Twitter - @rizin_pr
Instagram – rizin_pr
TikTok – rizinffofficial
News
【4/1(土)】RIZIN.41 大会関連情報
【4/29(祝・土)】RIZIN LANDMARK 5 in YOYOGI 大会関連情報
【5/6(土)】RIZIN.42 大会関連情報
おすすめコンテンツ