TOKYO - June 12h, RIZIN had weigh-ins for this Sunday's RIZIN.28 card.
PPV
Fans can download the LIVENow app through the following links:
https://tinyurl.com/LIVENow-Android
https://tinyurl.com/LIVENow-Apple
International stream available on LIVENow:
https://live-now.com/en-int/page/rizin-28-29
Fans can choose from the following ticket options:
RIZIN.28 Event ticket price / $24.99
RIZIN.29 Event ticket price / $24.99
RIZIN.28 and RIZIN.29 set ticket price / $29.99
Fight #1 - 73.0kg: Satoshi Yamasu (72.30kg) vs Beynoah (72.85kg)
Satoshi Yamasu
"This is the heaviest I will be fighting, the shortest notice I've got for a fight, first time fighting a kickboxing Champion making his MMA debut, fighting at the Tokyo Dome, for this fight everything is full of first time experiences. So this whole process has been fresh and I'm enjoying it. I started watching MMA about 15 years ago with DREAM, so anything before that is like a mythology so I don't really know how to process it in my mind. I have no idea what to expect."
Beynoah
"My opponent has probably had to take a sick day off to attend today's meeting. I feel bad for him, but it's something I could never do." "Whenever I show up with a gameplan, I never execute it so I don't have a plan for this one. I don't know what's going to happen." "To me this fight is not me making my MMA debut, I'm taking my Kyokushin Karate skills to the next level, to a platform where there are less rule restrictions. I think the MMA fans will be witnessing something very fresh."
Fight #2 - 120.0kg: Shoma Shibisai (111.40kg) vs Tsuyoshi Sudario (118.65kg)
Shoma Shibisai
"This will determine the best Japanese heavyweight in Japan. I want to prove that I am the best Japanese heavyweight first and then seek some international competition."
Tsuyoshi Sudario
"I want to prove my abilities by facing tough international competition."
Fight #3 - 66.0kg: Yutaka Saito (65.70kg) vs Vugar Karamov (65.60kg)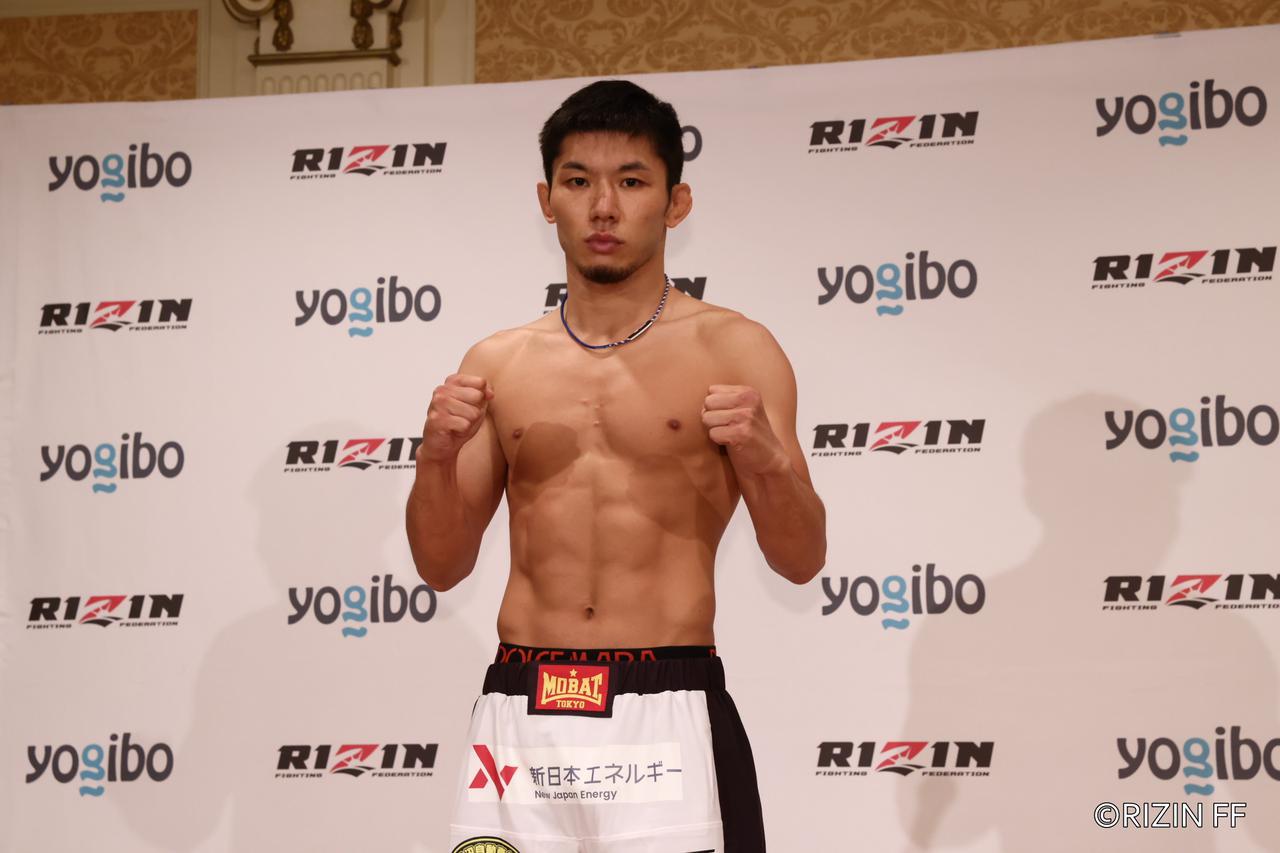 Yutaka Saito
"He's very explosive and powerful. He moves well in a straight line."
Vugar Karamov
"I came here to become the Champion and nothing is going to stop me from doing so. Although this is not a title fight, I am confident that I can show everybody that I am Champion worthy."
Fight #4 - 61.0kg: Yuki Motoya (60.90kg) vs Ryo Okada (60.95kg)
Yuki Motoya
"I didn't even know this would be my 10th fight..."
Ryo Okada
"This will be the grand sum of my career so I am very motivated for this GP. And I feel great headed into this fight."
Fight #5 - 61.0kg: Takeshi Kasugai (60.85kg) vs Hiromasa Ougikubo (60.75kg)
Takeshi Kasugai
"We haven't changed positions since we first fought 7 years ago. back then I was the underdog, and Ougikubo is considered the favorite for this tournament and being able to face him for the opening round is great for me. I believe in myself and what I have done and I'm determined to leave good results."
Hiromasa Ougikubo
"This event will be the grand sum of my entire career. It's that important."
Fight #6 - 61.0kg: Naoki Inoue (60.95kg) vs Shintaro Ishiwatari (61.0kg)
Naoki Inoue
"My goal is to keep fighting the best opponents and win this GP. So If I could pick my opponents as I advance, I will pick the toughest option I have at the time."
Shintaro Ishiwatari
"Winning this GP will be my first big vision, and whatever comes after that, I will save that comment until I get there. But I want to show that I'm not done yet, and I'm just getting started."
Fight #7 - 61.0kg: Shooto Watanabe (60.75kg) vs Kai Asakura (60.70kg)
Shooto Watanabe
"I understand that I am the heavy underdog so I'm okay with it. I don't really feel any emotions about him picking me right now. I've already accepted the fact that I will be facing him and I've done everything I can to fight him. I don't want my opponent, venue, situation to affect what I do. I want to go in there and prove that what I've been doing all my life is not wrong"
Kai Asakura
"I'm training to prepare for the world's best so that itself is very motivating for me. So I'm not just training for this tournament. And of course I'm not taking this upcoming fight lightly. I will be focused on every fight while preparing to beat the best."
Fight #8 - 71.0kg: Tofiq Musaev (70.45kg) vs Roberto Satoshi Souza (70.90kg)
Tofiq Musaev
"I am honored to be able to represent my country through my fights. I am here in Japan to win the title. I am here to leave my name in Japan's history. I will never choose opponents and I will go with whatever plans RIZIN has for me."
Roberto Satoshi Souza
"The fight won't go the distance. Whoever wins, this fight will not go to the judges, it's not possible.
Fight #9 - Special Rules Bout(s): Tenshin Nasukawa (61.85kg) vs Koki Osaki (60.35kg), Hiroya
(75.0kg), and Mr. X ()
Tenshin Nasukawa
"Theme for my hair is weird hair for weird rules. I've got 6 colors this time." "This fight will be a lot harder than people think it will be. I'm fighting 3 guys and every opponent will be fresh at the beginning of each round."
Koki Osaki
"I will be stepping in there to not get knocked down." "I hope to land at least 1 strike and leave a mark."
HIROYA
"This is something I didn't expect at all, but I've done what I can so I'm excited." "I know I can finish him if I land my punches."
Fight #10 - 66.0kg: Mikuru Asakura (66.0kg) vs Kleber Koike (65.85kg)
Mikuru Asakura
"Beating the KSW Champion will get me the name recognition I need, but I really don't care about that. I think Kleber is a tough guy in general, and I want to beat him. For me, I don't really care about achievements, it's all about if I can be satisfied or not. And achievements are just a by-product of me enjoying what I do."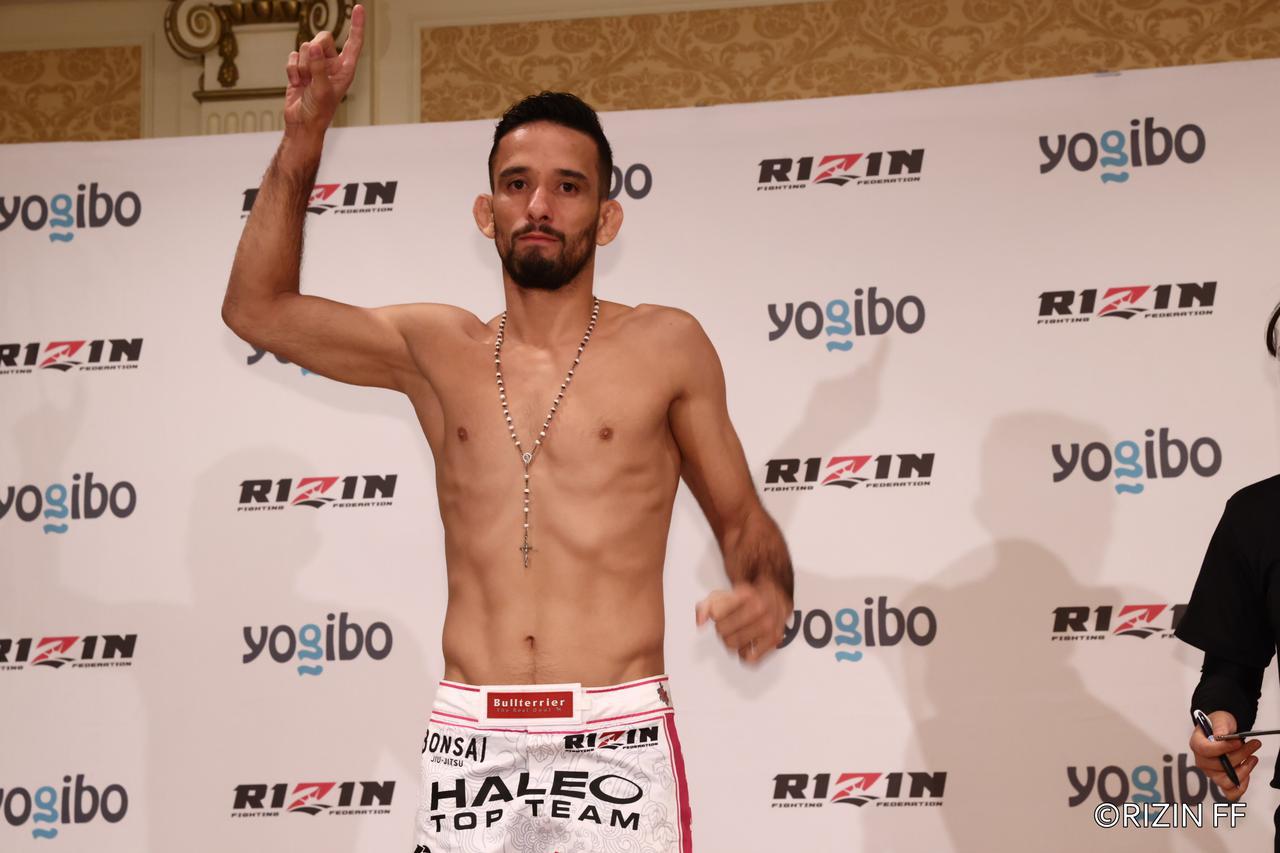 Kleber Koike
"I didn't expect the main event. I assumed that Satoshi would get the main event because he's fighting for the title. I freaked out at first but I've fought in front of a big crowd, a big stadium before so I'm not worried at all."
Yogibo presents RIZIN.28 complete fight order
Follow RIZIN FF
Website - http://www.rizinff.com/
Facebook - https://www.facebook.com/rizinfightingfederation/
Twitter - @rizin_English
Twitter - @rizin_pr
Instagram – rizin_pr
TikTok – rizinffofficial
English News
【4/1(土)開催】 RIZIN.41 大会関連情報
【4/30(日)開催】 RIZIN LANDMARK 5 in YOYOGI 大会関連情報
【5/6(土)開催】 RIZIN.42 大会関連情報
おすすめコンテンツ