TOKYO - March 26th, RIZIN held a press conference and live fighter match-up drawing for the upcoming 16-man Japan Bantamweight Grand Prix. 8 matchups were confirmed. Please watch the recap here:
In the largest premier mixed martial arts Grand Prix since the 2005 PRIDE Middleweight Grand Prix, 16 participants have confirmed their participation, with each fighter making draws for their match-up.
8 matchups were confirmed after the drawing.
A & B Shian vs. Takafumi Otsuka
Shian (8-8)
The GRACHAN Bantamweight title challenger is a quick finisher, scoring 3 wins by KO in under 30 seconds, with 1 of those being in his RIZIN debut against veteran Kazuma Sone at RIZIN.27 last
weekend. He has fought one other participant; Kuya Ito, in what was the aforementioned title bout for the GRACHAN Bantamweight title.
"My opponent seems to be thinking about who he will be fighting in the quarter finals already, but I am sitting here today by betting against the odds, and I plan to do so in this fight as well"
Takafumi Otsuka (28-17-2)
The two-weight DEEP champion returns to the RIZIN ring after a semi-final finish in the 2017 Bantamweight Grand Prix. He was riding a 3-fight win streak before dropping a decision loss for the Shooto 132lb Championship to fellow participant Ryo Okada just 9 days ago. He has faced 1 other participant besides Okada, losing a pair of bouts against Shintaro Ishiwatari, one of which came in the 2017 Bantamweight Grand Prix.
"I'm back in RIZIN. I guess they needed me. I want to fight Kintaro in the quarterfinals."
C & D Kintaro vs. Kuya Ito
Kintaro (13-9-2)
The former Pancrase Bantamweight title challenger makes his 3rd appearance in RIZIN, winning his first bout via first round submission and dropping a split decision to fellow participant Kenta Takizawa in his 2nd appearance last September at RIZIN.24. He also holds a win over fellow participant, Alan Yamaniha.
"I'm very happy to be here. I want to show what the fans have missed out on while I was gone. I don't know the name of the guy who I have picked to fight, but he was holding a shiny belt and I thought it would be fun fighting somebody with a belt. I look forward in smashing Otsuka in the face in the quarter finals"
Kuya Ito (10-8-1)
The reigning GRACHAN Bantamweight Champion is coming off a 9-2 streak in his last 11 bouts, stretching back to 2017. His last bout was a win over fellow participant Shian in which he captured the title.
"I know that people don't know who I am, but I will surprise people when I fight. Look out."
E & F Yuki Motoya vs. Ryo Okada
Yuki Motoya (27-9, 1NC)
The second two-weight DEEP Champion makes his 10th RIZIN appearance, taking on the debuting Shooto Champion Ryo Okada. He holds a 4-4 (1NC) record in RIZIN, and has the only victory by Teepee choke in promotional history. He has faced 5 other participants, losing to Takeshi Kasugai, Hiromasa Ougikubo and Naoki Inoue, while managing to defeat Masakazu Imanari and Takafumi Otsuka. He will likely earn a rematch in the next round, should he get past Okada.
"I know everybody is excited about my opponent Okada making his RIZIN debut. I think it's exciting to fight somebody with all the hype."
Ryo Okada (17-4-3)
The reigning and defending Shooto Bantamweight Champion is riding an 8-fight, 4 year unbeaten streak, making 1 defense of his title against Takafumi Otsuka 9 days ago at Shooto 2021 Vol.2. 8 of his 17 wins are by finish, with 6 of them in the first round. His last 2 bouts were title fights against fellow participants, Kazuma Kuramoto and Otsuka.
"I am honored to be part of this tournament. I am honored to be facing Yuki Motoya. I want to prove that SHOOTO always produces the best fighters in Japan."
G & H Shooto Watanabe vs. Kai Asakura
Shooto Watanabe (22-5-6)
FIGHTING NEXUS' reigning Bantamweight Champion will have to overcome the favorite to advance to the final eight. With 12 of his 13 career submissions by RNC and having 10 wins under 2 minutes, fans can expect a fast paced bout from a classic striker vs grappler matchup.
"I didn't have an opportunity to pick an opponent. And I got picked by the favorite. I felt like everything was a joke but I guess it's not, and I'll really be facing the former Champ."
Kai Asakura (16-3)
The former champion will have to pave his own path back to the title the long way, and will have to compete in his second non-title fight in his last 5 bouts. His 8-3 record puts him at 4th all-time for wins in RIZIN history, as well as his 5 KO/TKO victories placing him 3rd all-time. His title aspirations will be on hold for at least 4 more fights.
"I don't care who I face, I know I can beat all of them. I picked Watanabe because he was available. My job here is to win this tournament and take my career overseas."
I & J Kenta Takizawa vs. Kazunari Imanari
Kenta Takizawa (11-7)
The Pancrase Bantamweight title challenger has a 1-2 record in RIZIN, only dropping decisions to top contenders Ougikubo and Sasaki. He equaled Kyohei Hagiwara's record of 3 fights in 95 days after his NYE bout at RIZIN.26. With 8 of his career wins coming by KO and showcasing grappling competence against Ulka Sasaki, he will present a challenge on the feet for long-time JMMA veteran Imanari.
"This fight will be a fight where I destroy or will be destroyed"
Kazunari Imanari (38-19-2)
The originator of the Imanari Roll and the Imanari Choke makes his debut under Japan's premier banner. The multiple time world champion and two-weight DEEP Champion holds 27 wins by submission (8 armbars, 11 heel hooks, 1 leglock, 1 omoplata crossface, 1 rear-naked choke, 1 reverse heel hook, 1 rolling kneebar and 3 toe holds). 10 of these submissions came in under a minute of the fight, and 19 of them came in the first round, so fans can expect a fiery match between the young Takizawa and the crafty vetaran.
"My opponent is a young, exciting striker so I wanted to fight him."
K & L Kazuma Kuramoto vs. Alan Yamaniwa
Kazuma Kuramoto (8-1)
The two-time Greco Japan National Champion will make his second appearance in RIZIN after a 1st round soccer kick victory over 18-year veteran Taiyo Nakahara. His sole loss came in an interim Shooto World title bout against fellow participant and reigning Shooto Champion Ryo Okada. With two TKO victories by german suplex, Yamaniwa will need to stifle the strong wrestling style of Kuramoto.
"My opponent is a top ranked fighter in his promotion and so am I. This will be a fun fight and I look forward to putting on an exciting performance with him."
Alan Yamaniwa (17-8-4)
The Bonsai Gym product and Pancrase veteran is currently riding a 3-fight win streak., and has faced 4 other participants with mixed results; scoring wins over Takeshi Kasugai and Kenta Takizawa, and losing to Shintaro Ishiwatari and Kintaro. A victory over Kuramoto most likely sets up a rematch in the quarterfinals.
"Everybody in this tournament is very tough. It won't matter who I pick to fight, it will be a tough fight regardless. I will go in there to do my best."
M & N Takeshi Kasugai vs. Hiromasa Ougikubo
Takeshi Kasugai
The HEAT Bantamweight Champion was set to make a title defense in April, but declined in order to participate in the Grand Prix. He has competed against 3 other participants, beating Yuki Motoya in 2011, losing to Ougikubo in 2014, and losing to Alan Yamaniha just 18 months ago. Carrying a 4-1 streak in his last 5, Kasugai looks to carry his momentum as a champion into his RIZIN debut, and rematch with Ougikubo from the Vale Tudo Japan event, 7 years onward.
"I had no option to choose. But my opponent being Ougikubo under this system, I think it is destiny. I was meant to face Ougikubo in this tournament. I am going to get revenge in this fight."
Hiromasa Ougikubo
Finding title success since his amateur career, Hiromasa Ougikubo was introduced to the global MMA scene by earning a finalist appearance on The Ultimate Fighter 24: Tournament of Champions. Since then, he made 2 defenses of his Shooto World Bantamweight Championship, as well as scoring a 3-2 record in RIZIN, with both losses to champions Horiguchi and Asakura. His victory over fellow veteran and Grand Prix participant Ishiwatari earned him a title shot, and their paths may cross once more for the next challenge.
"Nobody would sit next to me. I was worried that my teammate Ryo Okada would be my first opponent. Takeshi Kasugai is a very tough fighter and this will be my second time facing him after 7 years."
O & P Naoki Inoue vs. Shintaro Ishiwatari
Naoki Inoue
The Japanese prodigy and 2-time UFC veteran has been on the rise ever since his RIZIN debut at RIZIN.21 in Hamamatsu. After an exciting technical back-and-forth scrap with the tough Trent Girdham, he scored back-to-back submission victories over fellow participants Shooto Watanabe and Yuki Motoya via his patented rear-naked choke (by which he earned 6 of his 10 submissions). Now, he faces a new challenge; the quest to the top of the division, and is only 4 fights away from realizing his dream.
"I want to face tough competition. I was determined to pick the toughest one if I had a choice. I actually called out Ishiwatari last year, but it didn't happen, so this time I made sure I got the fight I wanted."
Shintaro Ishiwatari
After claiming the Bantamweight King of Pancrase crown in December 2011, Ishiwatari enjoyed 6 title defenses - the most in Pancrase history. He then vacated the title to compete under the premier Japanese banner, RIZIN, after his final title defense. After entering the 2017 Bantamweight Grand Prix and making a run all the way to the final en-route to an all-time-great rematch with Kyoji Horiguchi, he returned after an 18-month hiatus to split 2 fights against fellow bantamweight veterans, Ulka Sasaki and Hiromasa Ougikubo. Now, after another 18-month wait, he returns to seek another shot at Grand Prix glory.
"I was planning to pick an easy opponent for the opening round, but turns out I got picked by the toughest one out of the 16. It is what it is and my mind is set to prepare for an all out war."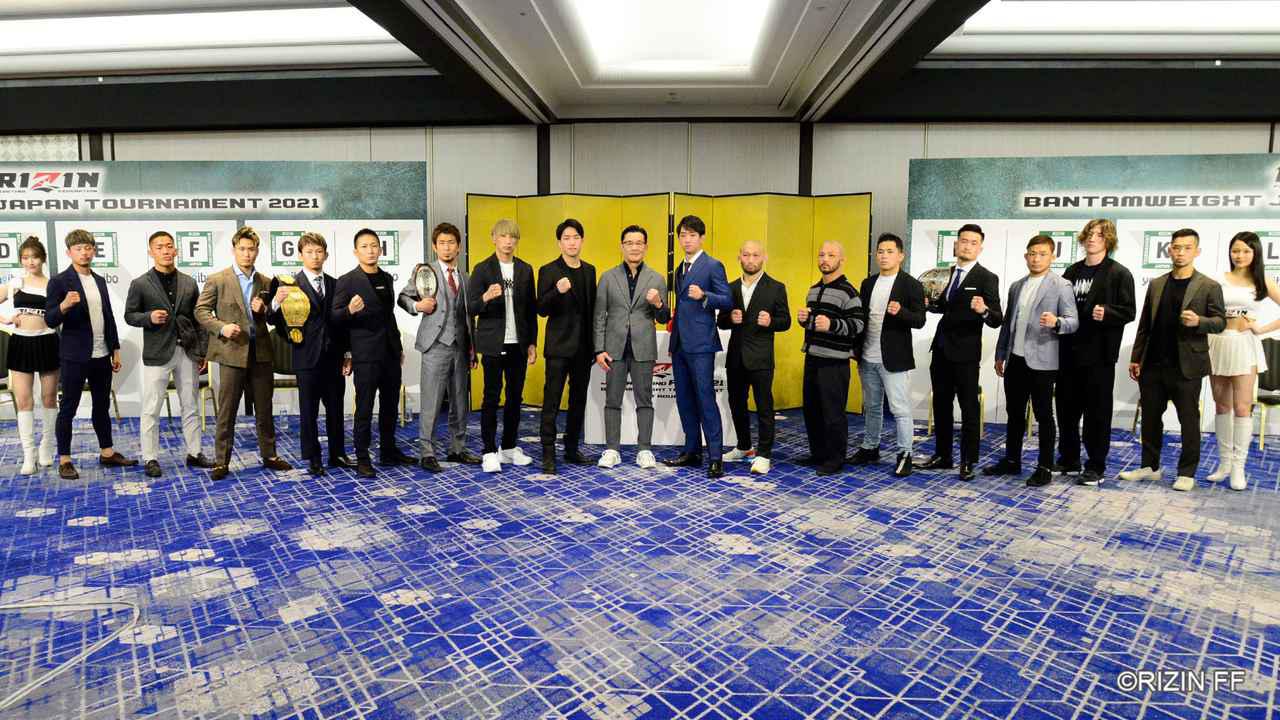 4 fights from the Bantamweight GP will be booked for the May 23rd event at the Tokyo Dome.
4 fights from the Bantamweight GP will be booked for the May 30th event at the Maruzen Intech Arena.
Stay tuned for more details.
Follow RIZIN FF
Website - http://www.rizinff.com/
Facebook - https://www.facebook.com/rizinfightingfederation/
Twitter - @rizin_English
Twitter - @rizin_pr
Instagram – rizin_pr
English News
【4/1(土)開催】 RIZIN.41 大会関連情報
【4/30(日)開催】 RIZIN LANDMARK 5 in YOYOGI 大会関連情報
【5/6(土)開催】 RIZIN.42 大会関連情報
おすすめコンテンツ