MOVIE
PPV
Price
US$24.99
SBC Shonan Beauty Clinic presents RIZIN.34 will be broadcasted LIVE on SkyperfectTV, streamed on RIZIN LIVE PPV and Exciting RIZIN with Japanese commentary. International PPV with English commentary will be available on LIVENow (https://www.live-now.com/ja-int/page/sign-up).
LiveNow commentary
EVENT INFO
EVENT
SBC Shonan Beauty Clinic presents RIZIN.34
Date
Mar 20, 2022
Doors are expected to open at 11:30PM with the Opening Ceremony at 1:00PM on March 20th (Sun) at the Ecopa Arena.
Venue
MARUZEN INTEC ARENA OSAKA
Promoted by
RIZIN FIGHTING FEDERATION
The main sponsor
SBC Shonan Beauty Clinic
SBC Shonan Beauty Clinic presents RIZIN.34 complete fight order
Satoshi Yamasu vs Kyohei Hagiwara [66kg - RIZIN MMA rules]
RIZIN MMA Rules 66.0kg / 145.5lb
Hagiwara has quickly become one of top stars since making his RIZIN debut while showing tremendous growth every time he fights. Yamasu will be making his 3rd appearance in RIZIN and surprisingly this will be his first fight at his original weight class. Both fighters have a high finish rate and likes to please the fans with their performances. Yamasu has a high fight IQ and likes to take the fight where his opponent is most uncomfortable and once he takes the pace he never lets it go. Hagiwara needs to avoid being dragged in to the Dominater world and be the one to always strike first and keep his opponent on his heels. Yamasu wants to set up traps from the beginning of the fight and attack when the time is right. Strike first, because controlling the pace will be the key to winning this fight. Will the Dominator control the wild wolf, or will the wolf break free to take his career to the next step.
Kouzi vs Genji Umeno [61kg - RIZIN Kickboxing rules]
Daisuke Nakamura vs Sora Yamamoto [66kg - RIZIN MMA rules]
RIZIN MMA Rules 68.0kg / 149.9lb
A fight with a 20 year age difference. Nakamura entered the combat world because of Yamamoto's father, and Yamamoto was destined to become a fighter when he entered this world. Despite the age difference and environment, they grew up, they both speak the same language and lived the life as a fighter. Nakamura already had close to 50 fights when Yamamoto made his professional debut, how will this significant experience difference effect the fight? Both fighters have a high finish rate and Yamamoto can maintain calm during exchanges while Nakamura has the will power and technique to force his style to his opponents. Yamamoto has the upper hand in stamina which means Nakamura will be looking for an early finish. The game plan heading into this fight, and how they will exchange technique is extremely intriguing.
Kiichi Kunimoto vs Daichi Abe [77kg - RIZIN MMA rules]
RIZIN MMA Rules 77.0kg / 169.8lb
A high level clash between fighters who's competed globally. Strasser is well rounded and his grappling stands out while Abe likes to utilize his boxing skills and keep the fight standing. Abe made his RIZIN debut at Lightweight but it did not work out well and now returns at his original weight class. Strasser wants to exceed his winning streak in RIZIN to 4 and demand the division to be more active. Abe wants to show his true abilities at his normal weight class and shed light to the Welterweight division. Abe will have the upper hand standing and Strasser will enjoy the advantage on the ground. Look out for the intense moment when they clinch and fight to initiate where the fight will take place. Enjoy every moment of the power and speed of the Welterweight division.
Daichi Kitakata vs Yutaro Muramoto [57kg - RIZIN MMA rules]
RIZIN MMA Rules 57.0kg / 125.7lb
Pancrase's own Flyweight Champion will meet DEEP contender in Osaka. Kitakata constantly presses forward slowly and is in your face initiating a fast paced brawl and scramble. He has had bitter moments with RIZIN and is motivated to make a statement in his upcoming fight. Muramoto utilizes the characteristics of the Flyweight division bringing quick footwork and lightning fast hands. Kitakata will creep up on Muramoto, slowly closing distance while Muramoto will keep distance, looking for the right timing to blitz in with quick hands. Kitakata will be prepared for the blitz and each exchange will be intense. Don't miss the agility, technique and fun scrambles that these 2 top Flyweights will display.
Juri Ohara vs AKIRA [71kg - RIZIN MMA rules]
RIZIN MMA Rules 71.0kg / 156.5lb
A fight between 2 fighters riding a winning streak. Ohara is riding a 6 fight winning streak and utilizes his long reach to the fullest and strikes from a far distance. Ohara has 16 TKO wins out of 17 stoppages shows how devastating his striking is. Akira riding a 4 fight winning streak uses his extreme power and physical strengths to shut down his opponents. Ohara has the significant advantage in this matchup and Akira will need to close distance to fight his fight. Ohara wants to keep distance and Akira wants to close distance. A battle of distance will determine how the fight will turn out and who will extend their winning streak?
TAIGA vs Ryo Takahashi [61kg - RIZIN Kickboxing rules]
Alan Hiro Yamaniha vs Motonobu Tezuka [61kg - RIZIN MMA rules]
RIZIN MMA Rules 61.0kg / 134.8lb
A rematch 8 years in the making. Their first meeting ended in just 69 seconds with Tezuka submitting Yamaniha. In the 8 years since then Tezuka has fought 21 fights with a 71% win rate while Yamaniha has 14 fights with a 55% win rate. This fight will show who spent this time more productively. Tezuka is well experienced and utilizes his versatility to take advantage in any situations. Yamaniha needs to be creative not to let Tezuka set his pace. This fight will display high level MMA skills both standing and on the ground. Tezuka has fought in the UFC and has finished RIZIN regulars such as Yamaniha, Uoi, Sone and Ito and will look to utilize this opportunity to take out competitors one by one.
Tatsuki Saomoto vs Yuto Uda [57kg - RIZIN MMA rules]
RIZIN MMA Rules 57.0kg / 125.7lb
Saomoto is riding a 13 fight winning streak and faces the undefeated prospect Uda. Saomoto has always fought older and more experienced opponents and this will be his first time having a target on his back. Uda is young, reckless and fearless and it will be interesting to see how the difference of their mental state will show in the fight. Saomoto's biggest weapon is his cardio that allows him to push a fast pace for all 15 minutes. Uda is still developing his style but has managed to stay undefeated in the process. The key to this fight will be experience. Saomoto knows how to win a fight and if he fights not to lose he will most likely be able to avoid a loss. Uda will look to deny that style and force the fight to become a brawl. How will the young fearless prospect take on the much experienced opponent will be something worth tuning in to. The aesthetics of victory or the aesthetics of showmanship will go head to head in this fight that will divine the future of RIZIN's Flyweight division.
Ryuya Fukuda vs NavE [60kg - RIZIN MMA rules]
RIZIN MMA Rules 60.0kg / 132.3lb
A matchup between former Shooto Flyweight Champion vs Current GLADIATOR Flyweight Champion. Fukuda has a Muay Thai base and likes to take initiative of the fight with his powerful and technical strikes while NavE is a well rounded fighter with a Judo base and can fight anywhere the fight goes. Fukuda creeps up on his opponent slowly with his unique rhythm and throws devastating strikes which can usually do enough damage to dictate the fight. NavE likes to strike but he is most comfortable on the ground where he can utilize his grappling skills to finish the fight. This is a classic Striker vs Grappler matchup but Fukuda has struggled against accomplished grapplers in the past so we will see how NavE will perform against the solid striker. NavE is motivated to take down a fighter who fights at a higher status than him and will see how that effects the fight.
YUYA vs Yousuke Yamato [70kg - RIZIN Kickboxing rules]
Yuuki Kashihara vs MOTOKI [61kg - RIZIN Kickboxing rules]
Jin Mandokoro vs Sato Syuto [53kg - RIZIN Kickboxing rules]
Ryuki vs Ayumu Yamamoto [63kg - RIZIN MMA rules]
RIZIN MMA Rules 63.0kg / 138.9lb
A matchup between green, but young prospects with great potential. RYUKI has significant accomplishments in kickboxing and utilizes his skills to keep the fight where he feels most comfortable. Yamamoto utilizes his physical strengths and grappling skills from his Judo background and likes to push the pace from the begging of the bell. Yamaoto has the technique and patience like a samurai while Yamamoto is a beast ready to tear up anything that is put in front of him. Yamamoto will blitz in to close distance while RYUKI would want to avoid the clinch, utilizing his footwork to pepper him with strikes. Expect a fast pace right off the bat in this prospect fight.
Yuma Yamahata vs Sho Ogawa [63kg - RIZIN Kickboxing rules]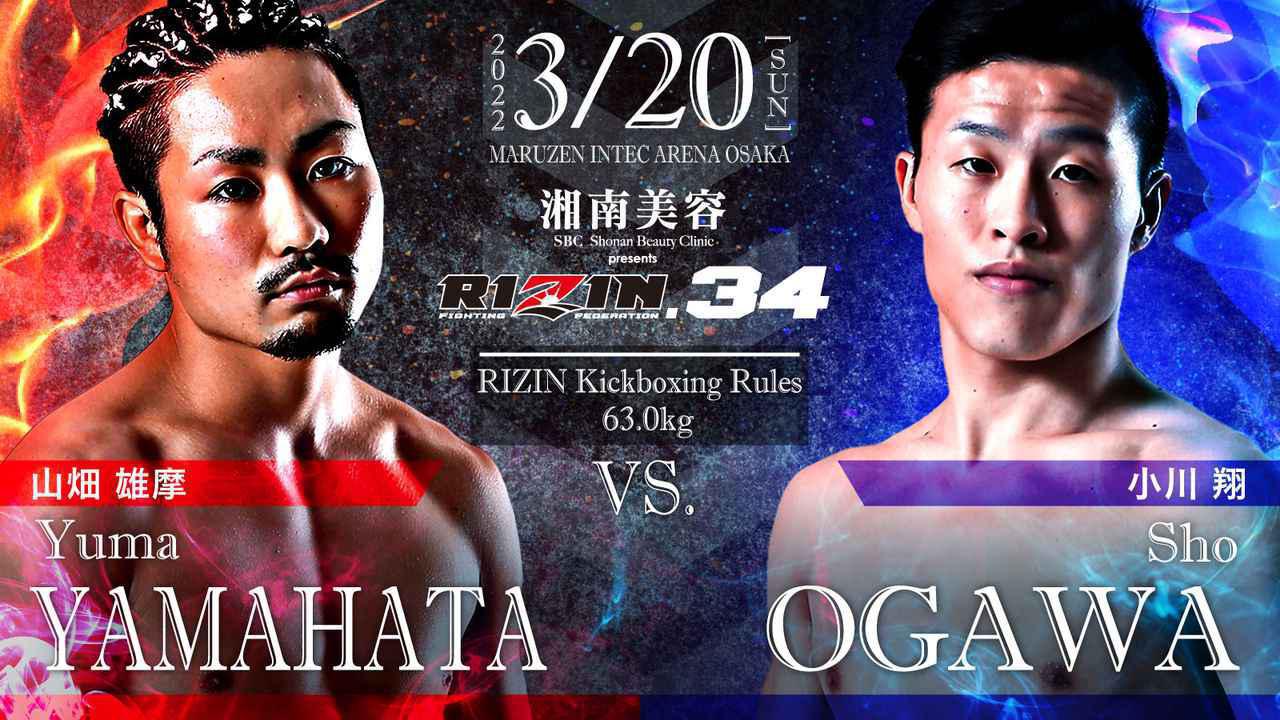 Masaya Jaki vs KOUTA [70kg - RIZIN Kickboxing rules]
Sato Ryo vs Shun [60kg - RIZIN Kickboxing rules]
Follow RIZIN FF
Website - http://www.rizinff.com/
Facebook - https://www.facebook.com/rizinfightingfederation/
Twitter - @rizin_English
Twitter - @rizin_pr
Instagram – rizin_pr
TikTok – rizinffofficial
News
【4/1(土)開催】 RIZIN.41 大会関連情報
【4/30(日)開催】 RIZIN LANDMARK 5 in YOYOGI 大会関連情報
【5/6(土)開催】 RIZIN.42 大会関連情報
おすすめコンテンツ