RIZIN.34 set with 17 fights for March 20th in Osaka's Maruzen Intech Arena. Flyweight Prospects Saomoto and Uda booked, DEEP interim Lightweight Champion meets Akira. Daisuke Nakamura meets Sora Yamamoto along with the kickboxing rematch between KOUZI and Genji Umeno.
TOKYO – March 2nd, RIZIN CEO Nobuyuki Sakakibara, held a press conference and announced updates about RIZIN.34 - the promotion's third event of the year.
CEO Sakakibara announced 6 cards for the promotion's 3rd event, and its first number series of the year with 1 kickboxing bout and 5 MMA bouts. RIZIN.34 will be held at the Maruzen Intec Arena in Osaka, which will be the promotion's 2nd event at the new venue.
Kouzi (29-16-2 1NC, 1-4 1NC RIZIN FF) vs Genji Umeno (47-13-4 1NC, 0-0 1NC RIZIN FF) 61kg Kickboxing
KOUZI's run in RIZIN until now has been far from ideal for the former K-1 star. His debut at RIZIN.24 in September 2020 against Tenshin Nasukawa until his unfortunate hometown one-night kick tournament at RIZIN.29 last June rounded out a 4-fight winless skid. KOUZI claimed his first victory in almost exactly 3 years when he defeated mixed martial artist Kazuma Sone at RIZIN.32 via unanimous decision, with his prior victory coming against Seiya Kawahara at K-1 WORLD GP 2019 JAPAN Yokohama Matsuri. He dropped a majority decision in his last bout at RIZIN.33 on New Year's Eve against YA-MAN. Muay Thai legend Genji Umeno rematches Kouzi after their 43-second no contest at RIZIN.29's one-night kick tournament. The 32-year-old Battle of Muay Thai Lightweight Champion was the former Rajadamnern 135 lbs champion, WPMF World Super Featherweight champion, WBC Muaythai World and International Super Featherweight champion, as well as the former M-1 Featherweight Champion.
Tatsuki Saomoto (17-2, 3-0 RIZIN FF) vs Yuto Uda (5-0-1, 0-0 RIZIN FF) 57kg MMA
The reigning ZST Flyweight Champion Tatsuki Saomoto makes his 4th RIZIN appearance, previously stopping former DEEP Flyweight Champion Yusaku Nakamura inside the first round at RIZIN.23 and shutting out Pancrase Strawweight Champion Daichi Kitakata at RIZIN.25 and besting GRACHAN Flyweight Champion Takashi Matsuba via split decision at RIZIN's inaugural TRIGGER event last November. He is currently enjoying a 5-year, 13-fight win streak opposite of his opponent's 14-fight unbeaten streak (counting Uda's amateur record). Uda holds a 6-fight unbeaten start to his professional career, and won 8-straight as an amateur after losing his debut in June of 2017. Aside from capturing the 11th Shikoku Amateur Shooto Championship with 3 fights in one day, he ended his amateur career by winning the 25th All Japan Amateur Shooto Championship in October 2018 by defeating 4 opponents in one day. Just 2 years into his professional career, he will find himself standing across the ring from one of Japan's top flyweights.
Juri Ohara (29-17-3, 2-0 RIZIN FF) vs AKIRA (17-8-4, 3-0 RIZIN FF) 71kg MMA
Ohara captured the DEEP Interim Lightweight Championship at DEEP 102 Impact, besting undefeated Ryota Oki for his first title as a professional. He took a split decision victory at DEEP 103 Impact over one of Japan's top lightweights, Sho Kogane - who had not lost in 11 bouts spanning 5 &   years. His 2nd appearance in RIZIN against Kohei Tokeshi at RIZIN.32 last November saw him extend his 6-fight win streak - the longest of his 49-fight career. AKIRA is an 11-year JMMA mainstay, competing across Shooto and Pancrase, and has faced familiar names such as Tyson Nobumitsu, Satoru Kitaoka, Kazuki Tokudome, Akihiro Gono, and Koshi Matsumoto. He is riding a 4-fight win streak (like his opponent, the longest of his career) with 2 victories by KO, and winning his RIZIN debut via North South Choke against DEEP Interim Welterweight Champion Daichi Abe. Just 25 days removed from his win over Bonsai Gym product Takumi Suzuki, AKIRA puts his unbeaten RIZIN record and top contender spot on the line against Ohara.
Daisuke Nakamura (32-20-1, 1-0 RIZIN FF) vs Sora Yamamoto (13-6-2, 1-1 RIZIN FF) 66kg MMA
Nakamura is a 53-fight veteran with 17 wins by submission, entering his 20th year as a professional. Having made his MMA debut in July of 2002 at PRIDE The Best Vol.2, he has competed across a plethora of promotions, such as PRIDE, DEEP, Cage Rage, HERO's, M-1, DREAM, ZST, and VTJ, challenging for 4 titles and capturing the DEEP Lightweight Championship before losing the title to fellow veteran Satoru Kitaoka. His last bout was just 5 days ago, where he defeated fellow veteran and world class Judoka Michihiro Omigawa in Omigawa's farewell fight at DEEP 106 Impact. Nakamura holds a KO victory over current RIZIN Featherweight Champion Juntaro Ushiku, which actually occurred just 12 months ago at DEEP 100 Impact. Yamamoto is the 2017 PFC Featherweight Tournament Champion, and has gone 9-3-1 since winning his first title. He snapped his 5-fight win streak in his promotional debut at RIZIN TRIGGER 1st last November when he lost to Chihiro Suzuki. But, Yamamoto was able to show a diverse skill set in each of those wins, with 2 submissions (both by armbar) and 2 knockouts; with 3 of those stoppages coming in the 1st round. He bounced back to winning ways with a 35-second KO win over Suguru Nii just 9 days ago at RIZIN TRIGGER 2nd.
Ryuki Kaneda (1-2-0, 0-0 RIZIN FF) vs Ayumu Yamamoto (3-1-0, 0-0 RIZIN FF) 63kg MMA
'Ryuki' actually made his RIZIN debut 3 and   years ago at RIZIN.12 in a kickboxing match, where he defeated Naoya via unanimous decision. He has won amateur kickboxing titles in J-NET and K-3, along with becoming the 2017 Legend of Heroes 60 kg Asian champion. After transitioning to MMA in October 2020, he returns to the RIZIN ring as a mixed martial artist. Yamamoto enjoyed a 3-fight win streak to his professional career, all with 1st round finishes. He lost his last bout against RIZIN veteran Tetsuya Seki 3 months ago at DEEP 105 Impact, and competed in a kickboxing match 3 weeks ago, dropping a unanimous decision.
Ryuya Fukuda (13-7-1, 0-0 RIZIN FF) vs NavE (14-9-2, 0-0 RIZIN FF) 60kg MMA
Fukuda is the former Shooto Flyweight title challenger, coming up short against undefeated top Japanese flyweight, Tatsuro Taira last summer. He recently defeated rising prospect Yuki Ito with a TKO just 35 seconds into the 2nd round at last week's DEEP 106 show. Ito is 2-0 in RIZIN, so Fukuda earned his promotional debut with a very tough win. Masayuki Watanabe (or, 'NavE') is the GLADIATOR Flyweight Champion, having captured the title from Yuichi Miyagi last September. He is 5-1-1 in his last 7 bouts, and has 7 wins by submission in 14 wins. Fukuda on the other hand has 6 KO/TKO wins in 13 wins, which will make for a classic striker vs grappler matchup.
Kouzi vs. Genji Umeno
Kouzi
"I apologize that I put a scratch on Mr. Muay Thai freak's ugly face. I'm sorry I lost my fight on New Year's Eve. I'm embarrassed to even show my face. I was going to hibernate but Mr. Tenacious over here wouldn't leave me alone."
Genji Umeno
"It has been a frustrating process getting this rematch confirmed, but now that it's confirmed, I will put on a dominating performance and end up with a clear winner."
Tatsuki Saomoto vs. Yuto Uda
Tatsuki Saomoto
"My opponent is young and fearless. I plan to beat him and earn a spot on the GP that will most likely happen."
Yuto Uda
"RIZIN's Flyweight division sucks and I'm here to change that. My opponent is boring as f**k and I will humiliate him to prove a point. I'm here to become RIZIN's new star."
Juri Ohara vs. AKIRA
Juri Ohara
"If Akira is man enough to stand and bang with me, you will all see him getting knocked out cold."
AKIRA
"I let down everybody in my last fight and even Sakakibara talked smack about my performance. I learned that I won't be able to knock people out cold without risking myself getting knocked out cold. I'm grateful to be given the opportunity to redeem myself so quickly. I will show exactly what I learned in my next fight and make everybody defecate."
Daisuke Nakamura vs. Sora Yamamoto
Daisuke Nakamura
"As an old man quick turnarounds are tough on the body but I couldn't resist this offer. Yamamoto's father was part of an organization I admire and has passed on everything to his son. I am very much looking forward to this upcoming fight. "
Sora Yamamoto
"I asked for an opportunity after my last fight but didn't expect it to be so quick which I am very grateful for. I will put on a fun fight and constantly look for the finish."
Ryuki Kaneda vs. Ayumu Yamamoto
Ryuki
"I'm grateful for the opportunity. Now that the fight is confirmed, I plan to put on a fun, thrilling fight. Yamamoto, let's do this."
Ayumu Yamamoto
"I will go in there with full throttle from the beginning of the fight. March 21st is my birthday so I plan to celebrate heavily after the win."
Ryuya Fukuda vs. NavE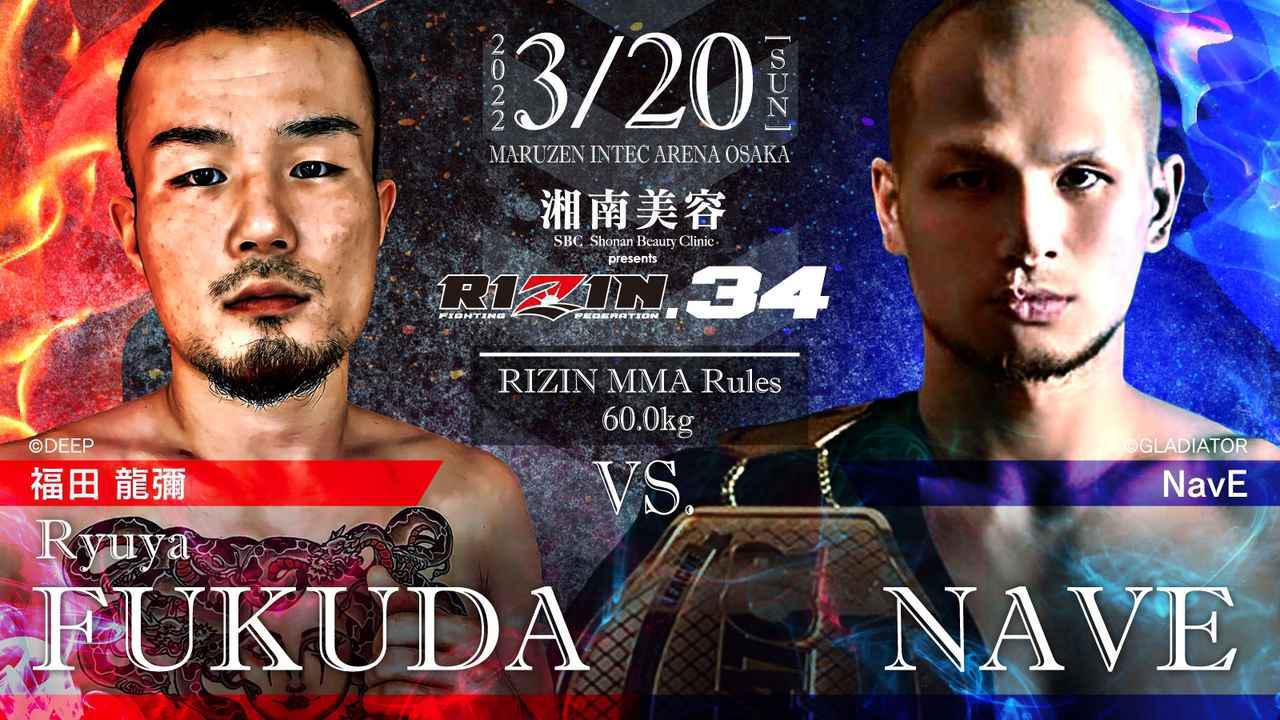 Ryuya Fukuda
"I am very excited to get the call from RIZIN immediately after my fight. I would like to enjoy an intense, entertaining fight with all of you fans."
NavE
"I'm the second professional MMA fighter coming out of my prefecture and am truly grateful for this huge opportunity. When I first started MMA, there was not a single gym in my region and I started training at a local park, and now I have my own gym and am fighting in RIZIN. I really want my people to know that there is a guy from the same city, trying to make a living through this sport. I hope to be known and bring some hope and help out our community."
Confirmed Bouts
RIZIN.34 - Maruzen Intech Arena, March 20th
Kiichi Kunimoto vs Daichi Abe [77kg - RIZIN MMA rules]
Juri Ohara vs AKIRA [71kg - RIZIN MMA rules]
Kyohei Hagiwara vs Satoshi Yamasu [66kg - RIZIN MMA rules]
Daisuke Nakamura vs Sora Yamamoto [66kg - RIZIN MMA rules]
Ryuki vs Ayumu Yamamoto [63kg - RIZIN MMA rules]
Alan Hiro Yamaniha vs Motonobu Tezuka [61kg - RIZIN MMA rules]
Ryuya Fukuda vs NavE [60kg - RIZIN MMA rules]
Daichi Kitakata vs Yutaro Muramoto [57kg - RIZIN MMA rules]
Tatsuki Saomoto vs Yuto Uda [57kg - RIZIN MMA rules]
YUYA vs Yousuke Yamato [70kg - RIZIN Kickboxing rules]
Masaya Jaki vs KOUTA [70kg - RIZIN Kickboxing rules]
Yuma Yamahata vs Sho Ogawa [63kg - RIZIN Kickboxing rules]
Kouzi vs Genji Umeno [61kg - RIZIN Kickboxing rules]
TAIGA vs Ryo Takahashi [61kg - RIZIN Kickboxing rules]
Yuuki Kashihara vs MOTOKI [61kg - RIZIN Kickboxing rules]
Sato Ryo vs Shun [60kg - RIZIN Kickboxing rules]
Jin Mandokoro vs Sato Syuto [53kg - RIZIN Kickboxing rules]
RIZIN.34 will be broadcasted LIVE on SkyperfectTV, streamed on RIZIN LIVE PPV and Exciting RIZIN with Japanese commentary. International PPV with English commentary will be available on LIVENow. Doors are expected to open at 12:30PM with the Opening Ceremony at 2:00PM on March 20th (Sun) at the Maruzen Intec Arena.
Follow RIZIN FF
Website - http://www.rizinff.com/
Facebook - https://www.facebook.com/rizinfightingfederation/
Twitter - @rizin_English
Twitter - @rizin_pr
Instagram – rizin_pr
TikTok – rizinffofficial
News