MOVIE
PPV
Price
US $24.99
RIZIN.30 will be broadcasted LIVE on SkyperfectTV, streamed on RIZIN LIVE PPV and Exciting RIZIN with Japanese commentary.English commentary stream is provided by LiveNow (https://www.live-now.com/en-int/page/rizin-30).
EVENT INFO
EVENT
Yogibo presents RIZIN.30
Date
Sep 19, 2021
Doors are expected to open at 12:30PM with the Opening Ceremony at 2:00PM(JST)
Venue
Saitama Super Arena
≫ Acces(Google Maps)
Promoted by
RIZIN FIGHTING FEDERATION
The main sponsor
Yogibo
Powered by
Saitama super arena
Supported by
Saitama-shi / Saitama sports commission / Saitama sightseeing international society
Yogibo presents RIZIN.30 complete fight order
FIGHT CARD
Kai Asakura vs Alan "Hiro"Yamaniha
RIZIN MMA TOURNAMENT Rules 61.0kg / 134.8lb
Strong Points
Striking Intuition | Boxing Skills | Fight IQ | Pressure

Strong Points
Physical Strength | Well Rounded | Balance | Ground Control
Yamaniha is a very well rounded fighter who can press forward with strikes, and secure dangerous submissions while Asakura has proven over the years that his boxing skills are top notch and his takedown defense is on point. The key for this fight will be striking speed and who controls the center of the ring. Yamaniha is the slower one, but will have a big chance of landing his heavy shots if he can put Asakura against the ropes or the corner. Either way the figher who is forced to back peddle will be the one with the disadvantage. How will Yamaniha approace Asakura's elite striking and supurb takedown skills?
Naoki Inoue vs Kintaro
RIZIN MMA TOURNAMENT Rules 61.0kg / 134.8lb
Strong Points
Well Rounded | Boxikng skills | Grappling skills | Finisher
Strong Points
Striking | Aggressive | Mental Strength | Rocket Start
Most of Inoue's finishes have come by submission but he possesses extremely high striking skills and utilized it perfectly in his last fight. Inoue utilizes timing and precision to put his opponent's lights out while Kintaro utilizes force and volume to deliver devastating damage to his opponents. Inoue is quick and dominant on the ground while Kintaro uses his physical strength and ground and pound to control his opponent. The key for this fight will be distance and timing along with versitality during heavy exchanges. The one who can mix in takedowns during exchanges would be the one who will be able to control the pace early in the fight.
Hiromasa Ougikubo vs Takafumi Otsuka
RIZIN MMA TOURNAMENT Rules 61.0kg / 134.8lb
Strong Points
Grappling | RNC | Fight IQ | Ground Controll
Strong Points
Experience | Stamina | Fight IQ | Drive
Both fighters are very well rounded at a very high level. Both fighters have the capability to control their opponent from top position and once they set the pace, they hardly every give it up With that being said, whoever ends up on their back will have the mental disadvantage since both fighters share similar strengths. There is a strong possibility that both fighters will compliment each others' strong points and turn the fight into a kickboxing match. Matchups like this where both fighters have the same fight style, a solid game plan and execution is key. One other key element will be stamina. Otsuka has shown that he can go 15 minutes without showing fatigue while Ougikubo can often get tired by the end of the 3rd round.
Yuki Motoya vs Kenta Takizawa
RIZIN MMA TOURNAMENT Rules 61.0kg / 134.8lb
Strong Points
Striking | Fight Intuition | Fight IQ | Calmness
Strong Points
Aggresisive | Striking Intuition | Reach | Agility
This matchup is quite intriguing in many ways and fun exchanges and scrambles can be expected whereever the fight goes. Takizawa has the ability to land hard strikes from a distance while Motoya has the quick combinations and while closing distance. Takizawa can respond to a blitz with kness and Motoya has several arsenals in the clinch. Motoya has shown over time that he is diverse and can win a fight anywhere the fight takes itself while Takizawa normally is more comfortable standing, if he can utlize strong ground and pound while Motoya is being crafty off of his back, it may change the tide of the fight. Motoya has been with RIZIN from the beginning of RIZIN and Takizawa has been given tough fights since joining the promotion. A very interesting mathup in many ways.
Ayaka Hamasaki vs Emi Fujino
RIZIN Woman's MMA Rules 49.0kg / 108.0lb
Strong Points
Experience | Grappling | Wrist control | Well rounded
Strong Points
Experience | Physical strength | Power | Clinch
9 years after their first fight the current RIZIN Champion Ayaka Hamasaki and current Pancrase Champion will meet again in the ring. Both fighters have become friends over time, but that will not stop them from doing their job. Fujino will be fighting at Super Atomweight for the first time in her career and if she has a healthy cut, she will have the significant size and power advantage over Hamasaki. The key point of this fight will be the physical strength difference and how Fujino will utilize her advantage over the crafty Hamasaki. Hamasaki with the technique, and Fujino with the power. Elbows to the face of the opponent might play a factor in this fight during the clinch and on the ground.
Koji Takeda vs Yusuke Yachi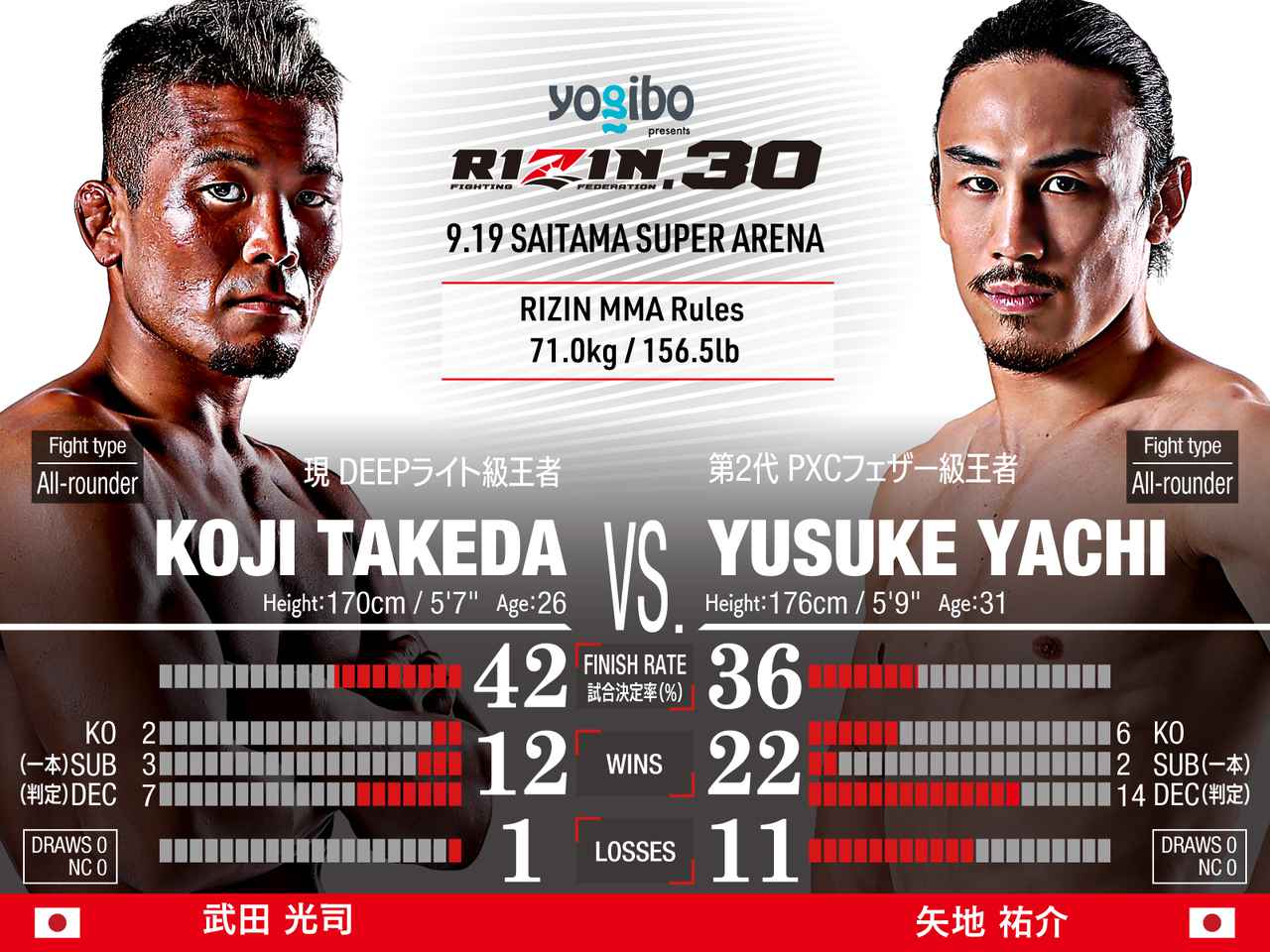 RIZIN MMA Rules 71.0kg / 156.5lb
Strong Points
Wrestling | Physical strength | Ground control | Suplex
Strong Points
Counter Striking | Striking intuition | Physical strength | Striking power
Current DEEP Champion Takeda has defeated both Shooto Champion and Pancrase Champion and has proved he is the top Lightweight in Japan. Yachi has made some significant changes in his game has been mentioning he wants to take out all local Champions. Takeda has the constant pressure on his feet, and the technique in the clinch and Yachi has the power on his feet and heavy hips to neutralize Takeda's strengths. Most of the fight should be striking, and in the clinch. The ability to adjust from striking to a takedown is essential in this fight and the one with better skills will have the clear advantage. Who will prevail in this fight and take their career to the next step.
Ulka Sasaki vs Yoshinori Horie
RIZIN MMA Rules 66.0kg / 145.5lb
Strong Points
Wrestling | RNC | Back control | Reach
Strong Points
Aggressive | Punch power | Fight control | Pressure
This matchup will make some waves in RIZIN's Featherweight division. Ulka has fought at Flyweight abroad and at Bantamweight after joining RIZIN and now takes another step up at Featherweight. Horie has fought at Featherweight throughout his career and made a spectacular RIZIN debut and all of his finishes has come by the way of knockout while majority of Ulka's finishes have come by the rear naked choke. The key question is will Ulka be ready to fight at Featherweight? Ulka is a very tall Bantamweight so maybe it may be a great move, or he just might not be physically strong enough. The first contact in the grappling exchange will determine how the fight will go and which fighter will take advantage. The result of this fight will be extremely important for both fighters.
Shinobu Ota vs Yuta Kubo
RIZIN MMA Rules 66.0kg / 145.5lb
Strong Points
Physical Strength | Athletism | Mental strength | Wrestling
Strong Points
Striking technique | Kicking technique | Striking defense | Striking distance
Wrestling Olympic medalist Ota will be making his 2nd MMA appearance while his opponent former K-1 Champion Kubo makes his MMA debut. A straight up style vs style match only possible in an MMA ring. Both fighters will most likely try to utilize their profession during this fight, Ota with his wrestling and Kubo with his kickboxing. Ota needs to close distance to utilizes his skills while Kubo wants to keep his opponent away. The key for both fighters is how they plan for this fight and how they execute it. Highly predictable matchups like this tends to have some unpredictable moments, let's look forward for those moments in this fight.
Shoji vs Chihiro Suzuki
RIZIN MMA Rules 66.0kg / 145.5lb
Strong Points
Striking intuition | Striking technique | Experience | Mentality
Strong Points
Aggressiveness | Punch power | Explosiveness | Momentum
Battle of strikers. Shoji has face the world's fiercest strikers in his 16 years of fighting. Suzuki entered the combat sports scene through MMA but currently fights mainly kickboxing and has shown his talents as an aggressive, hard hitting slugger. Both fighters like to stand and trade heavy punches, when both fighters share same strengths, the one who can enforce it to their opponent better will be able to take initiative. Suzuki has the momentum as the fearless youngster, but Shoji has the wisdom from his experiences. The fact that this fight is an MMA fight cannot be ignored and it will be interesting on how Shoji will fight this fight against a fellow striker. Very intriguing matchup in many ways.
Panchan Rina vs Momoka
RIZIN Kickboxing Rules 46.5kg / 102.6lb
Strong Points
Pressure | Striking mobility | Right kick | Aggressive
Strong Points
Experience | Agility | Right cross | Blitz
RIZIN's first women's kickboxing bout will be held by Panchan Rina and Momoka. How will both fighters take this important fight for women's kickboxing in RIZIN and how what will they bring to the ring? Panchan is an undefeated prospect who throws loads of strikes to overwhelm her opponent while Momoka has over 40 professional fights under her belt. The key aspect to this fight will be the height and reach difference. How will Momoka pass Panchan's front kicks and jabs to get inside and throw big shots at close range will be something interesting to watch.
Follow RIZIN FF
Website - http://www.rizinff.com/
Facebook - https://www.facebook.com/rizinfightingfederation/
Twitter - @rizin_English
Twitter - @rizin_pr
Instagram – rizin_pr
TikTok – rizinffofficial
News
【4/1(土)】RIZIN.41 大会関連情報
【4/29(祝・土)】RIZIN LANDMARK 5 in YOYOGI 大会関連情報
【5/6(土)】RIZIN.42 大会関連情報
おすすめコンテンツ