MOVIE
PPV
EVENT INFO
EVENT
ANGEL CHAMPAGNE presents RIZIN LANDMARK 4 in NAGOYA
Date
November 6th, 2022
RIZIN LANDMARK 4 doors are expected to open at 12:30PM, with a 2:00pm start time on November 6th (Sun) in Nagoya.
Venue
Dolphins Arena(Aichi Prefectural Gymnasium)
Promoted by
RIZIN FIGHTING FEDERATION
The main sponsor
ANGEL CHAMPAGNE
ANGEL CHAMPAGNE presents RIZIN LANDMARK 4 in NAGOYA complete fight order
ANGEL CHAMPAGNE presents RIZIN LANDMARK 4 in NAGOYA CARD
#11 Satoshi 'Dominator' Yamasu vs Ren Hiramoto [70kg - RIZIN MMA rules]
Yamasu will be stepping into the ring for the 20th time while Hiramoto will be experiencing his 4th MMA fight. Hiramoto has impeccable striking due to his kickboxing career and Yamasu will need to face him with his well-rounded skills. Hiramoto will want to fight where can utilize his weapons, but in order to do so he will need to have to get the well-rounded Yamasu thinking early in the fight. If Hiramoto can get into Yamasu's head, his chances of winning the fight will increase. This matchup is nothing but risks for Yamasu so he wants to show the significant skill level and ask for a meaningful fight. Will this main event end up as people think, or will there be a huge upset? We need to rememeber that Nagoya's main events have been known for massive upsets…
#10 Masakazu Imanari vs. Chihiro Suzuki [66kg - RIZIN MMA rules]
Suzuki stepped up for a last-minute replacement for the injured Majima and will take on Imanari. Suzuki is riding a 3-fight winning streak and is only active fighter competing in both kickboxing and MMA. Imanari is known for his devastating leg locks and submission holds and Imanari will always be Imanari. Which path Suzuki will take is will determine the flow of the fight. Suzuki can choose to grapple, strike, fight for points against the dangerous veteran. Will Nagoya be decorated with Imanari color, or will Suzuki extend his winning streak to 4. A last minute matchup, but absolutely intriguing.
#9 Yuki Motoya vs. Kazuma Kuramoto [61kg - RIZIN MMA rules]
A fantastic matchup in the RIZIN bantamweight division. Motoya has been fighting in RIZIN from the very beginning and has solidified himself as the gatekeeper in the Bantamweight division. Kuramoto has been fighting in RIZIN for 2 years and is on a 2 fight winning streak, bringing violence every time. The veteran is very well-rounded and can deliver an extremely fast pace fight while Kuramoto utilizes his grappling skills to demobilize his opponents and unleash pure violence. The key to this fight is will Kuramoto's style work against the crafty and agile Motoya. Motoya relaxes his body during the fight while Kuramoto strains. The contrast between both fighters is something that will determine the outcome, and is an interesting topic to discuss while watching this fight.
#8 Minowaman Z vs Samurai Mark Hunt [120kg - RIZIN MMA rules]
The RIZIN Heavyweight division will be holding an unusual matchup between a brawler and a super human. Samurai Mark's first RIZIN appearance showed exactly everything he has, super aggressiveness and an iron will that never bends. Minowaman Z will be entering the professional MMA ring for the 115th time, which is only capable by a super human. He has continued to inspire fight fans for the past 26 years by facing the world's best and biggest opponents. Nobody will know what will happen when a super brawler and super human clashes head to head. Samurai Mark will come in not thinking about the judges and Minowaman Z will only look for the finish. The pace setting of this fight will be the key. Strikers will become unstoppable once they find their rhythm so Minowaman Z will have to change the flow occasionally. Enjoy the unpredictable heavyweight fight.
#7 Callyu Gibrainn vs Takakenshin [120kg - RIZIN MMA rules]
An extremely explosive matchup has been booked in the Heavyweight division. Callyu is a pure striker with devastating hands and forward pressure. This will be Takakenshin's 2nd fight after making his transition from Sumo but the footwork shown in his debut was impressive and showed his potential. Both fighters are hungry to get their first win in RIZIN, Callyu wants to put on a performance that will excite the fans while Takakenshin wants to show how much he has evolved in the past 6 months. Callyu would like to keep distance in the beginning to figure out his opponent while Takakenshin wants to close distance to use his size as an advantage. Callyu's footwork will be the key to this fight he will need to stay away from any grappling range and throw long ranged strikes to slow his opponent down. Grapple and win, or don't grapple and win, will be the theme to this fight and which fighter will have the stamina to keep going.
#6 SARAMI vs Laura Fontoura [49kg - RIZIN MMA rules]
SARAMI dropped her RIZIN debut without showing much while Laura showed her potential but suffered her first tapout loss. SARAMI is the more well-rounded fighter while Laura has the significant Jiu Jitsu. The key to this fight will be Laura's striking. If Laura can hold her own against SARAMI on her feet, it will be an extremely tough fight for SARAMI. This fight will test SARAMI's adoptability as the Shooto Champion. Both fighters can't suffer back to back losses in the RIZIN ring and will fight hard to earn the win.
#5 Yusaku Nakamura vs Takaki Soya [57kg - RIZIN MMA rules]
A competitive matchup between 2 strikers in the Flyweight division. Both fighters have a combined record of 17 KO's which shows that this fight will be a banger. Nakamura wants to get back in the winning column. Soya has a perfect 3-0 record in RIZIN with 3 knockouts but his inability to fight consistently is a concern. Both fighters utilize their footwork and have great striking intuition and counter striking. This will create an intense atmosphere as if 2 samurai's facing each other with Katana swords. The key to this fight will be feints since both fighters have great counter striking lots of feints will be utilized and 1 mistake will cost them a fight. Some unexpected takedown attempts will be effective in the fight as well. This fight may determine how the Flyweight division in RIZIN will be treated in 2023.
#4 Jin Aoi vs Hiroaki Suzuki [66kg - RIZIN MMA rules]
A matchup between 2 heavy hitting strikers in the Featherweight division. Aoi has a Shooto pedigree and has a high finish rate. Suzuki is 12 years older and has significant accomplishments in Shoot Boxing and is no stranger to chokes and submission holds. Both fighters are great strikers but the key to this fight will be ground technique. Suzuki has been able to dominate opponents who challenge him in his striking area while he struggles with opponents who take the fight to the ground. Aoi is well rounded and will most likely take the fight to the ground. What will Suzuki have hidden up his sleeve when the fight hits the mat, and will it be enough to deal with Aoi's ground game? Focus on the ground game of 2 gifted strikers and wait to see what Suzuki has ready on the ground.
#3 Alan 'Hiro' Yamaniha vs Yasuhiro Kawamura [61kg - RIZIN MMA rules]
Yamaniha will be making his 5th appearance in the RIZIN ring and takes on Fighting NEXUS Bantamweight Champion Kawamura. Yamaniha is a well-rounded fighter who can grapple, wrestle and strike. Kawamura is a grappler with high fight IQ and great with executing his game plan. Kawamura wants to meddle with the current Bantamweight division with his Jiu Jitsu. Since both fighters have a strong Jiu Jitsu background the difference in striking skills will be the key aspect in this fight. The fighter who is advantageous on their feet will have significant advantage in the entire fight. Will Yamaniha continue to streak for the Bonsai team, or will Kawamura from Fighting NEXUS step into the spotlight.
#2 Uoi Fullswing vs Ji Yong Yang [61kg - RIZIN MMA rules]
JMMA's slugger will be taking on the Korean Ace who has never tasted defeat. Uoi constantly throws haymakers and swings for the fences although he has been on a slump and hasn't scored in his last few fights but he does have power in his fists and can end the fight at any time when it lands. Ji Yong Yang left a massive impact in his RIZIN debut by shattering his opponent's forearm and choking him out cold. The fight distance will depend on how much Ji Yong Yang respects Uoi's power so the feeling out process in the first round will be important. Uoi will fight in the punch range and Ji Yong Yang will fight in kicking range. Uoi will need to step in and press forward to land his strikes. It will be interesting to see wht kind of performance Ji Yong Yang will show at his preferred weight class.
#1 Keisuke Okuda vs Yuta Kubo [66kg - RIZIN MMA rules]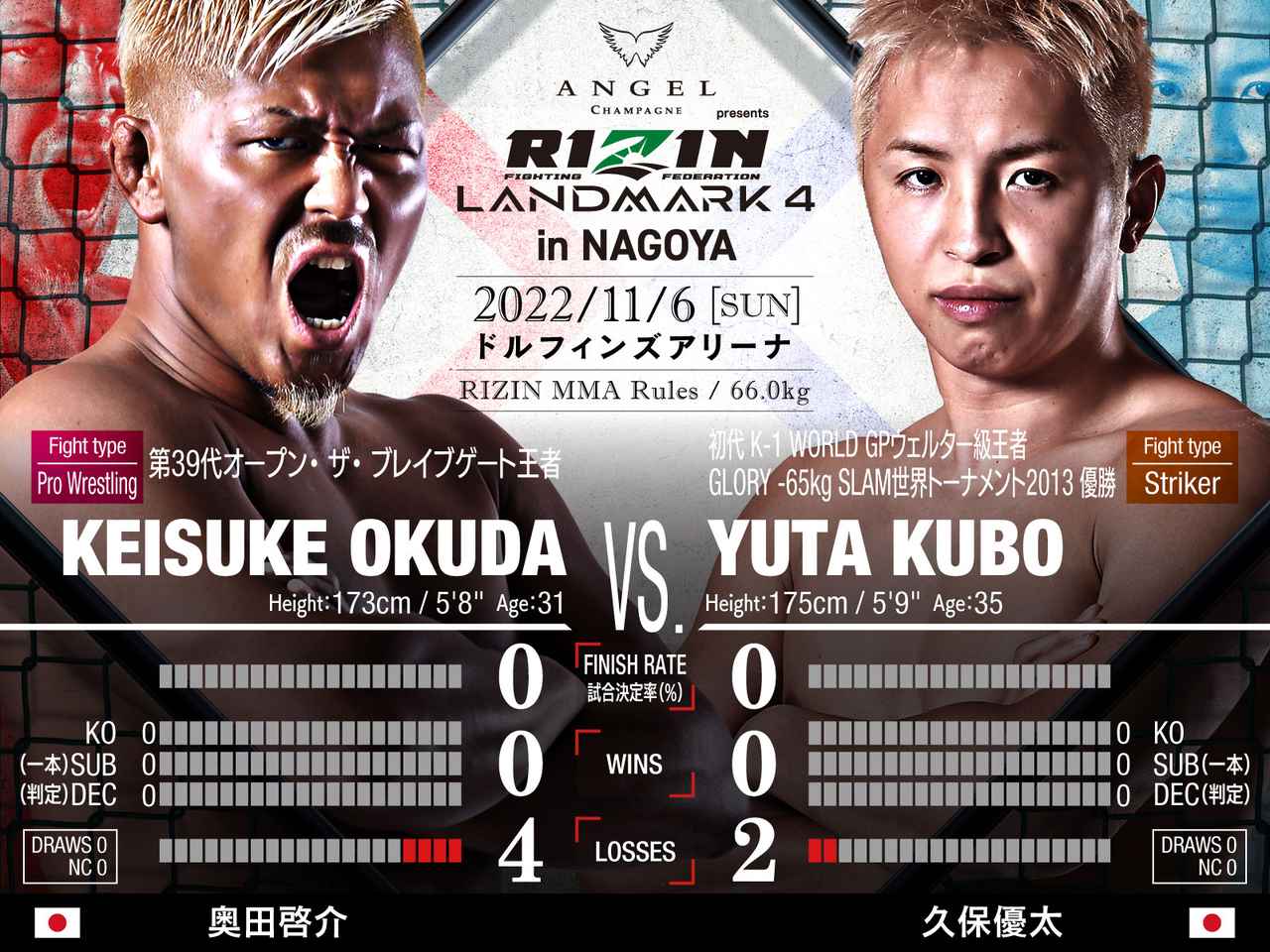 Okuda always steps into the ring as a pro wrestler, and a true professional. Kubo has made his transition to MMA with his kickboxing credentials but his MMA debut did not go his way. Okuda will want to fully utilize his wrestling so he will need to close distance and get that grip. Kubo will want to keep distance and pick his opponent apart with his elite striking. Each fighters' strong points are completely different so the fighter who can impose his will most likely get the win.
OPENING FIGHT #3 Junya 'Ebichu' Hibino vs Riku Yoshida [61kg - RIZIN MMA rules]
OPENING FIGHT #2 Kenta Kubo vs Hideyoshi [57kg - RIZIN MMA rules]
OPENING FIGHT #1 Syuto Sato vs KAZUNORI [53kg - RIZIN Kickboxing rules]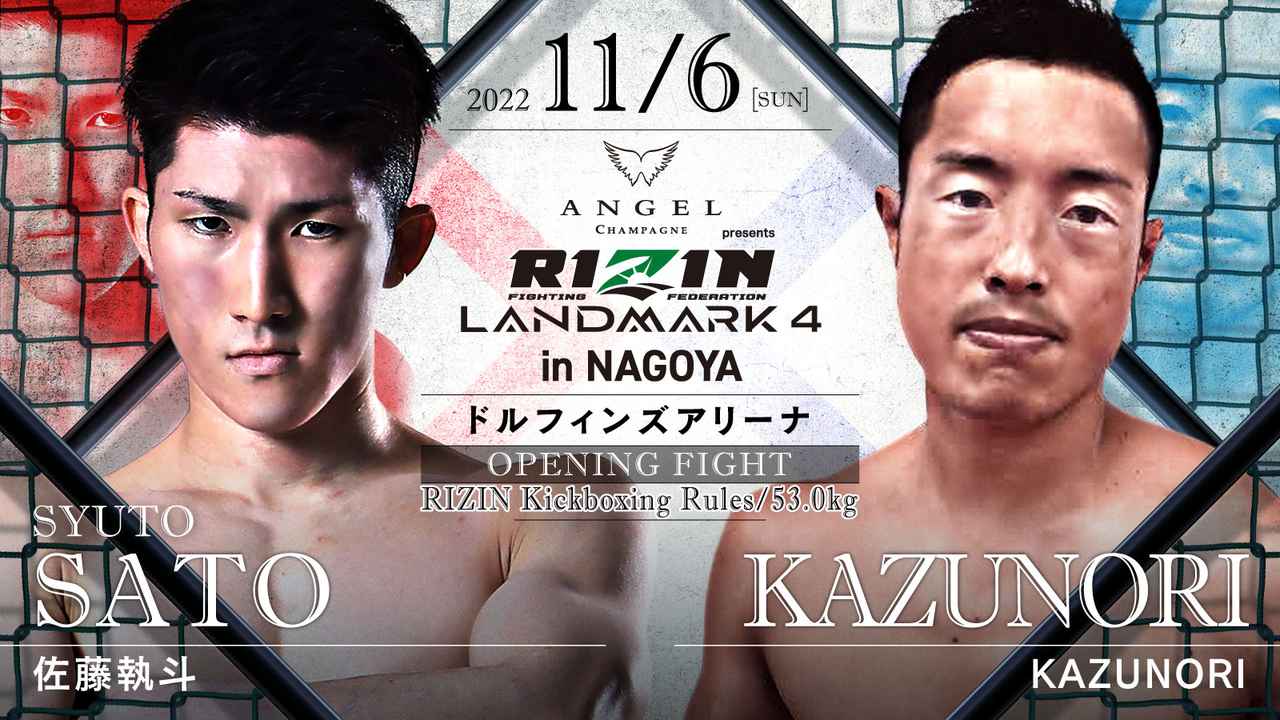 Follow RIZIN FF
Website - http://www.rizinff.com/
Facebook - https://www.facebook.com/rizinfightingfederation/
Twitter - @rizin_English
Twitter - @rizin_pr
Instagram – rizin_pr
TikTok – rizinffofficial
English News