PPV
Price
US$24.99
RIZIN.31 will be broadcasted LIVE on SkyperfectTV, streamed on RIZIN LIVE PPV and Exciting RIZIN with Japanese commentary.English commentary stream is provided by LiveNow (https://www.live-now.com/en-int/page/mma-rizin-31).
Fans can download the LIVENow app through the following links:
https://tinyurl.com/LIVENow-Android
https://tinyurl.com/LIVENow-Apple
International stream available on LIVENow:
https://www.live-now.com/en-int/page/mma-rizin-31
LiveNow commentary
EVENT INFO
EVENT
Yogibo presents RIZIN.31
Date
Oct 24, 2021
Doors are expected to open at 12:30PM with the Opening Ceremony at 2:00PM(JST)
Venue
PIA ARENA MM
Promoted by
RIZIN FIGHTING FEDERATION
The main sponsor
Yogibo
Yogibo presents RIZIN.31 complete fight order
FIGHT CARD
Yutaka Saito vs. Juntaro Ushiku
RIZIN MMA Rules 66.0kg / 145.5lb
RIZIN Featherweight Champion will be defending his title against current DEEP Champion Ushiku. Ushiku utilizes his Judo background and is expertly strong in the clinch and can control the fight throughout with his high fight IQ. Once he takes the pace, he never lets it go. Saito also has high fight IQ but he can also fight wild if he chooses to. Ushiku fights with a set pace while Saito can change his style during the fight. Results of this fight will determine the matchup for the NYE event so both fighters are motivated to put on a show.
Kanna Asakura vs. Saori Oshima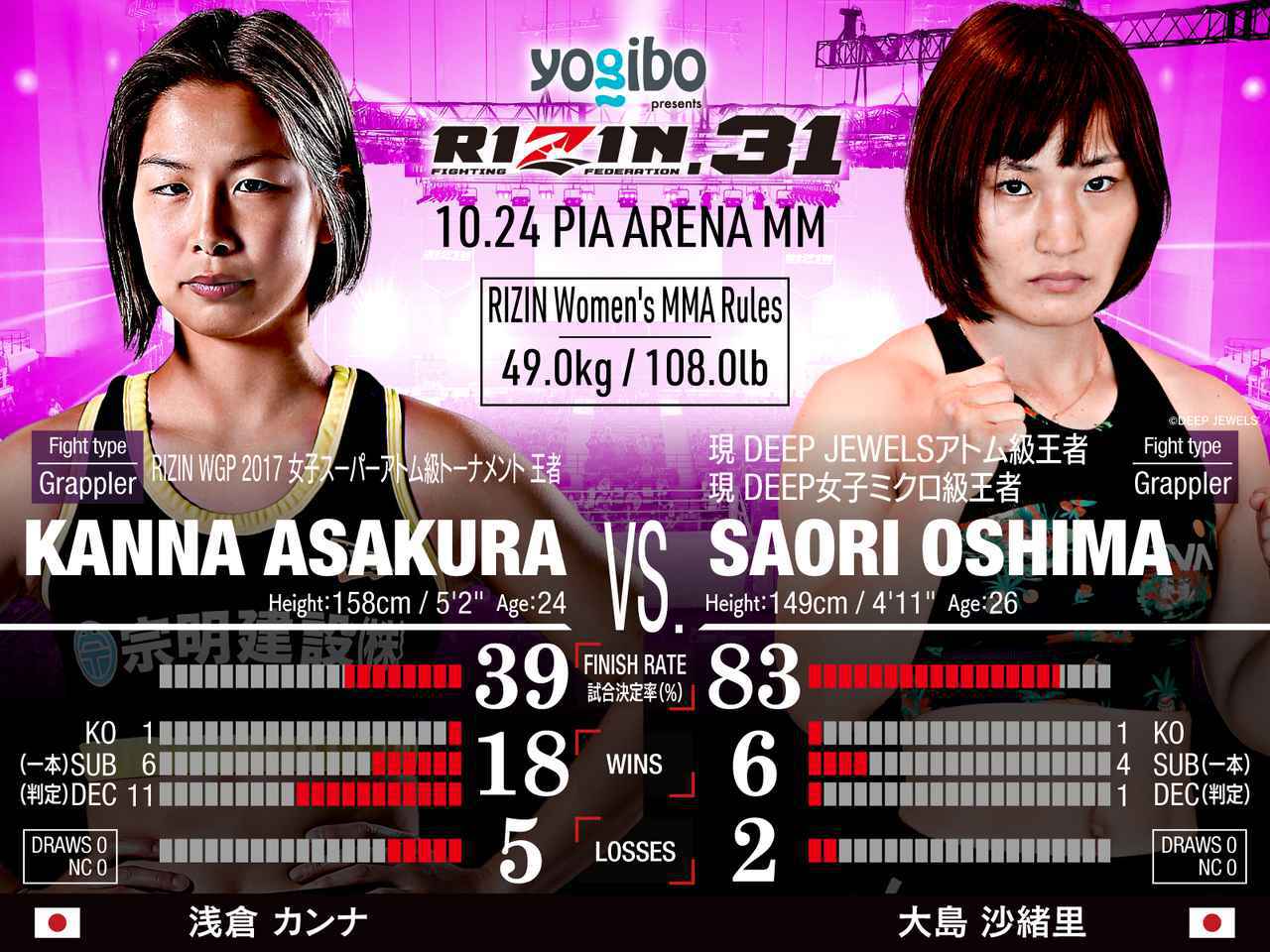 RIZIN Woman's MMA Rules 49.0kg / 108.0lb
Asakura makes her 15th RIZIN appearance while Oshima makes her 9th professional fight for her RIZIN debut. Asakura has been working on her striking on top of her solid wrestling background base and can fight comfortably where ever the fight goes. Oshima has a great Judo background and has many trips in the clinch and has the ability to finish the fight whenever the opportunity is presented. How will Oshima get inside of Asakura's reach and striking, and will Asakura show her experience and superior striking skills against the Judo practitioner
Tsuyoshi Sudario vs. SAINT
RIZIN MMA Rules 120.0kg / 264.6lb
SAINT utilizes his strength and body weight to throw massive bombs at his opponent while putting constant pressure and can knock down anything he lands. Sudario needs to take on such an aggressive fighter, using what he learned from his previous loss. Sudario has traveled to the US and trained with several world class fighters and is interesting to see how he has evolved as a fighter. Both fighters press forward and won't back down, the key to victory is to fight clever during heated exchanges and fight an MMA fight. Expect some exciting exchanges along with slick technique on the mat.
Masanori Kanehara vs. Takahiro Ashida
RIZIN MMA Rules 66.0kg / 145.5lb
Kanehara has come out of retirement to join the RIZIN Featherweight division against Ashida. Both fighters possess high, well rounded skills along with high fight IQ. Kanehara coming up from Bantamweight will make him focus more on the fight rather than the weight cut while Ashida looks to leave a statement after being shelfed for over a year after a win in RIZIN. Both fighters offset their skillset if they fight normally, so the one who makes changes might be the one with the advantage.
Daichi Abe vs. Akira
RIZIN MMA Rules 71.0kg / 156.5lb
A battle between RIZIN debutants will be held by two hard hitting strikers in the Lightweight division. Abe will be coming down from Welterweight for the first time in his career while Akira is coming off of back to back knockout victories. Abe uses timing and precision with light footwork for his strikes while Akira uses weight and power as he slowly creeps up to you to throw his haymakers. How the weight cut will affect Abe will be the key to this fight. Who will come out victorious to cut in line to challenge for the Lightweight title?
Daisuke Nakamura vs. Suguru Nii
RIZIN MMA Rules 66.0kg / 145.5lb
Another fight between 2 RIZIN newcomers in the Featherweight division. Nakamura is a legendary fighter with over 50 professional fights and fought around the world. His opponent Nii has 22 professional fights and has also fought internationally. Nakamura always goes for the submission while Nakamura likes to strike despite his Judo background. Expect these 2 to be all over the ring, with lots of movement and scrambles in this fight.
Rikuto Shirakawa vs. Takuya Yamamoto
RIZIN MMA Rules 66.0kg / 145.5lb
Shirakawa will be making his 4th RIZIN appearance when he meets newcomer and GRACHAN 2 division champion Yamamoto. Yamamoto possesses great physical strengths and vicious G&P that can exhaust and finish opponents. Shirakawa's striking has made significant improvement and will have the clear advantage during striking exchanged. How Shirakawa handles Yamamoto's physical strength once they tie up will be the key to see who will take initiative in this fight.
Nadaka Yoshinari vs. Naoki Ishikawa
RIZIN Kickboxing Rules 53.5kg / 117.9lb
Yoshinari will be coming up a weight class to face the experienced and decorated Ishikawa. How will the Muay Thai ace fight against a heavier opponent, and how will Ishikawa utilize his size advantage to take on the young prospect. Both fighters have great defense and high-level striking exchanges with phenomenal technique displays are expected. Elbows will be allowed in this fight so we hope to see new exchanges with elbows and different timing.
Yusaku Nakamura vs. Yuki Ito
RIZIN MMA Rules 57.0kg / 125.7lb
36 year old Nakamura makes his 26th professional fight while 24 year old Ito marks his 11th professional fight. The fight between 2 strikers will be a banger. Nakamura utilizes his footwork to move around the ring and blitz in with heavy shots while Ito can launch heavy hands from both outside and inside. Both are solid strikers so look out for timing and precision. Expect some fast movements and an intense atmosphere between these two Flyweights.
Seiichiro Ito vs. Kunta Hashimoto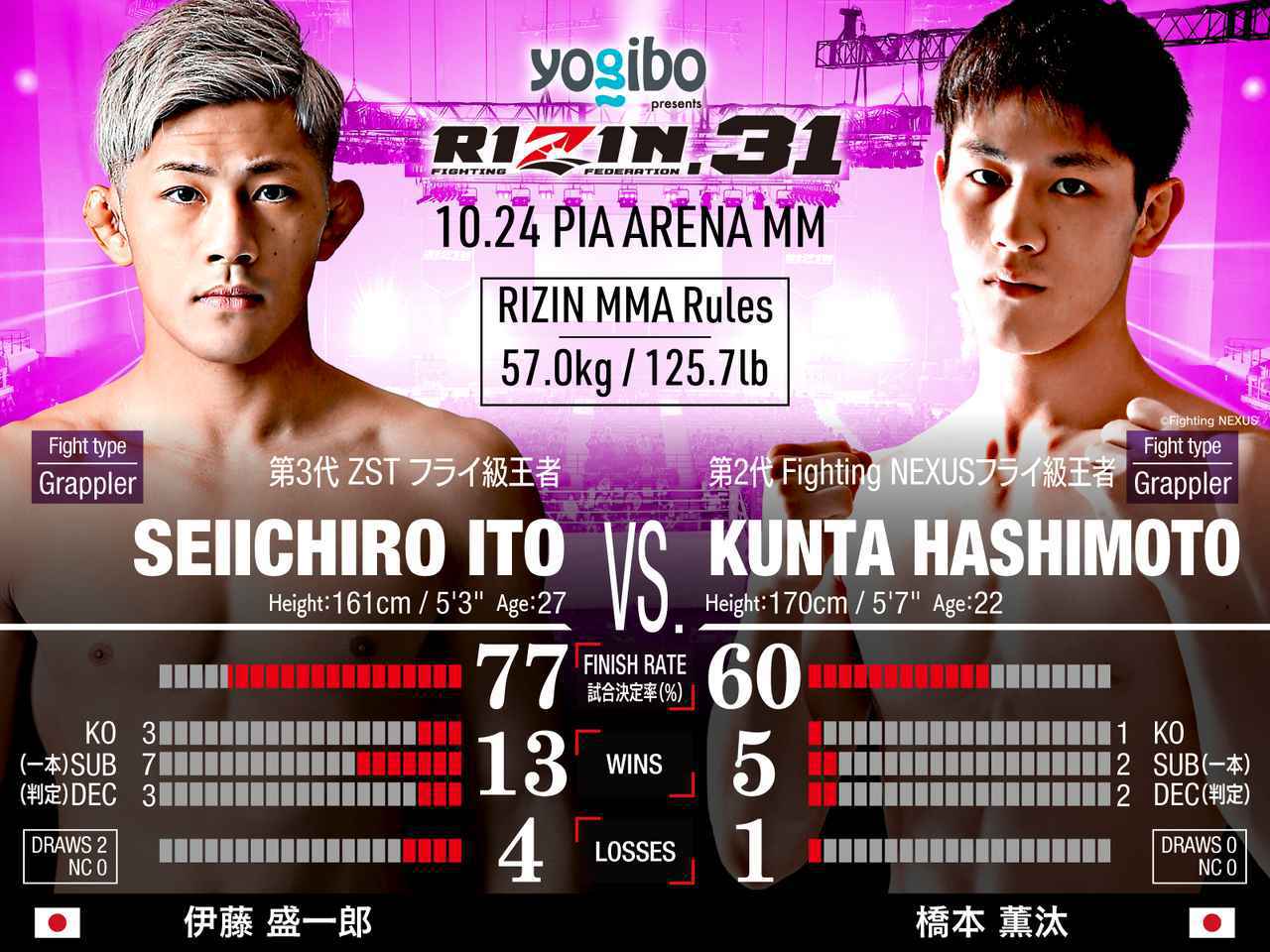 RIZIN MMA Rules 57.0kg / 125.7lb
The RIZIN Yokohama regular Ito will be taking on the NEXSUS flyweight Champion Hashimoto. The active university student has been practicing MMA from a young age and is well rounded, while he likes to utilize his lankiness to keep distance. Ito has crisp striking with smooth transitions into grappling and always goes for a submission with every opportunity presented. Hashimoto likes to take his time and improve position on the ground while Ito likes to scramble and create openings. They key to the fight will be how the fight goes once it hits the ground.
Ryuya Okuwaki vs. Ryuto Oinuma
RIZIN Kickboxing Rules 51.0kg / 112.4lb
Okuwaki has a traditional Muay Thai style while Oinuma has combined his background with Muay Thai and kickboxing. Distance will be key to this fight and expect Oinuma to be throwing strikes from all ranges. Okuwaki will set his pace and try to enforce his game plan.
Follow RIZIN FF
Website - http://www.rizinff.com/
Facebook - https://www.facebook.com/rizinfightingfederation/
Twitter - @rizin_English
Twitter - @rizin_pr
Instagram – rizin_pr
TikTok – rizinffofficial
News
【6/24(土)】RIZIN.43北海道大会 大会関連情報
【7/30(日)】超RIZIN.2 powered by U-NEXT 大会関連情報
【5/6(土)】RIZIN.42有明アリーナ 大会関連情報
【4/29(祝・土)】RIZIN LANDMARK 5 in YOYOGI 大会関連情報
おすすめコンテンツ