TOKYO – September 30th, RIZIN CEO Nobuyuki Sakakibara, held a press conference and announced updates about RIZIN.31 - the promotion's 5th event of the year.
RIZIN CEO Nobuyuki Sakakibara started the press conference saying "We are planning to put on monthly events for the rest of the year while following the guidelines given from the government. I am proud to announce that we will be holding an event in Okinawa for the first time in November. RIZIN.32 will be held at the Okinawa Arena which I think is the best Arena in Japan that holds 10,000 people." Sakakibara also announced that he will be having the Featherweight Champion Yutaka Saito to headline RIZIN.31 in Yokohama, revealing the event poster which has Saito as the main design.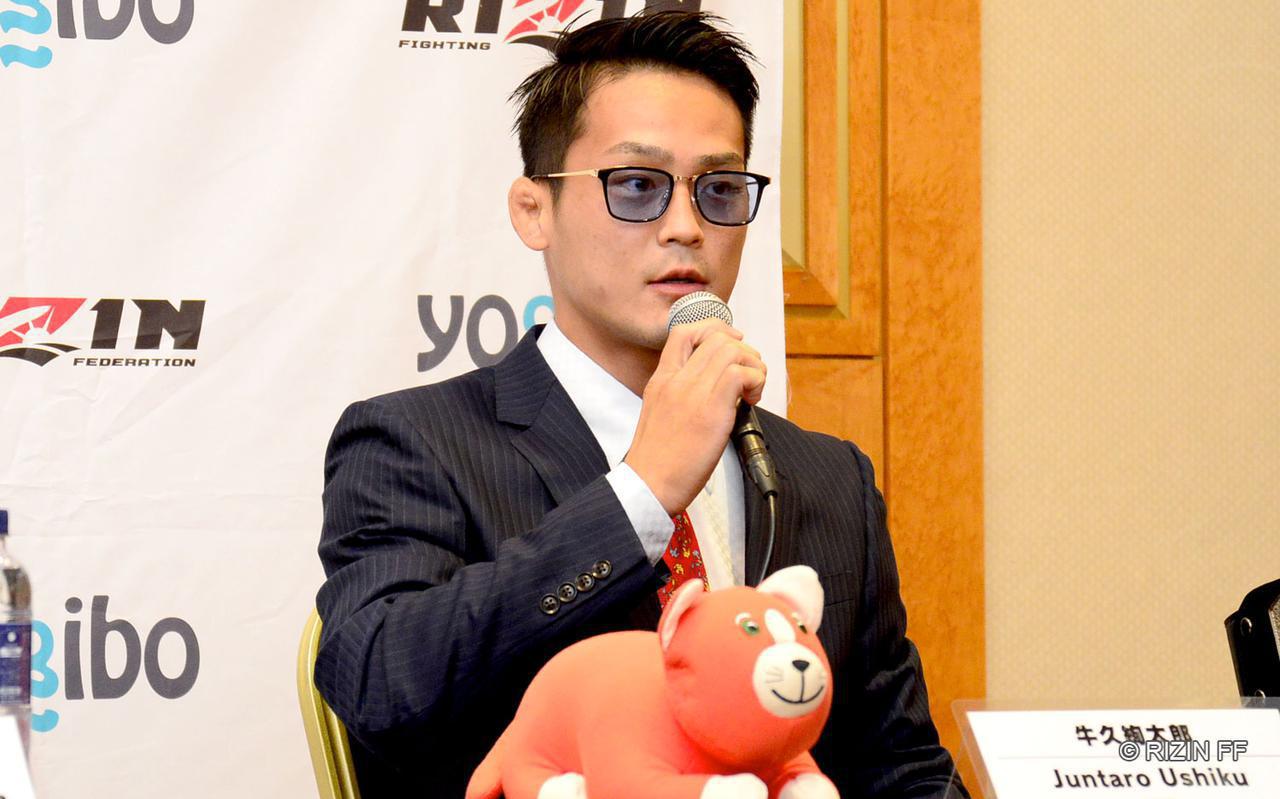 Reigning Featherweight Champion Yutaka Saito (20-4-2) asked for a title match, and he was presented with one of Japan's top featherweights - DEEP Featherweight Champion Juntaro Ushiku (19-8-1). Saito is the former Shooto Featherweight Champion, and is riding a 4-fight win streak. He is 8-1 in his last 9 bouts, with his last 3 victories coming in the RIZIN ring, where he captured the inaugural Featherweight title against fan-favorite Mikuru Asakura at RIZIN.25 last November. Ushiku is 7-1 in his last 8 bouts, avenging the sole loss he had against fellow RIZIN debutant Daisuke Nakamura in an instant rematch at DEEP 102 - 3 months ago. The pair had previously met at DEEP 100 in February. Ushiku won the title from Satoshi Yamasu at DEEP 97 after a 3-0 stretch in the promotion.
Tsuyoshi Sudario (3-1) makes his 5th straight appearance in RIZIN, when he takes on fellow up-and-comer Saint (2-0). Sudario has spent the last few months training in the United States following his first professional loss in an all-out war against top heavyweight Shoma Shibisai at RIZIN's Tokyo Dome mega-event in June. The New Jersey born Saint debuted in MMA earlier this year, winning both of his bouts in DEEP. He scored a 43-second KO against RIZIN alum Ryo Sakai and a unanimous decision against 33-fight veteran Seigo Mizuguchi respectively.
The RIZIN Japan Bantamweight Grand Prix completed its Quarterfinals last event, and has come to the Semifinal stage. While the Bantamweight division keeps its momentum, the Featherweight division will prove that it has not slowed down, when a showdown between Masanori Kanehara (27-14-5) and Takahiro Ashida (24-10-2) will take place at the PIA Arena MM in Yokohama. Kanehara is the former Sengoku Featherweight Champion and Sengoku Featherweight Grand Prix Champion, who made his RIZIN debut at RIZIN.21 in February of 2020 in a 2nd round stoppage loss to top-ranked bantamweight Victor Henry. The JMMA veteran has 20 stoppage wins, and will clash with former DEEP Featherweight Champion Ashida, who holds 13 stoppage wins. Ashida made his RIZIN debut at RIZIN.24 against surging contender Kyohei Hagiwara, where he won via 1st round submission.
In another Featherweight clash, Asakura brothers' teammate Rikuto Shirakawa (10-8-1) returns to action against Takuya Yamamoto (7-1-1). Rikuto Shirakawa has spent the majority of his professional career as a Bantamweight but has recently moved up to Featherweight since fighting in RIZIN and has shown success with the transition. The Osaka native is coming off of a TKO victory against veteran and former ONE title holder Kotetsu Boku, as well as a unanimous decision victory against the explosive Jin Aoi at RIZIN.29 this past June. Yamamoto is the GRACHAN Featherweight and Lightweight Champion, and will be making his RIZIN debut. He has not lost in 6 years, with his sole loss coming via DQ due to an illegal strike.
This event continues to introduce new Featherweights, as Daisuke Nakamura (30-20-1) makes his RIZIN debut against another promotional debutant Suguru Nii (12-10). Nakamura is a 51-fight veteran with 15 wins by submission. Having made his MMA debut in July of 2002 at PRIDE The Best Vol.2, he has competed across a plethora of promotions, such as PRIDE, DEEP, Cage Rage, HERO's, M-1, DREAM, ZST, and VTJ, challenging for 4 titles and capturing the DEEP Lightweight Championship before losing the title to fellow veteran Satoru Kitaoka. His last bout was nearly 3 months ago, where he challenged Juntaro Ushiku for the DEEP Featherweight title, coming up short in a split decision loss - after scoring back-to-back KO victories to earn the title shot. Nii is the former GLADIATOR Lightweight Champion, and has competed across DEEP and Pancrase for the majority of his career. He has 10 finishes with 6 in the first round, and has faced fellow RIZIN competitors Yojiro Uchimura and Kyle Aguon.
Former DEEP Flyweight Champion Yusaku Nakamura (16-8-1) squares off against former DEEP Flyweight title challenger, Yuki Ito (8-2). Nakamura was set to compete against Pancrase Strawweight Champion Daichi Kitakata this past June at RIZIN.29, however that fight was scrapped after Kitakata withdrew due to health issues. His last bout was against Tatsuki Saomoto at RIZIN.23 in August of 2020, where he suffered a 1st round stoppage against the ZST Flyweight Champion. Nakamura now returns in what will be his 5th RIZIN appearance, where he seeks to snap a 2-fight losing skid. Ito made a spectacular promotional debut against Kohei Sugiyama this past March at RIZIN.27, scoring a 33-second KO victory. Since then he has stayed busy, splitting two bouts in DEEP, with his last outing being a title challenge against former RIZIN veteran Yamato Fujita for his DEEP Flyweight title.
Daichi Abe (9-4) also will be debuting under Japan's premier banner, when he takes on Akira Okada (15-8-4). Abe is the former Pancrase Welterweight Champion and reigning DEEP Interim Welterweight Champion. The 3-fight UFC veteran is riding a 3-fight win streak, having captured his current title against RIZIN veteran Gota Yamashita at DEEP 100 this past February. He holds 5 first round KO victories. Okada is a 11-year JMMA mainstay, competing across Shooto and Pancrase, and has faced familiar names such as Tyson Nobumitsu, Satoru Kitaoka, Kazuki Tokudome, Akihiro Gono, and Koshi Matsumoto. He is riding a 2-fight win streak with both coming by KO.
Former ZST Flyweight Champion Seiichiro Ito (13-4-2) looks to level his RIZIN record against newly crowned Fighting NEXUS king Kunta Hashimoto (7-1). Ito won his last bout against Yuta Hamamoto at ZST 69 in November 2020, snapping a 3-fight skid where he lost his title to Tatsuki Saomoto, and suffered back-to-back stoppage losses to Manel Kape and Makoto Takahashi. Hashimoto is a 22-year old up-and-comer from Fighting NEXUS. He is riding a 4-fight win streak and recently defeated 45-fight veteran Takehiro Ishii 2 months ago to claim the Fighting NEXUS vacant Flyweight title. The step up in competition for Hashimoto and return to RIZIN for Ito is a pivotal bout for the pair of flyweights.
Kanna Asakura (18-5) welcomes promotional newcomer Saori Oshima (6-2). Asakura is the former Super Atomweight Champion and Grand Prix winner, and is coming off a split decision loss in her rematch with Ayaka Hamasaki for the Super Atomweight title - a fight which became an instant classic. Oshima is riding a 3-fight win streak, having conquered the DEEP Jewels Atomweight Grand Prix this past June, and holds wins over RIZIN alumni Sakura Mori, and Emi Tomimatsu. She also avenged her loss to Si Woo Park in the Grand Prix. This fight holds potential title implications for the Super Atomweight division.
Yutaka Saito vs. Juntaro Ushiku
Yutaka Saito
" Despite my opponent, I demanded this fight to be a title defense, so it doesn't matter who my opponent is, I'm going to do what I do and that is to defend my belt in a convincing way. My opponent is a young fighter and I've watched him throughout his career. I'm ready for a tough fight but I'm confident I will get a finish."
Juntaro Ushiku
"I'm honored to be given the opportunity to fight for the title on my promotional debut. I will put everything I worked for on the line to fully capitalize on this opportunity. The Champion is very clever and he can execute his game plan very well. I look forward in facing him."
Kanna Asakura vs. Saori Oshima
Kanna Asakura
"I lost my last fight and now I have to fight my way back to a title fight. Although she's new to the sport, Oshima is a great fighter and I respect her for all of her accomplishments. I will take her on with great respect."
Saori Oshima
"I will be stepping in the ring with pride, holding 2 belts, representing everybody I have fought. I have 2 year old twin daughters and I want to inspire all the working mothers out there. "
Yusaku Nakamura vs. Yuki Ito
Yusaku Nakamura
"I was so ready to fight in my last fight but my opponent got sick the day of and I ended up doing stand up comedy in the ring. I have so much energy and I can't wait to explode in my next fight. This will be a walk in the park because I am overcharged and I have 2 fight's worth of energy."
Yuki Ito
"I'm not going to respond to what my opponent had to say, but I'm simply excited to be fighting on this card. I think this is Nakamura's time to hand over the torch and hang them up. I will show him the way out."
Daisuke Nakamura vs. Suguru Nii
Daisuke Nakamura
"I want to show you the romance of a 41 year old man following his dreams. I will stick with who I am, and do my best to win every fight that is put in front of me."
Suguru Nii
"I've been a bouncer for 13 years and I will be representing all bouncers when I step in that ring. Nakamura always wears his tight black shorts throughout his career and I respect him for sticking with his style. I think his tight black shorts have seen more wars than most people. On fight day, I will face him with full respect for him and his tight black shorts."
Masanori Kanehara vs. Takahiro Ashida
Masanori Kanehara
"I'm back. It was hard to resist not making my return when so much is happening in the Featherweight division right now. I know where I'm at and I know what I'm supposed to do. My eyes are set on that belt and Ashida is just a stepping stone. I'm here to take Saito's belt. "
Takahiro Ashida
"It's been over a year since my last fight in RIZIN and although I won, I haven't been called back but whatever, I'm here now and I will make sure everybody knows that they made the wrong decision for not bringing me back sooner."
Daichi Abe vs. Akira Okada
Daichi Abe
"This will be my first fight at Lightweight, and I do believe I am the only Japanese fighter who has what it takes to take on international competition. I will put on the fight of the night performance on October 24th so look forward to it."
Akira Okada
"I came here to knock everybody out in the Lightweight division"
Rikuto Shirakawa vs. Takuya Yamamoto
Rikuto Shirakawa
"When I was given the offer I had no idea who my opponent was, but I heard that he's a 2 division champion for GRACHAN and the last GRACHAN who fought in RIZIN was pretty good so I'm looking forward to seeing what he brings."
Takuya Yamamoto
"This is my first time in RIZIN and I will do my best. Thank you."
Seiichiro Ito vs. Kunta Hashimoto
Seiichiro Ito
"Yokohama is my home town and I have been grateful to be fighting for most Yokohama events, but I haven't been able to leave good results lately, so for this one I look to put on a great showing and hopefully it will lead to NYE ."
Kunta Hashimoto
"This will be my first time in RIZIN and nobody knows me but I plan to put on a performance to be remembered. I look to dominate in all aspects of the fight and hope Ito comes prepared."
Tsuyoshi Sudario vs. SAINT
Tsuyoshi Sudario
"Last year I was at the Yokohama event as a spectator. This fight will be the beginning of my second year as a professional fighter. I will show you what I've learned in the US. My opponent is big and has a long reach but I will fight my fight regardless of my opponent."
SAINT
"I'm a marine serving at the Yokosuka base. I'm excited to showcase my skills in RIZIN. My opponent is just a big sack of nothing so I'm not worried. He's an easy opponent for me because I've succeeded in several life threatening missions and I don't plan to fail this one. "
Confirmed Bouts
Rizin.31, Yokohama, October 24th
Yutaka Saito vs Juntaro Ushiku - 66kg RIZIN Featherweight title fight
Kanna Asakura vs. Saori Oshima - 49kg MMA Rules
Tsuyoshi Sudario vs SAINT - Heavyweight MMA Rules
Yusaku Nakamura vs. Yuki Ito (Flyweight)
Daisuke Nakamura vs Suguru Nii - 66kg MMA Rules
Masanori Kanehara vs. Takahiro Ashida - 66kg MMA Rules
Daichi Abe vs Akira Okada - 71kg MMA Rules
Rikuto Shirakawa vs Takuya Yamamoto - 66kg MMA Rules
Seiichiro Ito vs Kunta Hashimoto (Flyweight)
RIZIN.31 will be broadcasted LIVE on SkyperfectTV, streamed on RIZIN LIVE PPV and Exciting RIZIN with Japanese commentary. International PPV with English commentary will be available on LIVENow.
Doors are expected to open at 12:30PM with the Opening Ceremony at 2:00PM on October 24th (Sun) at the PIA Arena.
Follow RIZIN FF
Website - http://www.rizinff.com/
Facebook - https://www.facebook.com/rizinfightingfederation/
Twitter - @rizin_English
Twitter - @rizin_pr
Instagram – rizin_pr
TikTok – rizinffofficial
English News
RIZIN LANDMARK 6 in NAGOYA 大会関連情報
RIZIN LANDMARK 7 in Azerbaijan 大会関連情報
RIZIN.44 さいたま大会 大会関連情報
おすすめコンテンツ