PPV
EVENT INFO
EVENT
SBC Shonan Beauty Clinic presents RIZIN.39
Date
October 23th, 2022
RIZIN.39 doors are expected to open at 12:30PM, with a 2:00pm start time on October 23rd (Sun) in Nagoya.
Venue
Marine Messe in Fukuoka
≫ Acces(Google Maps)
Promoted by
RIZIN FIGHTING FEDERATION
The main sponsor
SBC Shonan Beauty Clinic
SBC Shonan Beauty Clinic presents RIZIN.39 complete fight order
SBC Shonan Beauty Clinic presents RIZIN.39 FIGHT CARD
#12 Featherweight Title Match Juntaro Ushiku vs Kleber Koike [66kg - RIZIN MMA rules]
A full year has passed since Ushiku first obtained the title. And now he takes on the toughest challenger Kleber. Ushiku's strong points are his high fight IQ and well-rounded skills. Kleber has excellent Jiu Jitsu and an outstanding finish rate. The key to this fight is how Ushiku will handle the situation once the fight hits the mat. All of Kleber's previous opponents have tried to fight Kleber on the ground, but has never faced an opponent who is 100% committed to escaping. If Ushiku commits to 100% escaping, we might witness a different Kleber on the ground. Will Ushiku wait until Kleber gets frustrated, or will Kleber wait for Ushiku to make a mistake. One mistake will cost the fight, that intensity will add to a terrific title fight matchup.
#11 Tsuyoshi Sudario vs Janos Csukas [120kg - RIZIN MMA rules]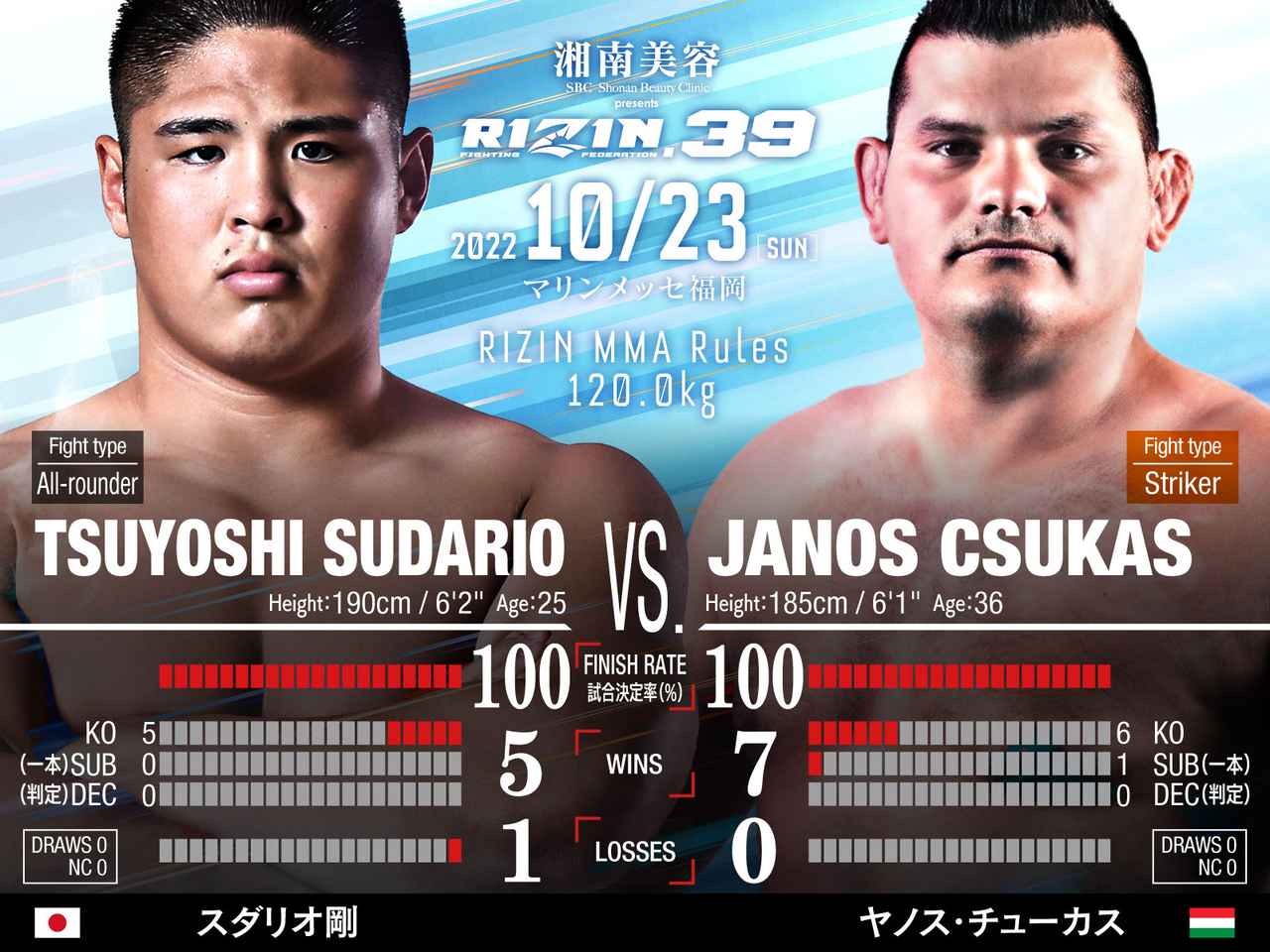 Sudario will be taking on international competition upon his request against an undefeated striker from Hungary. Csukas has been gaining experience in the European circuit where several Heavyweight prospects are waiting to receive the spotlight they deserve. Sudario wants to show the world that he is ready for international competition and showcase his improved skills from training abroad. Csukas has explosive hands and Sudario will have a hard time if caught in a heavy exchange. Will Sudario utilize his overall skills to secure the win, or will he select another way. Sudario will have more cards to play and depending on how he plays his cards, the fight will change significantly. RIZIN's Heavyweight division will take a evolutional turn when Sudario and Csukas collide head first.
#10 Yusuke Yachi vs Boido Allen [71kg - RIZIN MMA rules]
The brand new Yachi's next assignment is to take on a Allen who is a solid striker from South Africa. Allen sets the pace with his punches and hits extremely hard. His long reach prevents grapplers from shooting in and confuses other strikers. Yachi will need to utilize all of the skills he has and put them together logically in order to win this fight. Both fighters are strikers so the key to victory will be the number of weapons hidden up their sleeves, and the adoptability to the fight. Allen already has a solid map that can get him wins with his style. What kind of map will Yachi bring to this fight and how will he execute it. Will RIZIN's party boy put on a show, or will Allen become a new threat to the RIZIN Lightweight division.
#9 Koji Takeda vs Zach Zane [71kg - RIZIN MMA rules]
RIZIN's Japanese Lightweight Takeda will be taking on international competition 3 times in a row against RIZIN tryouts winner Zach Zane. Due to Zane's true warrior spirit and the fact that he never turns fights down he is currently suffering consecutive losses but with the proper offer, Zane delivers exceptional performances. Takeda has proven his skills by defeating Johnny Case and has no time dropping fights here, but Zane will enter this fight with nothing to lose, and fully determined to capitalize on this opportunity. Takeda usually performs better being the underdog, so it will be interesting to see how this matchup effects the wrestler mentally. Takeda has endless stamina and a gritty wrestling style. Zane sets his pace with kicks and explosive striking with a brown belt in Jiu Jitsu. The longer the fight goes, the more advantageous it is for Takeda. Watch this fight with these facts, which will make this matchup much more intriguing.
#8 Shinji Sasaki vs Sho Patrick Usami [75kg - RIZIN MMA rules]
A Classic veteran grappler vs striker prospect which is intriguing in both storylines and stylistic matchup. There is a 20 years age difference, 30 professional fight difference. Sasaki will have the advantage over experience and ground skills, but Usami has a phenomenal boxing pedigree and is full of potential. Although Sasaki is very well rounded, he likes to utilize his ground skills to finish his opponents. Usami has impeccable boxing technique and has the potential of becoming the Lightweight leader in Japan if he continues to build experience and adjusts to MMA. "Sasaki will take it if he gets a hold of Usami, and Usami will take it Sasaki cannot get a grip" is the simple yet exciting aspect of this matchup. Focus on the story, fight style and each fighters' true feelings headed into this fight and you will be emotionally attached to either fighter.
#7 Daichi Abe vs Hibiki Tamura [77kg - RIZIN MMA rules]
Abe will be headed into this fight riding a 2 fight winning streak when he faces the local Ace from Fukuoka, current Shooto Welterweight Champion Tamura. Abe has a solid boxing and Judo background and has an aggressive style while Tamura utilizes his Jiu Jitsu skills and high fight IQ. Abe will look to be aggressive from the beginning while Tamura wants to take time to study his opponent. Tamura will want to keep distance while Abe constantly delivers forward pressure and there will be a trigger of when they exchange. Will Abe land his power shots or will Tamura drag his foe to the mat. All of Abe's finishes come by the way of KO / TKO while Tamura has a variety of finishes, showing his well-rounded skills. Tamura will have more weapons to fight with, but Abe will have the power and striking advantage. Will this veteran vs prospect matchup open up doors for the RIZIN Welterweight division?
#6 Genji Umeno vs Trent Girdham [61kg - RIZIN Kickboxing rules with elbows]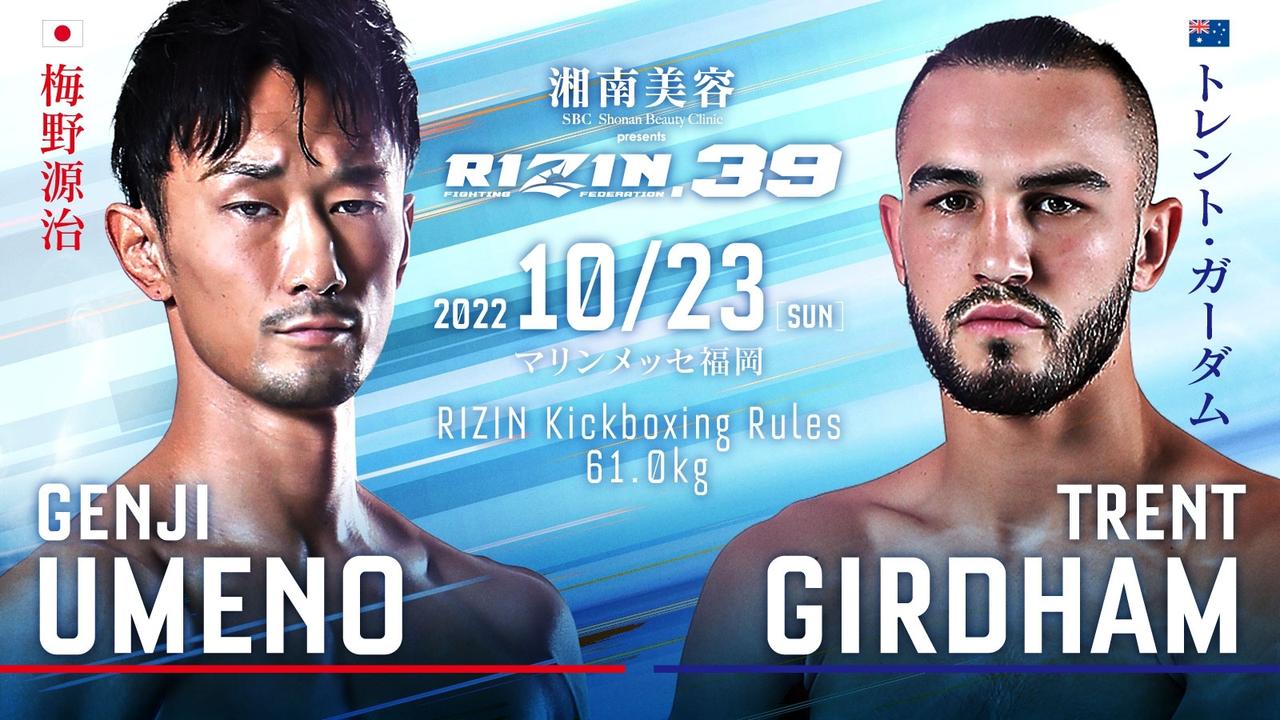 #5 Takahiro Ashida vs Hirotaka Nakada [66kg - RIZIN MMA rules]
Ashida will be making his 4th appearance in the RIZIN ring while his opponent Nakada will be entering the RIZIN platform for the 2nd time. Ashida has a solid boxing base with wrestling which is a great combination while Nakada has a style where he looks for openings while delivering intense forward pressure. Both fighters have iron hearts and will not quit until the go unconscious. Ashida will try to set the pace with clean footwork and punches while Nakada will simply press forward and get into brawling range to create an uncomfortable rhythm. Who will take his distance Ashida at mid-range or Nakada at close-range. Don't miss that exact time where the uncomfortable rhythm turns into comfortable rhythm for one fighter.
#4 Yoshiki Nakahara vs Akira Haraguchi [66kg - RIZIN MMA rules]
Nakahara has suffered last minute opponent changes in a row but the fact that he has accepted changes both times shows his confidence and experience as a veteran who has fought globally. Although this will be a short notice fight, Haraguchi has agreed to the Featherweight matchup which shows his determination to always stay ready. Nakahara is well rounded with great counter intuition while Haraguchi utilizes his wrestling background heavily. The key to this fight is distance. Nakahara will have the advantage in the striking department so Haraguchi will have to figure out a way to close distance and take the fight where he's most comfortable at. Haraguchi must weave through Nakahara's strikes and counter attempts to get into grappling range. Keep a close eye out on the fighters' distance which will make you enjoy this fight even more.
#3 Motonobu Tezuka vs Mehman Mamedov [61kg - RIZIN MMA rules]
Veteran Tezuka will be taking on Musaev and Keramov's teammate Mamedov in a Bantamweight matchup. Tezuka has fought wars against world class opponents and has the experience. He wants to take the fight to the ground where his can showcase his grappling skills against the well-rounded striker Mamedov. The Azerbaijan Flyweight has light footwork and quick movement and while his looks may be deceiving, he can put on a fast paced fight with plenty of scrambles. The key to the battle between grappler Tezuka and striker Mamedov will be the moment before resetting. The one who finishes each encounter with a strike attempt will be able to dictate the pace. Expect a legitimate MMA fight between the experienced veteran and the 3rd man from Azerbaijan.
#2 Shogo Kuriaki vs Kakeru [57.5kg - RIZIN Kickboxing rules]
#1 REITO BRAVELY vs Koichiro Seki [63kg - RIZIN Kickboxing rules]
Follow RIZIN FF
Website - http://www.rizinff.com/
Facebook - https://www.facebook.com/rizinfightingfederation/
Twitter - @rizin_English
Twitter - @rizin_pr
Instagram – rizin_pr
TikTok – rizinffofficial
English News
RIZIN LANDMARK 6 in NAGOYA 大会関連情報
RIZIN LANDMARK 7 in Azerbaijan 大会関連情報
RIZIN.44 さいたま大会 大会関連情報
おすすめコンテンツ