PPV
Price
RIZIN TRIGGER 1st will be broadcasted LIVE on SkyperfectTV, streamed on RIZIN LIVE PPV and Exciting RIZIN with Japanese commentary.English commentary stream is provided by LiveNow (https://www.live-now.com/en-int/page/mma-rizin-32-trigger).
LiveNow commentary
EVENT INFO
EVENT
RIZIN TRIGGER 1st
Date
Nov 28, 2021
Doors are expected to open at 12:30PM with the Opening Ceremony at 2:00PM(JST)
Venue
Kobe World Hall (Portisland Hall)
Promoted by
RIZIN FIGHTING FEDERATION
RIZIN TRIGGER 1st complete fight order
FIGHT CARD
Shoji vs. Kyohei Hagiwara
RIZIN MMA Rules 66.0kg / 145.5lb
A matchup between 2 determined fighters worthy of the main event for the first RIZIN TRIGGER event. Shoji has been through ups and downs during his 16 year career and with being his 35th fight, he faces an important fight against the rising prospect Hagiwara. Both fighters have a combined record of 24 wins, with 18 KO's
Which predicts what kind of fight this fight will become. Shoji had a great performance showing his full potential during his last fight while Hagiwara struggled to put on a fight he had planned. Will the mentality heading into this fight make a difference. Shoji throws powerful looping hooks while Hagiwara throws crisp strikes down the middle.
Yoshinori Horie vs. Hirotaka Nakada
RIZIN MMA Rules 68.0kg / 149.9lb
A matchup between 2 hard hitting Featherweight prospects. Horie has the striking power and technique that stands out but his fight IQ is what gets him the initiative during the fight. Nakada has shown his potential and has become a Pancrase top ranker in 2 years after making his professional debut. This fight is expected to be a display of high level MMA technique from both fighters but look out for Nakada's mentality and determination. Horie will have to knock his opponent out cold in order to finish the fight or Nakada will keep fighting back for victory. This fight will deliver great MMA, exciting striking exchanges and inspiring mental strength.
Strasser Kiichi vs. Takahiro Kawanaka
RIZIN MMA Rules 77.0kg / 169.8lb
Strasser has experienced fights across the globe and welcomes newcomer Kawanaka who looks to use this opportunity to take his career to the next step. Both fighters are very well rounded but perform at their best when the action hits the mat. Strasser takes his time and works for the finish without taking risks while Kawanaka uses his physical strength to muscle his opponent to the ground and deliver punishment with vicious g&p and submission during the scramble. The key of the fight will be who takes top control on the ground. There is also a possibility where both fighters' ground will offset each other and the fight turns into a standup fight.
Ryuichiro Sumimura vs. Yusaku Kinoshita
RIZIN MMA Rules 77.0kg / 169.8lb
Awajishima's own Sumimura will participate in the Kobe event with a huge fanbase. His opponent is the number one prospect in the Welterweight division Kinoshita from Osaka. Sumimura has been on a 4 fight win streak since his loss in Bellator Japan but his performance has not always been on point. Sumimura would like to finish the highly touted prospect in convincing fashion to take his presence to the next level. It is interesting to see how the undefeated Kinoshita with a 100% finish rate will do against a well experienced veteran. Keep an eye out for this fight which will determine the future of RIZIN Welterweight division's future.
Shian vs. Uoi Fullswing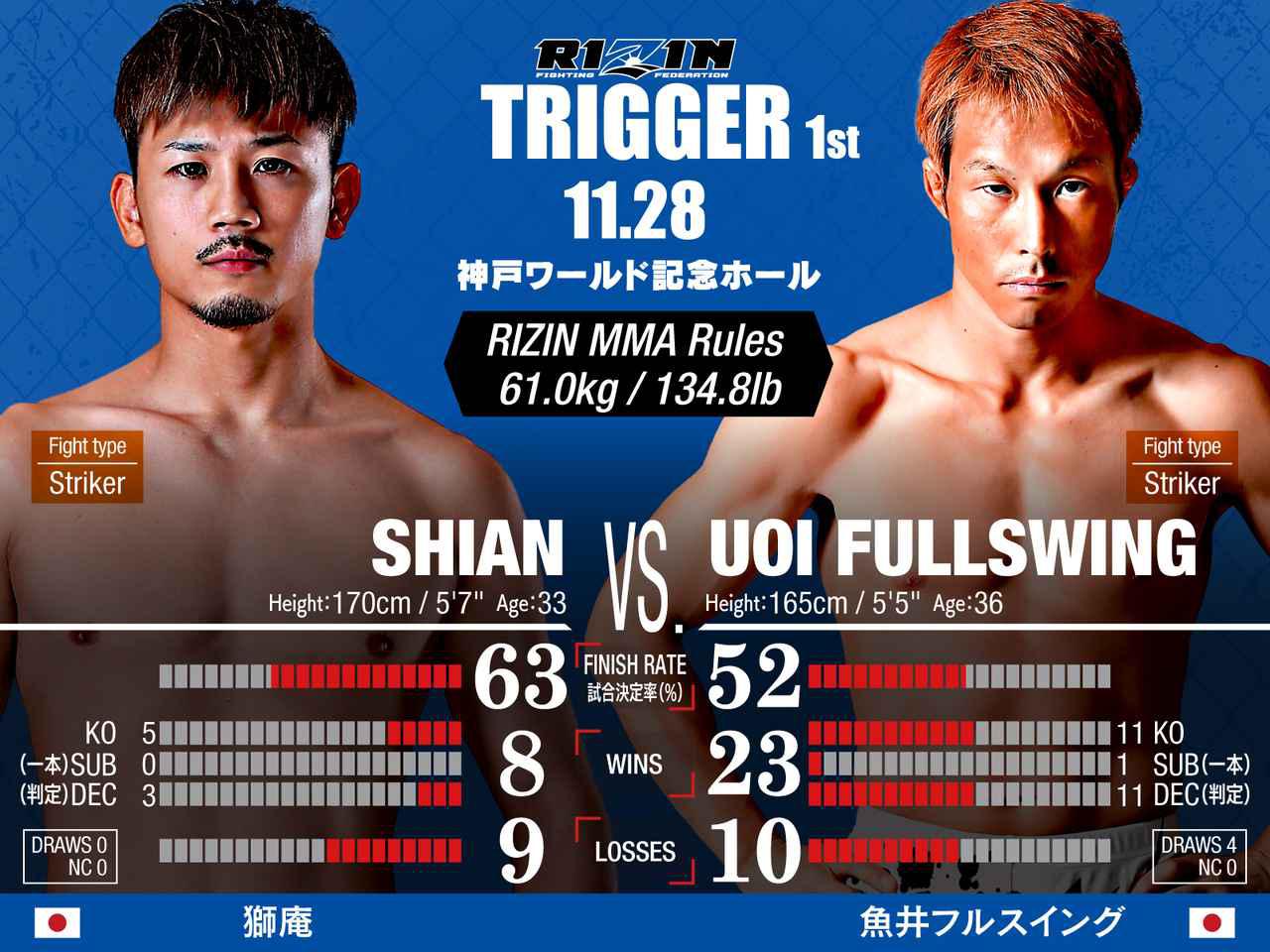 RIZIN MMA Rules 61.0kg / 134.8lb
The judges can take a break for this fight. Japan's top 2 knockout artist colliding in the cage will end with one fighter flat on the mat. The key to victory would be to "land first", but for this one the process of how to land that fight ending shot will be more important. Shian is orthodox while Uoi is a south paw. Enjoy the intense atmosphere that these 2 will create before getting into a full-on firefight. The silence before the storm contrast will bring additional depth to this fight.
Tatsuki Saomoto vs. Takashi Matsuba
RIZIN MMA Rules 57.0kg / 125.7lb
RIZIN Flyweight keeps getting better. Saomoto will be welcoming a newcomer Matsuba, who has a unique character with an aggressive style with heavy hands, strong core and good top control. Saomoto will utilize his stamina and physical strength to control his opponent on the ground which makes this fight a non-stop action packed fast paced fight. Saomoto does his work from the ground, but Matsuba can control the fight on his feet as well. Matsuba will look to control the fight on the feet and Saomoto will look to close distance for a takedown. Saomoto's stamina or Matsuba's fight IQ, which will lead them to victory.
Chihiro Suzuki vs. Sora Yamamoto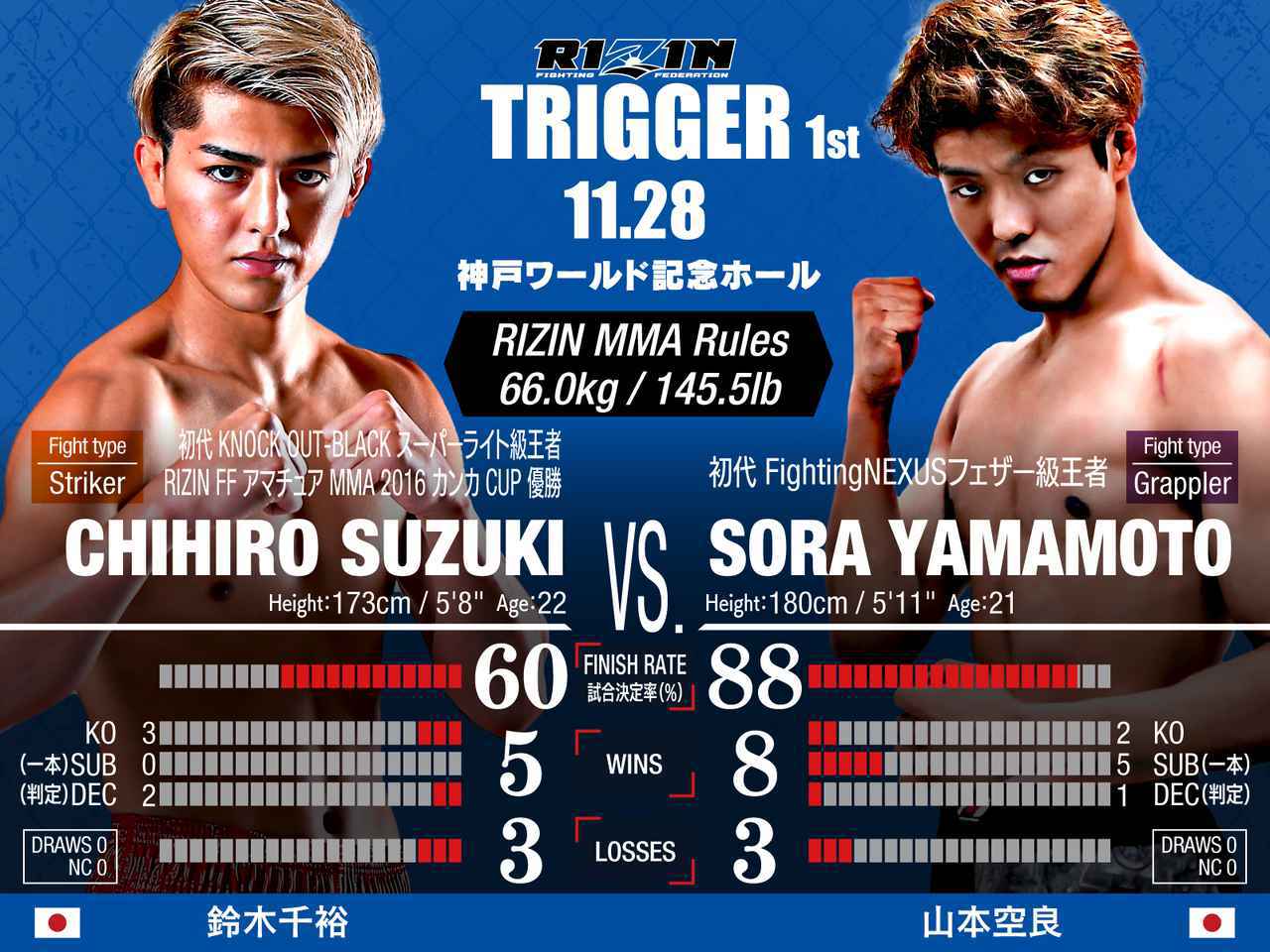 RIZIN MMA Rules 66.0kg / 145.5lb
New generation striker vs new generation grappler. Both fighters have won the RIZIN amateur challenge series in the past. Suzuki has great striking and Yamamoto has great grappling. If the fight is kept standing, Suzuki will have the upper hand and if it hits the mat Yamamoto will have the advantage. Will Yamamoto be able to survive Suzuki's storm early in the fight and take the fight to the mat. Suzuki now knows that powershots will be open to takedowns so it will be interesting to see how Suzuki has adjusted his striking towards MMA. This fight represents RIZIN TRIGGER's concept of building and recognizing new talent. Don't miss it.
Keisuke Okuda vs. Grant Bogdanove
RIZIN MMA Rules 73.0kg / 160.9lb
Pro wrestling vs Jiu Jitsu. Prowrestler Okuda will be facing a ground specialist in this fight. Grant is an aggressive Jiu Jitsu practitioner who likes to go for leg locks or any submission when the opportunity is given. Grant still has holes in his striking due to the lack of MMA experience so Okuda would like to capitalize on it. Striking and physical strength will be Okuda's strengths while Grant will have the technique and grappling skills. Will Grant's technique overcome Okuda's power, or will power crush technique.
Makoto Kamaya vs. Daiki Lightyear
RIZIN MMA Rules 61.0kg / 134.8lb
2 veteran fighters who sustained Japan's Bantamweight division throughout the years in their respected organizations will be meeting in the RIZIN TRIGGER cage. Kamaya is well rounded and very experienced and his boxing technique has gotten him through several wars against top fighters. Daiki is true Shooto fighter with diverse skillsets and utilizes his reach to dictate the pace of the fight. Kamaya has the significant experience advantage from fighting RIZIN familiar names such as Motoya, Shoji, and Shirakawa but Daiki will have the advantage of major support in his home town. Both fighters are very well rounded so each movement will count and stamina will be the key to victory.
Jin Mandokoro vs. Yu Hiramatsu
RIZIN Kickboxing Rules 53.0kg / 116.8lb
Hiroto Ichimura vs. Tepparith Joegym
RIZIN Kickboxing Rules 61.0kg / 134.5lb
Momoka vs. Miku
RIZIN Kickboxing Rules 46.0kg / 101.4lb
Kenji Kato vs. Katsuya Fujiwara
RIZIN MMA Rules 61.0kg / 134.8lb
A battle between 2 hard hitting sluggers. Kato has made a name for himself by knocking his opponents out with his speed and power punches. His opponent Fujiwara comes for the SMOKER gym which has been known for producing aggressive strikers. Fujiwara may have the disadvantage with experience but he has plenty of fights in Karate and underground fights that require as much guts than a professional fight. The key to this fight is how Kato will use his experience as an advantage. Utilizing feints and takedowns during the fight will open up chances to land big shots. When this fight ends, it will be in a flash so don't blink.
Tsubasa Morii vs. FUJIMON♡
RIZIN Kickboxing Rules 55.0kg / 121.2lb
Follow RIZIN FF
Website - http://www.rizinff.com/
Facebook - https://www.facebook.com/rizinfightingfederation/
Twitter - @rizin_English
Twitter - @rizin_pr
Instagram – rizin_pr
TikTok – rizinffofficial
News
【4/1(土)開催】 RIZIN.41 大会関連情報
【4/30(日)開催】 RIZIN LANDMARK 5 in YOYOGI 大会関連情報
【5/6(土)開催】 RIZIN.42 大会関連情報
おすすめコンテンツ