Okinawa - July 1st, RIZIN had weigh-ins for this Saturday's RIZIN.36 card.
Tanner Lourenco vs. Orihey
Tanner Lourenco (70.30kg)
"My opponent is mediocre with everything. He competes in Okinawan Sumo but I don't see how it would work in MMA."
Orihey (70.85kg)
"I want to show that Okinawan Martial Arts is not just Karate. Okinawan Sumo is the real deal and we have many fighters that are killers and I'm here to prove it."
Hirokatsu Miyagi vs. Tomoki Yoshino
Hirokatsu Miyagi (72.25kg)
"My opponent is bigger and heavier but I like that challenge. I will face him with everything I have and bring back a win in my hometown."
Tomoki Yoshino (72.30kg)
"I want to show the appeal of heavier guys in kickboxing. We can put on very exciting fights that deliver lots of damage."
Nisse vs. Moeri Suda
NISSE (48.65kg)
"I really hope my opponent pulls guard so I can pound her face in. I'll be ready for anything she tries from being on her back."
Moeri Suda (48.50kg)
"My strength is my Jiu Jitsu and I like to go for armbars. My opponent is a striker so I would like to try to strike with her to test my abilities."
Yuki Ito vs. Yuichi Miyagi
Yuki Ito (56.65kg)
"This is my first time in Okinawa, and I feel like I'm on vacation. I want to dominate my opponent using my speed. He will get finished without knowing what happened."
Yuichi Miyagi (56.80kg)
"My opponent is a young, tough prospect. He hits hard and has heavy hips. I've been fighting for quite some time now, and I will believe in my abilities, and what I have been working on.
Yutaro Muramoto vs. BJ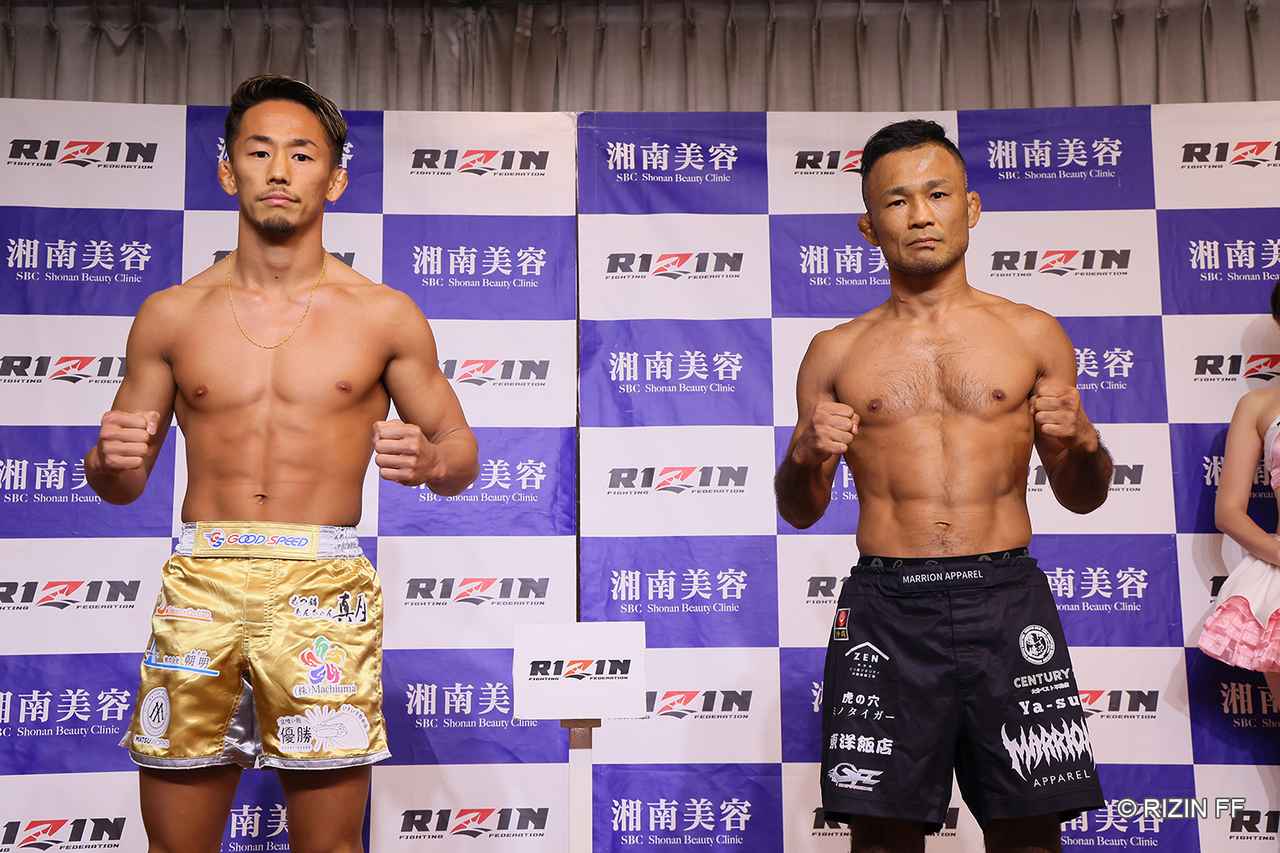 Yutaro Muramoto (57.00kg)
"BJ is a legend. I was in middle school when he was tearing it up in Shooto. I never imagined myself fighting such a legend but now that it's actually happening, I will show him that the sport has evolved and he has no business competing at his age."
BJ Shinichi Kojima (56.95kg)
"I want to use my experience to neutralize my opponent's ability. He's young and explosive but I will make him look like a child."
Yamato Fujita vs. Tatsuya So
Yamato Fujita (56.95kg)
"I was determined to come back to RIZIN. It took me 5 years but I'm back and here to stay. My opponent is well rounded, tough and is hard to finish. I want to finish him and make a statement."
Tatsuya So (56.95kg)
"Fighting in RIZIN definitely helps with my shaved ice business here in Okinawa. Last time I lost but still gained tons of customers. I can't imagine how much business I will gain after a win."
Taiga vs. Soichiro Arata
TAIGA (61.00kg)
"I know nothing about my opponent. I heard he recently became a Champion of some sort, but at the end of the day, I will prove that he was just a can."
Soichiro Arata (61.00kg)
"My opponent has a name and most people think I'm the underdog. But I feel confident in my abilities and will use him as a stepping stone to boost my career."
Kohei Tokeshi vs. Atsushi Kishimoto
Kohei Tokeshi (71.00kg)
"I've worked on my stamina to fight for 15 minutes. This will be a fast paced figh
Atsushi Kishimoto (70.85kg)
"I want to put on a show that will excite the fans. We're both strikers so I think the fight will end with one of us getting knocked out."
Shoji vs. Ji Yong Yang
Shoji Maruyama (66.00kg)
"This is a very last minute fight for me, but I will do my best to make weight and put on a show for everybody. I feel obligated to fill in the spot of my very good friend."
Ji Yong Yan (65.95kg)
"I appreciate Shoji taking the fight at the last minute. He's a veteran and hits hard, but I hit harder. I'm aiming for a 1st round finish. After Kai Asakura is healed, I want to be the first one to fight him."
Kyle Aguon vs. Sora Yamamoto
Kyle Aguon (65.70kg)
"I'm very confident heading into this fight. I'm just bettervthan my opponent in every aspect. I can't wait to celebrate Miyuu and my win on the same day."
Sora Yamamoto (65.90kg)
"This will be my first time facing an international fighter. I know he's taking me lightly and I will break his confidence during the fight. I know I'm better than him on the ground."
Mitsuhisa Sunabe vs. Nobuyoshi Nakatsukasa
Mitsuhisa Sunabe (53.75kg)
"RIZIN's first event in Okinawa was a huge success but I couldn't accomplish my mission because I lost. This time I will win and solidify RIZIN's status here in Okinawa to make this a regular event on our island."
Nobuyoshi Nakatsukasa (53.80kg)
"I'm very excited and motivated to fight the pioneer of my weight class. I want to test my abilities against him and overcome a legend"
Miyuu Yamamoto vs. Saori Oshima
Miyuu Yamamoto (49.00kg)
"My opponent is an aggressive grappler and she is constantly looking for a finish. I have a solid game plan and I plan to execute it to get the win."
Saori Oshima (47.90kg)
"I've worked on endurance and physical strength for this fight. I think she will want to strike with me and I will be ready for that."
Hiroaki Suzuki vs Ren Hiramoto
Hiroaki Suzuki (65.90kg)
"I'm always going in there to finish the fight. That rush you get after knocking somebody out is addictive. I'm excited to get that rush again."
Ren Hiramoto (65.85kg)
"Me becoming the main event proves that I have what it takes to become a superstar. Watch out for my right hands and kicks. That's what will seal the deal."
SBC Shonan Beauty Clinic presents RIZIN.36 complete fight order
Follow RIZIN FF
Website - http://www.rizinff.com/
Facebook - https://www.facebook.com/rizinfightingfederation/
Twitter - @rizin_English
Twitter - @rizin_pr
Instagram – rizin_pr
TikTok – rizinffofficial
News