Okinawa – June 1st, RIZIN CEO Nobuyuki Sakakibara, held a press conference and announced updates about RIZIN.36 - the promotion's seventh event of the year.
CEO Sakakibara announced 13 bouts for the promotion's 7th event. "We are very excited to be back in Okinawa after a successful regional debut. We will be having several local stars from legends to prospects who are motivated to showcase their skills on a major platform. We are excited to put on an event with full capacity and continue coming back to the wonderful island of Okinawa." Regarding the remaining schedule of the year, he continued "We will start to pick up the pace of events starting this summer, and am looking at 7-8 more events for the rest of the year."
Kai Asakura (19-4, 11-3 RIZIN FF) vs Ji Yong Yang (4-0, 0-0 RIZIN FF) 61kg MMA
Former Bantamweight Champion Asakura returns to the RIZIN ring after his Grand Prix runner-up finish at RIZIN.33. Asakura's 10 wins in RIZIN puts him at second all-time in promotional history, along with having the second most KO/TKO wins with 6. Coming into this bout as a heavy favorite, 5 of his last 7 wins are 1st round KOs and he is 3-1 in his last 4 bouts. He also holds a unique stat; he has defeated every opponent he has faced, having beaten all 4 men who hold victories over him. However, in only 1 of these matchups did he win the 2nd meeting - each of his other 3 defeats came in the rematch. Yang carries a perfect 9-0 combined professional and amateur record, but is taking on a massive step up in competition against one of Asia's top bantamweights. Yang's 4 professional opponents had a combined record of 8-1. Can the undefeated ROAD FC prospect produce the biggest upset in promotional history against the former champion?
Hiroaki Suzuki (2-1, 2-1 RIZIN FF) vs Ren Hiramoto (0-2, 0-2 RIZIN FF) 66kg MMA
Suzuki is making just his 4th appearance as a mixed martial artist, competing exclusively in RIZIN. A brace of knockout victories over Keisuke Okuda and longtime veteran Shoji in under 3 minutes combined clearly demonstrate the power that the former kickboxing champion carries. Hiramoto holds a multitude of amateur kickboxing titles, even defeating Tenshin Nasukawa, but twice finished as a runner-up in professional tournaments. He was ranked as a top-10 featherweight for 2 years until transitioning to MMA, where he is yet to score his first win after 2 appearances in RIZIN. The fans are guaranteed fireworks between these two strikers.
Kohei Tokeshi (7-8, 1-1 RIZIN FF) vs Atsushi Kishimoto (7-6-1, 0-0 RIZIN FF) 71kg MMA
Tokeshi is a Lethwei and Muay Thai professional, born and raised in Okinawa and is a regular main eventer in Lethwei. He often uses his earnings from fighting to build schools in Myanmar. He recently returned from 4 and ½ year hiatus in MMA at RIZIN.32 against current DEEP Lightweight Champion Juri Ohara, before scoring his first win in MMA in over 5 years when he defeated a very game Harry Stallone at RIZIN Trigger 2nd last February.
Mitsuhisa Sunabe (29-10-4, 0-3 RIZIN FF) vs Nobuyoshi Nakatsukasa (7-4, 0-1 RIZIN FF) 54kg MMA
Mitsuhisa Sunabe makes his 4th appearance in RIZIN since 2017. The former Pancrase Flyweight and Strawweight Champion has lost his last 3 bouts, with 2 of them coming by stoppage. Prior to this 3-fight skid, he was unbeaten for nearly 7 years and 16 bouts. The 42-year-old hometown hero is still on the hunt for his first promotional victory, and gave the crowd their money's worth in his last appearance in front of his fans. Nakatsukasa is the Wardog Cage Fight Strawweight Champion, having won the belt last October with a 2nd round submission win. He scored a 65-second TKO victory 5 months ago at GLADIATOR 016 in Osaka, before losing his RIZIN debut against Takaki Soya at RIZIN TRIGGER 3rd in April.
Mizuki "Nisse" Oshiro (4-5, 1-0 RIZIN FF) vs Moeri Suda (5-2, 0-0 RIZIN FF) 49kg MMA
Nisse is a former DEEP Women's Microweight title challenger, losing via first round submission against recent RIZIN debutant Saori Oshima. She won her RIZIN debut at RIZIN.32 last November, edging out a split decision over Aira Koga. Suda's last bout was a failed attempt at Saori Oshima's DEEP JEWELS Atomweight Championship, losing by submission in the first round last month. After an 0-2 start to her professional career, she rattled off 5 straight wins - 3 by armbar - including wins against RIZIN alum Eru Takebayashi and DEEP JEWELS Atomweight Grand Prix finalist Hikaru Aono.
Yutaro Muramoto (8-6-2, 1-2 RIZIN FF) vs Shinichi "BJ" Kojima (14-6-5, 0-0 RIZIN FF) 57kg MMA
Muramoto makes his 4th appearance in RIZIN. He is 4-2-1 in his last 7 bouts, with his lone win in RIZIN coming by 1st round KO against Seigo Yamamoto at RIZIN.27. He was set to appear at RIZIN.32 in Okinawa last year, but withdrew due to injury and now returns for his Okinawa debut. Shinichi "BJ" Kojima is a former Shooto 123lb Champion, and made his professional debut near the end of 2003. After losing his first fight, he went on a 12-fight unbeaten streak, including a pair of matches against Mamoru Yamaguchi, capturing the Shooto Bantamweight Championship in the rematch after a draw in their first meeting. Eventually, Kojima suffered a knee injury, forcing him to vacate the Shooto belt. 6 and ½ years since his last bout, the 43-year-old looks to produce a vintage performance against Muramoto.
Yuki Ito (10-3, 2-0 RIZIN FF) vs Yuichi Miyagi (17-11-1, 1-0 RIZIN FF) 57kg MMA
Ito holds a perfect promotional record, stopping Kohei Sugiyama and Yusaku Nakamura in under 6 minutes combined. A DEEP Flyweight title challenger, Ito looks to extend his win-streak in RIZIN to 3-0 after scoring his 10th professional victory last month at DEEP 107. Miyagi is the former Interim GLADIATOR 54kg Champion, capturing the title at GLADIATOR 005 in January of 2018 against Yuki Yoshimura. Recently, he challenged Masayuki Watanabe for the GLADIATOR Flyweight Championship last September at GLADIATOR 015, where he came up short via unanimous decision. He is 10-4-1 in his last 15, including a 9-fight unbeaten streak from November 2016 to August 2020. He won his RIZIN debut against Tomohiro Adaniya with a 47-second knee KO at the last RIZIN Okinawa event.
Yamato Fujita (8-4, 0-1 RIZIN FF) vs Tatsuya So (18-18-4, 0-1 RIZIN FF) 57kg MMA
Originally a kickboxer, Fujita made his MMA debut against Tenshin Nasukawa at RIZIN.7 in October 2017. Despite a rough start to his MMA career, going 2-3 in his first 5 bouts, the 29-year-old was able to put together a 6-fight win streak that saw him capture the DEEP Interim Flyweight Championship at DEEP 103 last September, avenging his loss to Yuki Ito in the process. Despite losing the unification bout against Makoto 'Shinryu' Takahashi last month, he makes his return to the RIZIN ring a much more complete fighter since 4 and ½ years ago. Tatsuya So has put together one of the best stretches of his 40-fight career, going 4-2 in his last 6 bouts. He made his RIZIN debut at the previous Okinawa show, dropping a decision to Haruo Ochi. The one-time Tenkaichi Fight Flyweight title challenger has faced the who's who of the Japanese MMA scene, and is carrying momentum to score perhaps his biggest win yet should he get past former DEEP champion Fujita.
Miyuu Yamamoto (6-6, 6-6 RIZIN FF) vs Saori Oshima (8-3, 1-0 RIZIN FF) 49kg MMA
Yamamoto is the three-time World Wrestling Championship Gold Medalist. Having competed for her entire career under the RIZIN banner, she holds multiple promotional records and is 5-3 in her last 8 outings. Oshima is 5-1 in her last 6, having conquered the DEEP Jewels Atomweight Grand Prix last year along with her signature win against Super Atomweight Grand Prix Champion Kanna Asakura in her RIZIN debut at RIZIN.31 last October. With 3 of her last 5 wins coming by first round submission, and Yamamoto having suffered 4 of her 6 losses by submission, this should prove to be a dynamic battle for position between the two grapplers.
Kyle Aguon (14-10, 1-2 RIZIN FF) vs Sora Yamamoto (15-6-2, 2-1 RIZIN FF) 66kg MMA
Kyle Aguon has already faced some of the division's toughest competition in his 3 appearances, losing against Vugar Karamov at RIZIN.21, Kleber Koike at RIZIN.26 and scoring his first RIZIN win against former DEEP Champion Takahiro Ashida with a gritty performance at RIZIN.35 in April. Just before his RIZIN debut, he fought to a split decision loss in a title fight for the Pancrase Featherweight strap against Isao Kobayashi at Pancrase 309 in October 2019. Having only lost to the division's elite, a win would certainly keep him on the books for another top contender fight. Yamamoto is coming off a 2nd round submission win to defend his Fighting NEXUS Featherweight title, and is 8-1 in his last 9 bouts. Despite losing his promotional debut at RIZIN TRIGGER 1st last November to Chihiro Suzuki, Yamamoto rebounded with a 35-second KO win over Suguru Nii at RIZIN TRIGGER 2nd, followed by a close decision win over veteran and fan-favorite Daisuke Nakamura.
Kai Asakura vs. Ji Yong Yang
Kai Asakura
"I have traveled to the US and have figured out what I need to compete against the world. I have established a new style and I will show that on July 2nd."
Yang Ji Yeon
"I am the up and comer from ROAD FC. I will beat up the favorite Asakura, and retire him. I will aim to become the next RIZIN Bantamweight Champion."
Hiroaki Suzuki vs. Ren Hiramoto
Hiroaki Suzuki
"I called myself Mr. Landmark, but I regretted that immediately and have put in a request to fight in front of a crowd once again. I'm excited to be fighting a fun opponent in front of people. This will be a fun fight."
Ren Hiramoto
"I have matured and I will not trash talk anymore. Just watch my fight and I will show you that I have changed."
Kohei Tokeshi vs. Atsushi Kishimoto
Kohei Tokeshi
"I'm not here to inspire people. When I fight people will be inspired."
Atsushi Kishimoto
"I'm very excited to be fighting in RIZIN. I want to show everybody my striking and my strong heart. My opponent is a striker so I hope he stands and trades with me like a man."
Mitsuhisa Sunabe vs. Nobuyoshi Nakatsukasa
Mitsuhisa Sunabe
"I think we have succeeded as an event in RIZIN's Okinawa debut. However I lost the fight and this time my goal is to fill the arena and get the win."
Nobuyoshi Nakatsukasa
"I'm grateful to be called again to this great promotion. I'm grateful to be fighting against a legend in my division. I have nothing but respect but I will go in there and give everything I have."
Mizuki "Nisse" Oshiro vs. Moeri Suda
Nisse
"I'm happy to be fighting on my home island once again. My opponent has been on a roll, but I will utilize my experience to get that KO win."
Suda Moeri
"I've been training hard with my father. My high-school years have been nothing but MMA and I have nothing but to grow. I will put on a great fight so that people will remember my name."
Yutaro Muramoto vs. Shinichi "BJ" Kojima
Yutaro Muramoto
"My opponent was the world Champion when I was in elementary school, I never thought that I would be fighting such a legendary fighter. But this is one of RIZIN's appeals and I'm very excited."
BJ
"I want to become that OLD GUY tearing it up in the division."
Yuki Ito vs. Yuichi Miyagi
Yuki Ito
"I'm excited to come to Okinawa for the first time and everything is paid for! I will fight an exciting fight in the tropical islands and will show that I will be the one that leads the flyweight division."
Yuichi Miyagi
"I have nothing but gratitude for this opportunity. I know that for me to make it to the top, I will have to put on a great fight. I will put on a great fight against a great opponent."
Yamato Fujita vs. Tatsuya So
Yamato Fujita
"I'm excited to be returning to the platform I made my MMA debut in. It has been 4 ½ years since then, and I will show everybody my growth as a fighter."
Tatsuya So
"I am extremely grateful to be competing twice in a row for RIZIN's Okinawa event. I am excited to be matched with 2 DEEP Champions in a row. I will keep fighting until I get my rematch against Sunabe."
Taiga vs. Soichiro Arata
Taiga
"I am happy to be fighting in Okinawa. I will put on a show for the fans, so look forward to my fight."
Soichiro Arata
"I am not here to make a statement. I am here to take everything from my opponent. I want to be the one that keeps kickboxing alive in RIZIN. I don't care if he's heavier than me so look forward to my fight."
Tanner Lourenco vs. Oriya Oshiro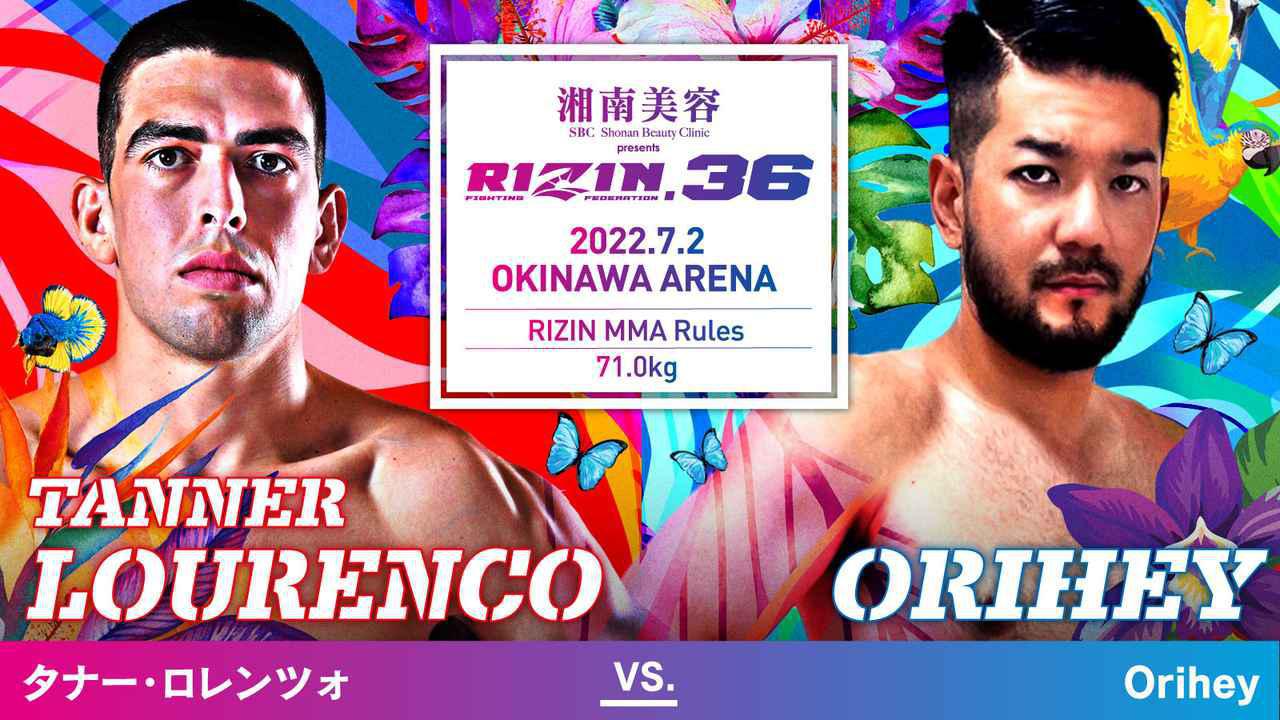 Tanner Lourenco
"I'm really excited for the opportunity to fight. It's been 7months so I'm excited to knock the dust off. I'm not worried about my opponent, there isn't a lot of film on him so I don't have a lot to go by in addressing his game. But from what I've seen his hands are unimpressive and it looks like he doesn't really have a guard. His top game looks decent though so I should watch out for that"
Oriya Oshiro
"I want to show that Okinawa has Chaku-Riki. I will utilize Okinawan martial arts into my MMA style to get that win."
Katsumi Miyagi vs. Yuki Yoshino
Katsumi Miyagi
"I'm grateful for all of those who worked hard to get me back here again. I will give it my all and put on a great fight. I want to show that there are tough fighters in Okinawa."
Yuki Yoshino
"This will be my first time fighting outside of my home promotion but what I do will be the same. I want to dedicate this fight to all of those who have supported me throughout my journey."
Kyle Aguon vs. Sora Yamamoto
Sora Yamamoto
"I'm excited to be fighting my first international fight. I think I can dominate my opponent on the ground so I will constantly look for the finish. I will use my opponent as a stepping stone for my step up in my career."
Kyle Aguon
"I'm very happy to be fighting right after I just fought in April. Sora is a young fighter on a roll so I expect a fun fight that I'm looking forward to. RIZIN fans like exciting fights so I will give them what they want."
Miyuu Yamamoto vs. Saori Oshima
Miyuu Yamamoto
"I'm glad to be fighting in Okinawa once again. I plan to win this fight, and celebrate the win with all of the people.My husband Kyle Aguon will be fighting too, so I can't wait to win together and give back to the people in my second home Okinawa."
Saori Oshima
"It's been about 3 ½ years since making my MMA transition, Yamamoto has been my idol and I'm grateful that she took this fight against me. I will show my abilities as a 2 division Champion."
Confirmed Bouts
RIZIN.36 - Okinawa Arena, July 2nd
Kai Asakura vs Yan Ji Yeon [61kg - RIZIN MMA rules]
Kohei Tokeshi vs Atsushi Kishimoto [71kg - RIZIN MMA rules]
Tanner Lourenco vs Oriya Oshiro [71kg - RIZIN MMA rules]
Hiroaki Suzuki vs Ren Hiramoto [66kg - RIZIN MMA rules]
Sora Yamamoto vs Kyle Aguon [66kg - RIZIN MMA rules]
Yutaro Muramoto vs BJ [57kg - RIZIN MMA rules]
Yuki Ito vs Yuichi Miyagi [57kg - RIZIN MMA rules]
Yamato Fujita vs Tatsuya So [57kg - RIZIN MMA rules]
Mitsuhisa Sunabe vs Nobuyoshi Nakatsukasa [54kg - RIZIN MMA rules]
Saori Oshima vs Miyuu Yamamoto [49kg - RIZIN MMA rules]
Nisse vs Suda Moeri [49kg - RIZIN MMA rules]
Katsumi Miyagi vs Yuki Yoshino [72.5kg - RIZIN Kickboxing rules]
Taiga vs Soichiro Mita [61kg - RIZIN Kickboxing rules]
RIZIN.36 Doors are expected to open at 12:30PM with the Opening Ceremony at 2:00PM on July 2nd (Sat) at the Okinawa Arena. Broadcasting and streaming available on EXCITING RIZIN with Japanese commentary & texts only.
Follow RIZIN FF
Website - http://www.rizinff.com/
Facebook - https://www.facebook.com/rizinfightingfederation/
Twitter - @rizin_English
Twitter - @rizin_pr
Instagram – rizin_pr
TikTok – rizinffofficial
English News