RIZIN.21 will take place tomorrow on February 22nd (Sat) at the Hamamatsu Arena in Shizuoka, Japan. All fighters made weight and 13 fights are officially set to go. The event will be streamed LIVE on FITE TV.
PUBLIC WEIGHT-IN(Youtube)
Opening Kickboxing bout 1 – 59.0kg / 130.0lb
Masaji Tozuka 58.80kg / 129.6lb
"My opponent utilizes his left body kick so I have some plans to counter that. I want to show my strong heart and my warrior spirit."
Masahiro Osawa 58.95kg / 129.9lb
"My opponent has lots of stamina and is a tough in fighter, which is how I fight too so this will be a brawl."
Opening Kickboxing bout 2 – 70.0kg / 154.3lb
YUYA 70.00kg / 154.3lb
"I don't know much about my opponent but I know that he's taller than me. I am actually excited to be facing a fighter who I know nothing about. I look forward on putting on a show and improvising."
KOUKI 69.60kg / 153.4lb
"I have won both of my professional fights by knock out in the first round, so I hope to continue that streak. My opponent has more experience than me but that doesn't matter."
Opening Kickboxing bout 3 – 60.0kg / 132.2lb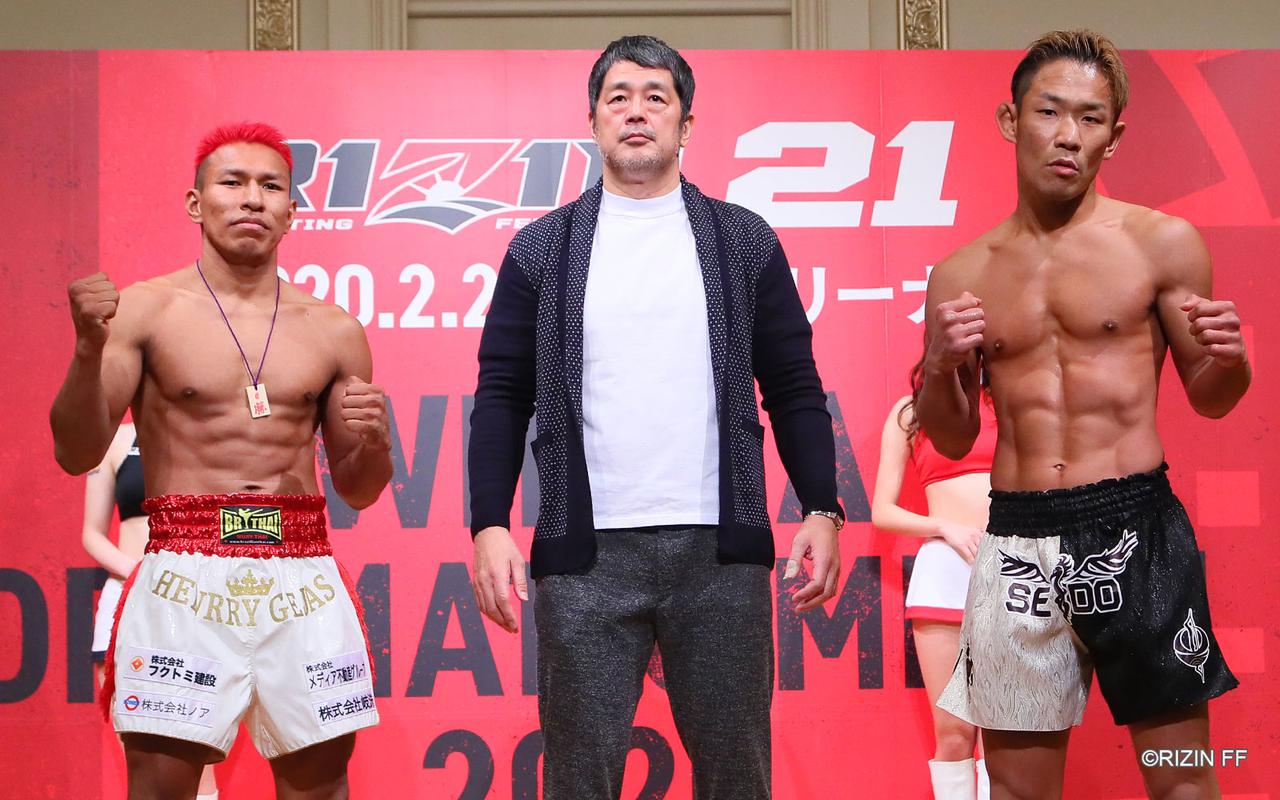 Henrry Cejas 59.60kg / 131.4lb
"My opponent has tremendous heart and will never quit. He keeps coming forward, and I always go forward so this will be a great fight. I plan to put on a great performance on such a great stage."
SEIDO 59.90kg / 132.0lb
"My opponent is aggressive so I think that it will turn out to be an exciting fight. I have been competing for a while and don't have any significant accomplishments but I love what I do and I hope to inspire others with my gritty style."
Match.1 Kickboxing – 57.0Kg / 125.6lb
Kenichi Takeuchi 56.45kg / 124.5lb
"My opponent doesn't have much to fear, but he has a strong heart. I would like to show my speed and technique."
NAOYA 56.95kg / 125.6lb
"My opponent has a longer reach and has a good head kick so I need to be aware of those. I want to put on a good show for the fans and leave a good impression."
Match.2 Kickboxing – Heavyweight
Kousuke Jitsukata 117.85kg / 259.8lb
"I'm a rare Japanese heavyweight muay thai fighter so I want to show what I've got to the RIZIN fans. My opponent is a MMA fighter and I know he's going to try to counter my kicks, but I won't let him hit me that easy. I am a big guy but I move quickly."
Ryo Sakai 100.65kg / 221.9lb
"My opponent is a traditional muay thai guy and a local champ. He looks like he's a big guy so I will see what happens once the bell rings. The fight will end by a KO, not too sure which one goes down, but one of us will for sure."
Match.3 MMA - 66.0kg / 145.5lb
Vugar Karamov 65.70kg / 144.8lb
"I plan to show my overall skills, and my character as a fighter. I know this will be a tough fight but I am going in there to do my best. I am excited to be fighting in RIZIN and plan to follow the steps of my friend Tofiq. RIZIN has become very famous in Azerbaijan."
Kyle Aguon 65.60kg / 144.6lb
"I am looked at as a guy who wins by decisions, but RIZIN is a platform where fighters need to put on entertaining fights, and the judging system is different. I plan to utilize that with my experience and technique to take advantage. We are both tough and hard to finish so I expect a war but at the end my technique will take over."
Match.4 MMA - 61.0kg / 134.4lb
Trent Girdham 60.65kg / 133.7lb
"My opponent is a basic fighter with no real threats, and consider this a pretty easy fight. I like to cut my opponents and make them bleed so I hope to land my elbows. RIZIN Bantamweight division is currently stacked and have so many fun matchups for me. I will show pure violence and prove that I belong here."
Naoki Inoue 60.20kg / 132.7lb
"Me and my opponent are both the same age, and have the same amount of professional fights. He's a good striker with good takedown defense but I would like to utilize my speed and technique to dominate him. He said I was weak and should go back down to Flyweight, but he will feel my power on Saturday."
Match.5 – Jiu Jitsu Gauntlet Exhibition match
Roberto Satoshi Souza
Yuki Nakai
Edison Kagohara
Koji Shigemitsu
Hiroshi Shinagawa
Yua Kimura
Match.6 MMA - 61.0kg / 134.4lb
Kintaro 60.65kg / 133.7lb
"We are both strikers but he's more of a counter guy. I can end the fight when I land my strikes and it shouldn't take too long. I have been waiting for this moment for a long time and I can't wait to show what I can do and to prove that I belong here. I will make a statement and earn myself an opportunity to face the top guys in the division."
Kenji Kato 60.65kg / 133.7lb
"My opponent is a very aggressive fighter so this will be a fun fight. I'm a predominant striker so it will be fun, but I have been working on my ground with the Souza brothers so I would like to show my improvement on the ground as well."
Match.7 MMA - 79.0kg / 174.1lb
Marcos Yoshio Souza 78.65kg / 173.4lb
"I think my opponent will come out very strong for the first few minutes but I am not too worried. I will do my best to get the win. I wasn't able to show my Jiu Jitsu in my last fight so I have a plan to utilize my skills this time."
Falco Neto 78.65kg / 173.4lb
"My opponent is a superb ground fighter but I am much better-rounded and can fight better overall. I want to show everybody that I am a complete fighter. I have worked on keeping the fight where I can fight best."
Match.8 MMA - Heavyweight
Roque Martinez 112.75kg / 248.6lb
"My opponent has great ground skills and I am honored to face somebody like him. I hope to keep the fight standing, but I am no stranger on the ground so I can fight wherever the fight goes, but standing and trading is much more fun so I hope we get to stand and trade. I have something special ready for the fans, so don't blink. "
Hideki "Shrek" Sekine 113.55kg / 250.3lb
"My opponent has good hands but I want to show the greatness of pro-wrestlers so I will fight as one. Look out for my suplex attempts. As a professional, I think me and my opponent have to work hard on putting on an entertaining performance to please the crowd. I know he has heavy hips, but I am confident that I can throw him once I get my grip."
Match.9 MMA - 61.0kg / 134.4lb
Victor Henry 60.40kg / 133.2lb
"My opponent is a tough veteran, and he's used to losing so I look forward in giving him another one. This will be a very hard fight but I'm looking forward in overcoming my challenges and getting better after this fight. He's been training with my previous opponent and is probably sharing secrets, so I plan to show something they haven't seen yet."
Masanori Kanehara 60.65kg / 133.7lb
"Since it's been a while from my last fight, I have no idea how it's going to feel like when I step in the ring, but I don't feel old or slow and my conditioning is great. I was thinking of retiring, but I am grateful to RIZIN to give me a chance for my last run. RIZIN's bantamweight is stacked with great fighters and there is a particular fighter I want to face but I will save it until after I get the win."
Match.10 - 68.0kg / 149.9lb
Mikuru Asakura 67.95kg / 149.8lb
"My opponent is unorthodox and would be tough to deal with. I have been working on my right hand so I look forward on using it. I used to come to street fight in Hamamatsu so it brings back memories lol And this is also the city where I made my MMA debut so I will try to come back to my roots and fight to finish."
Daniel Salas 67.30kg / 148.4lb
"I grew up in a rough neighborhood in Mexico city and am no stranger to street fights. I am actually very excited to hear that Asakura is also a street fighter. It takes a different mindset to fight on the streets so I think this will be a good fight. This fight will be intense, and strategy will be the key. I have a good chin and a Mexican fighter heart and I want to show that to the Japanese fans."
RIZIN.21
Doors open at 12:00PM with Opening Ceremony at 2:00PM on Saturday February 22nd at the Hamamatsu Arena. International tickets can be purchased at www.stubhub.com.
Follow RIZIN FF