PPV

Price
$24.99
RIZIN 26 will be streamed internationally with English commentary provided by play by play commentator Joe Ferraro and color commentator Frank Trigg.
LIVENow is home to amazing live experiences and aims to entertain, engage and educate. Sports, concerts, workouts, stand-up comedy, inspirational speakers and more are broadcast to screens around the world. Passionate about sharing events as they happen, LIVENow gives fans exclusive access to live-streams that can be enjoyed at home and with friends via group viewing option Watch Together.
RIZIN.26 costs £17.99/$25 and starts at 0500GMT/2100PST on LIVENow.
Events broadcast by LIVENow include:
Australia vs India Men's International Test Cricket and BBL
Ellie Goulding's "Brightest Blue", Dua Lipa's "Studio 2054", Pete Tong "O Come All Ye Ravers" and Gorillaz' "Song Machine Live from Kong" concerts
One World: Together At Home concert in support of the World Health Organisations Covid-19 relief efforts
Top European football leagues including Serie C, La Liga and FA Cup
USL regular season
Regular matches from the Chinese Professional Baseball League in Taiwan
UK Pro Tennis Series, Classic Week
Financial Time's Business of Football Summit
LIVENow was founded by Leeds United chairman and founder of Aser Ventures, Andrea Radrizzani.
EVENT INFO
EVENT
Yogibo presents RIZIN.26
Date
Dec 31, 2020 2:00PM(JST)
Venue
Saitama Super Arena
≫ Acces(Google Maps)
Promoted by
RIZIN FIGHTING FEDERATION
The main sponsor
Yogibo
Powered by
Saitama super arena
Supported by
Saitama-shi / Saitama sports commission / Saitama sightseeing international society
News
Full fight card and fight order
FIGHT CARD
RIZIN MMA Rules 61.0kg / 134.8lb
Kai Asakura vs Kyoji Horiguchi
Japan's most anticipated rematch will finally take place. Asakura has proven he possesses the skills to be a Champion and looks to solidify his status with another convincing win over Horiguchi. Horiguchi looks to prove that the loss 14 months ago was a fluke and he is the Champ
RIZIN Kickboxing Rules 57.0kg
Tenshin Nasukawa vs Kumandoi Phetjaroenvit
Tenshin has been unstoppable lately but he will be facing a true test on NYE. Kumandoi is a top 10 P4P Muay Thai fighter at 119lbs and possesses the constant pressure and aggressive fight style that will give Tenshin a true challenge. Expect some heavy exchanges.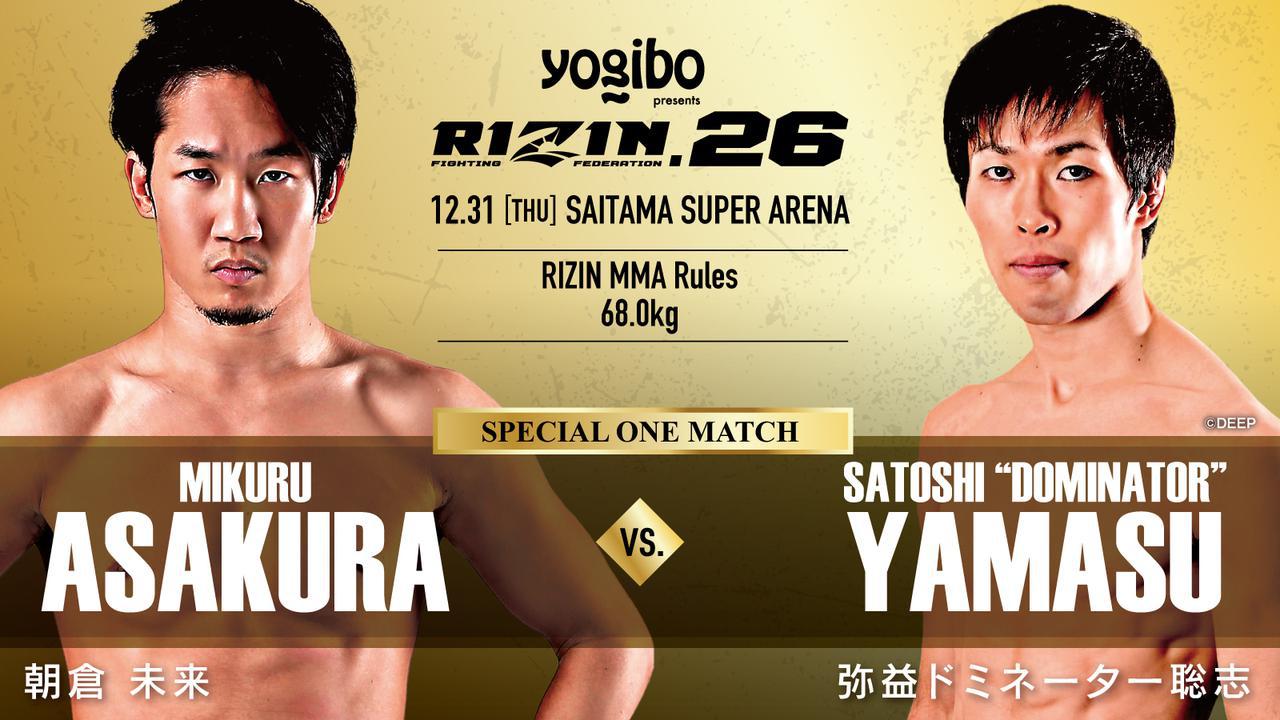 RIZIN MMA Rules 68.0kg / 149.9lb
Mikuru Asakura vs Satoshi "Dominator" Yamasu
Yamasu is an extremely aggressive unorthodox fighter who constantly puts the pressure on his opponents while Asakura is a fantastic counter puncher and looks to change tides with his accurate strikes. Expect lots of movement from Yamasu and intense exchanges when Asakura throws.
RIZIN Special Standing Bout Rules
Takanori Gomi vs Kouzi
A special exhibition bout between Lightweight MMA fighter Gomi and Bantamweight Kickboxer Kouzi will be held under special standing bout rules! Both fighters will fight with punches only with exceptions of back fists. Celebrate some Japanese MMA on NYE!!
RIZIN Woman's MMA Rules 49.0kg / 108.0lb
Ayaka Hamasaki vs Miyuu Yamamoto
Super Atomweight Championship. Hamasaki is without a doubt one of the best Atomweights in the world. But she tends to struggle against opponents who are physically stronger. Yamamoto will definitely be stronger and knows how to utilize her elite wrestling. Wrist control is key.
RIZIN MMA Rules 61.0kg / 134.8lb
Yuki Motoya vs Naoki Inoue
Motoya and Inoue both possess high level of technique in all aspects of the fight game. Both with a similar finish rate and solid ground game. Whoever gets the upper hand in striking will have the advantage for this fight. Expect high level scrambles and heated exchanges.
RIZIN MMA Rules 67.0kg / 147.7lb
Kyle Aguon vs Kleber Koike
Koike Erbst makes his RIZIN debut bringing in a whooping 92% finish rate. Aguon has never been finished in his 20 professional fights. The BJJ master looks to leave a great impact to the RIZIN featherweight division while the Guam native looks deliver a rude welcome.
RIZIN MMA Rules 68.0kg / 149.9lb
Kyohei Hagiwara vs Ren Hiramoto
Hagiwara has proven that he belongs in the RIZIN ring with his striking and knockout power. Hiramoto will be making his MMA debut after transitioning from kickboxing. Both are solid strikers with devastating power. The key will be who has the better ground. Expect fireworks.
RIZIN MMA Rules 61.0kg / 134.8lb
Hideo Tokoro vs Shinobu Ota
The Olympic medalist Shinobu Ota makes his MMA debut against a crafty veteran Hideo Tokoro. Tokoro has the experience and technique where he can submit Ota wherever the fight may go. But Ota's looks to utilize his athleticism and physical strength to squash all attempts.
RIZIN Kickboxing Rules 50.0kg / 110.2lb
Nadaka Yoshinari vs Petmalai Phetjaroenvit
Muay Thai phenom Yoshinari Nadaka makes his return to the RIZIN ring agains Thai 3 time Champ Petmalai. Both fighter still at the age of 19 have significant amount of experience and technique. Expect world class exchanges between these 2 teenagers. RIZIN kickboxing with elbows.
RIZIN MMA Rules 61.0kg / 134.8lb
Ulka Sasaki vs Kenta Takizawa
Ulka will be making a comeback after suffering a broken jaw. Takizawa is a solid striker who is eager to get back into the winning column. The first round will be key for this fight for Ulka to mentally get back into the fight game. Takizawa wants to take advantage early.
RIZIN Woman's MMA Rules 49.0kg / 108.0lb
Kanna Asakura vs Ai
Asakura and Ai both like to utilize wrestling during the fight. The key will be who has more to offer? The better striker will be able to dictate the pace, and the fighter with more options on the ground will have a better chance to finish. Stomps and grounded knees is key.
RIZIN MMA Rules 63.0kg / 138.9lb
Taiyo Nakahara vs Kazuma Kuramoto
Nakahara has the experience to face any kind of top competition presented to him. Kuramoto is relatively new to the MMA scene but he has a solid background in wrestling and has been utilizing it in the most fashionable way. Expect some big moves and fun scrambles in this fight
RIZIN MMA Rules 120.0kg / 264.6lb
Minowaman vs Sudario Tsuyoshi
6'2" Sudario will be taking on 5'8" Goliath hunter Minowa. Sudario's adaptability into MMA will be the key factor for this fight. If Sudario shows skills, Minowa's chances of winning will become slim and the fight will be an introduction of a threatening Japanese heavyweight.
RIZIN Woman's MMA Rules 51.0kg / 112.4lb
Sakura vs Eru Takebayashi
An opening fight between two, 17 year olds will be held before the preliminary fights. Sakura has a Judo background and brings a solid ground game while Takebayashi utilizes her Karate background to take advantage in the striking exchanges. Great experience for both.
Follow RIZIN FF
Website - http://www.rizinff.com/
Facebook - https://www.facebook.com/rizinfightingfederation/
Twitter - @rizin_English
Twitter - @rizin_pr
Instagram – rizin_pr