TOKYO – October 19th, announced the first 6 bouts for their 4th event of the year. The events will be held at the Osaka Jo Hall, and marks RIZIN's first event at the historic venue. The first RIZIN Featherweight Champion will be determined in the main event.
Yogibo presents RIZIN.25 will be taking place on November 21st (Sat) at the historic Osaka Jo Hall. 50% of the venue capacity = 6,000 spectators will be allowed inside to attend the event due to the governmental requirements on the COVID-19 pandemic.
Yojiro Uchimura (17-13-3) takes on Kyohei Hagiwara (1-3). Uchimura is a grizzled Pancrase veteran, and will be making his debut in the RIZIN ring next month. Hagiwara continues his streak of quick turnarounds - having competed in 3 of the last 4 events since August. Both fighters' records combine for only 2 fights that have gone the distance, and the fans can expect an action-packed fight from start to finish.
Two-time RIZIN Bantamweight title challenger Hiromasa Ougikubo (20-5-2) faces young prospect Kenta Takizawa (11-5). Takizawa is no stranger to titles himself; he challenged for the Pancrase 135lb title last year. Ougikubo has been facing the top of the pack for years, and Takizawa is looking to make a name for himself after a split decision win against Kintaro at RIZIN 24.
The marquee welterweight match will be a tale of two champions as DEEP Welterweight Champion Ryuichiro Sumimura (15-8-0) welcomes GLADIATOR Welterweight Champion "Let's" Gota Yamashita (14-9-1, 1 NC) to the RIZIN ring. Sumimura is still on the hunt for his first win under the RIZIN banner, and Yamashita wants to lay claim to the title of Japan's top welterweight.
Just like previous RIZIN events outside of Tokyo, RIZIN 25 will have a few kickboxing fights filled with exciting local talent starting off with Hidenori Ebata vs Isami Sano. Ebata has medaled at multiple international Taekwondo tournaments and looks to qualify for the demonstration exhibition matches during the Tokyo Olympics. Sano is a young prospect from the western region in Japan and has faced Peter Arts's son in his amateur days and won by knockout. At only 20 years of age, Sano looks to bring his potential and power to the Japanese combat scene.
Taiga will be making his return to the RIZIN ring when he faces DEEP KICK Champion Yuma Yamahata.
The big brother of the always exciting Yamaguchi brothers from Osaka, Yuma Yamaguchi will be welcoming journeyman Shohei Asahara.
2 young RIZIN kick vets will be facing each other when Jin Mandokoro takes on Syuto Sato.
Tatsuki Saomoto (15-2) squares off against Daichi Kitakata (20-9-1, 2 NC) in a flyweight bout. Saomoto is the ZST Flyweight Champion and Kitakata is a former Pancrase Strawweight Champion, having dethroned long-time champ Mitsuhisa Sunabe. The landscape at 52kg is deep, and top contenders are emerging for a potential title fight.
Finally, RIZIN's top featherweight Mikuru Asakura (13-1-0, 1 NC) is granted a title fight against fellow top contender and current two-time Shooto Featherweight Champion, Yutaka Saito (18-4-2). Asakura holds a perfect 7-0 RIZIN record, with all three finishes coming by his patented left high kick. Saito is 6-1 in his last 7, and captured the title after defeating Japanese legend and former UFC title challenger, Caol Uno.
Doors are expected to open at 1:30PM with Opening Ceremony at 2:00PM on Saturday, November 21st at the Osaka Jo Hall.
Fighter quotes
Mikuru Asakura
"I haven't fought since February but I have constantly been training hard, so look forward on seeing a graded-up version of me." "I'm 7-0 in the organization so I think I deserve this title shot the most. I saw my opponent fight in August, but he's not my match." "He'll try to grapple me but he will be met with a huge surprise." "I plan to win this fight and fight on New Year's Eve."
Yutaka Saito
"My opponent is a very tough opponent so I will work hard to put on a good fight and become Champion." "I was expecting a few more fights before getting the title shot but I think the timing is right. I don't want to miss this opportunity so I will do everything It takes to get that belt."
Hiromasa Ougikubo
"Takizawa has strong kicks and has an iron will. I need to win this fight and use this fight to solidify my position for next year." "I still haven't given up on the title, I love this sport and I am going to get back into the title contender mix"
Kenta Takizawa
"I'm disappointed that I couldn't get the KO against Kintaro, but this time I will prepare well to show you the knockout so please expect a good fight." "My eyes are set on that belt. I'm very happy to be able face such a fighter in my second fight. He's well rounded but I will use him as a stepping stone."
Yojiro Uchimura
"I am very honored to get this opportunity to fight in the RIZIN ring. My opponent is a great prospect but I plan to put him in his place in a fun fight."
Kyohei Hagiwara
"I'm very happy to be able to fight in my hometown. I am excited to be able to face a striker so 'm sure we can show you fans what you want to see. I will knock his ass out into retirement."
Ryuichiro Sumimura
"I'm grateful that RIZIN has decided to bring me despite my previous showings. I know I am on my last legs in this promotion but I will go in there to show what the fans want to see. If my opponent doesn't run from my strikes, I know this fight will be a great one."
"Let's" Gota Yamashita
"I'm very happy to be able to compete on such a big stage like RIZIN. The time has finally come! I will go in there and aim for the first round knockout! I know my opponent is a striker so I am ready for a fun scrap. I don't fell like I'm going to lose and I plan to show the skills of the GLADIATOR Champion. Expect a highlight reel KO!"
Tatsuki Saomoto
"I'm very honored to be able to make such a quick turnaround after making my RIZIN debut. My opponent is the Pancrase Champion and he is a very tough opponent but I believe in my skills and I will take him on with everything I have. The event will be held close to my home town so I'm excited to be able to perform in front of many of my fans."
Daichi Kitakata
"I think my opponent is a wrestler who likes to strike. He's younger and has the momentum with explosive power. People may think I'm supposed to lose this fight because I'm going up a weight class, but I am the Pancrase Strawweight king. Those who underestimate me will be surprised. I am relieved from the tough weight cut and I know I can show you a much more powerful and healthy Daichi Kitakata. I will avenge my friends' losses such as Rikuto Shirakawa and Kintaro by beating my opponent to a pulp."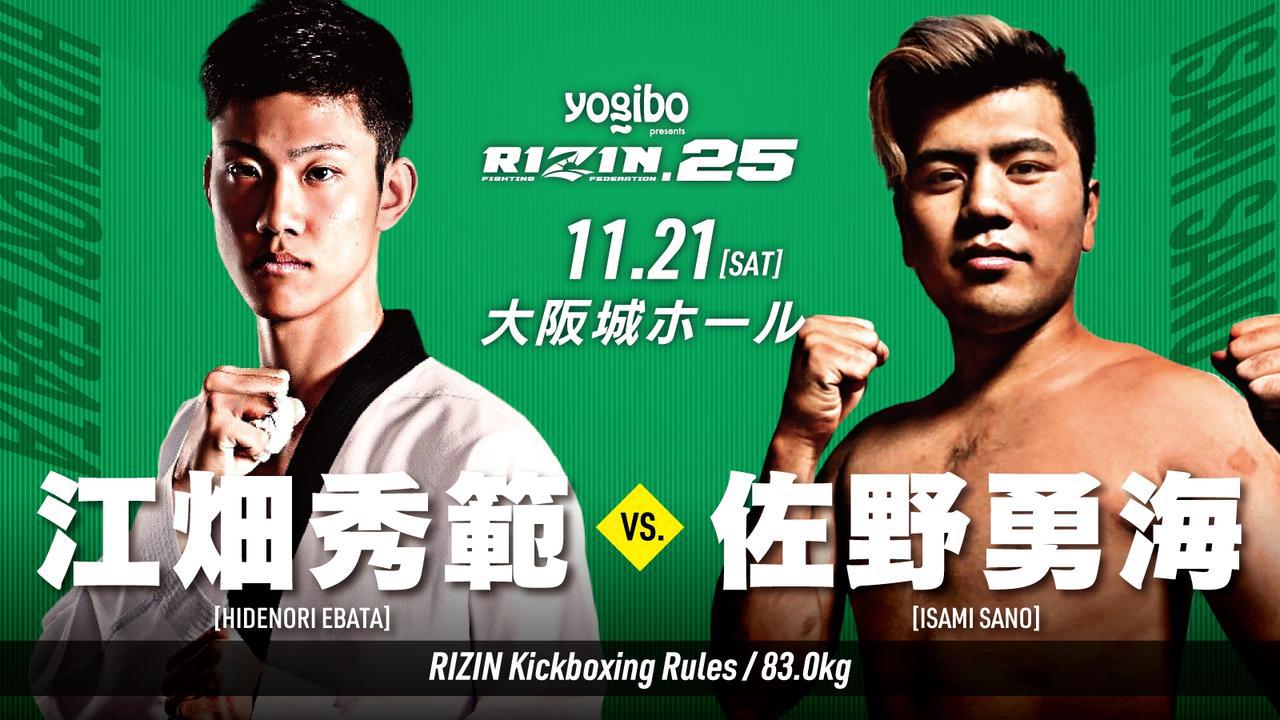 Hidenori Ebara
"Tae Kwando is an amateur sport with only kicks but I am looking forward in showing my skills under kickboxing rules to many fans." "I want to shed more light to the Japanese combat sports scene, and I don't see many Japanese stars in the heavier divisions so I want to do what I can to make KAKUTOUGI great again."
Isami Sano
"I'm grateful for this opportunity. I will show you the best performance."
Jin Mandokoro
"My opponent has many variations of kicks. I've been working on my kicks as well so I'd like to show them in the fight. I hope to put on a performance that people would want to see again."
Syuto Sato
"I'm excited to fight again especially on such a big stage. I couldn't pick up a win in my first RIZIN fight so I will make sure to get that win this time. My opponent is very fast so I plan to keep up with his speed and knock him out."
Yuma Yamaguchi
"I am looking forward to expressing myself on such a big stage. My opponent is a good guy in general so I like the guy. I hope that we can both work together to create a masterpiece in Osaka."
Shohei Asahara
"I am happy to be fighting on the big stage. I will make sure to leave a great impact so please watch my fight!"
Taiga
"I am looking to pick up the win and rebuilding what I have worked on all my life. I hope to see you all in Osaka."
Yuma Yamahata
"My opponent was a superstar in K-1 and is now a famous Youtuber. He is the biggest name I will be facing in my career. I've always fought to win, but this time I will be fighting to leave a great impact so that people will remember my name."
Confirmed bouts for yogibo presents RIZIN 25
Mikuru Asakura vs Yutaka Saito [MMA / Elbows allowed / 66kg / 5 min x 3 rds]
Hiromasa Ougikubo vs Kenta Takizawa [MMA / Elbows allowed / 61kg / 5 min x 3 rds]
Yojiro Uchimura vs Kyohei Hagiwara [MMA / Elbows allowed / 66kg / 5 min x 3 rds]
Ryuichiro Sumimura vs "Let's" Gota Yamashita [MMA / Elbows allowed / 77kg / 5 min x 3 rds] Tatsuki Saomoto vs Daichi Kitakata [MMA / Elbows allowed / 57kg / 5 min x 3 rds]
Hidenori Ebara vs Isami Sano [Kickboxing / 83kg / 3 min x 3 rds]
Jin Mandokoro vs Syuto Sato [Kickboxing / 53kg / 3 min x 3 rds]
Shohei Asahara vs Yuma Yamaguchi [Kickboxing / 63kg / 3 min x 3 rds]
Taiga vs Yuma Yamahata [Kickboxing / 60.5kg / 3 min x 3 rds]
Doors are expected to open at 1:30PM with Opening Ceremony at 2:00PM on Saturday, November 21st at the Osaka Jo Hall.
Follow RIZIN FF
Website - http://www.rizinff.com/
Facebook - https://www.facebook.com/rizinfightingfederation/
Twitter - @rizin_English
Twitter - @rizin_pr
Instagram – rizin_pr