How to watch Yogibo presents RIZIN.24
This event will be available on the RIZIN original broadcasting platform RIZIN LIVE.
RIZIN LIVE gives you a special experience where it allows you to not only watch the excitement live,but also chat and send gifts(donation)during the event.
RIZIN LIVE Q&A
Q1. Where is this online LIVE broadcast?
A1. Please see link https://rizinff-live-eng.com/
Q2. Where can I purchase "Online LIVE watching ticket"?
A2. Available upon purchase on the day of the event by clicking the "Ticket" button on the RIZIN LIVE page.
Event price will be 5,500 yen including tax for each event.
Credit card registration is required before purchase.
*You can also purchase "Online LIVE watching ticket" by funding the "5,000 yen" opetion which includes "Online LIVE watching ticket" as the return on RIZIN croudfunding site.
URL:https://rizin-cloudfunding.lixve.jp/
*The website is Japanese only
Q3. Is the viewing environment all right indoors or outdoors?
A3. We do recommend streaming the event via Wi-Fi.
Q4. Will there be any archive in case I miss something?
A4. It is a live broadcast, so you cannot rewind. No archive will be available.
Q5. When watching online LIVE, is there a function to comment other than watching videos?
A5. You can chat and send purchased gifts. Credit card registration is required to purchase gifts. (Registration on the broadcasting platform is required.)
Q6. Is it possible to watch on TV?
A6. If you have a mirroring device, the event will be available to watch on the television screen.
Q7. Is it possible to watch from overseas?
A7. Yes.
Q8. What is the difference between free and paid viewing?
A8. Free viewing limits the experience to audio only. Paid viewing will give you the whole experience.
Q9. Where do I contact for inquiries?
A9. Please contact us at "support@rizin-live.com".
EVENT INFO
EVENT
Yogibo presents RIZIN.24
Date
Sep 27, 2020 3:30PM(JST)
Venue
Saitama Super Arena
≫ Acces(Google Maps)
Promoted by
RIZIN FIGHTING FEDERATION
The main sponsor
Yogibo
Supported by
Saitama-shi / Saitama sports commission / Saitama sightseeing international society
Powered by
Saitama super arena
FIGHT CARD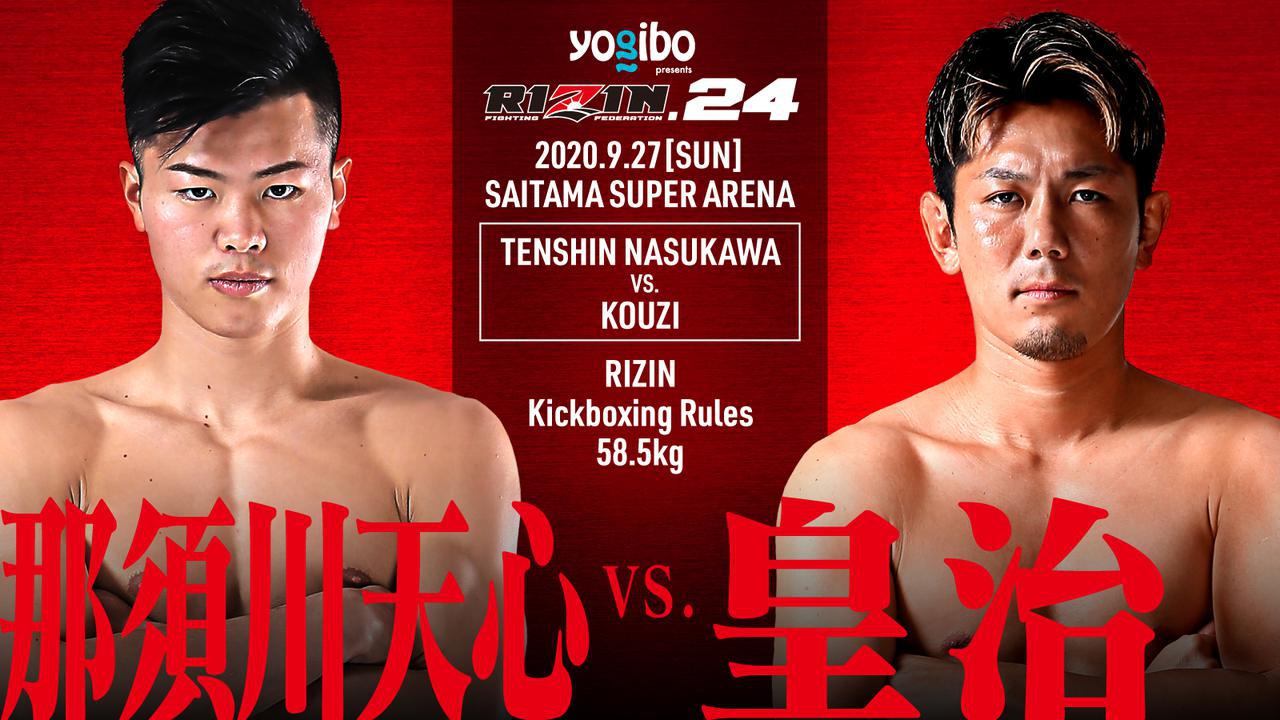 RIZIN Kickboxing Rules 58.5kg / 129.0lb
Tenshin Nasukawa vs. Kouzi
Tenshin strikes without being hit. Kouzi strikes while getting hit. The difference of styles will play a big roll for this fight. The difference in speed is also a big factor. Kouzi will need to deal with Tenshin's lightening speed to land his strikes. Don't blink.
RIZIN MMA Rules 61.0kg / 134.8lb
Kai Asakura vs. Shoji
Both fighters are strikers but Asakura has the upper hand in speed and accuracy. Shoji will need to set up his shots in order to land his punches during an exchange. The veteran will be brining everything to the table to beat the newly crowned Champion. Don't expect a decision
RIZIN MMA Rules 71.0kg / 156.5lb
Koji Takeda vs. Yuki Kawana
DEEP Champion Takeda and Shooto Champion Kawana will be facing off in the RIZIN ring. Takeda has elite level wrestling while Kawana has the overall experience and striking intuition to take on the young up and comer. Look for explosive exchanges and scrambles during this fight.
RIZIN MMA Rules 71.0kg / 156.5lb
Takasuke Kume vs. Satoru Kitaoka
Current King of Pancrase Takasuke Kume will be making his RIZIN debut against 72 fight veteran Satoru Kitaoka. Kitaoka's submission game will always be a threat,and Kume possesses the striking power to stop the fight anywhere in the fight. The battle of survival begins here.
RIZIN Kickboxing Rules 60.0kg / 132.3lb
Yuuki Kitagawa vs. Taishi Hiratsuka
Kitgawa utilizes his long reach to throw bombs from the outside. Hiratsuka uses his crisp striking to throw kicks from the outside. Both fighters aren't afraid to exchange which makes their guards low and open to strikes. Both fighters will strike and will not back down.
RIZIN MMA Rules 61.0kg / 134.8lb
Kintaro vs. Kenta Takizawa
A brawl between two aggressive strikers with high finish rates. Takizawa has the reach advantage and Kintaro has the power behind his strikes. Both fighters like to press forward. Which one be back peddling when they meet? Expect a high pace fight between these two fire crackers
RIZIN Woman's MMA Rules 53.0kg / 116.9lb
RENA vs. Emi Tomimatsu
Striker vs Grappler. Tomimatsu will need to take this fight to the ground to have a chance at picking up a win against the elite striker. RENA has faced several grapplers in her MMA run,so she definitely has the advantage in this fight. Will Tomimatsu be able to leave a mark?
RIZIN MMA Rules 66.0kg / 145.5lb
Takahiro Ashida vs. Kyohei Hagiwara
Ashida will be meeting RIZIN newcomer Hagiwara under MMA rules. Hagiwara has the reach advantage and can throw combinations while moving backwards. Ashida needs to close distance and fight at his distance where he can utilize his striking ability. Distance is the key.
RIZIN MMA Rules 120.0kg / 264.6lb
Sudario Tsuyoshi vs. Dylan James
A fight that nobody knows what to expect. We should all just sit and wait patiently until the time comes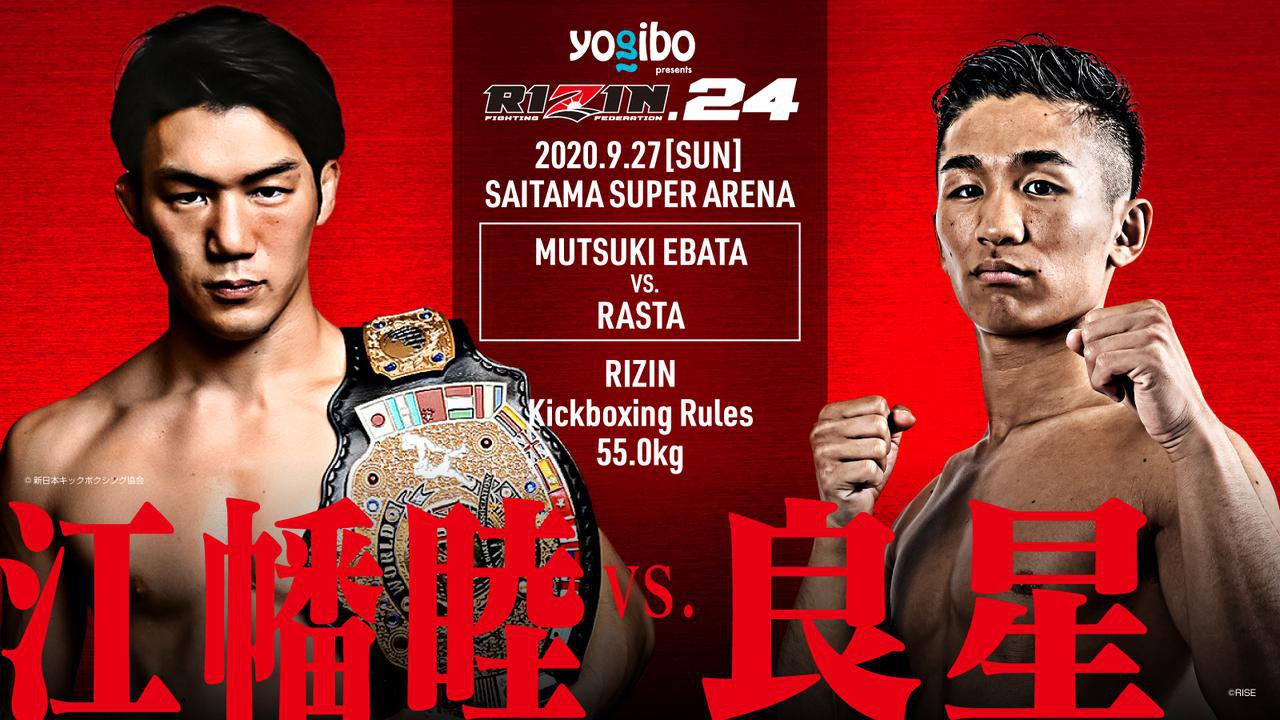 RIZIN Kickboxing Rules 55.0kg / 121.3lb
Mutsuki Ebata vs. Rasta
Every weapon that Mutsuki Ebata has is elite level text book material. Rasta on the other hand is very unorthodox,he switches,he moves all over the ring and throws wild strikes. Ebata's accuracy and Rasta's mobility will be put to the test when they meet for their RIZIN debuts
RIZIN MMA Rules 71.0kg / 156.5lb
Yusuke Yachi vs. Juri Ohara
Yachi will making a quick turnaround to fight journeyman Juri Ohara. Both are explosive strikers with different distances. Ohara wants to fight close or from the outside,Yachi wants to keep it middle range. Ohara looks to make a name in the big show,Yachi can't drop this one.
Yogibo presents RIZIN.24 大会情報/チケット