Tokyo - December 30th, RIZIN had weigh-ins for this Saturday's RIZIN.40 card.
Roberto Satoshi Souza vs AJ McKee [71kg - RIZIN MMA rules]
Roberto Satoshi Souza (70.85kg)
"My opponent is talented and dangerous but that's about it. He's the former BELLATOR Featherweight Champion and a World class fighter. " "Winning this fight will show the strength of Japanese MMA and RIZIN's talent level. I will do everything it takes to get that win."
AJ McKee (70.20kg)
"It's an honor for me to fight here. My father fought here on NYE 10 years ago. I'm here to redeem the family name." "I have never fought somebody with the Jiu Jitsu caliber so this will be a true test for me. I am confident in my ground too so I think many people will be surprised."
Kleber Koike vs Patricio Pitbull [66kg - RIZIN MMA rules]
Kleber Koike (65.90kg)
"All fights are important for me, but this upcoming fight is specifically important for my career and with the concept of promotion fight promotion and I will be fighting their P4P Champion."
Patricio Pitbull (65.80kg)
"I've been training under these rules from the beginning so I'm ready to be kicking heads on the ground." "Cross promotion and Champion vs Champion is something that should happen more often to determine who's truly the best fighter. It would be great"
Hiromasa Ougikubo vs Kyoji Horiguchi [57kg - RIZIN MMA rules]
Hiromasa Ougikubo (56.90kg)
"Going back to Flyweight, I felt great in training but I'm curious to see how I can perform in the fight." "I look forward in making tonight the best day of my life."
Kyoji Horiguchi (56.65kg)
"I believe Flyweight is the best weight class for me so I hope to stay at Flyweight after this fight." "Cutting to Flyweight is easy. I hardly cut any weight at Bantamweight so this is a piece of cake."
Soo Chul Kim vs Juan Archuleta [61kg - RIZIN MMA rules]
Soo Chul Kim (60.70kg)
"I am a person who is happy with self satisfaction. I stay at home on my days off, and I don't fight for fame. I fight to hand over the check to my wife."
Juan Archuleta (60.80kg)
"Promotion vs Promotion is one thing, Champ vs Champ is something. But Fighting in the country where MMA was originated, and fighting on NYE is at a different level."
Koji Takeda vs Gadzi Rabadanov [71kg - RIZIN MMA rules]
Koji Takeda (70.85kg)
"This year has been a blessing. I've told RIZIN that I wanted international competition and this is what I got and this will be the toughest opponent of the year."
Gadzhi Rabadanov (70.75kg)
"Having Khabib in my corner means a lot to me. He has a great amount of knowledge and getting his advice during the fight will be extremely helpful."
Seika Izawa vs Si Woo Park [49kg - RIZIN MMA rules]
Seika Izawa (48.70kg)
" I know we fought a close fight in our first fight, but that illegal soccer kick kind of checked me out mentally. If my head was straight, it would have been a one sided fight so I will prove that in this fight."
Si Woo Park (48.80kg)
"No matter how hard you train and how much time you put in for a fight, it won't mean anything if you can't perform in the actual fight. I have been focusing on being able to do what I've practiced in the fight, which has led me to winning fights."
Naoki Inoue vs Kenta Takizawa [61kg - RIZIN MMA rules]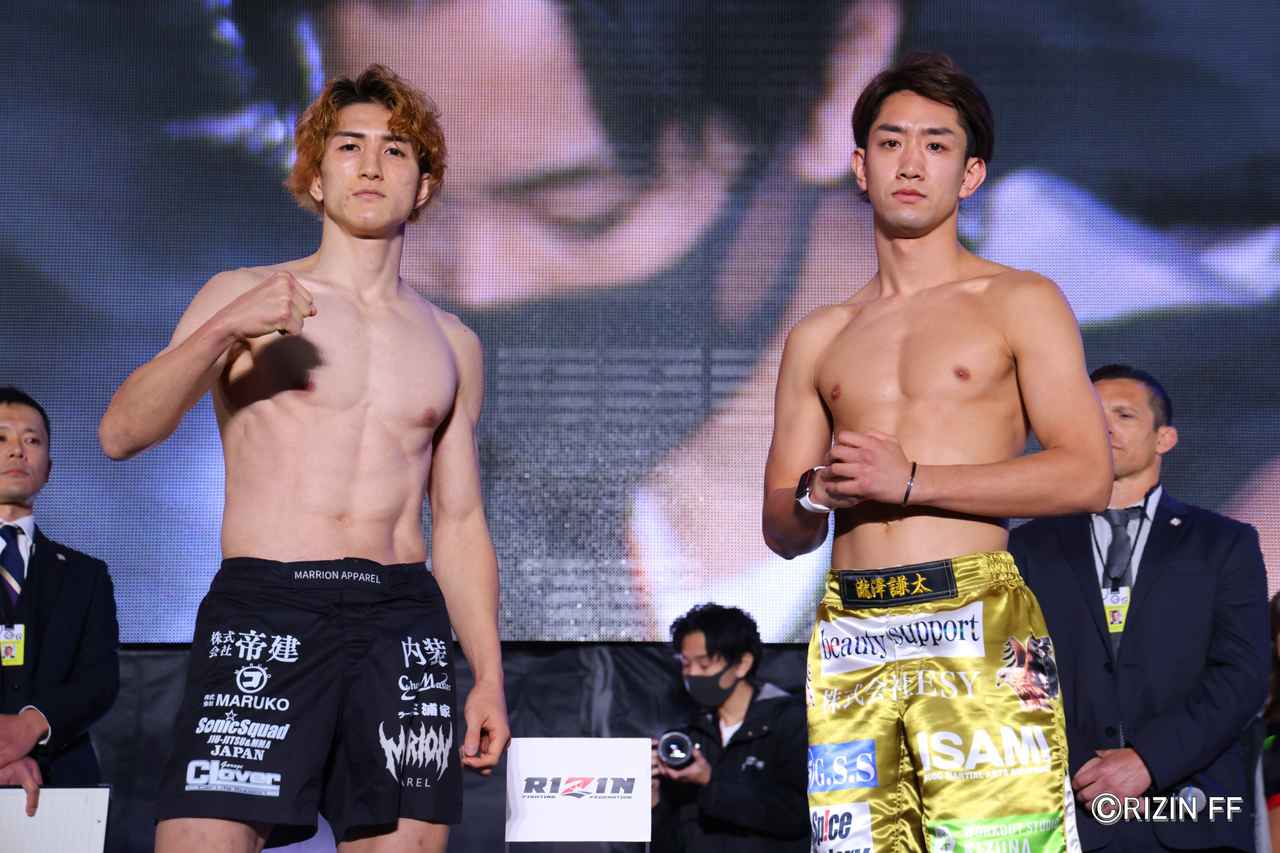 Naoki Inoue (60.85kg)
"Takizawa is very tough and he's hard to finish. I will try to finish him but the most important thing is getting that win."
Kenta Takizawa (60.85kg)
" My opponent has a tough sister. Probably tougher than him. I just can't see myself losing to him. He's highly overrated and I will prove that."
Tsuyoshi Sudario vs Junior Tafa [120kg - RIZIN MMA rules]
Tsuyoshi Sudario (117.95kg)
"My opponent is also aggressive, so I think it will be fun for the fans."
Junior Tafa (108.75kg)
"My opponent is aggressive and comes forward and so do I. I think it is the perfect timing for fireworks. Happy new year everybody."
Hideo Tokoro vs John Dodson [61kg - RIZIN MMA rules]
Hideo Tokoro (56.70kg)
"Every time I fight, I go in there knowing it may be my last fight. So despite what happens in the ring, please know that I will go in there trying to give it all."
John Dodson (56.90kg)
"I'm super excited to fight in Japan under the best rules ever. I can punch my opponent, kick them in the head on the ground, face stomp everything I did in the streets, LEGALLY!"
Ren Hiramoto vs X [RIZIN STANDING BOUT SPECIAL rules]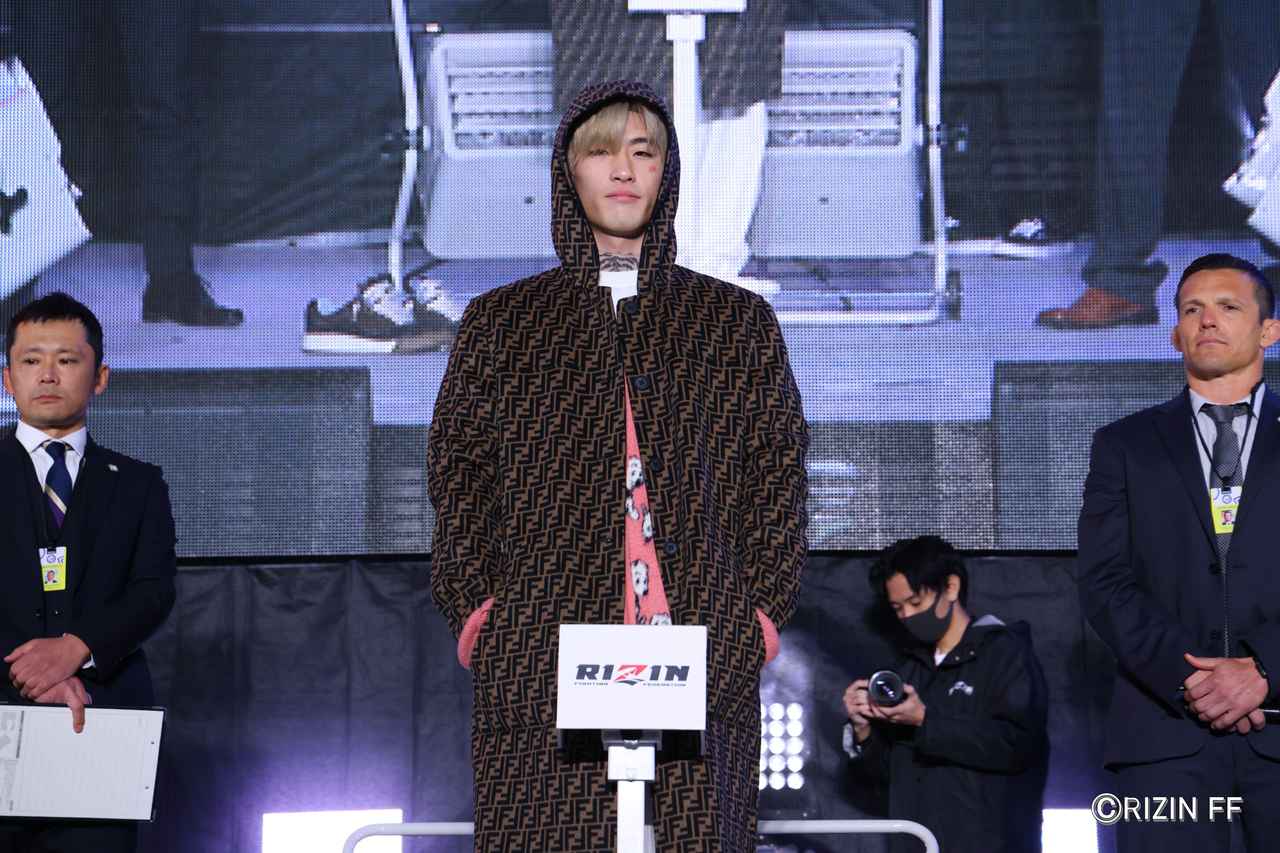 Ren Hiramoto (69.70kg)
"I decided to step up and fight whatever Sakakibara-san wants me to do. "
Yuki Motoya vs Rogerio Bontorin [61kg - RIZIN MMA rules]
Yuki Motoya (61.00kg)
"My opponent starts strong so I need to brace myself to not get overwhelmed."
Rogerio Bontorin (60.00kg)
"I got into a lot of fights growing up and my father taught me how to fight, I grew up watching the Brazilians fighting in PRIDE and I'm excited to be here fighting on the prestigious NYE card."
Johnny Case vs Nobumitsu Tyson [71kg - RIZIN MMA rules]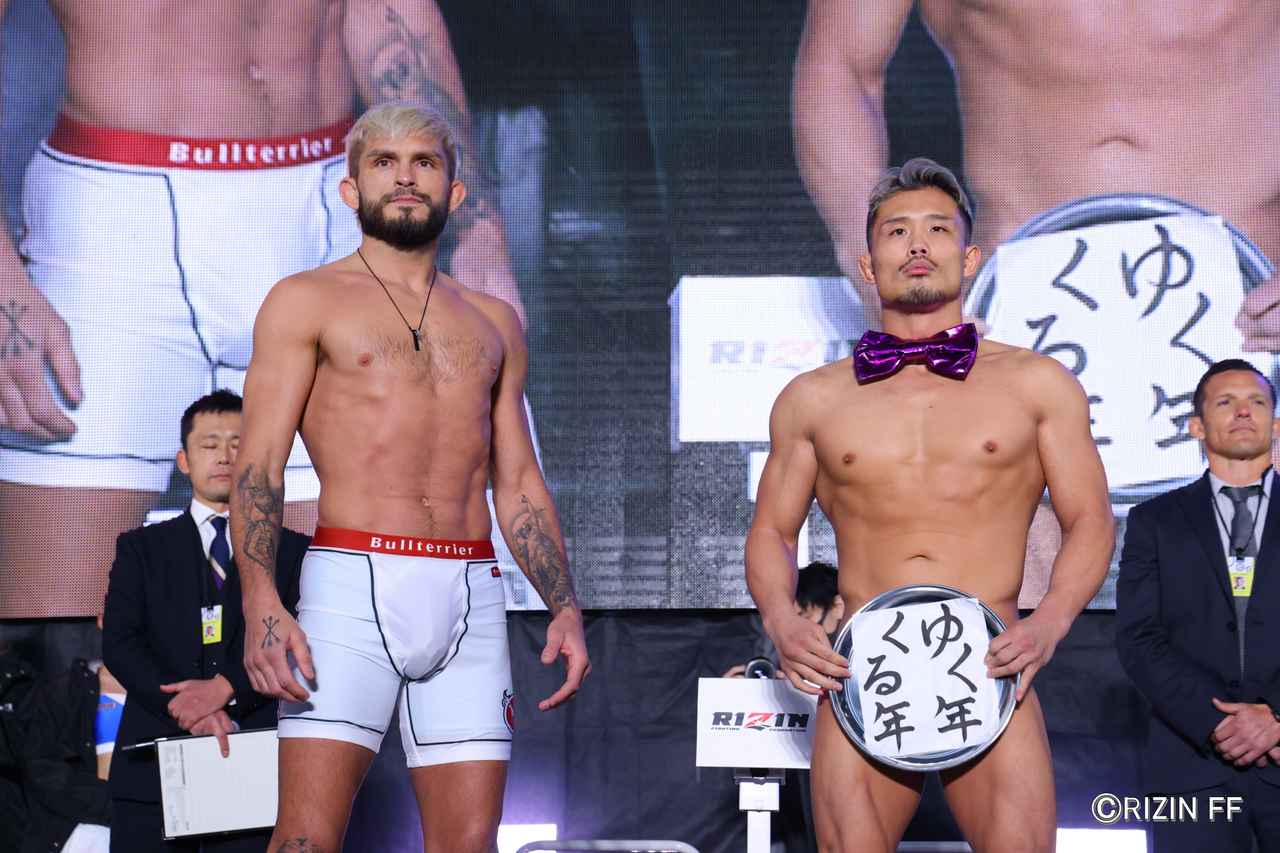 Johnny Case (70.95kg)
" I'm on a 3 fight losing streak, the first time in my career. I need to get the win in a dominant way, get back in the win column."
Nobumitsu Tyson (70.90kg)
"Johnny Case is tall, handsome, has a great personality, a gentleman, everything I'm not and on top of that my wife loves him. So I will beat him to a pulp and show my wife who she should be in love with."
Yoshiki Nakahara vs Chihiro Suzuki [66kg - RIZIN MMA rules]
Yoshiki Nakahara (65.90kg)
"Last year I was watching the RIZIN NYE event as a spectator. I had no idea that I would be fighting at this event this year.
Chihiro Suzuki (65.85kg)
"Many things happened this year, but at the end of the day, I will be doing something I love to do at the very end of this year so all is good."
Beynoah vs Patrick Usami [66kg - RIZIN MMA rules]
Beynoah (71.00kg)
"It's finally here! The time has come! That's it, Osu!"
Sho Patrick Usami (70.90kg)
"My life as a fighter has drastically changed since fighting for RIZIN. It's great motivation for me to continue to put in hard work as an MMA fighter."
YUSHI vs Tatsuya Nakazawa [62kg - RIZIN MMA rules]
YUSHI (61.65kg)
"I know many people think I don't deserve to be fighting in RIZIN. That might be the case as a fighter, but I'm here to entertain and I know I will deliver. Just watch me from the moment I walk out, and exit the ring."
Tatsuya Nakazawa (61.95kg)
"I think that he will eventually grapple with striking, so how far can he make it his own pace?"
Follow RIZIN FF
Website - http://www.rizinff.com/
Facebook - https://www.facebook.com/rizinfightingfederation/
Twitter - @rizin_English
Twitter - @rizin_pr
Instagram – rizin_pr
TikTok – rizinffofficial
English News