RIZIN TRIGGER 3rd & RIZIN.35 each set with 3 MMA bouts for April 16th and 17th in Tokyo's Musashino Mori Sports Plaza. 3 Championship rematches set for back-to-back extravaganza. Souza looks to avenge sole defeat against Case, Ushiku defends title against former Shooto & RIZIN Champion Saito, and starlet Seika Izawa immediately rematches champion Ayaka Hamasaki.
TOKYO – March 10th, RIZIN CEO Nobuyuki Sakakibara, held a press conference and announced updates about RIZIN TRIGGER 3rd & RIZIN.35 - the promotion's fourth and fifth events of the year.
CEO Sakakibara announced 6 cards for the promotion's 4th and 5th events with 6 MMA bouts. RIZIN TRIGGER 3rd & RIZIN.35 will be held at the Musashino Mori Sports Plaza in Osaka."This arena is very new and will be hosting combat sports for the very first time and I am excited to introduce this venue to the fight fans." The main arena was used for the Tokyo Olympics located next to the Ajinomoto Stadium. Maximum capacity of 10,000. A great arena and will be the first time hosting combat sports.
RIZIN.35
Juntaro Ushiku (c) (21-8-1, 1-0 RIZIN FF) vs Yutaka Saito (20-6-2, 3-2 RIZIN FF) 66kg MMA
Reigning RIZIN & DEEP Featherweight Champion Juntaro Ushiku is 9-1 in his last 10 bouts dating back to November 2018, avenging his sole loss against current contender Daisuke Nakamura. He won the DEEP title from Satoshi Yamasu at DEEP 97 after a 3-0 stretch in the promotion, and captured the RIZIN title at RIZIN.31 last October after catching Saito with a well-timed knee that caused a cut which led to the stoppage. Saito is the former Shooto Featherweight Champion, and is 4-2 in his last 6 fights. He was on a 4-fight win streak, with 3 victories coming in the RIZIN ring, where he captured the inaugural Featherweight title against fan-favorite Mikuru Asakura at RIZIN.25 last November. He is now looking to snap a 2-fight skid in his 3rd title match. Saito has never lost 3 fights in a row in his career, meanwhile Ushiku has won both of the rematches he's had in his career.
Ayaka Hamasaki (c) (23-4, 9-2 RIZIN FF) vs Seika Izawa (5-0, 1-0 RIZIN FF) 49kg MMA
The two-time Super Atomweight Champion was handily defeated in their previous meeting at RIZIN.33, suffering just her second loss in RIZIN and the 4th overall in her career. Scoring 4 straight wins following her split decision loss to Seo Hee Ham at RIZIN.20, reclaiming her title and making one defense, her non-title bout potentially signaled a changing of the guard at 49kg. Now, she will rematch undefeated 24-year-old DEEP JEWELS Strawweight Champion Seika Izawa. Izawa is 5-0 in MMA and 4-0 in grappling matches, most notably defeating veterans Mika Nagano and Emi Tomimatsu at DEEP JEWELS 34 by submission in under 5 minutes combined. Will Izawa produce another dominant showing against an all-time great, or can the veteran adapt and use her experience to overcome the new generation of Japanese MMA?
Roberto Satoshi Souza (c) (13-1, 6-1 RIZIN FF) vs Johnny Case (27-7-1, 3-1 RIZIN FF) 71kg MMA
The reigning and defending RIZIN Lightweight Champion solidified himself as the bonafide #1 fighter at 71kg when he met Lightweight Grand Prix Champion Tofiq Musayev at RIZIN's historical Tokyo Dome event - RIZIN.28. In what was the first MMA event at the legendary venue since 2003, Souza captured the vacant crown just 72 seconds into the bout with his patented submission skills, snapping Musayev's 7 year, 14-fight win streak. The victory was Souza's 12th 1st round finish (out of 13 total wins). In his 3rd RIZIN appearance, he faced UFC veteran Johnny Case in the Lightweight Grand Prix Quarterfinals, losing in just 75 seconds via TKO. Now, 4 wins and 2 title fights later, Souza looks unstoppable and wants to avenge the sole loss of his career. Meanwhile, Case has not seen action in MMA since his Grand Prix semifinal showdown with eventual winner, Tofiq Musayev. Since then, he has scored 3 KO/TKO wins in the boxing ring, with his latest win coming last month. It remains to be seen how the time away from the sport will affect Johnny's performance in the ring, and how much Souza truly has grown since his loss at RIZIN.19 in October of 2019.
Juntaro Ushiku
"I plan to enjoy every moment of the fight so look forward to my fight. Many people think it was a fluke so I will prove my abilities in this fight. Saito is a very well rounded fighter and accomplished at a high level. His last fight, he didn't look like he was in his best condition."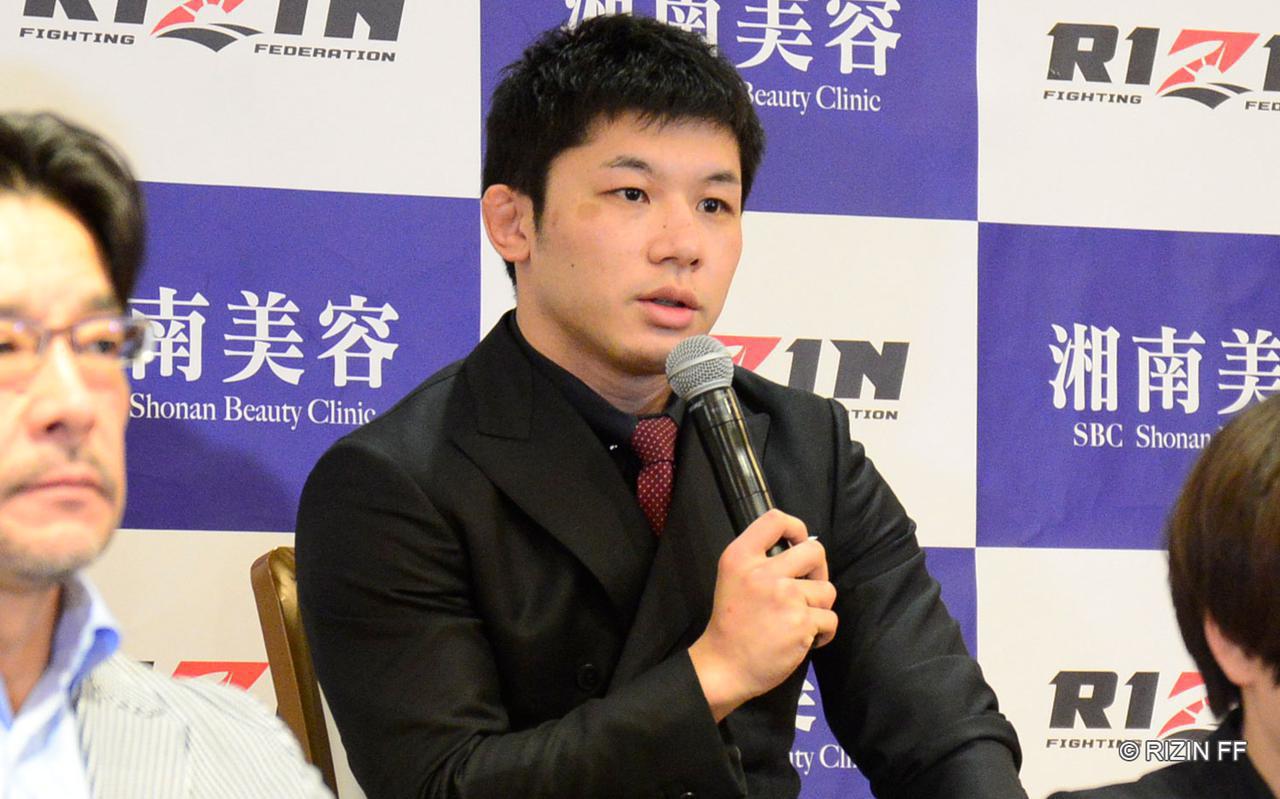 Yutaka Saito
"I'm going in there to have my belt returned to me. I'm going to fight healthy and mentally prepared to show you a different Saito. I think the timing is right for this fight and I'm not in the position to pick fights. I know a title fight doesn't come around often so I will take the opportunity when I can. Ushiku is very good at executing his game plan and I think he still has some tricks hidden up his sleeve. Every fight comes with risks. And I've lost 2 in a row. This fight can change the tide in my career. I will go in there believing in myself that I can win."
Ayaka Hamasaki
"I hold the belt but I've lost my most recent fight. I will go in there as the challenger. The mentality heading to this fight is totally different than last time. I hate to lose and I can't leave with a loss. See my determination."
Seika Izawa
"I'm excited for this fight and I was able to win my last fight but this one is the real deal. I appreciate your support. I'm even more motivated to beat the Champion again to win the belt. I don't think about what happened in the last fight. I'm going to fight thinking it's a whole new opponent. I want to show that I am an MMA fighter and show my striking, and wrestling."
Roberto Satoshi Souza
"I've wanted this fight for a long time. That loss changed me as a fighter so I will redeem myself. I look forward to the fight and appreciate your support. I try not to affect people's comments with my mentality. I'm determined to defend this belt and keep the belt in Japan. That's my opinion. My last fight with Johnny I wasn't ready to fight in RIZIN. I wasn't confident. But I changed everything after that loss and I haven't lost since. This fight will be totally different than last time and I have no doubt that I will win."
Johnny Case
"I'm extremely grateful for this opportunity to fight for the RIZIN belt in front of the Japanese fans. I have fought all over the world but there are no fight fans like the fans in Japan. I believe the belt Souza currently has is mine and I'm just lending it to him for the moment and it will return to it's true owner in April. I look forward to meeting Souza and the best fans in the world soon."
RIZIN.35 Confirmed Bouts
Musashino Mori Sports Plaza, April 17th
Roberto Satoshi Souza (c) vs Johnny Case [71kg - RIZIN MMA rules]
Juntaro Ushiku (c) vs Yutaka Saito [66kg - RIZIN MMA rules]
Ayaka Hamasaki (c) vs Seika Izawa [49kg - RIZIN MMA rules]
RIZIN.35 Doors are expected to open at 12:30PM with the Opening Ceremony at 2:00PM on April 17th (Sun) at the Maruzen Intec Arena. Broadcasting and streaming partners will be announced soon.
SPASHAN HPS presents RIZIN TRIGGER 3rd
Yusuke Yachi (23-12, 7-6 RIZIN FF) vs Luiz Gustavo (10-2, 2-2 RIZIN FF) 71kg MMA
Former PXC & Shooto Pacific Rim Featherweight Champion Yachi's path to the belt was not as smooth as Souza's, having started his RIZIN career 5-0 with 4 finishes, scoring his biggest win on the 2017 NYE show against 'The Fireball Kid' Takanori Gomi. A shock KO loss against Luis Gustavo 8 months later would be the start of a 1-5 skid for the once promising contender, with his quickest loss being a TKO in under two minutes against Souza. Yachi would not compete on the 2020 NYE card, continuing to train, reinventing himself and his style. He defeated Shooto Lightweight Champion Yuki Kawana by unanimous decision at RIZIN.29 in June, and then turned around 3 months later to best the DEEP Lightweight Champion Koji Takeda also by unanimous judgment call. Luiz Gustavo made his RIZIN debut with an 8-0 record against Yachi at RIZIN.12 in August 2018. After scoring a KO upset, he faced Mikuru Asakura at RIZIN.15 in April 2019 where he was outpointed, but rebounded with a first round stoppage victory over Hiroto Uesako just 6 months later in the Lightweight Grand Prix Quarterfinals. His last bout was a 28-second soccer kick loss to current Bellator Lightweight Champion Patricky Pitbull in the semifinals at RIZIN.20. With the 28-month layoff, Gustavo makes his 5th RIZIN appearance against one of RIZIN's top lightweights and most recognizable faces.
Kazumasa Majima (14-3, 0-2 RIZIN FF) vs Masanori Kanehara (28-14-5, 1-1 RIZIN FF) 66kg MMA
Majima, a former REBEL FC Featherweight Champion and Shooto Tournament Champion, was riding a 12-fight win streak (11 finishes) until falling short in his promotional debut against former RIZIN Featherweight Champion Yutaka Saito at RIZIN.23 in August 2020. He then faced current top contender Kleber Koike 7 months later, losing by 2nd round triangle choke. Kanehara is the former Sengoku Featherweight Champion and Sengoku Featherweight Grand Prix Champion, who made his RIZIN debut at RIZIN.21 in February of 2020 in a 2nd round stoppage loss to top-ranked bantamweight Victor Henry. Kanehara returned to action last October, stopping former DEEP Featherweight Champion Takahiro Ashida just 78 seconds into the 2nd round. The JMMA veteran has 21 stoppage wins, and Majima has 13 stoppage wins.
Kintaro (14-11-2, 2-3 RIZIN FF) vs Kazuma Kuramoto (9-2, 2-1 RIZIN FF) 61kg MMA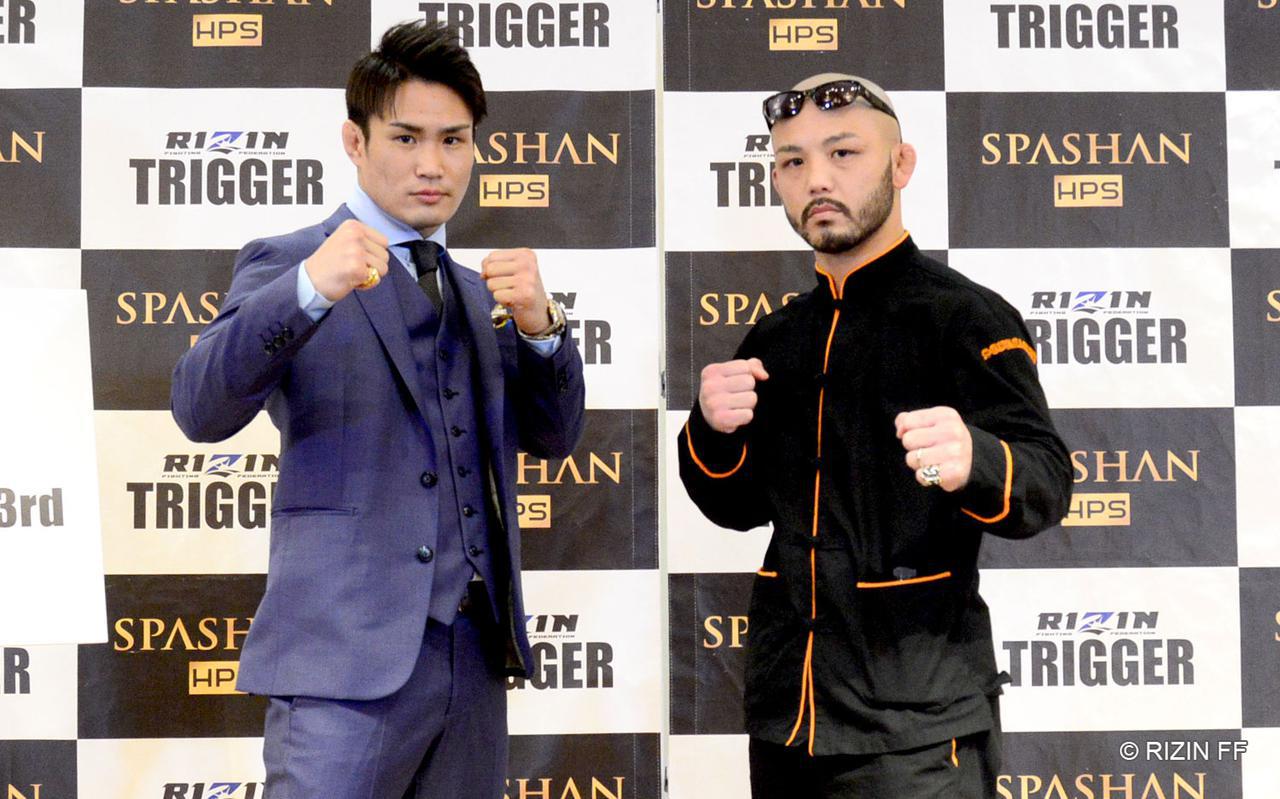 The former Pancrase Bantamweight title challenger makes his 4th appearance in RIZIN, winning his first bout via first round submission and dropping a split decision to fellow participant Kenta Takizawa in his 2nd appearance last September at RIZIN.24, before scoring a unanimous decision against GRACHAN Champion, Kuya Ito in the opening round. His last bout was a UD loss in the reserve grand prix match at RIZIN.33 against Yuki Motoya. Kuramoto is the former Shooto Bantamweight title challenger and also fought in the 2021 Japan Bantamweight Grand Prix, losing to Alan Hiro Yamaniha in the opening round at RIZIN.29. He started his career 7-0 before his first loss in the aforementioned title fight against Shooto Bantamweight Champion, Ryo Okada. Kuramoto won his RIZIN debut at RIZIN.26 on New Years' Eve 2020, scoring a 1st round soccer kick stoppage over veteran Taiyo Nakahara, before losing his opening round bout vs Yamaniha. He makes a turn around after brutally stopping Kenji Kato with vicious ground and pound at RIZIN Trigger 2nd.
Yusuke Yachi
"Gustavo started my losing streak and I've been wanting this fight for a long time. And now it's finally happening so I plan to dominate in all aspects and pay my debt that I owe him. I've learned how to come up with a game plan and I have many cards to play during the fight along with my basic skills evolving. I know I'm a different fighter. Gustavo is aggressive but he's green in many areas. I will make him not want to face me anymore. I'm not worried about the fight being in the cage. I like the ring too, but being locked in the cage gets your adrenaline pumping so I like it."
Luiz Gustavo
"I'm very happy to be fighting in Japan again. I have waited 2 years for this. I can't wait to show you what you have been missing. I have been told that Yachi has changed his style but I don't see much of a difference. I'm going to do my thing and put on a great fight. I promise a great fight in April. Heeyyyyyy!"
Masanori Kanehara
"My family is against me continuing this sport so a loss will mean the end of my career. I love fighting in the cage so watch me do my thing in the cage and do what I love to do. Although I had a great showing in my last fight, it wasn't enough to earn back the trust from my family. I kept the fight a secret until 2 days ago so they are not happy with me. But the best way to convince them is to win. I have lots of responsibilities. I'm a much better fighter than Majima. The experience is totally different. He's decent but I'm better than him. The Featherweight division is like everybody playing rock paper and scissors"
Kazumasa Majima
"I'm grateful for this opportunity. My opponent is a veteran of the sport and has fought in the best organizations. My biggest impression of Kanehara was his win over KID Yamamoto. I'm honored that he called me out and I plan to use him as a stepping stone to work my way up the rankings. This fight will be in the cage so I can utilize my weapons at their full potential and I promise you a great performance."
Kintaro
"Kuramoto had a great showing in the last fight but it won't be that easy on me. He better be prepared. I'll turn this into a dog fight. We have different styles so it will be an interesting fight. But I think I can beat him without showing my style."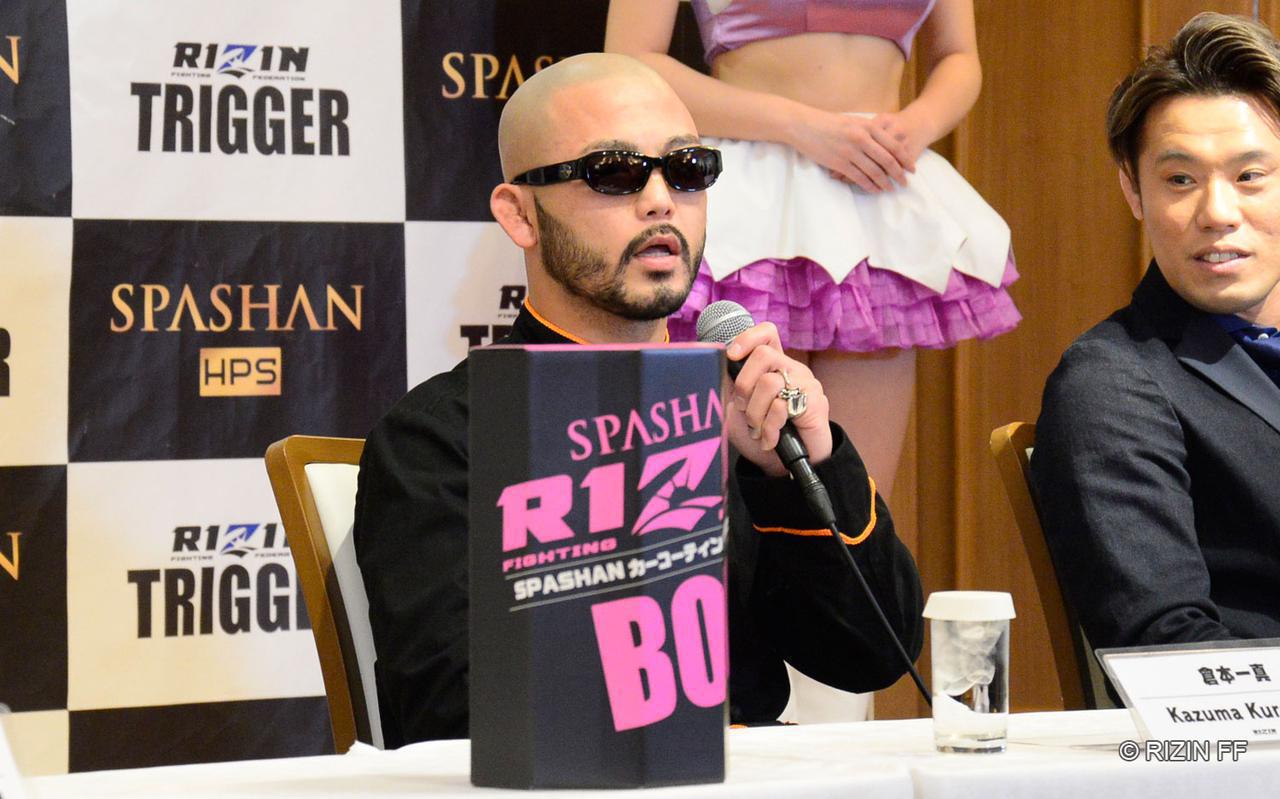 Kazuma Kuramoto
"I will perform like I did in my last fight and win so look forward to my fight. I will use open palm strikes and dominate him like I did in my last fight."
RIZIN TRIGGER 3rd Confirmed Bouts
Musashino Mori Sports Plaza, April 16th
Yusuke Yachi vs Luiz Gustavo [71kg - RIZIN MMA rules]
Kazumasa Majima vs Masanori Kanehara [66kg - RIZIN MMA rules]
Kintaro vs Kazuma Kuramoto [61kg - RIZIN MMA rules]
RIZIN TRIGGER 3rd Doors are expected to open at 12:30PM with the Opening Ceremony at 2:00PM on April 16th (Sat) at the Maruzen Intec Arena. Broadcasting and streaming partners will be announced soon.
Follow RIZIN FF
Website - http://www.rizinff.com/
Facebook - https://www.facebook.com/rizinfightingfederation/
Twitter - @rizin_English
Twitter - @rizin_pr
Instagram – rizin_pr
TikTok – rizinffofficial
English News
【4/1(土)開催】 RIZIN.41 大会関連情報
【4/30(日)開催】 RIZIN LANDMARK 5 in YOYOGI 大会関連情報
【5/6(土)開催】 RIZIN.42 大会関連情報
おすすめコンテンツ