TOKYO – February 12th, RIZIN announced 8 bouts for their first event in 2021, which will take place at the Nippon Gaishi Hall in Nagoya - marking RIZIN's 2nd event at the venue, and 4th event overall in Nagoya. The originally planned Tokyo Dome event was postponed until a later date due to covid related procedures. Defending Champion Hamasaki rematches top contender Asakura, Souza welcomes Tokudome to RIZIN and Featherweight standout Koike faces Majima.
Yogibo presents RIZIN.27 will be taking place on March 21st (Fri) at the Nippon Gaishi Hall. 5,000 spectators will be allowed inside to attend the event due to the governmental requirements on the COVID-19 pandemic. Sakakibara revealed his plans for the year, which included a 16-man Bantamweight Japan Grand Prix, which will begin in April align with an 8-man Featherweight tournament starting in the fall.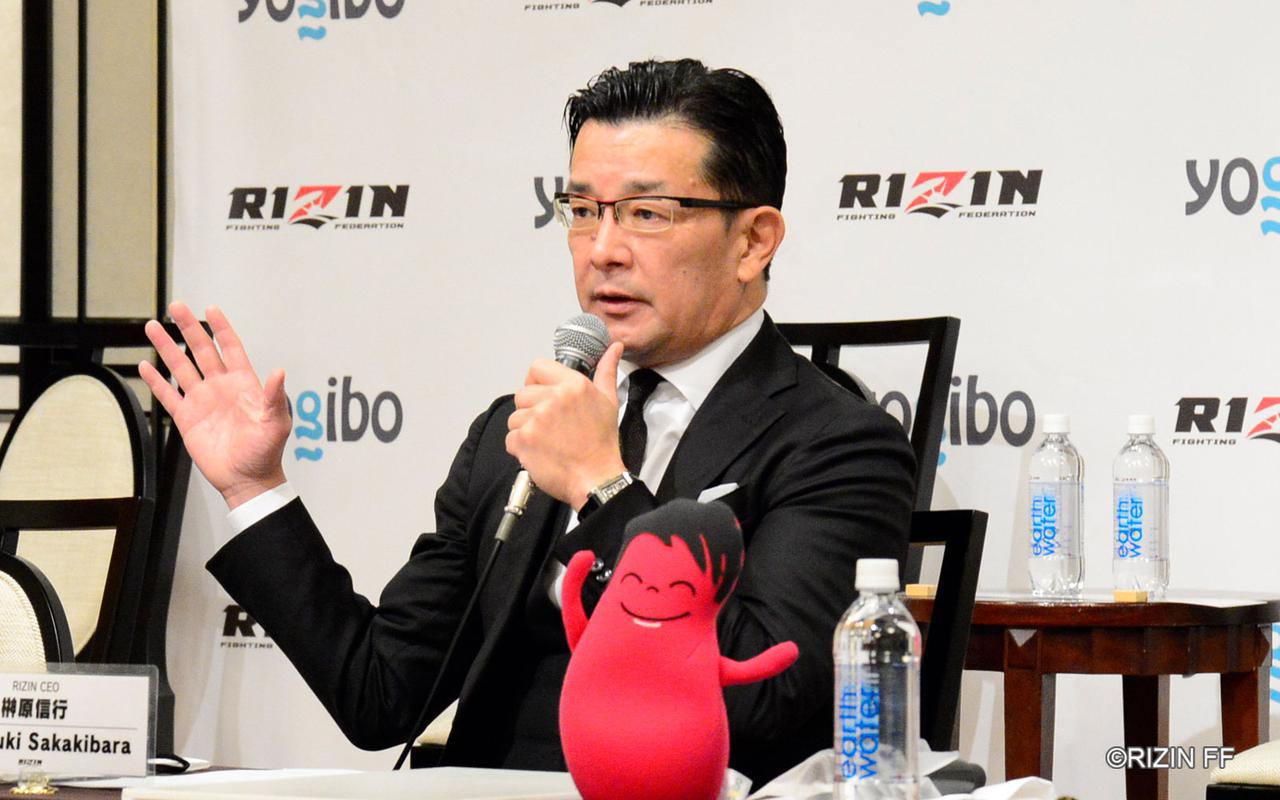 This event will feature RIZIN's first lightweight bouts since RIZIN 23 in August of last year. The opening fight to kick off RIZIN's 2021 campaign features an MMA bout between Kohei Sugiyama (10-5) and Yuki Ito (6-1). Sugiyama recently dropped a split-decision to Pancrase Flyweight title challenger and 10-year veteran Masatatsu Ueda, snapping a 3-fight win streak for the 25-year-old. Ito enjoyed an 11-fight win streak, stemming from his amateur career (5-0) and pro career (6-0), capturing the RINGS 55kg Championship in his 2nd pro bout. From there, he competed in ROAD and DEEP, submitting RIZIN veteran, Yamato Fujita. With all but one of their combined finishes being in the first round, fans can expect a fiery start to the event.
Ayaka Hamasaki (21-3, 7-1 RFF) was crowned RIZIN's first ever two-time champion after submitting top super atomweight Miyuu Yamamoto with a unique leg-scissors choke last New Year's Eve. The former Jewels and Invicta champion stands as the top super atomweight in the world, and will rematch perennial contender Kanna Asakura (18-4, 9-3 RFF). Asakura has gone 5-1 since facing Hamasaki at RIZIN 14, and currently rides a 4-fight win streak with 2 finishes. Both fighters hold several records in RIZIN competition, and will kick off RIZIN's exciting super atomweight division for 2021.
Roberto Satoshi Souza (10-1, 3-1 RFF) bounced back from his 2019 Lightweight Grand Prix elimination in phenomenal fashion, thrashing Yachi Yusuke with viscous ground and pound in under 2 minutes at RIZIN 22 last August. Now, 6 months later, he will welcome former Pancrase Lightweight Champion Kazuki Tokudome (20-10-1) to the RIZIN ring. Tokudome - who has faced fellow RIZIN lightweights Kitaoka and Kume (twice) - is a 4-fight UFC veteran, and currently is riding a 2-fight win streak. All of Souza's wins have come by way of finish, and he looks to continue his run to a potential lightweight title showdown against reigning champion, Tofiq Musaev.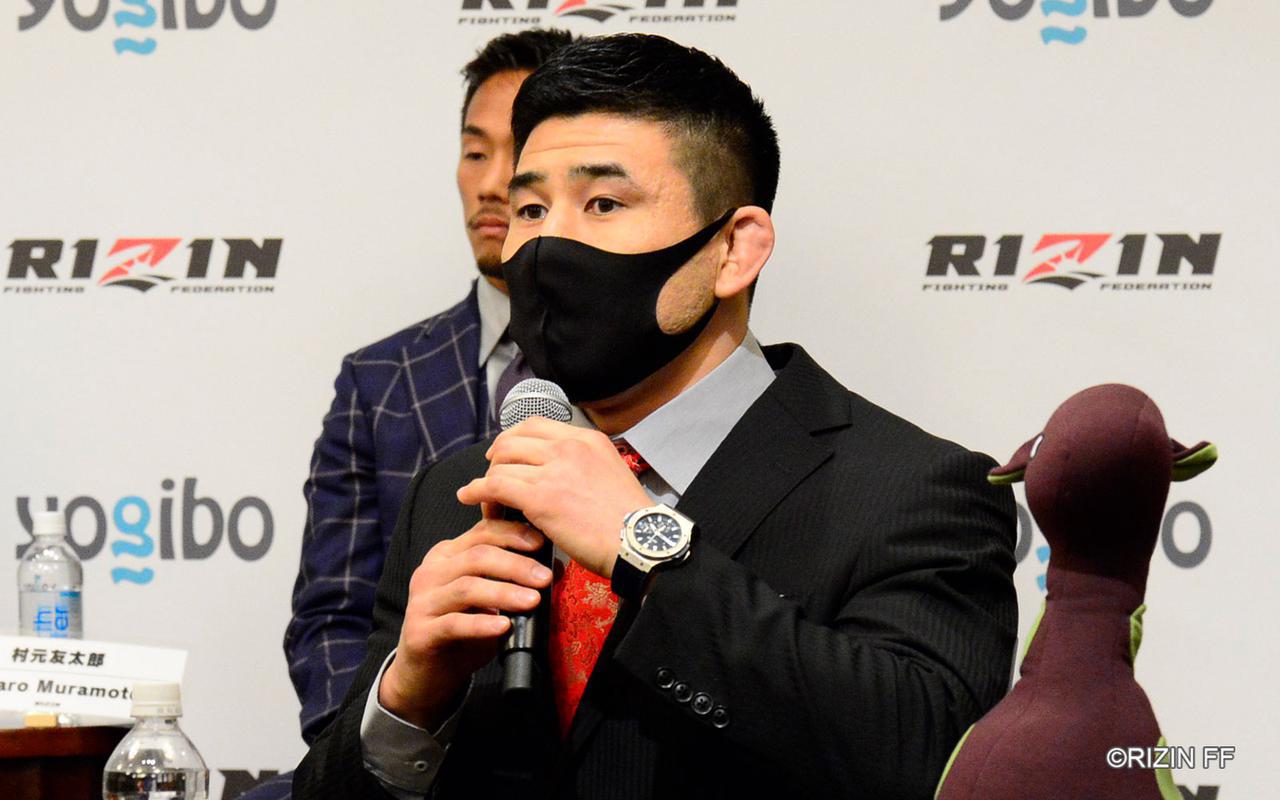 The second of the two marquee lightweight matchups sees DEEP Lightweight Champion Koji Takeda (11-1, 1-1 RFF) fulfil an awaited champion versus champion bout against Pancrase Lightweight Champion Takasuke Kume (24-6-3, 1-0 RFF). Both fighters hold 3-fight win streaks and are coming off of hard-fought split decision victories in RIZIN, and try to throw their name into the mix for the lightweight title. Kume is 10 years senior to Takeda, and will come into the fight as the more experienced fighter.
A flyweight bout between Yutaro Muramoto (7-5-2, 0-1 RFF) and Seigo Yamamoto (5-5) will also take place at RIZIN 27. Muramoto has only lost 1 of his last 5 (vs. Takaki Soya @ RIZIN 18) and won his last bout by a 3rd round submission. Yamamoto is a GRACHAN Flyweight Title challenger and is on a 2-fight win streak.
After a successful debut at RIZIN 26, two-time KSW Featherweight Champion Kleber Koike (26-5-1, 1-0 RFF) squares off against Kazumasa Majima (14-2, 0-1 RFF). Majima, a former REBEL FC Featherweight Champion and Shooto Tournament Champion, was riding a 12-fight win streak (11 finishes) until falling short against current RIZIN Featherweight Champion Yutaka Saito at RIZIN 23 last August. Koike won via his patented submission game, handing tough Pancrase veteran Kyle Aguon his first stoppage loss. The fans can expect exciting scrambles and a dynamic ground battle from both former champions.
Rounding out the featherweight bouts, Tetsuya Seki (13-6-1, 1-0 RFF) faces promotional newcomer Yoshinori Horie (9-3). The ZST Featherweight Champion won his RIZIN debut at RIZIN 22, scoring his 9th win by KO against Kouya Kanda in the 2nd round. Horie started his career with a 7-1 run before facing top featherweight Hakeem Dawodu in the UFC. Horie has since picked up a victory over fellow RIZIN featherweight Yojiro Uchimura, and now steps into the RIZIN ring as a rising prospect. This will be a true battle of strikers, as Seki and Horie have 14 KO/TKOs and only have 1 submission win in their combined 22 victories.
Sudario Tsuyoshi (2-0) will take on his largest opponent yet in the form of Japanese pro wrestler, Kazushi Miyamoto (0-0). Tsuyoshi has been training with Japanese legend Enson Inoue, and has surprised many with his striking ability thus far into his MMA career despite having a sumo background. Tsuyoshi is the older twin brother of fellow Sumo champion, Takagenji, and they are the first twin brothers to ever reach the rank of jūryō. Tsuyoshi is making his third appearance in RIZIN after 1st round TKO victories over Dylan James and JMMA legend Minowaman in 2020. Miyamoto made his pro debut in 2001, and has held titles in AJPW and NWA.
Top Shooto prospect Takumi Tamaru (12-2-1) will also make his RIZIN debut against Shooto Watanabe (21-5-6, 0-1 RFF). Tamaru won the 2015 Shooto BORDER Tournament Championship, and has won 5 of his last 6, with his sole loss coming in a Shooto Bantamweight Championship title bout last August. Watanabe is the ZST Tournament Champion, and Fighting Nexus Bantamweight Champion, and makes his return to the RIZIN ring after suffering a 1st round submission loss to current top Bantamweight contender, Naoki Inoue at RIZIN 22 last year. A long-time JMMA contender, he has competed for belts in ZST and GLADIATOR.
2-fight RIZIN vet Kazuma Sone (24-20-1, 0-2 RFF) fights Hiroki "Shian" Yamashita (7-8) in a bantamweight bout. Sone has challenged for and won multiple domestic titles in Japan, notably capturing the Shooto belt with a majority decision victory over Mamoru "Fullswing" Uoi in January of 2018. He snapped a 5-fight skid with a win against UFC veteran Teruto Ishihara just 2 weeks ago at Shooto 2021. Shian is coming off a title fight for the GRACHAN Bantamweight Championship.
Fighter Quotes
Ayaka Hamasaki
"I'm honored to be able to fight in Nagoya once again. I look forward to putting on a main event caliber performance. I will show that the world's best Atomweight is here in RIZIN. Asakura hasn't improved much in the past 2 years. She has a great takedown, but has nothing from there."
Kanna Asakura
"I'm happy to be able to challenge Hamasaki again. I don't know what you all think, but I am confident that I have what it takes to beat Hamasaki."
Roberto Souza
"I'm not looking forward to this fight. We trained together for a grappling event, we trained together. But my goal is set for the RIZIN title so I will face whoever RIZIN puts against me."Tokudome will be a good chance for me to prove that I deserve to face Musaev. If I can't get through Tokudome, I don't deserve Musaev."
Kazuki Tokudome
"I am excited to be fighting in RIZIN against tough opponents. I have been a team member with Souza in a grappling event, but when it comes to MMA, it's a whole different story. I will show him that MMA is a different sport."
Koji Takeda
"I'm excited that DEEP vs Pancrase Champion will take place and I look to prove that DEEP is better. This will be my third time fighting in RIZIN, and I still haven't shown my abilities yet. This fight will be more about performance than just a win. I'm also looking for a tanning company to sponsor me and I want to reconfirm that I am still 25 years old."
Takasuke Kume
"I came to RIZIN to face the best. And I am happy to be given the DEEP Champion. I look forward to showing my skills in my hometown as the Pancrase Champion."
Yutaro Muramoto
"Nagoya RIZIN should automatically mean Muramoto. I'm excited to be representing my hometown in front of my people/ I look forward to bringing MMA popularity to Nagoya. Look forward to the fastest division in RIZIN. Don't blink."
Seigo Yamamoto
"I will be representing ROAD FC and fight in RIZIN. My opponent said he can beat me so I will prove him wrong. He seems to be hitting the tanning booth alot, but he should be using that time to train."
Kleber Koike
"I'm excited to be kicking off my year with a RIZIN fight. I look forward to fighting the tough Majima. I look forward to all of your support."
Kazumasa Majima
"I appreciate the offer for this event. Kleber is definitely the top Featherweight Japan has at the moment. I've always wanted to face such a talented fighter and I'm very excited it's finally going to happen. We both have a strong finish rate so look forward to a finish. I hope to inspire the fans and the fight industry in these hard times."
Tetsuya Seki
"This will be my 2nd fight in RIZIN but it's always an honor. Horie is a slugger so I think this will be a fun brawl. Nothing significant, a fun brawl. I'm excited so you all should be excited."
Yoshinori Horie
"I'm excited to showcase my skills on Japan's biggest stage. I will focus on smashing the opponents given to me one by one. Look forward to my performance."
Sudario Tsuyoshi
"I'm happy to be back. Nagoya has always been a good location for me from my Sumo days. I don't know much about my opponent but I'm sure he's dedicated to this sport. He better come to kill me and because I am ready to die in the ring." "It's not my intention to become a pro wrestling hunter. I look to run over this guy and fight a real opponent."
Kazushi Miyamoto
"I'm a pro wrestler. It has been 10 years since the Fukushima earthquake where I am from. I look forward to giving my people hope and inspiring them with my performance." "I want to show the true ability of pro wrestlers."
Shooto Watanabe
"I feel that this fight is destiny. My father was a former Shooto fighter and now I'm facing a fighter who represents Shooto. I don't know what people think about the fight, but I know I have the abilities to beat him and I'm looking forward to putting on a great fight."
Takumi Tamaru
"I think RIZIN has the best Bantamweight division in Japan. And I came here to test my abilities here. I hope to work my way up the rankings and earn a title fight against Horiguchi."
Kazuma Sone
"When I heard about Shian as my opponent, it was a slap in the face because I have no idea who this guy is. All fighters are risking their lives in the ring, so I will show everybody a good fight."
Hiroki "Shian" Yamashita
"I'm very excited to be fighting in RIZIN. I know how to put on an exciting fight so look forward to my fight."
Kohei Sugiyama
"I'm very excited to be able to fight in my hometown. As a Pancrase ranker, I look forward to beating the brakes off of the Outsider champion. We both have a strong fan base in Nagoya so it should get loud. I want to make a statement in this fight and become a regular in the RIZIN roster and tear s**t up."
Yuki Ito
"I've been undefeated for a long time until recent. I have learned a lot from that loss which has made me a much better fighter. I feel the same aura from Sugiyama so I expect a barn burner in this fight. Don't miss it."
Confirmed bouts for yogibo presents RIZIN.27
Ayaka Hamasaki vs Kanna Asakura - 49kg RIZIN Super Atomweight Championship (Elbows allowed)
Satoshi Souza vs Kazuki Tokudome - 71kg RIZIN MMA Rules
Koji Takeda vs Takasuke Kume - 71kg RIZIN MMA Rules (Elbows allowed)
Kleber Koike vs Kazumasa Majima - 66kg RIZIN MMA Rules (Elbows allowed)
Yutaro Muramoto vs Seigo Yamamoto - 57kg RIZIN MMA Rules (Elbows allowed)
Sudario vs Kazushi Miyamoto - 120kg RIZIN MMA Rules (Elbows allowed)
Keisuke Horie vs Tetsuya Seki - 66kg RIZIN MMA Rules (Elbows allowed)
Takumi Tamaru vs Shooto Watanabe - 61kg RIZIN MMA Rules (Elbows allowed)
Kazuma Sone vs Hiroki "Shian" Yamashita - 61kg RIZIN MMA Rules (Elbows allowed)
Kohei Sugiyama vs Yuki Ito - 57kg RIZIN MMA Rules (Elbows allowed)
RIZIN.27 will be Streamed LIVE on SkyperfectTV, and RIZIN LIVE PPV with Japanese commentary. English commentary stream is to be determined.
Doors are expected to open at 12:30PM with Opening Ceremony at 2:00PM on Sunday, March 21st at the Nippon Gaishi Hall in Nagoya.
Follow RIZIN FF
Website - http://www.rizinff.com/
Facebook - https://www.facebook.com/rizinfightingfederation/
Twitter - @rizin_English
Twitter - @rizin_pr
Instagram – rizin_pr