TOKYO – September 26th,official weigh-ins for RIZIN.24 were held and all 22 fighters made weight to confirm the 11 card lineup at the Saitama Super Arena.
RIZIN.24 will take place on September 27th(Sun)at the historic Saitama Super Arena where 5000 spectators will be allowed inside to attend the event due to the governmental requirements on the COVID-19 pandemic. RIZIN has reported that all tickets that went on sale sold out within a week.
Tenshin Nasukawa vs. Kouzi
Tenshin Nasukawa(37-0,29 KOs)takes on Koji Tanaka aka KOUZI(28-13-2,10 KOs). The 22-year-old has claimed both the ISKA Featherweight World Championship and the RISE World Series -58kg Tournament Championship in the last 2 years. His last bout in RIZIN was at RIZIN 20 last new year,where he scored a 1st round stoppage over Rui Ebata,the KNOCK OUT Super Bantamweight champion who held a 41-3 record and had not lost in 3 years. Tanaka(better known as KOUZI)has competed for and won titles across multiple promotions. He has won 4 of his last 5 bouts,with the sole loss coming against 39-1 Takeru Segawa - who is widely regarded as the top Flyweight kickboxer in the world and one of the best pound-for-pound kickboxers overall.
Tenshin Nasukawa(58.5kg)quotes
"I would like to show the difference of every aspect and dominate in a one sided fight"
"I've been working on several new moves and I've got the perfect one ready for live television"
Kouzi (58.5kg)quotes
"I know that many people think that I don't deserve this fight and he's out of my league,but I think its important to challenge and deliver positive vibe during hard times like this"
"I am ready to take everything Tenshin has worked hard to build"
Yusuke Yachi vs. Juri Ohara
The first of 3 lightweight bouts sees 10-fight RIZIN veteran Yusuke Yachi(21-10)take on Juri Ohara(26-18-3,1 NC). 3 straight losses was a cause of concern for the once promising lightweight prospect,but he was able to score an emphatic soccer kick victory over Hiroto Uesako at the Bellator Japan show last year. The 30-year-old now faces a new challenge against DEEP regular,Juri Ohara. The RIZIN debutant competed for the DEEP Lightweight Championship twice last year,and won his last fight with an upkick in the opening minute just weeks ago,and will be looking to make a name for himself in RIZIN's lightweight division.
Yusuke Yachi(70.85kg)quotes
"I will bring everything that I have practiced and show it to the fans on Sunday"
"I am disappointed that I wasn't able to show my new skills in my last fight,so I begged to get on this card. I need to prove myself here or I won't belong in this ring anymore."
Juri Ohara(70.70kg)quotes
"I am honored to be able to face a great opponent on a great stage. I have fought over 50 professional fights,but this fight will definitely be my turning point for my career."
"I'm a striker and I always bring it. I know Yachi is a striker too,so if he decides to fight like a man,I know we can deliver a fight that everybody will enjoy"
Takasuke Kume vs. Satoru Kitaoka
The second lightweight matchup pits Satoru Kitaoka(42-20-10)against Takasuke Kume(23-6-3). Kitaoka has competed for belts in Pancrase and DREAM,and lost his DEEP title 2 years ago after having defended it 4 times. Kume is a former Pancrase Lightweight Champion,making his RIZIN debut in a return after 11 months away from the ring. The battle between the two veterans will shape up to be a true chess match of grappling,as the fighters boast a combined 33 submission victories.
Satoru Kitaoka(70.85kg)quotes
"I will put my entire career on the table to beat my opponent."
"My opponent is very well rounded and has a strong right cross"
Takasuke Kume(71.0kg)quotes
"I am very happy to be given such an opportunity during hard times. I am truly grateful for everybody who worked hard to make this opportunity possible"
"I had a great camp and my conditioning is great. Expect the bet performance out of me on fight day"
Koji Takeda vs. Yuki Kawana
Rounding out the lightweight bouts is a Champion vs Champion match,as newcomer Yuki Kawana(16-4-5)squares off against Koji Takeda(10-1). Kawana is a PFL veteran and the reigning two-time Shooto Lightweight Champion,winning the belt with a first round KO just 2 months ago. Takeda is the reigning DEEP Lightweight Champion,with his sole loss coming in the RIZIN Lightweight Grand Prix match last year against Damien Brown. This will be a fan-friendly fight,as the fighters put the pride of their organizations on the line.
Yuki Kawana(70.80kg)quotes
"I would like to show the strength and determination of a man who just had a baby and bought a house who runs a restaurant to make a living. I have to battle with bills every month and that makes me strong"
"My opponent needs to take it easy on the tanning. He's at a point where he looks burnt"
Koji Takeda(70.80kg)quotes
"I am very excited to be back on this stage. I worked hard to get back here."
"This fight will be Champion vs Champion and a battle of pride. I know I won't back down and I know that he won't back down. It will all come down to heart and determination"
Takahiro Ashida vs. Kyohei Hagiwara
Kyohei Hagiwara(1-2)makes a quick turnaround and faces Takahiro Ashida(23-10-2)."Kenka Bancho"won his last bout against Rikuto Shirakawa last month at RIZIN 23 with a 3rd round knockout in a back and forth scrap. This will easily be Hagiwara's biggest test yet,as Ashida is a former DEEP Featherweight Champion. Ashida last competed at Bellator Japan in a kickboxing match against Ren Hiramoto.
Kyohei Hagiwara(65.95kg)quotes
"I am very happy to be called back in such a quick turnaround. I didn't know anything about my opponent until I looked him up,but he is the former DEEP Champion so he must be pretty good."
"I know that people take me lightly based off of my record,but I would like to beat the snot out of this guy and show you that I am already one of the top fighters in Japan"
Takahiro Ashida(65.90kg)quotes
"My opponent has a very exciting fight style and I think he is a perfect opponent for me to make my RIZIN MMA debut."
"RIZIN's featherweight division will be the most competitive and exciting division this year and I plan to be the key fighter in it so every watch out,I'm coming for you one by one."
Kai Asakura vs. Shoji
RIZIN's newly crowned Bantamweight king Kai Asakura(15-2)will test himself against Shoji Maruyama(18-12-1). With a victory,Asakura will all but secure a long-anticipated rematch with former champion,Kyoji Horiguchi. Former DEEP Featherweight title challenger Maruyama is looking for his 3rd straight win.
Kai Asakura(60.75kg)quotes
"I honestly wanted to pass on this one,but if RIZIN is in trouble and they needed me,I feel that it is my duty to meet their request as the Champion."
"I know that this fight will be televised,so I want many people to watch the fights,and become more interested in what we do."
Shoji(60.85kg)quotes
"I have been fighting professionally for 18 years. I have been through good and bad times but this is by far the biggest opportunity of my life. I am truly grateful for this opportunity."
"I want to show all the younger fighters that if you continue with your dream and follow your heart,doors will open. I will capitalize on this opportunity and I will inspire everybody who watches this fight."
Yuuki Kitagawa vs. Taishi Hiratsuka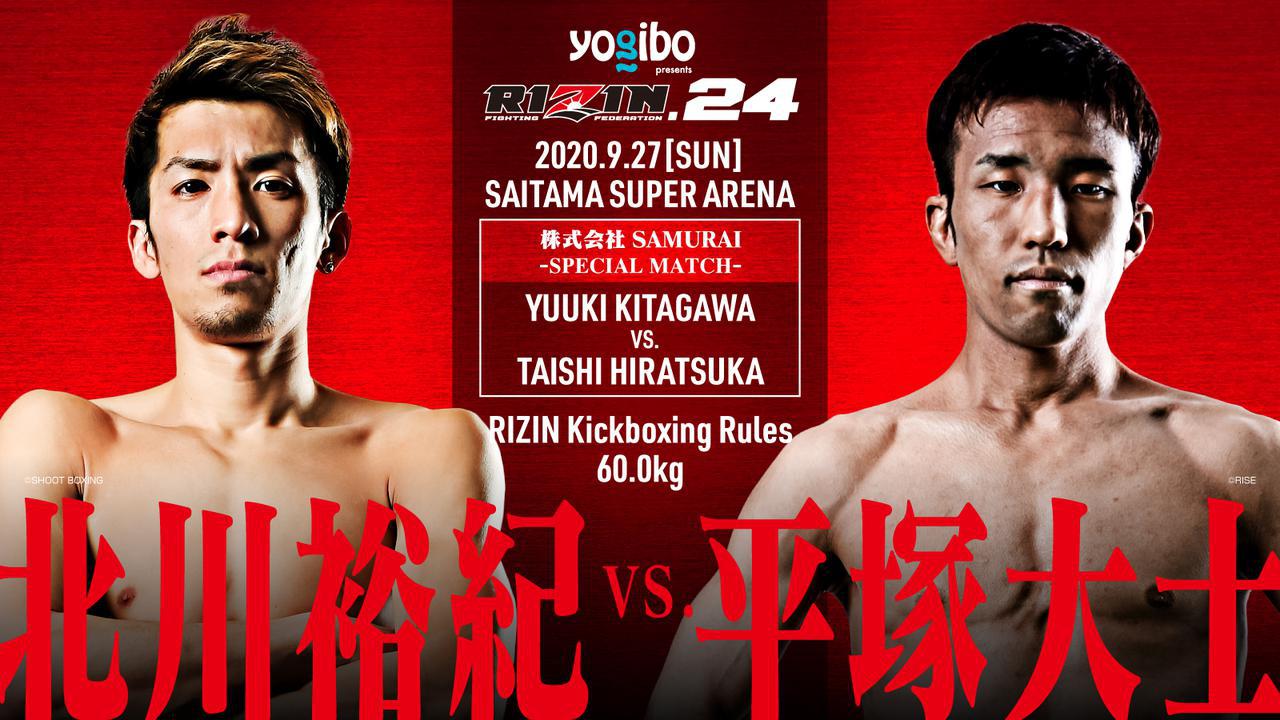 Shoot Boxing Japan's 3rd ranked Yuuki Kitagawa(11-7)steps into the RIZIN ring against Taishi Hiratsuka(8-5-1). Hiratsuka is a former 2-weight G-2 kickboxing champion.
Yuuki Kitagawa(59.95kg)quote
"It's been a while since my last fight,but I know this is the big show and I will promise you fireworks"
Taishi Hiratsuka(60.00kg)quote
"I am very honored to be fighting on such a big stage. I would like to inspire people with my fight during these hard times"
Kintaro vs. Kenta Takizawa
Yuto Hokamura"Kintaro"(13-8-2)takes on Kenta Takizawa(10-5). Both fighters competed for the Pancrase Bantamweight Championship last year,and are looking to announce themselves in RIZIN's deepest division.
Yuto Hokamura(60.95kg)quotes
"I know that many people have been waiting for my fight,so I will grove them what they have been asking for,"
"Takizawa is a different type of striker. This fight will be pure violence."
Kenta Takizawa(60.80kg)quotes
"Finally,the time has come for me to showcase my skills to the mass. I assure you that I will be the next ace in RIZIN."
"My opponent is a wild striker so everybody can expect a fun scrap with me getting my hand raised"
RENA vs. Emi Tomimatsu
Fan favorite RENA(10-3)returns to action against Emi Tomimatsu(15-16). With Ham Seo-Hee's victory against Ayaka Hamasaki,there is new blood in the Super Atomweight division. Should RENA get past the game Tomimatsu,she could make another run for the title.
Rena Kubota(52.85kg)quotes
"My opponent is a long time veteran of this sport and one of toughest grapplers in my division. I knew that one day I would have to face her and now the time has come."
"I will do my best to make my fight and entertaining,enjoyable fight so please tune in to my fight."
Emi Tomimatsu(52.20kg)quotes
"Corona pandemic has turned me into a regular middle aged metal loving TV show watching woman,but this fight offer has made me a fighter once again."
"I am very honored to be able to face the poster girl for my RIZIN debut. Just thinking about having to be on the receiving end of her strikes makes me nauseous."
"I'm not here to make a good memory. I am here to beat her in the ring,and beat her with my skin conditioning. I will prove that age is just a number and that my skin is still silky."
Sudario Tsuyoshi vs. Dylan James
The most eccentric match-up of the evening sees Sudario Tsuyoshi(0-0)battle against Dylan James(0-0). Both fighters are making their MMA debut,with Tsuyoshi having a championship-level sumo background,and James holding several titles in All Japan Pro Wrestling.
Sudario Tsuyoshi(112.85kg)quote
"I will show my determination during this fight. I am committed to MMA and I will show you the kill or be killed YAMATODAMASHI mentality"
Dylon James(107.65)quote
"I know what my opponent has done. He is no man to be respected. Once a bully always a bully. I will teach this kid a lesson and how a real man takes care of his problems"
Mutsuki Ebata vs. Rasta
Mutsuki Ebata(37-5-3)will face Rasta(21-5-1). Ebata is coming off of a draw from October of last year against Saotho Sitchefboontham for the Rajadamnern Stadium Bantamweight title. Rasta is a top ranked RISE fighter,and a former Bigbang Super Bantamweight Champion.
Mutuski Ebata(55.00kg)quotes
"I was truly moved when I cornered my brother on NYE. I instantly had the desire on wanting to compete at this stage."
"Me and my brother have a goal on shedding light and sending positive vibes to the world through our fights and performances. I hope that my opponent Rasta myself can put on a fight where it can inspire people who watch."
Rasta(54.95kg)quote
"I know this fight against Ebata will be a fun one. So look please look out for this fight I promise you it will not disappoint"
Yogibo presents RIZIN.24 complete fight order
Tenshin Nasukawa vs Kouzi [Kickboxing / 58.5kg / 3 min x 3 rds]
Kai Asakura vs Shouji [MMA / Elbows allowed / 61.0kg / 5 min x 3 rds]
Koji Takeda vs Yuki Kawana [MMA / Elbows allowed / 71.0kg / 5 min x 3 rds]]
Takasuke Kume vs Satoru Kitaoka [MMA / Elbows allowed / 71.0kg / 5 min x 3 rds]
Yuuki Kitagawa vs Taishi Hiratsuka [Kickboxing / 60.0kg / 3 min x 3 rds]
Yuto Hokamura vs Kenta Takizawa [MMA / Elbows allowed / 61.0kg / 5 min x 3 rds]
RENA vs Emi Tomimatsu [MMA / Elbows allowed / 53.0kg / 5 min x 3 rds]
Takahiro Ashida vs Kyohei Hagiwara [MMA / Elbows allowed / 66.0kg / 5 nmin x 3 rds]
Sudario Tsuyoshi vs Dylan James [MMA / Elbows allowed / 120.0kg / 3 min x 3 rds]
Mutsuki Ebata vs Rasta [Kickboxing / 55.0kg / 3 min x 3 rds]
Yusuke Yachi vs Juri Ohara [MMA / No elbows / 71.0kg / 5 min x 3 rds]
EVENT INFO
RIZIN.24 will be televised LIVE on FUJI TV from 8:00pm to 9:54 pm,while the entire event will will be available on SkyperfectTV,and RIZIN LIVE PPV streaming at the following link.
Doors open at 1:30PM with Opening Ceremony at 3:30PM on Sunday September 27th at the Saitama Super Arena.
Yogibo presents RIZIN.24 大会情報/チケット
【4/1(土)開催】 RIZIN.41 大会関連情報
【4/30(日)開催】 RIZIN LANDMARK 5 in YOYOGI 大会関連情報
【5/6(土)開催】 RIZIN.42 大会関連情報
おすすめコンテンツ