Fedor Emelianenko
How is your feeling before the match right now?
I've been very good. I came here to Japan on Monday. It's been a few days so I feel well.
How do you feel about fighting at the Saitama Super Arena?
I think the SSA is one of the best places to fight in the world. The fact that I can fight again, I'm very happy to do so.Especially for me personally, it's a very special place to fight.
What have you been doing to prepare for this fight? How would you like to fight this match?
I think I prepared very well. I know it's going to be a tough fight. But I'm prepared to fight a tough match. Could you tell us how you prepared for Rampage Jackson?
I'm not going to tell you anything about my strategies. It's a secret. But I have done my preparation to the max. So I'm prepared to fight on the ground or striking.
Has there been any difference in your training compared to when you were young and present?
I think I've been training hard to keep my condition, toughness and fitness like how I was young. My body mechanism, recovery process has been taking longer. But I'm not going to lose to any other fighters. With who and where have you been preparing for this fight?
In Moscow, in Stary-oskol with my team. I train with Alexander Michkov, also some friends that have fighting experience in Bellator.
Have you felt any concerns in the past 10 years that you feel right now?
Of course how long I need to prepare, always concerns about that. When I was younger, I probably felt more fresh. Maybe the way of thinking was a little bit different. But as I have taken age, it has changed a little bit.
You said you've been training in Moscow and Stary-oskol. Does the team change as you change places?
In Moscow I have my first stage training. In the second stage is a special training for this match. I've been to the Netherlands also for training. I've been training with dumbbells, barbells. When I was younger I used those types of training. But now I use lighter weights and the training time is more concentrated, shorter.When I train with other fighters, I do weight training, but like I said I try to make my time shorter and concentrated.
There's a time difference between Moscow and Japan. In Moscow it might be the afternoon when the fight is on. Have you trained to try to adjust to the time difference?
I've done nothing special about the time difference. I just feel fine, my condition is good.
So you've contracted with Bellator for 3 fights. What kind of tour will it be this time?
My first fight is here in Japan, it may be my final fight in Japan. The other two fights , I'm not sure where I'll fight. It will be a discussion ith Bellator.
This may be your final tour with 3 matches. How do you feel about that?
After this tour, I don't have any plans. So I'll just see how I feel after.
This will be your last fight in Japan. Could you tell us any memories that stand out from your career in Japan?
Probably I won't forget my very first fight in Japan. I started my career in Japan, maybe my fight vs Nogueira from Brazil. He was the PRIDE champion at the time.
I hear that on the fight day is your daughter's birthday. What kind of fight would you like to show her?
Maybe your daughter is more important to you than your daughter. If you have anything like that could you share with us?
Of course, I would like to spend the day with her. But I am with you in Japan. I'll just like to show a very entertaining fight. I also hear that Rampage Jackson's daughter has the same birthday too, so he's probably thinking the same thing as me.
Michael Chandler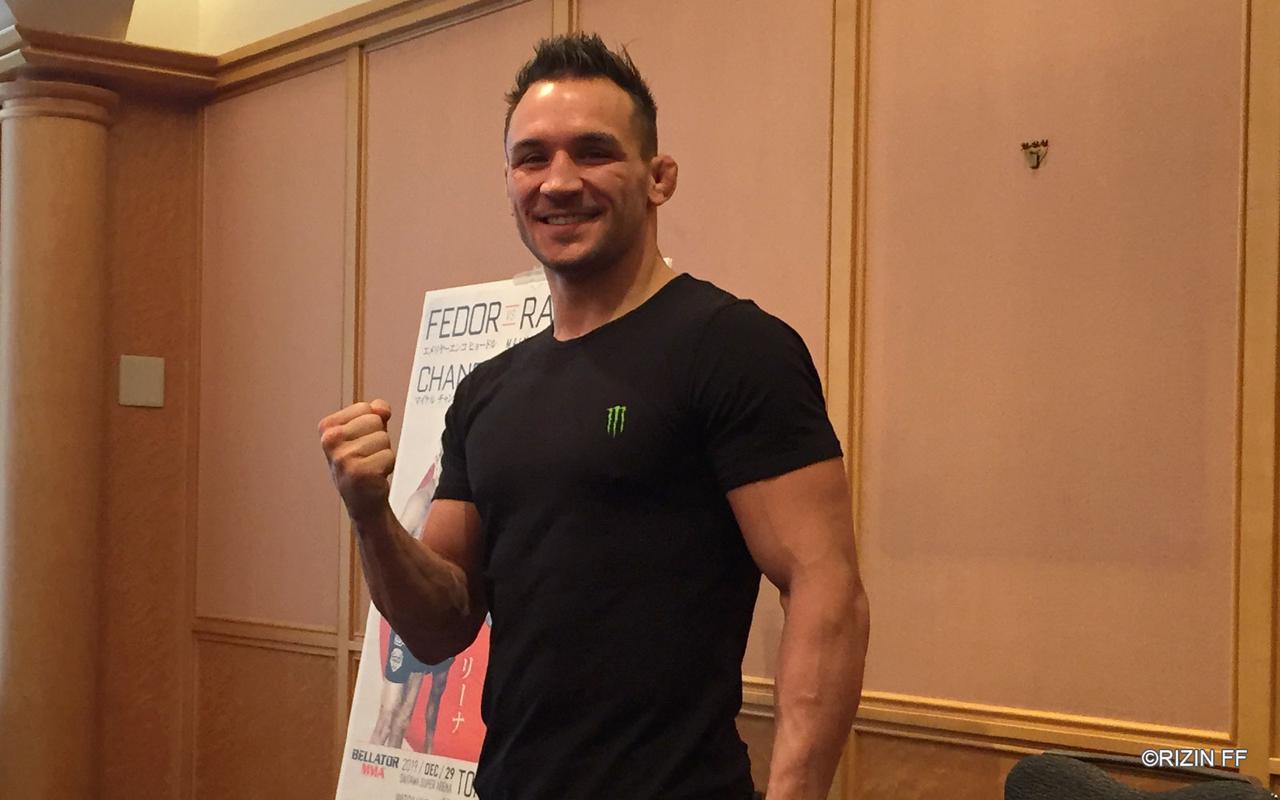 What is your feeling now before the fight?
I'm excited. This right here is probably the pinnacle moment of my career. I've fought in some of the biggest markets you can fight in. But to be able to fight here in Tokyo, I came here a couple months ago. To be able to fight athte SSA where so much of this sport was built and made and got so much traction is a dream come true. I'm excited for Sunday and I can't wait!
How do you feel about fighting in Japan?
This is my first fight in Japan. I'm very excited. I'm well trained but also excited about the opportunity. The tradition of martial arts here in Japan, needs no introduction. I'm excited to fight for the Japanese fans. I got a large overwhelming support and respect and honor when I fought Akihiro Gono, so I'm excited to fight on Sunday.
Your opponent changed to Sidye outlaw. how do you feel about that
I've had numerous changes. You've just gotta be ready. I was training for a southpaw vs benson henderson, now I'm fighting an orthodox. You gotta be ready for any style, any match-up. I'm grateful he stepped up to fight ,otherwise I wouldn't get this opportunity. I'm very confident going into this match-up, I believe I'll go out there and put on a spectacular show for you guys.
I hear you used to be a big PRIDE fan. Which match sticks out in your mind?
I obviously loved Fedor. He was the first fighter I really watched. My roommate used to go get all the pride tapes. Fedor vs Nogueira, both fights. His ground and pound was crazy. Then those were probably my favorite ones. Wanderlei Silva having his long reign, then you saw the grand prix and Americans came over. It really opened things up and it wasn't just Brazil and Japan. The Dan Henderson's and those kinda guys. I loved the whole show, spectacle and tradition and what i meant to the UFC, now Strikeforce, Bellator, ONE and RIZIN.
So you've been champion 3 times and lost 3 times. Some Japanese fans say you're Mr. Bellator. How do you feel about that?
It's good. I've made decisions in my career to stay with Bellator numerous times. I take pride in what I've done and how much I've contributed to this organization. I've been one of their mainstays. Won the tournament then the fights with Eddie Alvarez, will brooks, KOing Patricky Pitbull. Everyone I've faced I either won or tried to avenge the loss. I tried to make decisions that were best for my family. I take pride in being called Mr. Bellator if that's what the Japanese sentiment is. We'll see what the future holds. I have many years, fights and shows to put on. Whether it's here in Bellator or elsewhere, it remains to be seen.
What is the perfect outcome and how quick of a turnaround would you want?
For me, I've been in the sport so long, I start fast, put my foot on the gas and like to get into a fist fight for the fans. these last couple fights I've tried to be a little more methodical, a little more like a verteran. I don't see a ton of explosivity or dangerous striking. I see a guy who wants to get the fight to the ground. I'll throw my combinations, I'll see how he holds up. I will be looking for the finish. but i will not be anxious
for the finish. I will finish him late in the first round. I will get myself a couple months to spend time with my family. I spent 2 months away from my family for my fights. First quarter of next year, somewhere in May or June would be a great turnaround.
Michael 'Venom' Page
Could you tell us your feelings?
I'm just excited to be in the country. I wasn't planning to be in this fight because I had a fight so recently. I'm just excited to fight in front o f an audience that I've always wanted to fight in front of.
How do you feel about fighting in Japan?
I'm super excited to fight in Japan. It's an amazing audience and arena. The Japanese have an amazing history of combat sports in general so to add my skill set in front of a japanese audience is going to be amazing.
Are there any fights that are memorable to you in Japanese mma?
some of my favorite fighters to be fair when I first started watching mma was Chuck Liddell, I know he had some fights over here. A Lot of my early memories in mma, those fights were in japan.
Were you able to watch any film on your opponent after such a quick turnaround?
My coach is very obsessive and detailed about studying opponents. I still haven't watched him. If my coach is ok to fight, I'm ok to fight.
I think you have a very unique style of striking. Is there anything you want the Japanese fans to see?
For the Japanese fans I would love them to see my movement because it's unseen before in MMA. my kicking ability, there's a particular kick I want to land, if I land it everyone in Japan will know who I am. It's Pokemons birthday. How do you feel about fighting on pokemons birthday?
I'm a massive fan of Pokemon. I was raised on it when it first came out. I was playing it on the game, and I played pokemon go. I'm a massive anime fan, everything that I love here is everywhere that I'm going. I'm forgetting that I'm supposed to be here to fight because I'm having so much fun when I'm going out. You have special celebrations after your fights. Do you have anything special planned for this fight in particular?
I'm always thinking about my celebrations or my entrances. I'm very aware of my surroundings and the audience I'm fighting in front of. I definitely have stuff in mind. nothing confirmed yet, but i will.
It's been only a month since your last fight, how do you feel about this offer?
It wasn't offered to me, I asked for it. The next day after the fight I messaged Scott Coker and said I want to fight in Japan. they were not sure if I'd be able to, I was coming anyway to watch. They gave me the offer and I was super excited. It's a place I always wanted to fight.
The welterweight champions have changed. you entered the world gp. How do you think going into 2020 you'd like to get yourself back into a title shot?
I feel like I've started now. I have been active since my loss. I want to continue that in 2020, and demand a rematch. that belt will be around my waist, very soon.
Illara Joane
How do you feel before the fight?
I'm well prepared for the match. I'm just waiting for the match to start.
What is your impression of the opponent?
She's very tough. I don't think she's fought against the type of fighter I am.
How do you feel about fighting in Japan?
It's been a dream to fight in Japan. Having this being realized is very big for me. I'm fighting for my country and my fellow fighters, so I'd like to show a very good match.
What kind of impression do you have on JMMA?
My impression of JMMA is pride. I think PRIDE made a big impression on fans everywhere, including me.
You mentioned that she's never fought a fighter like you. maybe your opponent has a judo background, is that where you come from in saying that?
Her judo background doesn't really matter. What I want to say is that it's just that I'm better and stronger than the opponents she's faced in the past.
What kind of advice have you gotten from your coaches?
Just pound her. I've been training very well for a long time. Maybe I just need some adjustments against a judo background fighter, but I will continue to make those adjustments.
This time you'll be representing Bellator, how do you feel about that?
I'm surprised I was chosen, but since this fight has been made, I feel the responsibility. I'd like to have a good fight and come up with a good result.
What kind of a fighter do you think you are?
The strong points, I can't really say. I'm able to fight in different ways, different styles. This time my opponent is a Judo fighter, but I'll adjust to that also. Any type of fight I think I am capable of.
Goiti Yamauchi
How is your feeling right now with the match?
I think I prepared very well for this fight, so I'm very confident. Personally for myself and my family, fighting in japan means a lot, so im very happy for this opportunity.
What do you think about fighting in the SSA?
This is the dream place for me. The fighters like Sakuraba, Masato, who fought many times here. This is a dream come true. I'm confident, I will put on an entertaining match and a good match.
Could you tell us your fighting career?
When I thought I would fight I was 11. My uncles who are here were watching ufc/pride, so i got taught by them, and i started practicing jiu jitsu. I got advice to try other martial arts. So I took in different styles of martial arts, and I thought I should become a pro fighter.
What other martial arts?
jiu-jitsu, kickboxing, wrestling, judo.
What is your impression of Daron Cruickshank?
I don't have much to talk about my opponent. It's just about me and I have the confidence to win against him. My goal is to become world #1. This may be difficult but i would like to break all kinds of records as a fighter.
You started jiu jitsu - do you uncles have experience in jiu-jitsu?
My uncles have done all kinds of martial arts. They were watching mma on tv.
Sidney Outlaw
How do you feel right now with the match 2 days away?
I feel great.
How do you feel about fighting in Japan?
I love Japan. I love you guys, I love everything about it. I'm excited to get that great energy. I was a kid and I used to watch PRIDE, this is where it originated. Blessed in the best way I could possibly be. Where did the name come from?
It's my real name. 100% real.
Who was your favorite fighter in PRIDE?
Ironically, Rampage was the guy i was watching. King Mo, Dan Henderson, Eddie, I'm actually training some of these guys. The best way I can describe it is blessed. It's unreal. people talk about this, you hear in rap albums you see it in movies. A couple months ago I was fighting for $2000, for the title at the hard rock, now look. That was May this year. I'm blessed.
What is your impression of your opponent?
The same as all of them. I respect him, we share the same oxygen, he bleeds like me. I couldn't care less. I'm still a big fan, but I'm still gonna be Sidney Outlaw.
Your mentor Renzeo Gracie, what kind of advice have you gotten?
Be kind, fighting is where you reveal who you truly are. Me taking this fight on short notice, this reveals who I am. I try not to cherry pick. Be tough.
Lorenz Larkin
How do you feel?
I feel great. I've been getting my workouts in. MY team has been running experiencing the streets of fJapan.
How do you feel about fighting in Japan?
This is my bucket list. I grew up watching PRIDE, DREa, K1 and this is my madison square garden as far as mma. Any big fights watched, it was at the Saitama Super Arena. I fought at MSG, but this beat it 100 times over.
What is your impression?
K-Taro is tough, he's seasoned, he's been in alot of big promotions, and fought a lot of good guys. I've been training hard, just came off a tough fight. My awareness is still there. I've studied him, my team has studied him, I'm just ready.
Could you tell us prior to your pro debut as a fighter, what martial arts experience did you have? I boxed, kickboxed and transitioned into MMA.
In strikeforce you showed your switching style, what led to your style?
I never trained Kenpo. Just training in martial arts. you have your jab, hook, 1-2, i've always tried to do stuff that is different but effective. Anytime I'm training and someone shows me something, I try to do something a little different. Everyone has the same combos, but I've always tried to put my little twang on it just so I can use it in a fight.
Did K-Taro fly under the radar for you or have him in your head as an opponent for some time?
I never knew about him until you mentioned him.
After this fight, when would you like to fight douglas lima?
This is the first time out of the states for a fight. It's great, so clean here, there's a lot of trash in the states. It's been a great experience, I'm staying till the first just to soak it in. My team loves it here, I'm gonna have to fight. They say that I'm the #1 contender after this fight. I don't wanna talk before I fight K-Taro. I'll give him the respect he deserves. Right now I'm focused on K-Taro.
Throughout your career you've been fighting in Scott Coker's promotions, as a representative in Bellator, how do you feel about fighting for him?
When I left strikeforce,it was a great transition, nothing but a great leave. no sour taste for anyone. I've always kept in touch with Scott throughout my career. When I came over to Bellator, it was a nice transition too. It feels great, it feels like coming back to someone that you've known for years. Having me represent the company against RIZIN feels great to be one of the guys. It's not like there's a lot of guys picked. I really feel good to get picked.
Do you feel any pressure to get the finish this time around?
I wanted to get the finish 2 fights ago, it's just to go out here and do what I do. I feel like my style fits the its a japanese fan style. I feel like they can really appreciate it. I'm just pumped to come in here and showcase my skills and show them what they've been missing. Give it to them live so they can see in person.
Shinsho Anzai
How do you feel?
I feel so excited. It was a sudden offer, but with this big event, having the opportunity to fight, I'd like to make it a success.
Impression of your opponent?
It's a fighter everyone knows. He's got some characteristics that stand out, so it's going to be a challenging fight. He will try to intimidate me but I don't care. If i show my offense, i can get a good result. I'd just like to use what i have as my base and have a solid fight.
You'll be representing RIZIN, any special feeling towards that?
In many ways, this event is a special event for me. Having the opportunity to be in this event, hopefully I can win and show the world that Japan has strong fighters. You've been able to sign with Bellator through this event. How do you feel about that?
My goal was to fight in North America. I've gotten the chance this time to fight in bellator. It's been a very happy thing for me.
He was a tough opponent?
Yes, I know he's a fighter but it's an honor for me to fight a strong fighter. I look forward to that match.
Previously you mentioned that you are a fan of Peter Aerts. Is there a fan in mma you look up to?
I am an mma fighter, so everyone else is my rival. I think people who are retired are cool but present fighters i consider them all rivals.
What kind of fight do you think it will be?
I just want to excite the crowd while giving everything. That's what I need to do.
The first round is probably very important. I think the first round may feel as long as i never felt before. But let's get that over.
K-Taro Nakamura
How do you feel?
My weight is coming down very well so I feel good.
Impression of the opponent?
I've been repeating this many times, but he's fought and beat many great fighters, so i think it will be a challenging match
strategy for the fight?
I've been training very well and hard. I know he's tough but I'm not gonna let him go back easy.
Your opponent is a striker, he's had many knockouts and tkos. Could you tell us a little bit about your strategy considering that style?
I don't think he's had many submissions so i don't think it's easy to try and tap him out. ill maybe try to fight him in striking but I'll also look for opportunities for submissions too.
The fight will be in a cage, what do you think about fighting in a cage?
I didn't really practice fighting in a cage or using the cage but I haven't really practiced much about that.
Is there any specific reason for not practicing that?
I really don't think it makes a difference. Some people say it does, but I personally don't feel that way. I'm not worried about such detailed differences. I know the ring could be a little easier to fight because if you go back against the cage you can't go out. other than that i don't feel much difference.
Larkin just mentioned that maybehis fighting style will be liked by japanese fans. How do you feel about his fighting style?
I don't know but maybe he might get a look from the crowd because he's been finishing fights. I don't think he's a fighter that wins by submission on the ground. fans who like to see knockouts i think it's good for them. mabe people looking for submissions would be disappointed but it doesn't matter.
Do you think it's easy to figure out his strikes?
I'm not really sure. I don't know if it's easy to see or not. i think maybe you were watching on tv and there was an analyst talking about it. i think he's unique, he might show this move and come on the other side. It's a little bit tricky, but if the fans could see that live, it might be interesting for the fans too.
Kana Watanabe
How do you feel about the match?
I feel excited, creeping up.
How do you feel about the opponent?
I think she's an all rounder, with finishes and she changes the pace of the match.
Any strategies for her?
I have. I'm not gonna talk into details about it.
During the open sessions for the training, you showed your mindset against bellator. How do you feel about that?
After the initial release of RIZIN vs Bellator, I feel my responsibility in being part of that card. It's not pressure but I would like to show that I am worthy of representing RIZIN. Try to show the best fight I can. Do you feel any difference between a cage and a ring?
This is my 4th time fighting in a cage. but i normally practice along the walls so i think I'm more used to fighting in a cage probably.
Are there any specific points you've been working on for this fight?
I've been trying to improve my overall technique. I've been practicing standing and striking.
Is it because you think the standing fight will become key to the match?
Yes, I really do think so.
I believe you haven't lost since your debut right?
That's about it, I don't feel like putting too much pressure on winning.
Daron Cruickshank
How do you feel about the match?
I'm ready to go to work!
What is your prediction of the opponent?
He's good at what he does. He submits ppl from guard. hes ok on his feet. I think I'm gonna beat him everywhere.
You've been chosen as one of the representatives from RIZIN. How do you feel?
It's an honor, I'm very excited to represent RIZIN and fight against another organization. it feels like I'm going to battle for you guys.
How would you like to win against Yamauchi?
Ultimately I see the fight ending with me above him and he's knocked out on the ground.
You think it will be a striking?
Yes.
In the RIZIN vs Bellator series, you're first. any special feelings?
I like being the first fight of the night, you get it over with. you get there,you do your work and you're done. I get to start the night out with fireworks. so youre welcome.
Does that mean you don't really care about the rest of Bellator vs. RIZIN matches?
I actually, I'll watch the rest of the fights. I'm excited to watch Jared Brooks, a teammate of mine. I'll start the night off, get the ball rolling with a nice KO.
Yamauchi said you're old, too tired to fight. What do you have to say about that?
I think it's funny, I'll show him how old I am.
Are you eyeing up anyone after the grand prix?
I think Tofiq will win and I'd like a rematch with him after he wins it.
How do you feel about fighting in the cage rather than the ring?
I like the cage. I wish we had rizin rules in the cage. I think the cage will give me a little more room to work.
You have a couple fights in RIZIN, they have a good relationship with bellator. Do you think you can fight in both?
RIZIN and Bellator do have a great relationship, they trade fighters all the time. To keep me busy and keep going, I'd definitely fight in Bellator.
Rampage Jackson
How do you feel with the match coming?
I feel great!
How do you feel about fighting in SSA?
SSA is the first place I ever fought here in japan. It's my favorite arena to fight in. i remember when i fought Sakuraba-san, they lowered me in a big cage in the ceiling because I just got outta jail. It was a good experience. Even though I lost, the fans were cheering for me and everyone was happy. one girl sucked on my ear. I've never had another ear job since. If you're listening, hello and my ear misses you. I'm very excited to be back at the SSA, because I hope the same girl is there.
What is your impression of fedor?
Fedor is a very impressive opponent. he will be the first true heavyweight that i faced. It's a great match-up, I'm looking forward to this opportunity.
What do you expect about going there to compete?
Since I haven't been here fighting with PRIDE, I think MMA has died a bit in Japan. RIZIN has done a good job of bringing it back. Being American, I don't know much about what happened. I think some MMA fans got the wrong idea about what happened. I'm excited to come back and give the old time PRIDE fans something to look forward to. maybe a dream fight, and they'll remember how fun and how
exciting mma used to be. maybe we can regain the old time fans back. were just a bunch of athletes doing what we love. This is how we pay our bills and feel our kids. There's no hard feelings between the opponents lots of times. the bad people involved back then are no longer involved.
Did you see any weak points in Fedor?
I love Fedor, I'm his biggest fan. I'm not going to sit here and talk about it. He has no weakness!
What do you think when people say you're past your prime?
I don't think about that. who cares. were old but we still do what we love. whoever said that can kiss my old ass.
18 years ago, you fought sakuraba. you back then, what do you think you back then would say to you right now.
How much they paying you?
Fedor was saying he'd like to have a beautiful match.
I agree, that's why I'm a big fan of Fedor. He likes to entertain the fans and I like to entertain the fans. mma has evolved so fast, you have a lot of young up and comer guys who are more athletes into gameplaning to win. instead of fighting like old school fighters. when people say we're old, they should be thanking me and fedor for still fighting the way that made mma popular. the people that fight now, they're fans. they grew up watching us. they don't have the fighting spirit like me and feodr/wanderleiranldeman/cro cop/heath herring/mark kerr/mark coleman/gary goodridge. we all had the fighting spirit. There were no hard feelings. these new fighters, they just wanna get their hand raised. Their game plan, lay on the ground, smother you, hold you and fight for time. That shit is boring. That's why I don't watch a lot of fights. How can you be a fan of that? how can somebody clown on older guys that fight with their heart and entertain the crowd. it's stupid to put an old guy vs a young guy. put two old guys. if we weren't entertaining, then it would be a stupid match-up. these new guys don't fight the mma i know.
Fedor is the 3rd russian fighter you'll fight against. when you fought igor vovchanchyn, you gave him a note. what did it say?
Igor vovchanchyn was a tough fight for me. It was 3 weeks notice. My coach was on vacation, so I had to train myself. i thought i was gonna get knocked the hell out. i gave him a note that said my momma said don't knock me out.
He said this note knocked him out emotionally, he thought it was written there, he didn't know what it said.
That probably saved me!
So your daughter has the same birthday as fedors daughter. What do you feel about that?
that's such a coincidence. does that mean me and feodr was having sex at the same time? sex will never be the same for me anymore. now anytime i have sex im gonna think is fedor gonna be having sex too? I think its strange that Fedor has sex.
Scott Coker
One thing we're really proud of is our Russian fighters have done very well. When we signed Fedor, we said we're going to come to japan first.then another fight in europe/middle east. then let's finish in moscow. I want him to go out on his terms. I want to have people respect his journey. depending on what happens this fight, next fight. I think at the end of 2020, beginning of 2021, I would like to time it around Fedor's last fight. We want all of the russian fighters on that card. We could do Russia vs the world in Bellator at that event.
Finally Bellator came to Japan. What impact do you see?
I think in the MMA world all eyes will be on Japan on the 29th/31st. the cross promotion of fights have led to lots of fun matchups. I saw the impact last year, I saw what it did in the states for Horiguchi and how his popularity grew. winning the cross promotion fight, i think people really appreciated it as fans.
Do you have maybe watching through the tournaments on 29th/31st maybe bring some japanese fighters to Bellator?
One of the benefits of doing these fights is seeing the new talent growing in japan. Hopefully we will be able to sign some of the top prospects and fight them around the world. Bellator is a company that does 30 fights in 15 countries around the world. Our distribution deal allows 140 countries to watch bellator. It
will be aired on DAZN. When I was here in Japan working from 2000-2007, Japan had all the talent. It was just an exciting time. There were so many great martial arts organizations at the time and still are today. It's a matter of being patient, signing the right talent, developing and investing in them. We definitely will be here looking at talent to bring into our company.
It may depend on the 29th's event. Do you have any plans to have more events in Japan next year?
We have to talk to RIZIN about what they would like to do. Even before this event on the 29th, Bellator vs RIZIN on the 31st, we brought fighters and had fighters that went back and forth. The conversations for the next step haven't happened yet, but I'm cautiously optimistic about the future of Bellator in Japan. Did you have any interest in Tenshin Nasukawa?
I think he's a great kickboxer. We are currently talking about having him fight for us in europe. We will be going to France, Amsterdam and Milan. In those territories, we will do kickboxning due to its popularity. He would fit naturally. if he's not the best, he's definitely one of the best. don't be surprised if you see him fight for us sometime next year in europe.
RIZIN will have a title fight on the 31st. Did you see any possibility for Kai Asakura/Manel Kape? The situation with Horiguchi being injured is not a deterrent for us to do title fights together. It's unfortunate because it was such a big injury. He beat my guy twice so I can't say anything about that. so when he's healthy, we will do it again for sure.
Sergei Shemetov
How do you feel with the fight being 2 days away?
I'm very happy to be back again in Japan. I love Japan so much. This is not my first time, I've come here before. thank you to RIZIN, I'm very happy i can fight in japan.
What is your impression of your opponent?
I always have respect for any fighter I face. We both work towards one goal. I think everyone here has a family. The one thing that brings us together is the love for this sport.
Do you have any strategies in this particular fight?
I was born and raised in Siberia. It reached -50c in the winter. I've trained naked in the winter. That is my way of training. training in the snow and ice of siberia. Running makes my body like a bear. it might be a little late. I hope everyone had a merry christmas. I hope that everyone has a happy new year.
The past 4 years from 2015, what kind of situation have you had?
I've been training hard. one of the biggest goals of my training was to fight in RIZIN. My goal has been realized so I am happy and fortunate to have this opportunity. For the other people who look forward to being an mma fighter, I would like to show the good things about fighting.
I'd like to show a beautiful match an entertaining one, also how a Siberian bear fights. If I can show that I'll be pleased. I would like to see the fans being happy at the end of my match.
These events have the Asakura bros fighting like the Shemetov bros. Do you have any feelings towards that?
I think there were many other brothers. Emelianenko brothers, Asakura brothers, there's been many bros in RIZIN. We as brothers, I feel like we were a big family in RIZIN.
Will you be in the corner for your brother and vice versa?
Of course we'll both support each other. When he fights I'll be the corner, when I fight, he'll be in my corner.
Jared Brooks
Tell us your feelings.
I feel very confident. It's a great day to be alive. I'm very thankful to be here in Japan, performing in front of the biggest audience. I'm ready to go out and give the performance of a lifetime. it wasn't the way I wanted it to go. I'm gonna come out with my game plan and show the people why I'm here in RIZIN. This is a rematch, what do you think about that?
I'm glad they got me in. My preparation has been completely different. I'm going to have a lot of tools that I'll get to use this time that I didn't last time. I'll showcase why I'm the best 115er in the world. After that I want to show myself at 125 or 135.
Can you share what you will do?
Man, y'all are gonna see the best of the best. you guys are gonna see some crazy stuff. This is RIZIN, I'm gonna show why i'm one of the best out here. I'm the monkeygod!
You just mentioned you'd like to fight in different weight divisions. any fighter in mind?
I'm willing to go against anybody. I consider myself one of the best in all divisions. i wanna go against kape/asakura, guys that are getting the hype. I have a different style, but when it comes down to it, I'm ready to go. I aint no hoe at 125 or 135. im a g when it comes to those weights.
The last fight with ochi was short. Did you learn from that?
Ochi is a very tough guy. He's somebody that is not one to play with. you have to get it over with as fast as possible. It's RIZIN right? It's a great organization, great fighters. it's up to me to put this guy in a grave, I'm willing to do that. I'm gonna have to kick him in the face in the cage. I'm gonna kick his ass. I'm trying to be humble. but this has been a very tough 6 months and i'm willing to show what i'm about.
Andy Nguyen
How do you feel about the match?
I'm really excited.
How do you feel about fighting in Japan?
I'm glad to fight on NYE. It's historical and an honor to be here.
Impression on your opponent?
She's a southpaw, and Miyuu was a southpaw. It's pretty much the same thing. She's a wrestler, training under Miyuu. So, same thing. Try to sprawl.
Your last fight at RIZIN was September 30th last year. What were your recent fights?
I fought on October 26th in China.
I heard there are fans that are looking forward to your entrance again.
The last one was Michael Jackson so it'll be hard to beat. I don't know, I guess you'll just have to watch!
Which points are you superior to Ai?
Experience. I think her striking is getting better. Everyone's striking is getting better. Miyuu's done really well.
Could you tell us the result of the match in China?
I lost a decision, but I felt like I won that fight. It's not online.
How do you think the match will develop this time?
I really want to win and then I can hug her afterwards.
Do you think this is a good opportunity to impress Scott Coker?
Scott Coker does a great promotion on the American side. Kind of like a mini RIZIN. It would be great if I could catch his attention. Or, we could still do this again in Japan. You guys are so sweet!
You competed in Fukuoka, in Saitama. Probably when a fighter comes to Japan they can get affected by the stage. Do you think you are more prepared now for that?
It's really peaceful to walk out. It's not loud like the UFC. I'm not nervous.
Jayme Hinshaw
How do you feel before the fight?
I feel great, I'm excited, very excited!
What do you think about fighting in Japan?
It's been a dream of mine ever since I started to fight, so it's amazing.
Any impressions of your opponent?
I know she's very well rounded. I respect her and it's gonna be a tough fight for me. I'm excited.
Could you tell us what you were doing before becoming an MMA fighter?
I've never been in any sports as a kid. I was just a housewife and a mom.
How did you get into MMA?
Where I live (Albuquerque, New Mexico), fighting is kind of life. My daughter got me in the gym. It was an mma gym and it took off from there.
If you don't mind, telling us about your children?
I have 1 daughter, she's 12 years old. I also adopted a 3 year old.
Do you practice jiu jitsu?
I don't do the gi. I just practice wrestling, jiu jitsu, kickboxing and muay thai. I guess I'm a white belt.
Do you happen to train at Jackson's MMA?
No, Fit NHB is the gym I go to.
Where do you think you are superior to Kanna?
I've been a fighter my whole life. I know she has the experience, but most of my opponents have experience over me. I thrive on being the underdog.
How do you think the match will develop?
I try not to think of that. I just go in there and I just do what comes naturally. if she gives me something i'll take it. Usually a lot of people think that's what i go for (submissions). most of my wins are for submission, but it's just because we go to the ground and they turn their back.
Jon Tuck
How do you feel before the fight?
I feel awesome. Great to be here. I've been dreaming about this moment to fight in Japan. Many many legendary fights have gone on in there. It's just a huge honor for me to come from Guam and fight in the first Bellator Japan event.
Impression of your opponent?
My impression of my opponent. he's a very respectful person. This fight is more for honor and martial arts, no grudge. Other than that, he's tough, he's what japanese warrior spirit is about and that's what i look forward to facing up against. I'm from Guam and we fight with fighting spirit. To come here and mix it up with Japanese, the fans will win this one for sure.
So this is your first time fighting in RIZIN.
I feel great fighting for Bellator Japan/RIZIN. It's been a year. I wanna showcase it to everybody. I'm not sure how much the Japanese fans feel about my style. i fought gomi in the ufc. I'm not too sure how many people tuned in. I look forward to showcasing my striking skills. A lot of people think I'm a ground fighter, but if you watch my fights they take place on the feet. I don't look forward to just taking them down and going for a submission. I look forward to fighting under the new rules, training with master rafael. a lot of old school vale tudo roots with that. I'm looking forward to applying my soccer kicks and face stomps. All a mixture of the vale tudo, NHB style. it's in the cage this time so that's gonna be a wild fight itself because usually in the ropes you can defend and pull yourself out of the ropes. but no ones getting out against the fence just looking forward to showcasing my striking skills along with my world class jiu jitsu all-around game into the MMA fight.
you're a lightweight but now competing at ww.
I'm fighting at lightweight but i walk around at 195. I usually drop around 20 kg. I'm a bigger frame lightweight, and going into welterweight, I'll bring more energy into the fight. New school Kazushi Sakuraba style.
Have you gotten any advice from miyuu for this fight?
Miyuu and Erson (my sister and nephew) they've been wanting this for along time. they've had a huge role form e getting into this moment on 12/29. We're all the same, just crazy wild fighters. The advice we give is to go out there and fight with our heart and soul. It's gonna be nice because I'm gonna fight first, then support her on 12/31. Erson will be in my corner so i have a lot of love for the Yamamoto clan.
I was around Kid Yamamoto and Sakuraba. Fast forward, I've known Kid through Melker as well. He's always shown great interest in having me help miyuu and erson because he was retired. I was supposed to move to Okinawa to teach them jiu jitsu and mma as well to help develop their game. things didn't work out as we had liked. They went over to Guam so it's been about a year and a half since we started working together. I've been helping them with their jiu jitsu and striking. of course they got their wrestling down to a 'T'. Being able to help them convert that into mma is where i try to make the leap with their all around mma game. Alongside the other boys. We put in a lot of work for the past year and a half. They had amazing great fights. erson had 2 great fights, 1 that was very close and the 2nd one he won by ko. Miyuu went on a 5 fight win streak. she'll be picking herself up. I met KID almost 12 years ago.
Haruo Ochi
Facing him once in the past would it help for this fight?
After I fought him, I trained in the USA, and worked on my wrestling. Wrestling is definitely his natural part of the game. I worked hard and learned how the US does wrestling and like to show that in the fight. Jared said he'll show you why he's called 'monkey god'. thoughts?
I think he's physically gifted. Naturally athletic. I'm a strawweight but I have the ability to finish a fight. so look out for that.
Kanna Asakura
How are you feeling?
I didn't have to cut too much weight, so I was able to focus on my training.
I wasn't able to check too much of her fights. but she is a champion so i'm not taking her lightly.
What kind of fight do you think it's gonna be?
This fight will be in a cage, so i think i can utilize my wrestling a lot more. I hope I can showcase what I've been working on.
What have you worked on the past 4 months since your last fight?
I've been working on my physical strength a lot. In my last fight I was able to stick with my striking and win, that made me confident. I hope I can show more of that.
How do you want this fight to go?
This is the last fight of the year. I would like to finish off this good year in a good way.
I've only been working on my physical strength for 3 months, but I know that the body strength doesn't come overnight. So I don't really feel my body getting that stronger. At certain points during my practice I do feel some slight changes but I don't really feel that I'm that strong yet. I think it's very important to continue.
Jayme Hinshaw said she has more heart than you. Thoughts?
I think I'm going to do what I do best, and hopefully I can dominate all aspects of the fight.
There's gonna be a world class atom weights fighting across both events. Thoughts?
I'm very excited that the world class atom weights are fighting in Japan. I've had some losses this year but I'd like to finish this year strong in front of the world class fighters and take it to next year.
Yachi Yusuke
How do you feel?
I'm very excited.
Impression of the opponent?
He's got the calf kicks, soccer kicks, he's got the tools to finish and he's a good fighter.
What kind of fight do you want this to be?
I think this will be a good match-up stylistically. He's a striker, I'm a striker. It's New Years Eve so I wanna put on a fun fight with a lot of movement. This year has been a good year to know myself and what kind of fighter I am. I've had a long time to think about what I'm good at, what I'm not good at. This was a good time to analyze myself.
Your teammate, CB Dollaway, is competing on the card.
Yeah I haven't really contacted him for anything, but I look forward to seeing him.
You analyzed yourself this year. Have you reached a conclusion?
I am. I have a much better idea of who I am. I'm putting the pieces together. I think I'm able to put a lot of the pieces together, and I do think I have a solid base to work off of now.
Takahiro Ashida
I got the offer about a month ago under kickboxing rules. hiromoto is not an opponent i can work on mykickboxing for 4 weeks and win. I'm going to go in there as an mma striker and hope I can win.Hiromoto has never stepped into the cage, do you think you can take that as an advantage?
Yes, he's never fought in the cage and never fought as an mma fighter. I'd love to utilize that experienceover his experience. I'd like to show the physical strength of an MMA fighter.
Ryuichiro Sumimura
How do you feel?
I feel very good. My weight is on point. I have no worries. I think I'll be able to show a good fight.
Thoughts on your opponent?
He's a former UFC fighter. I'm sure he's no scrub. I'm gonna go in there and do my job.
What kind of fight do you think it's gonna be?
I hope to put the fans on their feet and will put forth my greatest efforts to do so.
I think this is gonna be a scrap. He's very tough and he's got a very strong heart. He never gives up and keeps on coming. I hope we can continue to brawl until one goes down. Jon Tuck is very aggressive and he won't stop. So I think it's going to be a fun scrap. My opponent is very crafty on his feet. I"m not gonna take him lightly. he's got a very strong right hand. If I can avoid taking his right hand I should be ok. My opponent used to fight at one weight class lower. I think he's gonna feel a difference in weight and power. But, there's a lot of international fighters who come down from welterweight to lightweight so i can't take that easy.
What do you think about fighting under RIZIN rules in the cage?
Fighting in the cage is a lot easier for me so I feel fortunate to be fighting in the cage rather than the ring. I think I have a slight advantage under RIZIN rules.
You cross trained with Shinya Aoki and Satoru Kitaoka. What did you learn with them?
The biggest thing I learned is their attitude towards practice. I was surprised how much they practice although they are already at the top of where they're at. It's also the amount of detailed technique they had was very amazing.
What is MMA to you?
I don't know. I'm already set and I will be retiring at 38 years old, that's already planned. I will go back to my hometown Awashishima island and support the next generation and younger kids. When you're 39 it's a superstition in Shinto belief. 39 years old is the worst year of a man. Right now I'm 33.
Your daughter is learning martial arts?
She'll probably be a pro fighter one day. so if that happens, please root for her. My daughter has already won an amateur kids shooto national tournament. She wants to come out to Tokyo to get better training. so i need to be responsible and earn more money for her.
Hiroto Uesako
The plan is to be very aggressive. It's gonna be advantageous for me. I like being aggressive.
What's your theme for this fight?
I don't really think that the winner is gonna be the Ace. the one who wins is better than the other. I don'treally look at this fight as a bigger goal. It's just a man vs a man, the winner is stronger. There's no bigpicture on this. I just wanna face him as an individual and prove that I'm better.
Shinryu Makoto
This is a short notice fight, but I've been training to fight whenever an offer comes. I'm confident I can win
in any way. I'd like to go in and finish him.
How did you start wrestling as a kid?
My father was a big fight fan. I don't remember how he got me into wrestling. I did kickboxing for about ayear. I stuck with wrestling. My opponent has a very unique way of keeping distance, so I have to becareful of that. I've had my sparring partners imitate him a bit. just to get used to how he steps and howhe keeps distance. I'm the current deep flyweight champion, so I hope to continue to win so I will be ableto continue to fight in rizin. I've been watching RIZIN for a long time and it's a platform that I've wanted tocompete in for a long time. Fighting here is an honor.
Ren Hiramoto
My motivation, my condition is very high. I've used the past 2 years to level up my skills so I think i can show you guys a brand new ren hiramoto. I'm very excited. My opponents stand up is legit. I think he has some dangerous strikes so I don't want to rush myself. It's under my rules. I don't plan on aggressively going for the finish. I know if I fight my fight I can beat him. I have no plans. I don't think he's just going to
come in without a plan. I will be calm and look and see what he has to offer. Once I feel confident in what he's doing, it will be my turn to attack. I don't really have too many plans. I'll just go with the flow.
In these 2 years, what have you grown on?
Last time I fought I was 19, now I'm 21. I do believe that I need that man strength to finish my opponent in 1 strike. When I was in my teens it would be speed and combinations over power. Now i'm older, I do have the power to finish with one strike. Just growing up and becoming a man gives you the power to open up variations of attack. I do believe I'm much more explosive and powerful than I used to be 2 years ago.
This fight will be the only kickboxing fight schedule for this event. So I don't plan on fighting just a kickboxing fight. I know everybody at the arena is an mma fan. I hope to put on a fight where the mma fans will appreciate my skills. I want the mma fans to become my fans even with my kickboxing.
I train a lot with Kaisei Kondo who fights for K-1. Tatsuki Shinozuka as well. I have a wide range of friends in the industry so I get to rain with a lot of them. I think I'm able to train with more fighters than when I was stuck with K-1.
Do you fear ringrust?
I normally don't get nervous at all for fights, so i don't think there's a big difference. last time I had 8 months between fights was the opening round for the tournament. I felt rusty and I wasn't able to move well. so i've learned form that already. I think I know what to do after a break.
I've gotten used to the age, I've practiced a few times in the cage. it doesn't make much of a difference when you're just striking. I hope to put on a good performance in front of scott coker and go for that 70kg belt.
This fight is scheduled to be 68kg. But I felt this was a rough cut for me. I feel like i'm getting bigger, getting stronger, so I'd prefer to fight at 70kg from here on out.
I think I can challenge myself and make my MMA debut when I feel like i'm confident on winning in mma. So I plan on scheduling on making my MMA debut. I'm already practicing but not even close to making my debut yet.
Shoma Shibisai
How do you feel?
I'm not nervous yet. i'm just chilling like usual.
Thoughts on your opponent?
I haven't really seen him in person. He's a very aggressive striker.
I can't give out my game plans, but I can assure you that the people watching will be entertained.
What are your plans since your opponent is bigger than you?
I've been working on sparring with bigger opponents and using my body work to get a better position. I sometimes grapple with 2 people just to make sure that I don't get overpowered. My opponent has that power in his striking, so i gotta be careful not to take too much damage. I've got a judo background, so I can strike with him and I can grapple with him. I can fight with him anywhere the fight goes.
Yusaku Nakamura
How are you feeling?
I feel great. My opponent is young, energetic, fearless. But I am stronger.
What kind of fight do you think it will be?
He's gonna shoot in and I'm going to land my super tsutenkaku uppercut.
The past 6 months I've been working on recovering my teeth. After that fight, my lips blew up and I looked like a gorilla. and i've been working on my teeth which equals that my mind should be much stronger. My teeth are still temporary so they might fly out again after this fight. I'm gonna try to teach this kid a lesson. Last time I fought a teenager his name was Tenshin and I couldn't teach him a lesson. When you think about it, it's amazing that the 19 year old kid is fighting on such a big show. But I'll beat him.
Who's gonna win, Manel Kape or Kai Asakura?
Kai is on a roll. He looks like he's unstoppable. It's very interesting to see who can stop him. I think I faced a lot of higher competition than he has to get here. I think the confidence I have and the experience I have will be able to teach him a lesson.
【4/1(土)】RIZIN.41 大会関連情報
【4/29(祝・土)】RIZIN LANDMARK 5 in YOYOGI 大会関連情報
【5/6(土)】RIZIN.42 大会関連情報
おすすめコンテンツ