MOVIE
Ticket Price
VIP Seat:¥110,000 <with purchase benefit>
SRS Seat:¥33,000
S Seat:¥22,000
A Seat:¥11,000
Sales period
Sunday, Aug 20th, 10:00am to Friday, Sep 15th, 6:00pm(JST)
*May be end of sales earlier depending on sales conditions
eplus - ticket provider
*Purchase limit: 2 tickets per purchase (No limit of purchase by one person since you don't need to make a membership registration)
Payment:
- Credit cards (VISA or Master)
- Alipay
*Not available for tickteing at a convenience store.
Redemption hours
9/24/2023 (Sun) 0:00pm - 5:00pm (Event times are subject to change)
*Please show the QR code at the Gate A at the Saitama Super Arena and receive the actual tickets on the day of the event (0:00pm - 5:00pm).(Event times are subject to change)
Please do not purchase resale tickets sold on other websites. Resale tickets may not be accepted.
≫ RIZIN.44 Verified Tickets | eplus
International PPV
RIZIN.44
≫ RIZIN.44 - Official PPV Live Stream - FITE
RIZIN.44 & Landmark 6 Bundle
≫ RIZIN 44 & Landmark 6 Bundle - FITE
EVENT INFO
EVENT
RIZIN.44
Date
September 24, 2023 (Sun)
RIZIN.44 doors are expected to open at 0:00pm, with a 2:00pm start time on September 24th (Sun). (Event times are subject to change)
Venue
Saitama Super Arena
Promoted by
RIZIN FIGHTING FEDERATION
Production cooperation
m-up holdings,Inc.
Powered by
Saitama super arena
Supported by
Saitama-shi / Saitama sports commission / Saitama sightseeing international society
RIZIN.44 complete fight order
FIGHT CARD
#11 Kleber Koike vs. Masanori Kanehara (66kg - RIZIN MMA rules [5min × 3R])
Kleber Koike
Well Rounded | Grappling | Finish rate | Fight control
Masanori Kanehara
Well rounded | Grappling | Scrambles | Striking power | Experience
#10 Juntaro Ushiku vs. Kyohei Hagiwara (66kg - RIZIN MMA rules [5min × 3R])
Juntaro Ushiku
Well rounded | Grappling | Scrambles | Fight IQ
Kyohei Hagiwara
Aggressive | Consistant | Striking | Mentality
#9 Spike Carlyle vs. Yoshinori Horie (71kg - RIZIN MMA rules [5min × 3R])
Spike Carlyle
Well rounded | Physical strength | Heart | Character
Yoshinori Horie
Aggressive | Punch power | Fight control | Pressure
A fantastic matchup has been made in the Lightweight division. A matchup where Carlyle's physical strength and power welcomes Horie's Lightweight debut after tapping against the now current Featherweight Champion. Both fighters have walked their unique paths in the sport bot they both have one thing in common which is that they're both based and wild. Both fighters have high level skillsets but once the bell rings, they become unleashed wild animals. Both fighters initiate their attack from forward pressure so the positioning from both fighters will be something to look for. The fighter who retreats to pressure will be forced to fight with a disadvantage. This fight might become a striking battle or it might become a grappling match. It might be a slug fest or it might be crisp striking exchanges. When 2 fighters who can do everything at a very high level, who also happen to be extremely wild, only the ones fighting will have an idea which direction the fight will go. Or they might not have a clue themselves. Either way the key aspects will be "Physical Strength" and "Stamina". Will Horie's decision to move up a weight class pay off or bite back. Get ready for a WILD fight between USA and JAPAN's badboys.
#8 Tsuyoshi Sudario vs. Todd Duffee (120kg - RIZIN MMA rules [5min × 3R])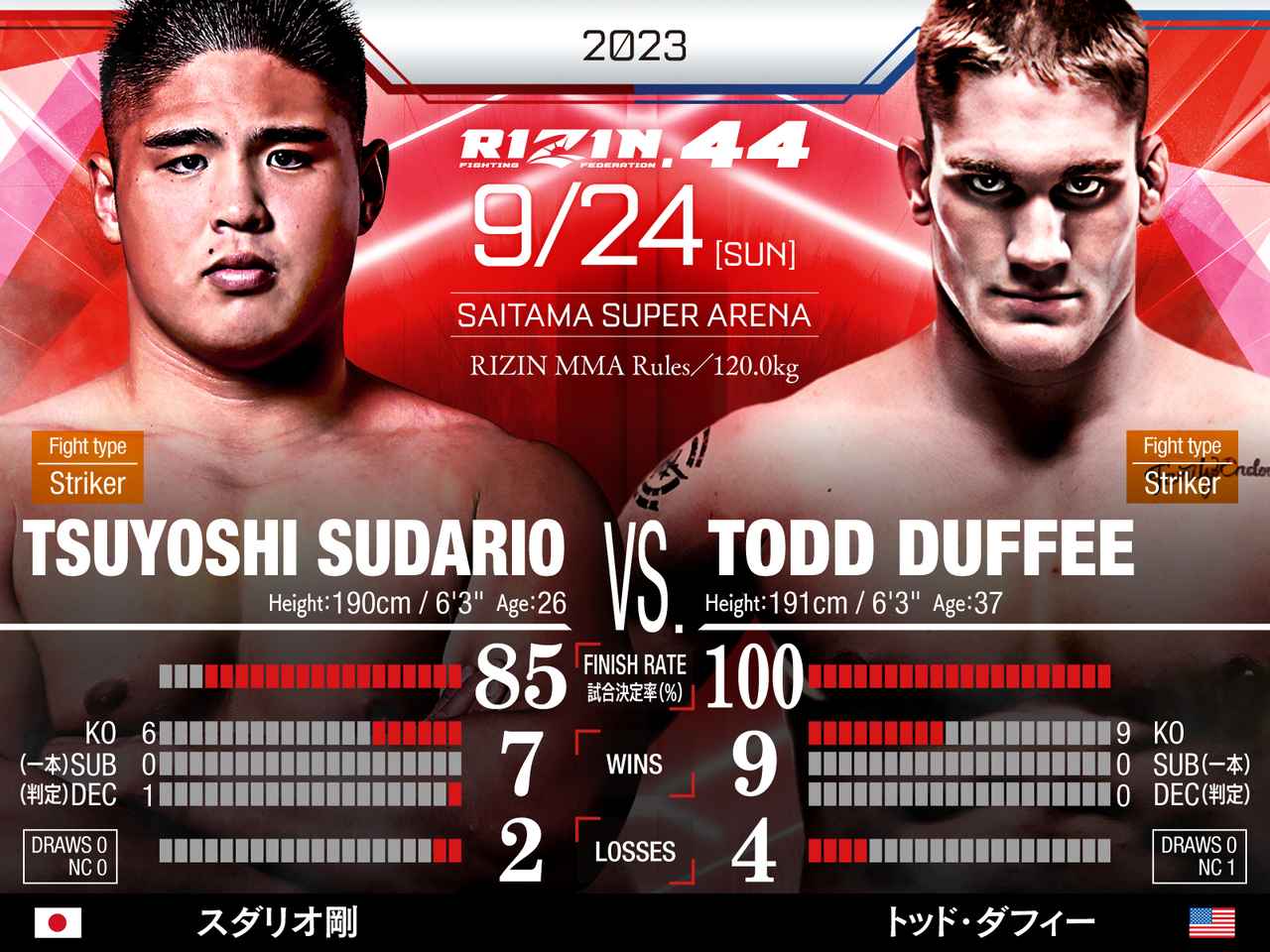 Tsuyoshi Sudario
Physical strength | Athletism | Adoptability | Mental strength
Todd Duffee
Explosiveness | Pressure | Forward pressure | Aggressive
#7 Rukiya Anpo vs. Sho Patrick Usami (70kg - RIZIN Kickboxing rules [3min × 3R])
#6 Yoshiki Nakahara vs. Rikuto Shirakawa (66kg - RIZIN MMA rules [5min × 3R])
Yoshiki Nakahara
Grappling strength | Striking power | Fight IQ | Explosiveness
Rikuto Shirakawa
Aggressive | Punching power | Pressure | Mentality
A matchup between 2 Featherweights who are positioned right behind the front leading group, and the loser will be forced to be taking a long detour on the race to the Featherweight Championship. This will be a comeback fight for Nakahara after losing to Chihiro Suzuki while Shirakawa will be making his return after a 2-year hiatus due to an injury. Shirakawa utilizes his reach and his crisp and power punches and Nakahara is well rounded Judo fighter who likes to strike and knock opponents out. The fight will start with strikes and punches and at some point, Nakahara will look to change angels and approaches to change the flow of the fight. Shirakawa wants to keep the fight where he's most comfortable and will react to whatever Nakahara tries to apply. Both fighters pack a punch so do not miss when that clean shot lands. Which fighter will be the one to insert himself into the Featherweight Championship race.

#5 Kazumasa Majima vs. Takeji Yokoyama (66kg - RIZIN MMA rules [5min × 3R])
Kazumasa Majima
Grappling | Ground control | Submissin skills | Takedown
Takeji Yokoyama
Grappling | Finish abilituy | Jiu Jitsu
The fight that determines the best Japanese MMA grappler. Majima is a grappler who thrives from top control and his opponent Yokoyama dominates from the guard. This matchup truly begins once bother fighters settle in their favorite positions. Since both fighters are comfortable in the position neither fighter will have an excuse after losing in their favorite position which will create an intense atmosphere during the fight. Majima takes top control to neutralize his opponent for heavy g&p while Yokoyama has a super aggressive Jiu Jitsu style where he goes for the finish from any position. Yokoyama will welcome Majima's takedown attempt into his guard and start attacking Majima like a fish in water. And Majaima will slowly start working on cementing Yokohama's movement as if he were a concrete worker. Expect high level grappling and scrambles from positions where neither fighter will have an excuse in case of a loss which will be a delight for grappling fans. We cannot discredit both grappler's striking. Yokoyama puts all of his weight on his strikes due to the lack of fear of being taken down while Majima uses text book jabs and leg kicks to secure distance to shoot in. An exciting striking exchange is always welcomed in a fight, but just for this one, I would personally love to see grappling exchanges.

#4 Ryuya Fukuda vs. Erson Yamamoto (57kg - RIZIN MMA rules [5min × 3R])
Ryuya Fukuda
Striking | Rythem | strategy | Clinch
Erson Yamamoto
Wrestling |Potential|Explosiveness|Scrambles
#3 Taichi Nakajima vs. Ryo Okada (61kg - RIZIN MMA rules [5min × 3R])
Taichi Nakajima
Well Rounded | Experience | Distance | Adaptability
Ryo Okada
Well Rounded | Fight IQ | Ring Generalship | Shooto Loyality
The current King of Pancrase and former Shooto Champion meet in the RIZIN ring. Both are the same age and have similar records and experience but the biggest difference between these veterans are the mount of experience against international opponents. Okada has spent his entire career in Shooto while Nakajima has traveled overseas for fights, and has been taking on international opponents in Japan as well. Will this difference show any significance during the fight or not? Both are well rounded at a high level and can hold their own in any position which means that styles and game plans play a big role. How will Okada's text book style look in Nakajima's eyes, who has fought several unique styles from all over the world. What to look for in this fight is the feeling out process. Both will start out throwing jabs and leg kicks to figure out the exact distance and utilize feints for reactions. The moment the momentum shift will be obvious when 2 skilled veterans are done feeling each other out so try not to miss that moment. Let's enjoy every moment that these veterans proudly representing their respected organizations, a masterpiece that only these 2 can put together.

#2 Shoma Shibisai vs. Janos Csukas (120kg - RIZIN MMA rules [5min × 3R])
Shoma Shibisai
Striking | Core Strength | Striking Intuition | Ground control
Janos Csukas
Striking skills | Boxing skills | Striking power | g&p
Shibisai, who is considered one of Japan's leading heavyweights will be taking on Csukas who showed tons of potential in his RIZIN debut. Both fighters have a total of 16 wins combined with every single win ending by finish. In a fight between 2 fighters with a 100% finish rate the judges might as well use this time to rest. Shibisai utilizes his Judo background to execute his pattern which is to tie up → throw → finish and once he gets his opponent into this pattern, the Judoka thrives for the finish. Csukas on the other hand utilizes his boxing skills and striking power but most of his finishes come by vicious ground & pound. The Hungarian native also has a pattern which is to defend the takedown → top control → ground & pound. Will Csukas stop Shibisai's pattern and take over in the offensive turn. Watch when the heavyweights' torso touch, which will be the moment where the tide of the fight will be determined. Both fighters have a strong top game so neither one wants to have their back on the mat. Csukas's sole weapon is his ground & pound, but Shibisai has the rear naked choke on the ground. Let's expect a surreal heavyweight fight where no judges will be needed.

#1 Takaki Soya vs. Ramazan Temirov (57kg - RIZIN MMA rules [5min × 3R])
Takaki Soya
Striking | Power | Strikinng intuition | Physical
Ramazan Temirov
Striking | Striking speed | Agility | Power
Follow RIZIN FF
Website - http://www.rizinff.com/
Facebook - https://www.facebook.com/rizinfightingfederation/
Twitter - @rizin_English
Twitter - @rizin_pr
Instagram – rizin_pr
TikTok – rizinffofficial
English News
RIZIN.44 さいたま大会 大会関連情報
RIZIN LANDMARK 6 in NAGOYA 大会関連情報
RIZIN LANDMARK 7 in Azerbaijan 大会関連情報
のむシリカ presents 超RIZIN.2 powered by U-NEXT 大会関連情報
おすすめコンテンツ