Osaka - March 31st, RIZIN had weigh-ins for this Saturday's RIZIN.41 card.
#10 Kouzi vs Ryusei Ashizawa [61.0kg - RIZIN Kickboxing rules]
KOUZI (61.00kg)
"The reason why the trash talk didn't work out is because he's got nothing intelligent to say. What kind of adult gets annoyed when a puppy barks at you, he's just a jealous hater. A man's jealousy can get you killed. Poor guy."
Ryusei Ashizawa (61.00kg)
"My game plan is to become the Kamikaze of RIZIN. I'm always ALL IN. I hate pussies who play it safe. Fuck those bitches. Kouzi is known for his durability, but I have been training to knock him out. I'll choke him out if I have to. Everybody is saying I don't have the power to finish him but SHUT THE FUCK UP and watch."
#9 Vugar Keramov vs Yoshinori Horie [66kg - RIZIN MMA rules]
Vugar Karamov (65.75kg)
"I set up fight camp at Kill Cliff in Florida and I feel great, fully prepared for this fight." "RIZIN has a good Featherweight division and I do believe that if I continue to win, I will get the opportunity to challenge for the belt."
Yoshinori Horie (65.95kg)
My opponent has a very strong body and is talented. He hits hard and fully commits to his strikes. I want to strike, and he will want to grapple." "I usually quit drinking a week before my fight, but this time I stopped drinking on weekdays for this fight. I was still drinking on Fridays, Saturdays and Sundays."
#8 Strasser Kiichi vs K-Taro Nakamura [77.0kg - RIZIN MMA rules]
Strasser Kiichi (76.90kg)
"My opponent is well rounded. We have similar styles and careers." "I know that our fight will be the fight of the night. We both have what it takes to put on a world class performance."
K-Taro Nakamura (76.45kg)
"It's been a while since I last fought, but I've been training constantly, competing in Jiu Jitsu tournaments so I think I've evolved as a fighter.
#7 Shinryu Makoto vs Daichi Kitakata [57kg - RIZIN MMA rules]
Makoto Shinryu (57.00kg)
"My opponent has a strong heart but that's about it. I will finish the fight with a Shining Wizard. I tried something new in my last fight against Tokoro, but that didn't work so I'll try it again."
Daichi Kitakata (57.00kg)
"I think it would be amazing if I could tap him out with his signature dragon roll choke. I'll submit him with the same move and call it a Lion choke."
#6 Kyle Aguon vs Kyohei Hagiwara [66.0kg - RIZIN MMA rules]
Kyle Aguon (65.65kg)
"My opponent is a good striker and I can tell he's been working on his wrestling and Jiu Jitsu. It's going to take years for him to be where I'm at. This will be one of the easiest opponents in RIZIN.
Kyohei Hagiwara (65.80kg)
"My opponent is technical, strong and experienced. He is a better fighter than me on paper, but I know that if I do what I do best, I can beat him. It is a challenge, but he's well worth the challenge."
#5 Kintaro vs Kouichi Ishizuka [61kg - RIZIN MMA rules]
Kintaro (60.90kg)
"My opponent is well experienced and is the current DEEP Bantamweight Champion. He may be a newcomer in RIZIN but he is a solid fighter who possesses many threats."
Koichi Ishizuka (60.65kg)
"RIZIN has a great Bantamweight roster and I'm excited to test my skill set in this division."
#4 Usami Patrick vs Kyung Pyo Kim [71kg - RIZIN MMA rules]
Sho Patrick Usami (70.95kg)
This fight will be a good indicator for me to see where I belong. Missing weight got me eliminated from the Road to UFC tournament and I ended up in RIZIN but right now I think it worked out better and things happen for a reason. Now it's time to confirm that I belong here.
Kyung Pyo Kim (70.95kg)
I know RIZIN has many fighters in the Lightweight division, but I want to focus on this upcoming fight first and then talk about future matchups."
#3 Yusaku Nakamura vs Mehman Mamedov [57kg - RIZIN MMA rules]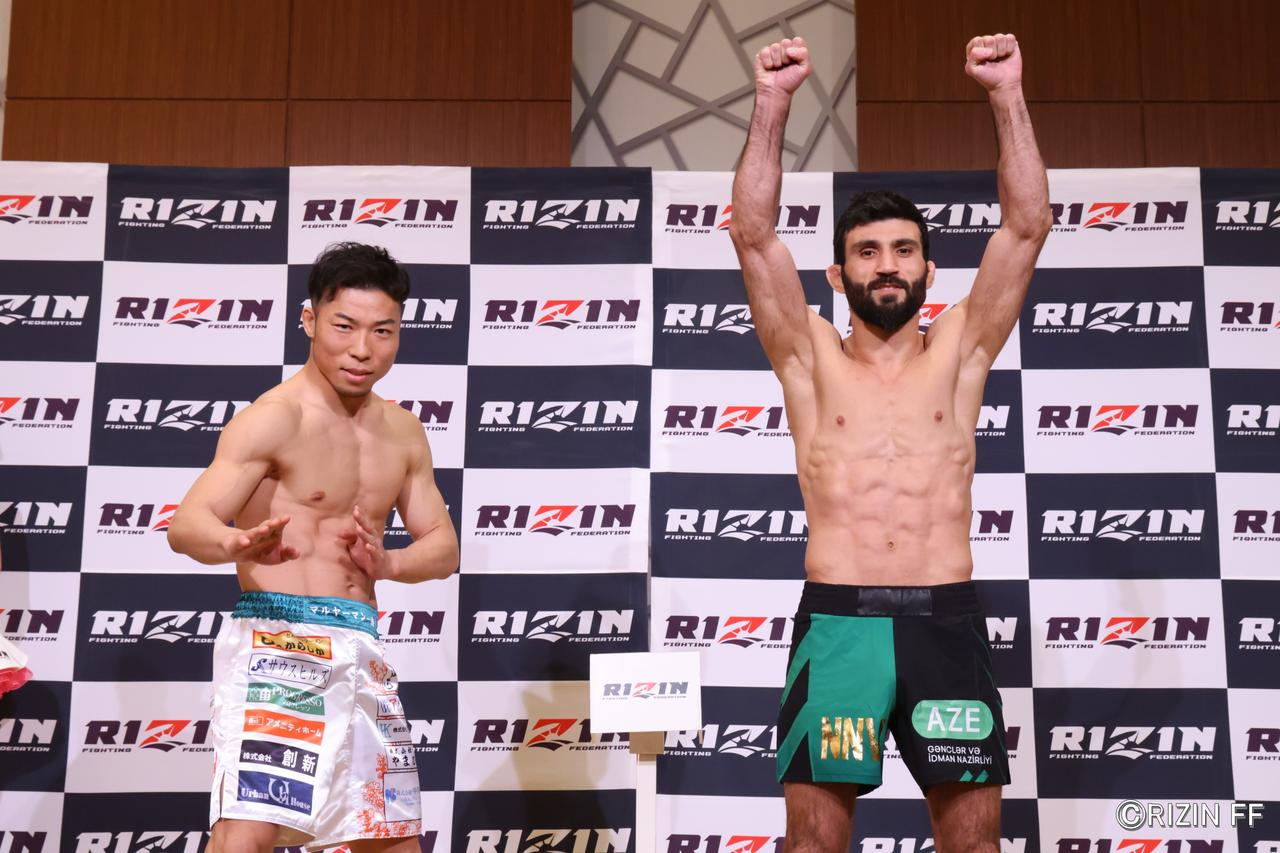 Yusaku Nakamura (56.90kg)
"I will serve him the Tempo hill cross followed by the Tsuten tower uppercut and my finish move will be the Universal Studio Japan striking combo. He should have plenty of souvenirs to take home after I'm done greeting him."
Mehman Mamedov (56.95kg)
"I am extremely grateful to be given the second opportunity to fight in RIZIN. I have prepared well, and I will promise you a great performance.
#2 Shun vs Motoki [61kg - RIZIN Kickboxing rules]
Shun (60.95kg)
I know that people are here to watch MMA fights, but I want to put on a fight that will make everybody excited."
Motoki (60.75kg)
I have a unique style because of my background. It's a mix of boxing, karate and kickboxing" "I can change my style depending on my opponent so watch out for my style."
#1 SHINGEKI no YUUKI vs Sota "Cerberus" Kimura [66.5kg - RIZIN Kickboxing rules]
Shingeki no Yuuki (66.40kg)
"I've been going back and forth with my opponent on social media because I want people to care for my fight. This is a great opportunity for me and I will put on a show."
Sota 'Cerberus' Kimura (66.30kg)
"I usually put on a show from hell, but today I will put on a festival from hell. Look out for all of my weapons."
RIZIN.41 complete fight order
Follow RIZIN FF
Website - http://www.rizinff.com/
Facebook - https://www.facebook.com/rizinfightingfederation/
Twitter - @rizin_English
Twitter - @rizin_pr
Instagram – rizin_pr
TikTok – rizinffofficial
English News