Tokyo - March 3rd, RIZIN held a press conference to announce the card for RIZIN LANDMARK 5 in YOYOGI. In addition to CEO Nobuyuki Sakakibara, 12 of the 20 fighters competing on the card were present at the venue where '100 Fan Club' members were invited.
At the beginning of the press conference, CEO Sakakibara announced that the previously announced date of RIZIN LANDMARK 5 in YOYOGI had been changed from April 30th (Sun) to April 29th (holiday, Saturday).
Regarding the reason for this, CEO Sakakibara said, "(On April 30), other organizations will be holding tournaments in Japan, and the athletes' second camp will participate in both tournaments, so in order to balance with the others, we moved the schedule forward by one day. In order to avoid overlapping competitions and to reduce the stress of athletes and seconds as much as possible, it was moved forward by one day. I am grateful to the production staff who will be working a midnight shift to this decision."
CEO Sakakibara added, "These upcoming events will be a grand sum of what RIZIN has been doing for the past 8 years. We will be introducing 2 new venues to RIZIN, both events were renovated for the Tokyo Olympics, and are very excited to bring RIZIN to such prestigious venues."
Aside from the date adjustment and new venues, CEO Sakakibara informed the press about upcoming announcements. "RIZIN 42 fight announcements will be held early next week. Juan Archuleta from Bellator is confirmed to participate in the May 6th event."
The marquee matchup of the double main events initiated the comments from the fighters side. Holding the mic, former Featherweight Champion Ushiku briefly said, "This fight is a fight between 2 different styles so that's what makes it intriguing. It will be a great fight. I'm more used to the cage."
Juntaro Ushiku vs Mikuru Asakura [66kg - RIZIN MMA rules]
Afterwards, former title challenger Asakura said, "It's been a while since I've fought MMA. I've boxed and am confident that I have gotten stronger. I will guarantee a knockout within the 2nd round. I have no damage from the Mayweather fight so I feel good. I've been working grappling the most. I like the cage because it's easier to defend takedowns." Regarding the co-main event, Asakura did not mince his words. "Hiramoto has no chance against Saito. He's not even on my radar."
The battle between the two former title challengers holds heavy title implications in 2023.
Yutaka Saito vs Ren Hiramoto [66kg - RIZIN MMA rules]
Yutaka Saito, who will be returning to the fight after losing the title match in April last year, will face Ren Hiramoto, who is currently winning two consecutive MMA matches.
Saito held the microphone and said, "It's been a while since my last fight. I feel healthy mentally and physically. This is the best card that has been put together for the RIZIN LANDMARK series and I will do my best to put on the fight of the night. The cage has a different fight style. But it's easier to follow due to less official's interference."
Interestingly, Hiramoto called a man in a suit over to his seat and used him as an interpreter, explaining, "I got knocked the fuck out yesterday so I am not allowed to speak. Please let the translator speak for me. His name is Precious."
Precious went on to elaborate, "I want to apologize today. I have talked massive shit to hype a fight, but sometimes I go too far. I had no idea Asakura Mikuru would sue me. So for my next fight I will be a good boy. Saito, let's put on a good fight!"
At the end, Hiramoto said in his own voice, "Thank you all. I know I'm getting better and the Saito fight will be fireworks. I'm not going to speak for this fight. I will show my skills in the fight. He's a great well rounded fighter but I don't see myself losing to him. The cage will make my Karate stand out more."
Will the inaugural Featherweight King Saito show the difference in power and experience, or will Hiramoto continue his winning streak?
The undercard matchups are as follows:
Koji Takeda vs Luis Gustavo [71kg - RIZIN MMA rules]
Tsuyoshi Sudario vs Roque Martinez [120kg - RIZIN MMA rules]
RENA vs Claire Lopez [49kg - RIZIN MMA rules]
Kanna Asakura vs Mei Yamaguchi [49kg - RIZIN MMA rules]
Johnny Case vs Ali Abdulkhalikov [71kg - RIZIN MMA rules]
Masanori Kanehara vs Sora Yamamoto [66kg - RIZIN MMA rules]
Kazuma Kuramoto vs Shinobu Ota [61kg - RIZIN MMA rules]
Callyu Gibrainn vs Mikio Ueda [120kg - RIZIN MMA rules]
UNDERCARD QUOTES:
Koji Takeda vs Luis Gustavo [71kg - RIZIN MMA rules]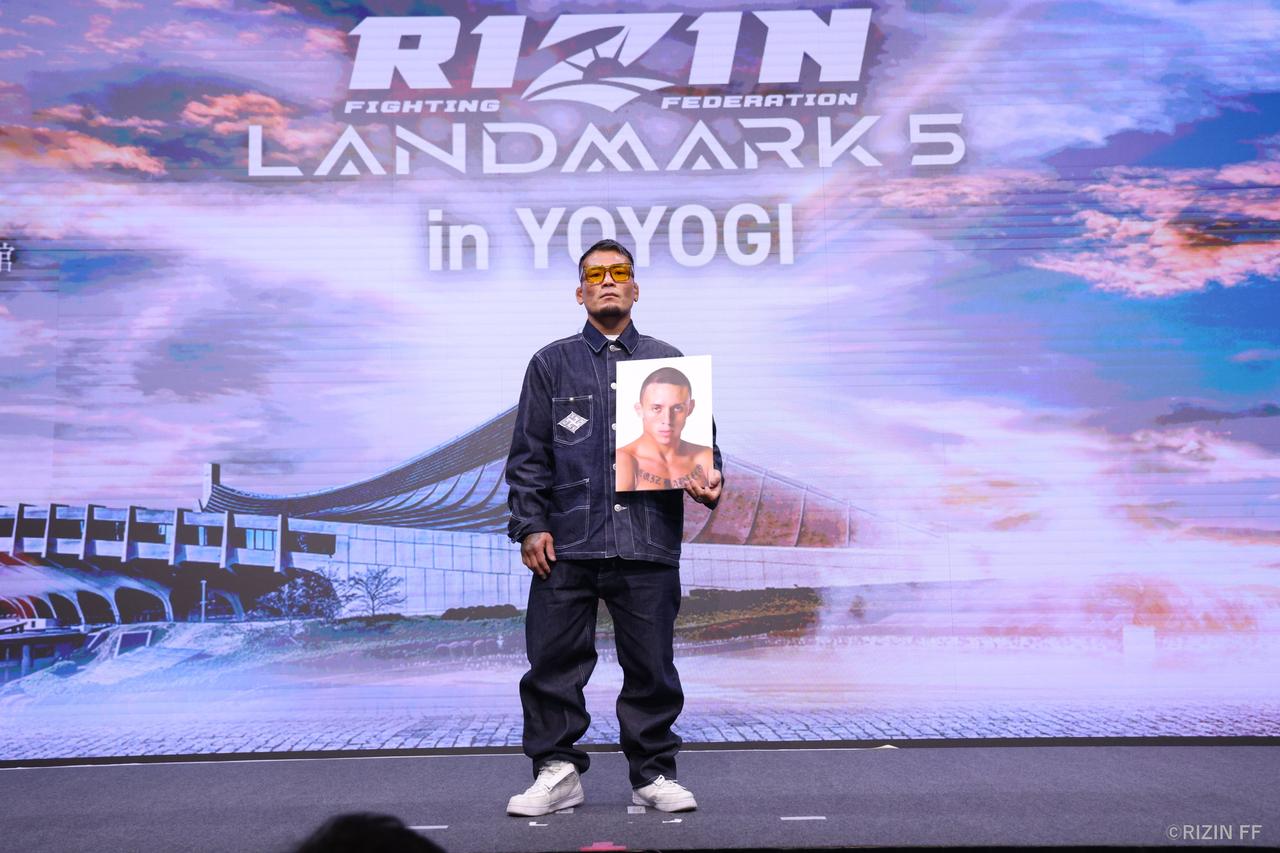 Koji Takeda
"I think fighting Gustavo would be great fun. I don't care who my opponent is but I'm going to go in there and do what I do best. I can't wait to get back in the cage once again." "I want to keep facing international opponents and if there's an opportunity I would like to fight internationally. I also want to face Satoshi."
Luis Gustavo
"I'm in great shape and ready to put on a show. I will keep winning and get myself a title shot. Heeeeey!"
Tsuyoshi Sudario vs Roque Martinez [120kg - RIZIN MMA rules]
Tsuyoshi Sudario
"I gave an embarrassing performance on New Year's Eve. My opponent is coming straight from the UFC and will be a tough fight. I will do my best. I train in the cage in the US so I'm excited that I get to fight in the cage. My former opponent signed with the UFC, my next opponent is a former UFC fighter. I know I'm right there on the border, so I will need to push myself more to make it to the other side."
Roque Martinez
"I am happy to be able to fight in Japan again. I want to continue fighting under the best ruleset in the world! Sudario, on the day of the match, let's put on a show. Good luck to both of us."
RENA vs Claire Lopez [49kg - RIZIN MMA rules]
RENA
"I apologize for not being able to attend the press conference today due to poor physical condition. I have been talking about re-challenging the United States for some time, but since there is a tournament in Hawaii to be held this year, I received a proposal to gain experience in a 52.2kg strawweight competition in a cage. I will be participating for the first time. My opponent, Lopez, seems to be strong in both striking and ground fighting, so I will do my best to strengthen my overall strength and show everyone how I can KO."
Claire Lopez
"Being able to compete on the RIZIN stage is a great opportunity to get the most motivation. By playing under the new rules, I will be able to increase the range of my attacks, and I am looking forward to showing the Japanese fans a wonderful match. Japan is a country of martial arts and I am honored to be able to fight in Japan as a martial artist. And I would like to thank everyone at RIZIN and Combate Global for giving me this precious opportunity. We promise a performance and victory that won't disappoint you!"
Kanna Asakura vs Mei Yamaguchi [49kg - RIZIN MMA rules]
Kanna Asakura
"Being eliminated in the opening round of the GP had me down, but I was able to come back with everybody's support. I don't have any plans of losing to an outsider so please support me. I had a time where I didn't like this sport anymore, but I'm back, enjoying every day training and motivated. I trained with Mei last year and she's very tough overall. I don't know how the fight will go, but I will make sure I'm prepared."
Mei Yamaguchi
"I was thinking about changing my career as a DJ since I couldn't get fights, but I'm excited to be back and doing what I do best. I've followed RIZIN for a while. It's big in Japan and looks like fun. I'm always grateful for the promotion who gives me opportunities. I've been wanting to fight for quite some time but I got my chance and am grateful. There are many fighters who I have not competed against, so I would like to the opportunity to face them and eventually fight for the title"
Johnny Case vs Ali Abdulkhalikov [71kg - RIZIN MMA rules]
Johnny Case
"First of all, I would like to thank all the fans who always support me. I love you all and thank you more than I can put into words. And I would like to thank President Sakakibara and all the RIZIN staff for giving me the opportunity to fight. RIZIN is undoubtedly the best organization in the world, and I am proud to be a RIZIN fighter. I can't imagine fighting anywhere else. The fact that I can renew my contract and continue to fight in front of the world's best fans is the ultimate happiness for me, and I am determined to leave my legacy in Japan. Thank you all for your continued support!"
Ali Abdulkhalikhov
"I am very happy to be able to fight with RIZIN again. For the past four years, I have been preparing to fight whenever an offer comes from Japan. I think my opponent is the right opponent for me to fight. He seems to be a regular at RIZIN, but he's confident in his abilities and believes he'll be the last one to get the winner's call. Last time I came to Japan, I was disappointed that I couldn't perform in perfect condition, but this time I think I can show my true ability to everyone in Japan, so please look forward to the match.
Masanori Kanehara vs Sora Yamamoto [66kg - RIZIN MMA rules]
Masanori Kanehara
"He's not the opponent I wanted, but he's a young prospect that I cannot ignore. I will show my experience and teach him real MMA. MMA these days gives credit to fighters outside of their fighting ability. So it is what it is, but I know and real people know who's best and I'm here to prove that."
Sora Yamamoto
"I'm grateful to be matched up with such a great opponent. I will fight him with respect but I am going in there to make a new era. I think Kanehara is the toughest out of all featherweights here. So I think beating Kanehara will give me confidence to beat everybody sitting up front."
Kazuma Kuramoto vs Shinobu Ota [61kg - RIZIN MMA rules]
Kazuma Kuramoto
"I will win all my fights this year and go after the belt."
Shinobu Ota
"This will be my first fight in the cage. Many fans have been asking who's the better wrestler, and now it's time to show who's best against my former rival. I'm ready and he'll be ready. I'll do my best. The fight against Motoya taught me well. I don't think Kuramoto is better than Motoya and I think I'm better than Kuramoto."
Callyu Gibrainn vs Mikio Ueda [120kg - RIZIN MMA rules]
Callyu Gibrainn
"Ueda is a wimp. I'm in the amazons getting ready to destroy this guy. Everybody stay tuned."
Mikio Ueda
"I made my MMA debut last year and ended up disappointing many people. I've worked very hard the past year to show my abilities. My opponent is a striker and that's my bread and butter. I will outstrike my opponent and put my name on the mat"
Confirmed Bouts
RIZIN LANDMARK 5 - Yoyogi, April 29th
Juntaro Ushiku vs Mikuru Asakura [66kg - RIZIN MMA rules]
Yutaka Saito vs Ren Hiramoto [66kg - RIZIN MMA rules]
Koji Takeda vs Luis Gustavo [71kg - RIZIN MMA rules]
Tsuyoshi Sudario vs Roque Martinez [120kg - RIZIN MMA rules]
RENA vs Claire Lopez [49kg - RIZIN MMA rules]
Kanna Asakura vs Mei Yamaguchi [49kg - RIZIN MMA rules]
Johnny Case vs Ali Abdulkhalikov [71kg - RIZIN MMA rules]
Masanori Kanehara vs Sora Yamamoto [66kg - RIZIN MMA rules]
Kazuma Kuramoto vs Shinobu Ota [61kg - RIZIN MMA rules]
Callyu Gibrainn vs Mikio Ueda [120kg - RIZIN MMA rules]
RIZIN.42 - ARIAKE ARENA, May 6th
Kai Asakura vs Yuki Motoya [61kg - RIZIN MMA rules]
Naoki Inoue vs Juan Archuleta [61kg - RIZIN MMA rules]
Roberto Satoshi Souza vs Spike Carlyle [71kg - RIZIN MMA rules]
Seika Izawa vs Miyuu Yamamoto [49kg - RIZIN MMA rules]
Kota Miura vs YA-MAN [66kg - RIZIN MMA special rules]
Ulka Sasaki vs Boyd Allen [66kg - RIZIN MMA rules]
John Dodson vs Tatsuki Saomoto [57kg - RIZIN MMA rules]
Takaki Soya vs Ramazan Temirov [57kg - RIZIN MMA rules]
Yuki Ito vs Erson Yamamoto [57kg - RIZIN MMA rules]
Takuya Yamamoto vs Takeji Yokoyama [66kg - RIZIN MMA rules]
Follow RIZIN FF
Website - http://www.rizinff.com/
Facebook - https://www.facebook.com/rizinfightingfederation/
Twitter - @rizin_English
Twitter - @rizin_pr
Instagram – rizin_pr
TikTok – rizinffofficial
English News