Floyd Mayweather versus Mikuru Asakura undercard bout announced. Former 2-time Bantamweight Champion Kyoji Horiguchi makes his long awaited RIZIN return against GP quarterfinalist and Pancrase title challenger Kintaro. Hiromasa Ougikubo makes his first appearance since being crowned Grand Prix Champion, taking on two-weight ROAD FC Champion Soo Chul Kim. 3 additional undercard bouts announced for RIZIN.38
On August 31st (Wednesday) Japan time, a press conference was held at Waikiki Beach, Hawaii. In the first part of the conference, presentations were made on various future trials in Hawaii.
CEO Nobuyuki Sakakibara, Enson Inoue, Egan Inoue, and BJ Penn took the stage in the first part of the press conference.
CEO Sakakibara introduced himself and greeted the mass media in Hawaii in English, saying, "Today, we have two big announcements to make. Starting today, we will attempt to host RIZIN's first international event here in Hawaii, next year. Of course, we understand that RIZIN is still not a common name, but we will do our best to become the most dynamic and dramatic combat sports event in Hawaii," commented CEO Sakakibara.
Mr. Enson Inoue was invited to the stage. CEO Sakakibara introduced Mr. Enson, saying, "He will support us locally, along with many others." Holding the microphone, Mr. Enson greeted CEO Sakakibara, saying, "I want to thank Sakakibara and RIZIN for bringing the biggest association in Japan to Hawaii and giving the opportunity to the Hawaii fighters to chase their dreams."
Mr. Enson Inoue is a mixed martial artist from Honolulu, Hawaii and the first Shooto heavyweight champion. He has a connection with CEO Sakakibara from the PRIDE era, and is currently known as the coach of heavyweight fighter Tsuyoshi Sudario, who is competing in RIZIN.
Enson commented, "The Japanese people, Sakakibara and RIZIN also love Hawaii, so this is a good chance for them to help Hawaii boost their economy and bring tourists back. When he used to run PRIDE, wherever PRIDE went, a lot of Japanese people came. So when he runs the events here, we're hoping that brings a big contingency of Japanese fans here too."
Furthermore, Mr. Enson invited his brother, Mr. Egan Inoue, to the stage, and Mr. Egan commented as follows.
"Like Enson was saying, we both participated in PRIDE in Japan, and how much people would show up for these events. I remember the Saitama [Super] Arena, 30,000 people would actually show up and watch the fights. With that said, hopefully we will have a lot of Japanese people come to Hawaii when we have these events. Thank you [Sakakibara] for bringing the event here in Hawaii."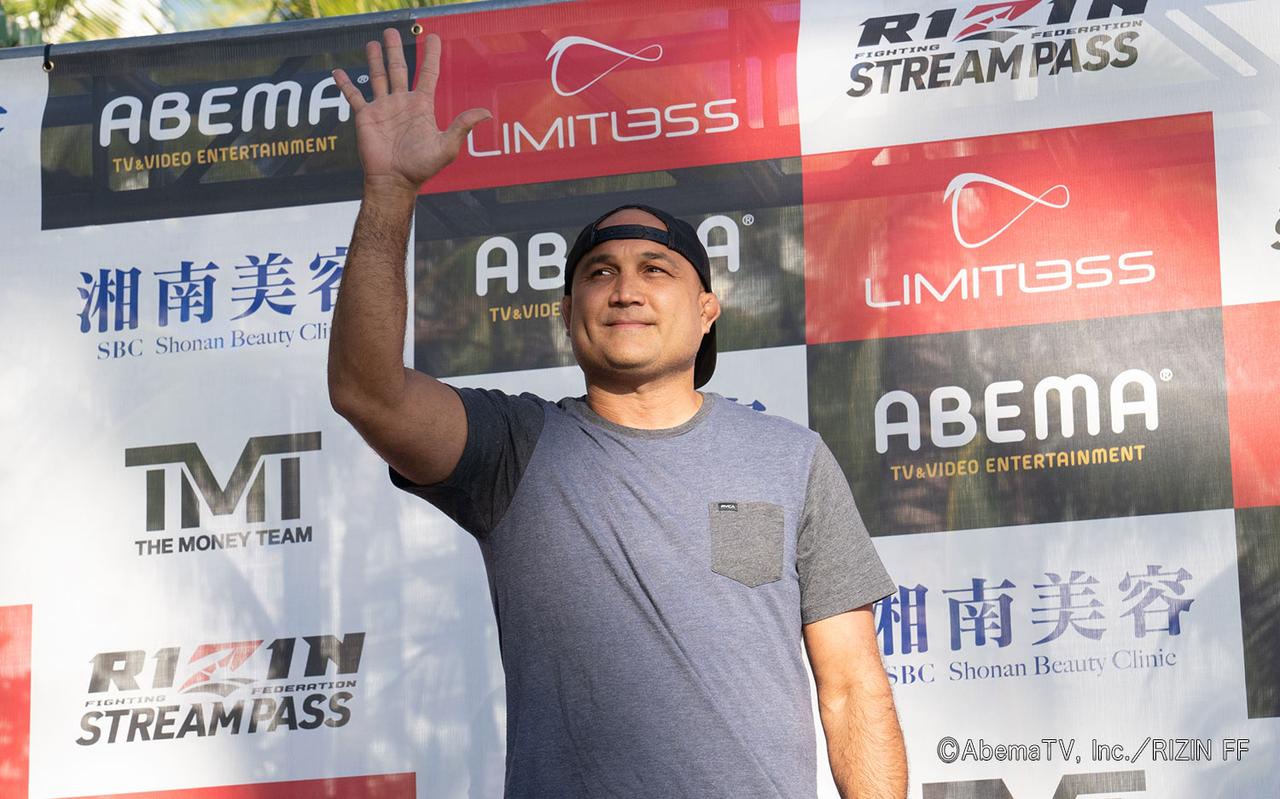 Enson Inoue then invited BJ Penn to the stage.
Hailing from Kailua, Hawaii, BJ Penn is a mixed martial artist who was inducted into the UFC Hall of Fame by becoming just the second person in UFC history to hold titles in two weight classes.
"I want to thank everybody for coming out here today and supporting mixed martial arts. I want to give a very big 'thank you' to Sakakibara for putting this event on and for looking towards Hawaii as a place to hold many future events. I'm very glad that the fighters in Hawaii will get this opportunity to showcase their talents. I want to thank Enson Inoue for having me involved in this event. Enson is a big inspiration to my career and Hawaiian Mixed Martial arts period. I've known him since I was 10 years old, watching him fight in Japan and America, in the UFC. It's done wonders for everybody in Hawaii. Thank you Enson for all that you've done for us. Thank you to all the fans and thank you to everybody for coming out here. Thank you RIZIN, we expect great things from you guys. I will be supporting you, Sakakibara."
CEO Sakakibara responded to comments from Hawaii collaborators as follows.
"We would like to make the RIZIN Hawaii events, one of the greatest and most exciting events. With the support of an old friend, Bellator CEO Scott Coker and Floyd Mayweather. We would also like to open up opportunities for the young athletes and future champions in Hawaii. We'll start a big movement starting here in Hawaii. If we bring RIZIN events to Hawaii, many many Japanese people will visit. I would like to thank Senator Wakai for giving us the chance to hold a press conference here on this sacred Hula mound on Waikiki Beach. Thank you very much."
In the final portion of the press conference, the marquee fighters were brought up to the stage to make their comments and field questions from the media.
Floyd Mayweather
"He is the best in Japan, but when we talk about Floyd Mayweather, I'm known as the best all around the world. When I'm going out there and I'm facing these different opponents, to me he's just another opponent, to them I'm Floyd Mayweather. If RIZIN wanted me to do MMA, they would've paid for MMA. They paid for boxing."
Mikuru Asakura
"On September 25th I plan to put a really big fist in his face. [These gloves] are my present to Mr. Mayweather. If you're confident enough, use them as boxing gloves to fight me. I'd like to take the challenge."
Confirmed Bouts
SUPER RIZIN - Saitama Super Arena, September 25th
Floyd Mayweather vs. Mikuru Asakura [Boxing]
Nadaka Yoshinari vs. Bandasak So Trakunpet [53kg - RIZIN Kickboxing (elbows allowed) rules]
RIZIN.38 - Saitama Super Arena, September 25th
Kyoji Horiguchi vs. Kintaro [61kg - RIZIN MMA rules]
Hiromasa Ougikubo vs. Kim Soo Chul [61kg - RIZIN MMA rules]
Kyohei Hagiwara vs. Chihiro Suzuki [66kg - RIZIN MMA rules]
Juri Ohara vs. Luis Gustavo [71kg - RIZIN MMA rules]
Shibisai Shoma vs. Callyu Gibrainn [120kg - RIZIN MMA rules]
SUPER RIZIN doors are expected to open at 10:30AM, with a 12:00pm start time. RIZIN.38 will have a 3:00pm start time on September 25th (Sun) at the Saitama Super Arena.* There will be a 1-hour intermission between the two events.
*Please note that the scheduled time may change depending on the content of the game and the progress of the event.
Country / Region Approximate Main Event start time
Hawaii 9/24 (Sat) 6:00pm-7:00pm
Pacific Time 9/24 (Sat) 9:00pm-10:00pm
Eastern Time 9/25 (Sun) 12:00am-1:00am
Japan 9/25 (Sun) 1:30pm-2:00pm
Follow RIZIN FF
Website - http://www.rizinff.com/
Facebook - https://www.facebook.com/rizinfightingfederation/
Twitter - @rizin_English
Twitter - @rizin_pr
Instagram – rizin_pr
TikTok – rizinffofficial
English News
【4/1(土)開催】 RIZIN.41 大会関連情報
【4/30(日)開催】 RIZIN LANDMARK 5 in YOYOGI 大会関連情報
【5/6(土)開催】 RIZIN.42 大会関連情報
おすすめコンテンツ