TOKYO – October 29th, RIZIN CEO Nobuyuki Sakakibara, held a press conference and announced updates about RIZIN.32 -the promotion's 6th event of the year.
RIZIN CEO Nobuyuki Sakakibara started the press conference saying "We are planning to put on monthly events for the rest of the year while following the guidelines given from the government. I am proud to announce that we will be holding an event in Okinawa for the first time in November. RIZIN.32 will be held at the Okinawa Arena which I think is the best Arena in Japan that holds 10,000 people." Okinawa's first RIZIN event seems to be well received as tickets have been selling well as the RIZIN boss closed his statement by saying "Pre-sales have been going extremely well, and it seems like tickets will be sold out when tickets officially go on sale on October 31st."
2017 RIZIN Super Atomweight Grand Prix finalist RENA (11-3) returns to action after a 14-month layoff against fellow title challenger Miyuu Yamamoto (6-5). RENA is the 4-time Shoot Boxing Girls S-Cup Champion, and carries a 35-5-1 (11 KOs) combined kickboxing and shoot-boxing record. The 13-fight RIZIN veteran carries a 10-3 record under Japan's premier banner, with 8 stoppages and is currently riding a 3-fight win streak dating back to Bellator 222 - a loss against Lindsey VanZandt that she avenged later that year. Yamamoto is the three-time World Wrestling Championship Gold Medalist, and comes from a strong wrestling lineage - her father Ikuei competed at the 1972 Summer Olympics. Like RENA, she has competed for her entire career under the RIZIN banner, and is 5-2 in her last 7 outings. The pair had previously met at RIZIN.2 in September of 2016 - 5 years ago, where RENA spoiled Yamamoto's MMA debut with a first round submission.
Mitsuhisa Sunabe (29-9-4) makes his 3rd appearance (2nd MMA bout) in RIZIN since 2017. The former Pancrase Flyweight and Strawweight Champion has lost his last 2 bouts by stoppage against fellow RIZIN competitors Haruo Ochi and Daichi Kitakata at RIZIN.13 and Pancrase 307 respectively. Prior to this 2-fight skid, he was unbeaten for nearly 7 years and 16 bouts, capturing the Flyweight title against Noboru Tahara at Pancrase 252 in September of 2013 and the Strawweight title against Hiroyuki Abe in November of 2015, a title he would defend twice before losing it in a rematch against Kitakata. JMMA veteran Yoshiro Maeda (37-18-5) is also making his RIZIN debut. The former Pancrase Featherweight and DEEP Bantamweight Champion is 3-3 in his last 6 bouts stretching back to 2017. Having accepted this fight on short notice, the bout will take place at a catchweight. Maeda is coming off a loss against surging contender Tatsuro Taira at a Shooto event in March this year. The two fighters combine for 37 stoppages, so fans can expect a scrap from the first bell to the last.
The second of two flyweight showdowns at the Okinawa Arena are between veterans Tomohiro Adaniya (16-15-3) and Yuichi Miyagi (16-10-1). Adaniya is 4-2-1 in his last 7, exclusively in DEEP. Notably, he competed against Naoki Inoue in 2017 at DEEP 78, dropping a majority decision. Miyagi is the former Interim GLADIATOR 54kg Champion, capturing the title at GLADIATOR 005 in January of 2018 against Yuki Yoshimura. Recently, he challenged Masayuki Watanabe for the GLADIATOR Flyweight Championship just 3 weeks ago at GLADIATOR 015, where he came up short via unanimous decision. He is 9-3-1 in his last 13, including a 9-fight unbeaten streak from November 2016 to August 2020.
KOUZI (28-15-2, 1NC - 10 KOs) takes on hometown hero Kazuma Sone (24-21-1) in a 62kg Kickboxing Rules bout. Sone has challenged for and won multiple domestic titles in Japan, notably capturing the Shooto belt with a majority decision victory over Mamoru "Fullswing" Uoi in January of 2018. He snapped a 5-fight skid with a win against UFC veteran Teruto Ishihara at Shooto 2021 last January, before being upset by eventual Grand Prix participant, Shian at RIZIN.27 in March. KOUZI's last outing was at the RIZIN.29 one-night kick tournament, unfortunately suffering a NC due to a clash of heads before facing eventual champion Taiju Shiratori in the final, dropping a unanimous decision. Surprisingly, KOUZI has not won a bout in nearly 3 years, with his last victory coming against Seiya Kawahara at K-1 WORLD GP 2019 JAPAN Yokohama Matsuri.
The RISE Welterweight (148lb) Kickboxing Champion Beynoah (0-1 MMA | 17-3, 9 KOs KB) makes his 2nd professional MMA appearance against Daryl Lokoku (9-5-1). Beynoah had a very impressive showing against Satoshi Yamasu, losing via split decision at RIZIN.28 in the Tokyo Dome's opening bout. Despite showing spectacular takedown defense and athleticism, he was shown a red card due to repeated fouls, which resulted in a loss of points from the judges. However, he turned around and won his last kickboxing bout - a unanimous decision victory over Negimajin at Rise World Series 2021 Yokohama in September. Lokoku is the former GRACHAN Welterweight Champion, having earned that title in December 2018, when he defeated former RIZIN vet Gota Yamashita via unanimous decision. He is 9-2-1 in his last 12 bouts, having rattled off a 9-fight unbeaten streak after starting his career 0-3. His last bout was a decision victory over Junpei Sasakawa at GRACHAN 48 in June, and this will be his MMA debut in RIZIN, having competed against Kaito Ono at RIZIN.23 in August 2020. dropping a decision in a kickboxing bout.
An exciting 49kg bout between two prospects was announced, as Nisse (3-4) and Aira Koga (2-0) will both make their RIZIN debuts. Nisse is a former DEEP Women's Microweight title challenger, losing via first round submission against recent RIZIN debutant Saori Oshima. DEEP Jewels product Koga has a 4-0 MMA record with 2 bouts at the amateur level and 2 bouts at the professional level. Her last bout was a unanimous decision victory over previously undefeated Eru Takebayashi at DEEP Tokyo Impact 2021 2nd Round just 2 weeks ago.
Perhaps the biggest surprise to many is the return of Bobby Ologun (2-2) against pro-wrestler Katsuya Kitamura (0-0). Ologun is a television personality and naturalized Japanese citizen, having been born in Nigeria. After being inspired by watching Bob Sapp vs Akebono on New Years' Eve in 2003, he began training in the GRABAKA Pancrase gym under Sanae Kikuta. His 4 MMA bouts all came at K-1 Premium Dynamite events on New Years' Eve from 2004-2007. Kitamura is a professional wrestler with an amateur wrestling background. He was part of Senshu University's wrestling team. Kitamura won the 2006 All Japan Wrestling Championship at 120 kg and would go on to represent Japan in the World Championships that year, ultimately winning three national championships. In his only mixed-rules bout, Kitamura defeated Mongolian Sumo wrestler Undral Boldbaatar in Ganryū-jima 2 in 2015.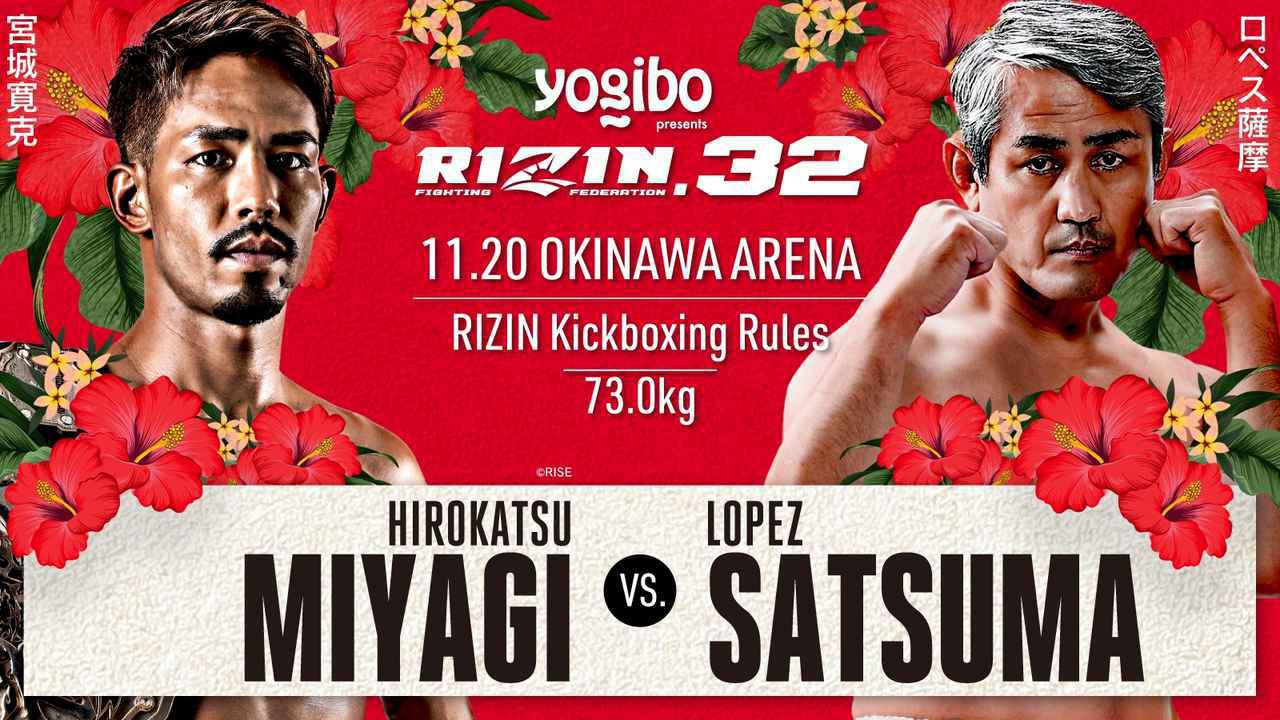 The second kickboxing match of the event sees Hirokatsu Miyagi face Lopez Satsuma. Miyagi is the former Tenkaichi Fight 67kg Champion, claiming the title with a unanimous decision victory over Koki at Tenkaichi 94 in September 2019. Satsuma challenged for the KPKB (Kyushu Professional Kickboxing) Vacant 73kg Championship last February, but now has his sights set on winning on the biggest stage of his career thus far.
RIZIN.32 also features the return of Haruo Ochi (20-9-2) after nearly 2 years, since he fought Jared Brooks at RIZIN.18 - a bout that unfortunately ended in a no-contest after just 10 seconds. Since then, he has gone 1-2, losing his DEEP Strawweight Championship in his 3rd defense against Namiki Kawahara in August of last year, before winning against journeyman Kazuki Shibuya at DEEP 103 just 6 weeks ago. Tatsuya So (18-17-4) has put together one of the best stretches of his 39-fight career, going 5-2 in his last 7 bouts. The one-time Tenkaichi Fight Flyweight title challenger has faced the who's who of the Japanese MMA scene, and is carrying momentum to score perhaps his biggest win yet should he get past former DEEP champion Ochi.
Surging Lightweight contender Juri Ohara (28-17-3) makes his 2nd RIZIN appearance against Kohei Tokeshi (6-7). Ohara captured the DEEP Interim Lightweight Championship at DEEP 102 Impact 4 months ago, besting undefeated Ryota Oki for his first title as a professional. His last bout was a split decision victory at DEEP 103 Impact 6 weeks ago.over one of Japan's top lightweights, Sho Kogane - who had not lost in 11 bouts spanning 5 and a ½ years. His 5-fight win streak is the longest of his 48-fight career. Tokeshi is a Lethwei and Muay Thai professional who has main evented several events in 2021. His last MMA bout was in April 2017, where he was stopped by Kazuma Maruyama in the 1st round at Pancrase 286. He has faced fellow RIZIN veterans Suguru Nii and Takahiro Ashida - both of whom competed at the recent RIZIN.31 event.
Lastly, Shinya Kumazawa (9-10) welcomes Tanner Lourenco (0-0) to the world of MMA. The former Buyuden Lightweight Champion has not competed since January 2015 - marking a near 7-year hiatus for the 40-year-old. His career has taken several turns over the years; he made his amateur debut in May of 2001 against Hirotaka Tomiyama, and would rematch Tomiyama 18 months later. He would not make his professional debut until 2006, where he would start his career 4-0 in Pancrase. He would then go 4-8 over the next 5 years before returning to the amateur scene, going 4-1 from 2011-2014, where he won the THE OUTSIDER RINGS 70kg title before losing it in his first defense. His last bout was a heelhook victory over Iuri Messias to claim the aforementioned Buyuden title.
RENA vs. Miyuu Yamamoto
RENA
"It's been about a year since my last fight but I've been training hard and my confidence is growing. I feel that this rematch was destined to happen here, in Okinawa where it means so much for both of us. This fight will determine the direction of my final stretch of my career so I plan on a good performance not giving Miyuu a successful revenge."
Miyuu Yamamoto
"Okinawa is a very special place for me, a place where I started my MMA career with KID and Erson. I have many people here in Okinawa who I am proud to call family and I want to put a smile on their face. I think I've gotten much better than 5 years ago so I will get that revenge."
Mitsuhisa Sunabe vs. Yoshiro Maeda
Mitsuhisa Sunabe
"I made my professional debut 20 years ago. I fought PANCRASE fights in Okinawa and won 3 belts in the organization. I am here to finish off my accomplishments of fighting in the biggest organization in Japan, here in Okinawa. Yoshiro Maeda is a fighter who deserves respect and recognition. We've both fought in PANCRASE and plan to show you a fight where only we can show."
Yoshiro Maeda
"Sunabe and I fought when we first started, which was about 20 years ago, and now fighting him again after all these years makes me very excited. This fight will be a grand sum of my career. I will beat Sunabe and return to Osaka with a smile."
Tomohiro Adaniya vs. Yuichi Miyagi
Tomohiro Adaniya
"I'm very excited and honored to be fighting in RIZIN here in my home town Okinawa. Miyagi is one of the fighters who represent Okinawa and I've trained with him a few times but once in the ring all of that won't matter, I will beat him up with respect."
Yuichi Miyagi
"I've been fighting professionally for about 20 years, and now that I'm sitting here, I'm glad I have continued this long. I will throw everything at Adaniya to show what I've worked on all these years."
KOUZI vs. Kazuma Sone
KOUZI
"I started my own restaurant in Osaka so please come visit. I will send this half rich dumbass back to where he came from. I don't know who he borrowed that watch from but he's got to do better to own his own watch."
Kazuma Sone
"I was supposed to fight Kouzi way back. But he refused to fight me. I know he's started his own business lately, but I'm already beating him as an entrepreneur, and I plan to beat him in his own sport. I will send him to retirement without a win in RIZIN."
Beynoah vs. Daryl Lokoku
Beynoah
"Oss. I'm grateful to be back here in RIZIN. My regrets from my last fight are 1, that I didn't win and 2, I didn't receive my winner's Yogibo cushion. I am here to take what's mine. The day of the fight I will show everybody the oss. oss."
Daryl Lokoku
"GRACHAN fighters have not been doing so great in RIZIN. I am here to make a difference. "
Nissei vs. Aira Koga
Nissei
"I'm stoked that I can fight in Okinawa. I don't care who my opponent is, I will finish the fight and put on a show for my hometown fans."
Aira Koga
"I have been practicing Japanese Kempo since I was 5 years old. My goal is to become a world champion one day, and this fight in RIZIN is a great opportunity. I will show that I'm hungry and I want this win!"
Bobby Ologun vs. Katsuya Kitamura
Bobby Ologun
"I just found out who my opponent is. This guy is huge. Gagakibara got me a crazy opponent. When I fought bigger guys back in the day I had no idea what I was getting into. But hey, let's see who's got fake muscles in this fight."
Katsuya Kitamura
"I know Bobby is playing an act. He's smart and everything is planned. With that being said, I will not take him lightly and show you a heavyweight fight."
Katsumi Miyagi vs. Lopez Satsuma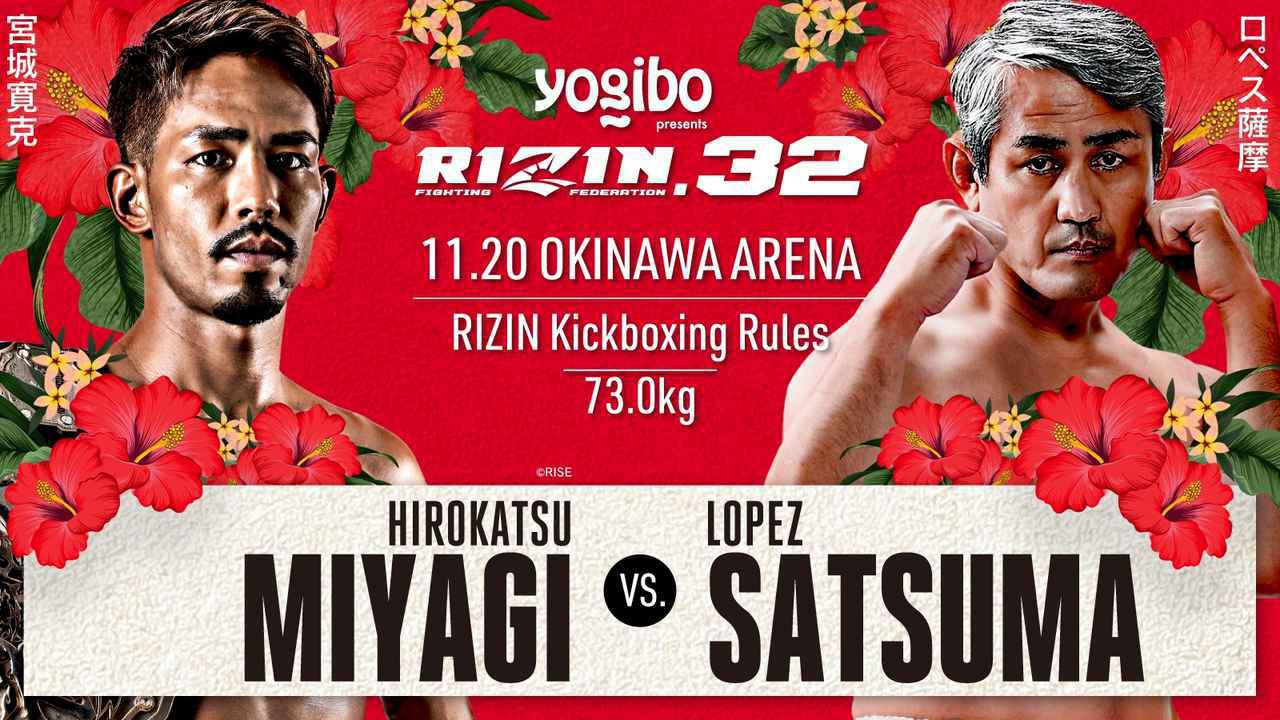 Katsumi Miyagi
"I did not expect RIZIN to do an event in Okinawa but I am very grateful to have gotten the offer to compete. I will put on a show for all of the fans!."
Lopez Satsuma
"I have returned to the ring at 46 years old, I plan to inspire all the old men sitting on their couches watching this fight. Oss."
Haruo Ochi vs. Tatsuya So
Haruo Ochi
"I'm extremely motivated to be fighting in RIZIN again. I know I am fighting a local fighter so this will be an away environment but I plan to disappoint everybody who is there to cheer for my opponent."
Tatsuya So
"I'm honored to be fighting such a great opponent on such a great stage. I plan to soccerball kick Ochi in the face and call out Sunabe, who has been dodging me for 7 years."
Kohei Tokeshi vs. Juri Ohara
Kohei Tokeshi
"I grew up here in Okinawa in a not so good neighborhood, moved to Tokyo and i'm back again because RIZIN is here. I think I'm the only one who can show a wild fight on this card. Look forward to my fight."
Juri Ohara
"I've won some fights after my win against Yachi and I do believe I have earned myself another shot in RIZIN. I promise to put on a fight the fans want to see."
Tanner Loureco vs. Shinya Kumasawa
Tanner Loureco
"I plan to put on an exciting performance especially because I'm a non Japanese fighter."
Shinya Kumasawa
"I will step into the ring as a true martial artist and show everybody the true strength of one."
Confirmed Bouts
RIZIN.32, Okinawa, November 20th
RENA vs Miyuu Yamamoto - 50kg MMA Rules
Nissei vs Aira Koga - 49kg MMA Rules
Tomohiro Adaniya vs Yuichi Miyagi - 52kg MMA Rules
Haruo Ochi vs Tatsuya So - 57kg MMA Rules
Yoshiro Maeda vs Mitsuhisa Sunabe - 58.5kg MMA Rules
Kouzi vs Kazuma Sone - 62kg Kickboxing Rules
'Black Panther' Beynoah vs Daryl Lokoku - 72kg MMA Rules
Juri Ohara vs Kohei Tokeji - 72kg MMA Rules
Hirokatsu Miyagi vs Lopez Tsatsuma - 73kg Kickboxing Rules
Shinya Kumasawa vs Tanner Lourenco - 74.0kg MMA Rules
Bobby Ologun vs Katsuya Kitamura - 120kg MMA Rules
RIZIN.32 will be broadcasted LIVE on SkyperfectTV, streamed on RIZIN LIVE PPV and Exciting RIZIN with Japanese commentary. International PPV with English commentary will be available on LIVENow. Doors are expected to open at 12:30PM with the Opening Ceremony at 2:00PM on November 20th (Sun) at the Okinawa Arena.
Follow RIZIN FF
Website - http://www.rizinff.com/
Facebook - https://www.facebook.com/rizinfightingfederation/
Twitter - @rizin_English
Twitter - @rizin_pr
Instagram – rizin_pr
TikTok – rizinffofficial
English News
【4/1(土)開催】 RIZIN.41 大会関連情報
【4/30(日)開催】 RIZIN LANDMARK 5 in YOYOGI 大会関連情報
【5/6(土)開催】 RIZIN.42 大会関連情報
おすすめコンテンツ