TOKYO – July 20th, RIZIN CEO Nobuyuki Sakakibara, held a press conference and announced updates about RIZIN.30 - the promotion's 4th event of the year. Kai Asakura gets Alan Yamaniha, Naoki Inoue faces Kintaro while Hiromasa Ougikubo takes on Takafumi Otsuka and Yuki Motoya colliding with Kenta Takizawa.
RIZIN CEO Nobuyuki Sakaibara opened the press conference with the following statement "We matched the fight where we won't have any rematches and have new, intriguing fights for the quarter finals of the Bantamweight GP. We will prepare the event to host 5,000 spectators at the moment and hopefully the government will allow us to open up the arena for additional spectators. The Tokyo Olympics will be held under tough situations and right now the media is not putting the spotlight on the athletes. We will support our fighters and do everything we need to put the spotlight on our fighters and tell their story." Pre-sales will be available to the fan club on July 26th.
The RIZIN Japan Bantamweight Grand Prix completed its round of 16 over the last 2 events, and has come to the Quarter Final stage. While fighters had the option to choose their slot in the bracket in the first round, matchups have been determined by the promotion for this round.
Former champion Kai Asakura (17-3) continues to pave his own path back to the title the long way, and will have to compete in his second non-title fight in his last 5 bouts. His 9-3 record puts him at 3rd all-time for wins in RIZIN history, as well as his 6 KO/TKO victories placing him 2nd all-time. His title aspirations will be on hold for at least 3 more fights. Asakura squares off against Alan Hiro Yamaniha (18-8). The Bonsai Gym product and Pancrase veteran is currently riding a 4-fight win streak, and has faced 5 other participants with mixed results; scoring wins over Kazuma Kuramoto in his last bout, Takeshi Kasugai and Kenta Takizawa, while losing to Shintaro Ishiwatari and Kintaro.
The Japanese prodigy and 2-time UFC veteran Naoki Inoue (16-2) has been on the rise ever since his RIZIN debut at RIZIN.21 in Hamamatsu. After an exciting technical back-and-forth scrap with the tough Trent Girdham, he scored back-to-back submission victories over fellow participants Shooto Watanabe and Yuki Motoya via his patented rear-naked choke (by which he earned 6 of his 10 submissions). Now, coming off of his first KO victory against his toughest test yet in longtime Pancrase Champion Shintaro Ishiwatari, Inoue is just 3 fights away from challenging Horiguchi. Kintaro (14-9) will stand across the ring against Inoue. The former Pancrase Bantamweight title challenger makes his 4th appearance in RIZIN, winning his first bout via first round submission and dropping a split decision to fellow participant Kenta Takizawa in his 2nd appearance last September at RIZIN.24, before scoring a unanimous decision against GRACHAN Champion, Kuya Ito in the opening round. He also holds a win over fellow participant, Alan Yamaniha.
Finding title success since his amateur career, Hiromasa Ougikubo (22-5) was introduced to the global MMA scene by earning a finalist appearance on The Ultimate Fighter 24: Tournament of Champions. Since then, he made 2 defenses of his Shooto World Bantamweight Championship, as well as scoring a 4-2 record in RIZIN, with both losses to champions Horiguchi and Asakura (the only 2 men to defeat him in the last 10 years). His bout against Takafumi Otsuka (29-18-2) is one of the few remaining dream matchups for the veteran Japanese fighters. The two-weight DEEP champion enjoyed a successful return to the RIZIN ring after a semi-final finish in the 2017 Bantamweight Grand Prix. He was riding a 3-fight win streak before dropping a decision loss for the Shooto 132lb Championship to fellow participant Ryo Okada in March; he is now 4-1 in his last 5 after his back-and-forth victory over SHIAN. He has not faced any of the remaining participants in the tournament.
The Pancrase Bantamweight title challenger Kenta Takizawa (12-7) brought his RIZIN record to a level 2-2, only dropping decisions to top contenders Ougikubo and Sasaki. He equaled Kyohei Hagiwara's record of 3 fights in 95 days after his NYE bout at RIZIN.26. With 8 of his career wins coming by KO and showcasing grappling competence against skilled submission specialists Ulka Sasaki and Masakazu Imanari, he will present a unique challenge for long-time JMMA veteran Yuki Motoya (28-9). Motoya, who surprised many in his bout against Okada with his striking gamelan, is a two-weight DEEP Champion. He holds a 5-4 (1NC) record in RIZIN, and has the only victory by Teepee choke in promotional history. He has faced 5 other participants, losing to Takeshi Kasugai, Hiromasa Ougikubo and Naoki Inoue, while managing to defeat Masakazu Imanari, Takafumi Otsuka and Ryo Okada.
Ayaka Hamasaki (22-3) was crowned RIZIN's first ever two-time champion after submitting top super atomweight Miyuu Yamamoto with a unique leg-scissors choke last New Year's Eve. The former Jewels and Invicta champion stands as the top super atomweight in the world having defended her belt at RIZIN.27 4 months ago, and she will take on Interim Pancrase Strawweight Champion Emi Fujino (25-11, 1NC) - a rematch nearly 10 years in the making.. Fujino is a 17-year veteran who has faced the who's who of WMMA, including household names such as Zhang Weili, Megumi Fujii, Mizuki Inoue and Yan Xiaonan. Fujino is 7-1 in her last 8, scoring 4 finishes and her sole loss coming from an eye injury sustained in the vacant title match for the Pancrase Strawweight Championship at Pancrase 298, 3 years ago.
Kai Asakura vs. Alan Hiro Yamaniha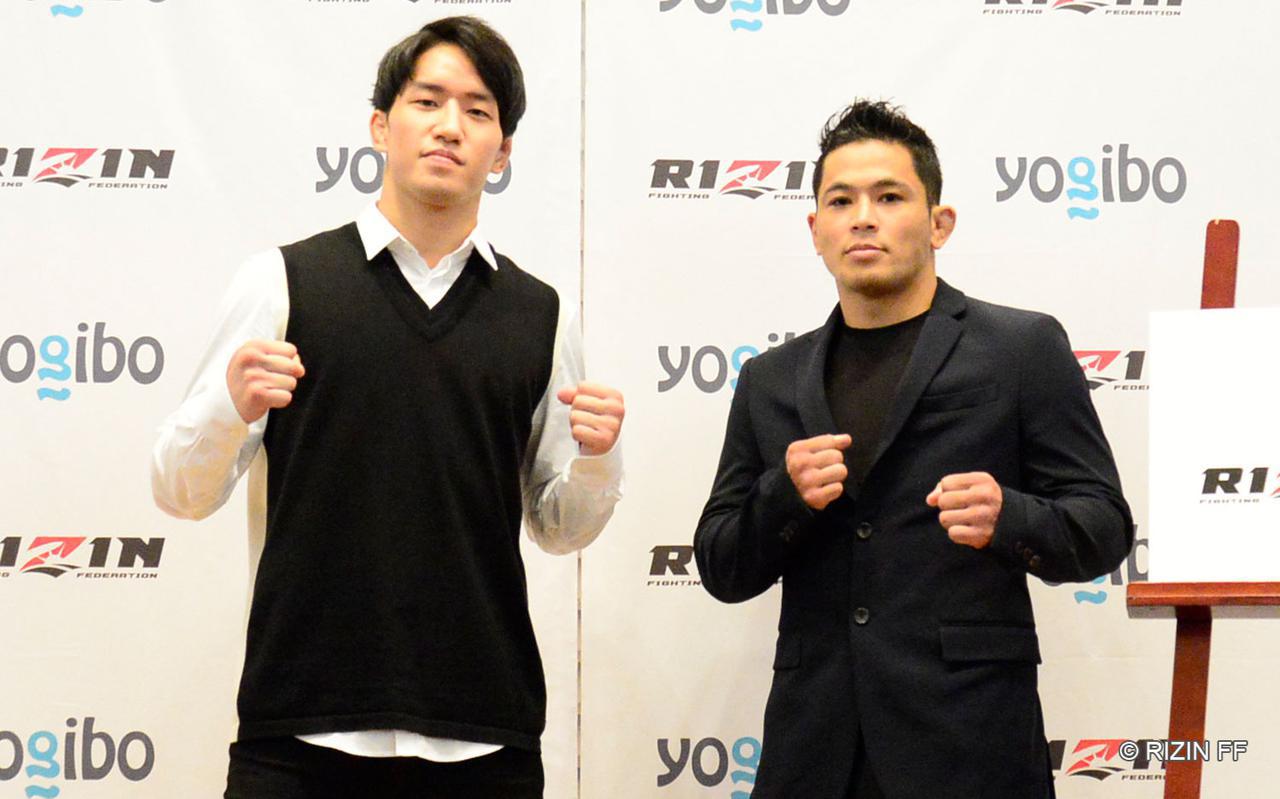 Kai Asakura
"Fighters from Bonsai are all tough and I respect them but the weakest of them all is barking so I plan to break his face and shut him up."
Alan Hiro Yamaniha
"I am very grateful for RIZIN. Kai Asakura has a great name but he's weak. Anybody who comes to threaten my Bonsai family, I will take them out. I would like to knock him out to protect my family."
Naoki Inoue vs. Kintaro
Naoki Inoue
"I will do my best to finish the fight and put on a performance. Thank you."
Kintaro
"I'm very excited to be fighting Inoue. There are people saying disrespectful things at the moment but I plan to go in there and take Inoue out."
Hiromasa Ougikubo vs. Takafumi Otsuka
Hiromasa Ougikubo
"My opponent is trying to talk smack, but the level of competition is not even close and I will prove it by beating you badly. In fact the winners from the Tokyo event and the winners from the Osaka event are not comparable. I think all 4 winners from the Tokyo event will face each other on NYE. "
Takafumi Otsuka
"Ougikubo's fights are boring as hell. I also fought a horrifically boring fight in my last fight. But I know I will get the finish in my next fight. You better be ready."
Yuki Motoya vs. Kenta Takizawa
Yuki Motoya
"Winning this fight is ordinary for me, and how I win is something I need to think about in order to please the spectators. Expect a good fight from me."
Kenta Takizawa
"My fight against Imanari raised a lot of voices but my next opponent is worthy enough to show all the skills I have. I plan to confuse him for 15 minutes with my Takizawa dance and if I get the chance I will go for the knockout."
Ayaka Hamasaki vs. Emi Fujino
Ayaka Hamasaki
"Last time we fought I beat her by decision. I'm glad that we got to meet again after 9 years. We will be fighting at a lower weight class this time and I appreciate her coming down. I have no plans of being friendly and I will finish the fight this time by knockout or a submission."
Emi Fujino
"I've fought Hamasaki back in 2012, since then we've trained together and had a good relationship. But for me I always want to fight tough opponents and Hamasaki is a fantastic opponent for me. I can visualize myself beating her, and I've been fighting at a heavier weight class against top competition so I know I will have the advantage there."
Long time veteran Shintaro Ishiwatari announces retirement.
Before the fight announcements were made, RIZIN Bantamweight and King of Pancrase Shintaro Ishiwatari appeared in front of the media to announce his retirement. "I have been sustaining damage to my body throughout my career, and my neck has not been the same for quite some time. I can no longer see myself competing against the top level fighters any more so I decided it is time to call it." said the 15 year veteran who has fought in numerous organizations in Japan from Shooto, Sengoku, VTJ, DEEP, Pancrase and RIZIN. When asked what his most memorable fight in his career was, the 36 year old replied, "I have to say it was the Horiguchi fights. I couldn't beat him. I couldn't overcome him. Everything would have been smooth if it wasn't for him." with a grin. Ishiwatari finished his statement by saying "I was confident when I was defending my title in Pancrase, but not too many people had access to my fights. Coming to RIZIN, I got the recognition and for many people to see my existence. I did everything I could to beat Inoue so I could continue to fight longer, but I ended up losing so that's it. I am grateful for just having this opportunity to announce my retirement like this in front of the media. Thank you." Sakakibara followed "We plan to hold some kind of a ceremony during our September 19th event at the Saitama Super Arena. I respect and appreciate Ishiwatari for showing how a true fighter acts and performs."
Shintaro Ishiwatari 36 years old. Made his professional debut in SHOOTO March 3rd, 2006. Faced the names such as Chan Sung Jung, Kyoji Horiguchi, Caol Uno, Johnathan Brookins, Rafael Silva and Victor Henry. Holds a 4-3 RIZIN record and an overall 26-9-4 record.
Confirmed Bouts
RIZIN. 30 - September 19th
Kai Asakura vs Alan Hiro Yamaniha- 61kg MMA Rules (RIZIN Bantamweight GP Quarterfinal)
Naoki Inoue vs Kintaro - 61kg MMA Rules (RIZIN Bantamweight GP Quarterfinal)
Hiromasa Ougikubo vs Takafumi Otsuka - 61kg MMA Rules (RIZIN Bantamweight GP Quarterfinal)
Kenta Takizawa vs Yuki Motoya - 61kg MMA Rules (RIZIN Bantamweight GP Quarterfinal)
Ayaka Hamasaki vs Emi Fujino - 49kg MMA Rules
RIZIN.30 will be broadcasted LIVE on SkyperfectTV, streamed on RIZIN LIVE PPV and Exciting RIZIN with Japanese commentary.
Doors are expected to open at 1:30PM with the Opening Ceremony at 3:30PM Won September 19th (Sun) at the Saitama Super Arena.
Follow RIZIN FF
Website - http://www.rizinff.com/
Facebook - https://www.facebook.com/rizinfightingfederation/
Twitter - @rizin_English
Twitter - @rizin_pr
Instagram – rizin_pr
TikTok – rizinffofficial
English News
RIZIN LANDMARK 6 in NAGOYA 大会関連情報
RIZIN LANDMARK 7 in Azerbaijan 大会関連情報
RIZIN.44 さいたま大会 大会関連情報
おすすめコンテンツ