Eevent trailer
English subtitles added to the RIZIN 22 and RIZIN 23 event trailer.
How to watch RIZIN.22 / RIZIN.23
This event will be available on the RIZIN original broadcasting platform RIZIN LIVE.
RIZIN LIVE gives you a special experience where it allows you to not only watch the excitement live, but also chat and send gifts(donation)during the event.
RIZIN LIVE Q&A
Q1. Where is this online LIVE broadcast?
A1. Please see link https://rizinff-live-eng.com/
Q2. Where can I purchase "Online LIVE watching ticket"?
A2. Available upon purchase on the day of the event by clicking the "Ticket" button on the RIZIN LIVE page.
Event price will be 5,500 yen including tax for each event.
Credit card registration is required before purchase.
*You can also purchase "Online LIVE watching ticket" by funding the "5,000 yen" opetion which includes "Online LIVE watching ticket" as the return on RIZIN croudfunding site.
URL:https://rizin-cloudfunding.lixve.jp/
*The website is Japanese only
Q3. Is the viewing environment all right indoors or outdoors?
A3. We do recommend streaming the event via Wi-Fi.
Q4. Will there be any archive in case I miss something?
A4. It is a live broadcast, so you cannot rewind. No archive will be available.
Q5. When watching online LIVE, is there a function to comment other than watching videos?
A5. You can chat and send purchased gifts. Credit card registration is required to purchase gifts. (Registration on the broadcasting platform is required.)
Q6. Is it possible to watch on TV?
A6. If you have a mirroring device, the event will be available to watch on the television screen.
Q7. Is it possible to watch from overseas?
A7. Yes.
Q8. What is the difference between free and paid viewing?
A8. Free viewing limits the experience to audio only. Paid viewing will give you the whole experience.
Q9. Where do I contact for inquiries?
A9. Please contact us at "support@rizin-live.com".
RIZIN.22 EVENT INFO
EVENT
RIZIN.22 - STARTING OVER -
Date
Aug 9, 2020 2:00PM(JST)
Venue
PIA ARENA MM
≫ Acces(Google Maps)
Promoted by
RIZIN FIGHTING FEDERATION
RIZIN.22 FIGHT ORDER
RIZIN.22 FIGHT CARD
RIZIN MMA Rules 71.0kg / 156.5lb
Yusuke Yachi vs. Roberto Satoshi Souza
Yachi who has heavy hands will be taking on the Jiu Jitsu specialist Roberto Souza. How Souza's adaption to MMA will be key on how this fight will go. Whoever enforces their fight to his opponent will most likely be able to dictate the entire fight. Striker vs Jiu Jitsu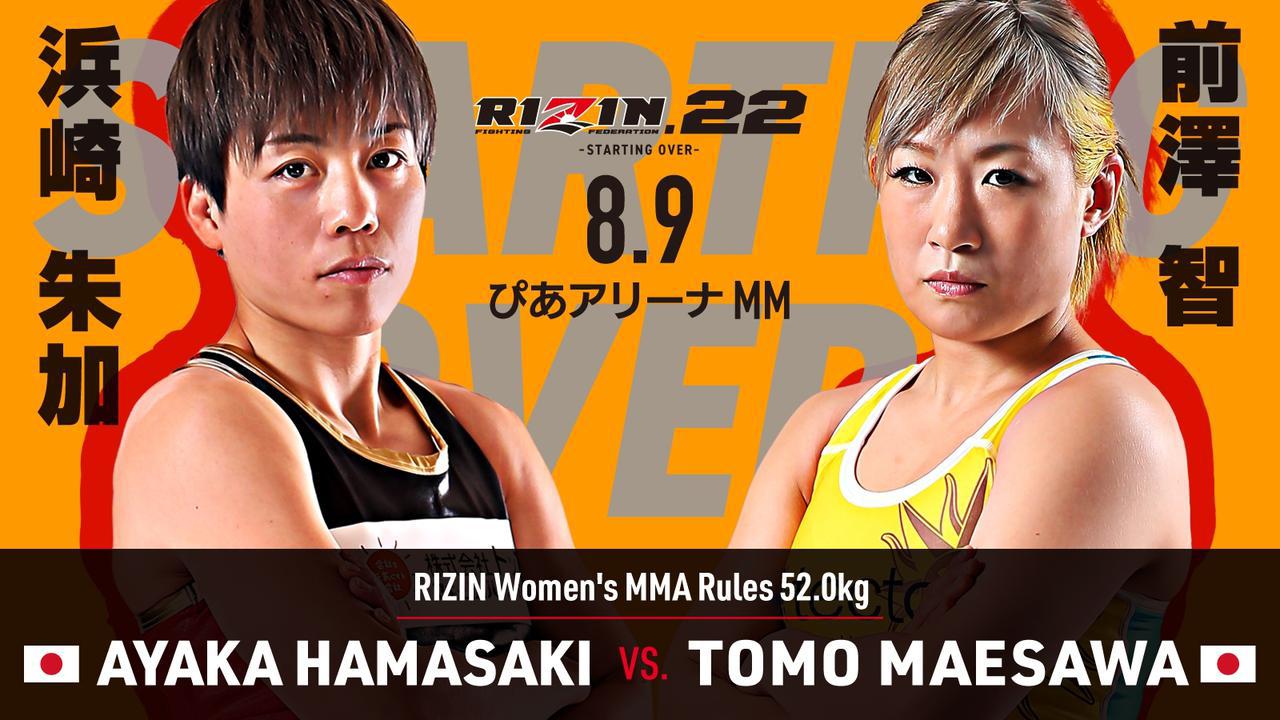 RIZIN Woman's MMA Rules 52.0kg / 114.6lb
Ayaka Hamasaki vs. Tomo Maesawa
Tomo Maesawa will be taking on the toughest challenge of her career. Ayaka Hamasaki has the overall skills to shut MAesawa down at any aspect, so Maesawa needs to come up with a solid game plan to squeeze out a win. Grappling with Hamasaki wouldn't be a wise choice.
RIZIN Woman's MMA Rules 49.0kg / 108.0lb
Kanna Asakura vs. Mizuki Furuse
Atomweight GP winner Kanna Asakura will be taking on a younger opponent for the first time of her career. Mizuki Furuse is a well rounded young prospect who comes in to finish fights. The fighter who comes out on top in the striking exchange will be able to dictate the fight.
RIZIN MMA Rules 61.0kg / 134.8lb
Naoki Inoue vs. Shooto Watanabe
Shooto Watanabe will be making his debut against Naoki Inoue. The grappler and is known for his signature "magical choke". Inoue has fewer fights, but has had quality competition and has better overall skills. Will Watanabe be able to make a statement or will Inoue reject him.
RIZIN Kickboxing Rules 56.0kg / 123.5lb
Rui Ebata vs. Seiki Ueyama
Rui Ebata will be taking on Shoot Boxing's Seiki Ueyama. Both fighters have incredible fight IQ and striking technique. This fight will be a fight that will require patience and precision. Expect high level technique exchanges and smart fighting from the two.
RIZIN Kickboxing Rules 50.8kg / 112.0lb
Nadaka Yoshinari vs. Yuushin
The 19 year old current Lumpinee and Rajadamnern Stadium Champion Yoshinari Nadaka will be making his first appearance in the RIZIN ring. His opponent is an 18 year old Yuushin. Don't miss the two highly skilled teenagers put on a a stand up clinic when they meet in the ring.
RIZIN MMA Rules 66.0kg / 145.5lb
Tetsuya Seki vs. Kouya Kanda
Due to Uchimura's injury, Koya Kanda has stepped in to fill the spot to face Tetsuya Seki. Kanda has a huge reach advantage and likes to throw precise strikes from outside. Seki likes to blitz in and throw big shots so the reach difference may not effect his style.
RIZIN MMA Rules 66.0kg / 145.5lb
Rikuto Shirakawa vs. Kyohei Hagiwara
2 brawlers will step into the RIZIN ring for guaranteed fireworks. Rikuto Shirakawa has been fighting in several promotions and has always brought pure violence. Hagiwara is known in the local circuit for his aggressive style and heart. No judges will be needed for this fight.
RIZIN MMA Rules 61.0kg / 134.8lb
Erson Yamamoto vs. Kenji Kato
Erson Yamamoto will be returning to the RIZIN ring after a 14 month hiatus. Kenji Kato will be looking to spoil the Yamamoto protege's return. If Erson brings his wrestling A game, Kato struggle. However if Kato can lure Erson into a slugfest, the fight could go either way.
RIZIN.23 EVENT INFO
EVENT
RIZIN.23 - CALLING OVER -
Date
Aug 10, 2020 2:00PM(JST)
Venue
PIA ARENA MM
≫ Acces(Google Maps)
Promoted by
RIZIN FIGHTING FEDERATION
RIZIN.23 FIGHT ORDER
RIZIN.23 FIGHT CARD
RIZIN MMA Rules 61.0kg / 134.8lb
Kai Asakura vs. Hiromasa Ougikubo
Kai Asakura earned fame by beating Horiguchi, and Ougikubo has earned his shot by going through wars with top contenders. Asakura has the power to finish the fight whenever and Ougikubo has the fight IQ to grind out a win. The fight between Striker and Grappler.
RIZIN MMA Rules 61.0kg / 134.8lb
Yuki Motoya vs. Uoi Fullswing
Motoya has overall better skills but Uoi has the power to beat any opponent in his division. Uoi will have a difficult time dealing with Motoya's creativity if the fight hits the mat. Uoi would like to lure Motoya into a slugfest where he can consistently throw bombs.
RIZIN MMA Rules 66.0kg / 145.5lb
Yutaka Saito vs. Kazumasa Majima
2 of Japan's most promising featherweight's will be meeting each other in the RIZIN ring. The well rounded Saito will be taking on the crafty Majima, who holds a 93% finish rate. The key of this fight will be who dictates the clinch once they tie up. A win is essential for both.
RIZIN Kickboxing Rules 61.0kg / 134.8lb
Kento Haraguchi vs. Taiga
Haraguchi and Taiga fought to a draw almost 2 years ago. Both fighters have evolved significantly since, and look to put on an equally exciting performance in Yokohama. The Haraguchi can adjust his distance while Taiga wants to keep the fight inside. Expect a fast pace fight.
RIZIN MMA Rules 66.0kg / 145.5lb
Kotetsu Boku vs. Jin Aoi
Boku has fought over 40 professional fights, and has put himself in world class competition for years. Jin Aoi is a hard hitting young prospect looking to make a name by beating the seasoned veteran. Age will be the factor in this fight, but for who. Experience or youth?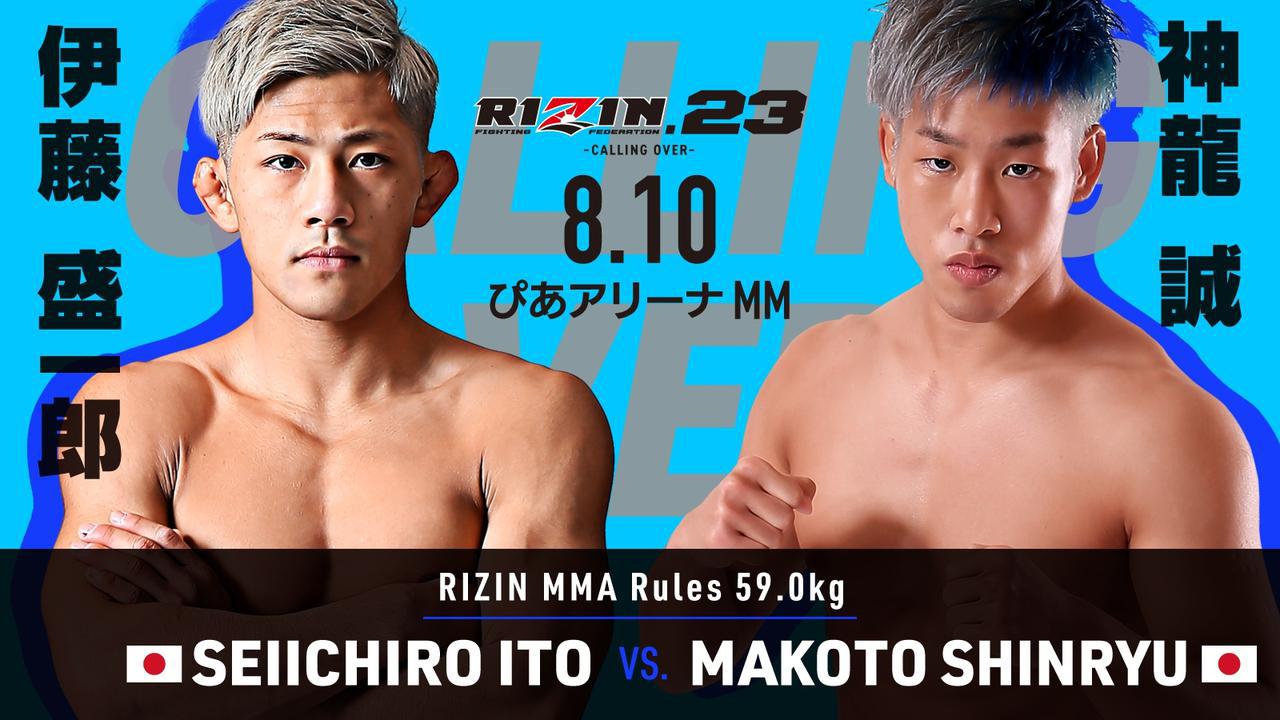 RIZIN MMA Rules 59.0kg / 130.1lb
Seiichiro Ito vs. Makoto Shinryu
ZST Champ and DEEP Champ Takahashi will be an action packed fight with tons of scrambles and exchanges. Ito has the speed and variations and Takahashi has the power and stability. If Ito can create scrambles without being held down, the fight will be full of fun moments.
RIZIN Kickboxing Rules 73.0kg / 160.9lb
Kaito vs. Daryl Lokoku
Kaito has fantastic fight IQ and the technique to back it up. Daryl has the significant core strength and power that can end the fight at any moment. Daryl wants to end the fight early before Kaito picks up the pace. Kaito wants to take his time to study his opponent.
RIZIN MMA Rules 58.0kg / 127.9lb
Yusaku Nakamura vs. Tatsuki Saomoto
Both fighters like to blitz into their opponent. Nakamura will blitz in a throw combinations while Saomoto will look for the takedown. whoever gets the upper hand of the blitz exchange will determine where the fight will take place. This will be a battle of keeping grounds.
RIZIN Kickboxing Rules 73.0kg / 160.9lb
Shintaro Matsukura vs. Koji Mori
Matsukura has the technique and power to beat anybody at his weightclass. Mori has a cannon of a left cross. Mori is a southpaw and Matsukura can switch which gives him more variations to attack. Look for the tense atmosphere turning into hard and explosive exchanges.