Tokyo - February 1st, RIZIN held a press conference to announce their opening schedule for 2023, including RIZIN.41, RIZIN LANDMARK 5 and RIZIN.42.
At the beginning of the press conference, CEO Sakakibara announced the annual event schedule for 2023. RIZIN.41, which will be held at Maruzen Intec Arena Osaka on Saturday, April 1, will be the opening round of RIZIN in 2023.
RIZIN LANDMARK 5 in YOYOGI will be held at Yoyogi 1st Gymnasium on Sunday, April 30th, and RIZIN.42 will be held at Ariake Arena on Saturday, May 6th.
It was also announced that 10 to 11 events will be held in this year, including the following, as a schedule after that.
2023 annual schedule (tentative)
| Month | Event name | venue |
| --- | --- | --- |
| 4/1 (Sat) | RIZIN.41 | Maruzen Intec Arena Osaka |
| 4/30 (Sun) | RIZIN LANDMARK 5 in YOYOGI | Yoyogi First Gymnasium |
| 5/6 (Sat) | RIZIN.42 | Ariake Arena |
| End of June | - | Hawaii or local city |
| End of July | - | Saitama Super Arena |
| The end of September | - | Saitama Super Arena |
| October | - | Dolphins Arena (Aichi Prefectural Gymnasium) |
| New Year's Eve | - | Saitama Super Arena |
After CEO Sakakibara finished explaining the announcement items, the seven players who have decided to participate in the RIZIN.41 Osaka event to be held on April 1st (Sat) took the stage. When everyone was seated, the match card decided this time was announced.
There were 5 MMA bouts in total. 2 flyweight matchups: Makoto Shinryu vs. Daichi Kitakata and Yusaku Nakamura vs. Mehman Mamedov. Kintaro vs. Koichi Ishiji at bantamweight, and Vugar Keramov vs. Yoshinori Horie at featherweight. Usami Sho Patrick's opponent is yet to be announced, which will be a lightweight bout.
In addition, it was announced that a kick 3 card was also decided, centering on fighters from local Osaka.
Kouzi vs Ryusei Ashizawa [TBD]
Then, CEO Sakakibara gave a separate explanation about the KOUZI who took the stage. "As a matter of course, KOUZI will also participate in the Osaka event, so we are currently adjusting the opponents and rules."
When CEO Sakakibara revealed that KOUZI Sakakibara had a leg injury in relation to the many matches that followed boxing rules last year, KOUZI immediately interrupted the discussion. "Bring on Ashizawa. Where the hell is the catfish faced idiot? He came into my turf and he's demanding rules? Whatever I will do whatever he wants. He's asking for MMA rules but that will end up being a lame MMA fight. Let's do what we do best and throw down you piece of sh** fish faced bum. I have many followers and supporters from my K-1 days so I want to meet their expectations. I mentioned Ashizawa but he's weak as hell. You can hit his face and he'll go down. I have no interest in fighting him but if that's what sells, I'll fight him."
In response to this, CEO Sakakibara once again said that the match between Koji and Ashizawa would be "adjusted, including rules and weight, and we would like to make an official announcement soon so that both can be present."
On New Year's Eve, KOUZI and Ryuusei Ashizawa, who met in the RIZIN ring, will face each other under what rules? Will they meet again at the next press conference?!
Shinryu Makoto vs Daichi Kitakata [57kg - RIZIN MMA rules]
DEEP flyweight unified champion and CFFC flyweight champion Makoto Shinryu will face the 2nd PANCRASE strawweight champion Kitakata Daichi. Shinryu took the microphone and greeted the RIZIN fans, saying, "I'm Makoto Shinryu, the strongest flyweight in Japan!" He continued, "Kitakata is a top fighter in Japan and is definitely not a pushover. But I'm aiming to be the best in the World and I have no time to waste against this opponent. Kitakata has got a strong heart and he constantly comes forward but that's it."
On the other hand, Kitakata declared that he will fight in the flyweight division in earnest from this time, and said, "My goal is to beat Kyoji Horiguchi, the strongest man in Japanese MMA," he said. "I will be fighting at Flyweight from now on. And I believe that Shinryu is the number 2 Flyweight in Japan. This will be a tough fight but I look forward to taking on everybody in a new division. Shinryu has a big mouth but he has what it takes to talk. He needs to learn some respect though."
Vugar Keramov vs Yoshinori Horie [66kg - RIZIN MMA rules]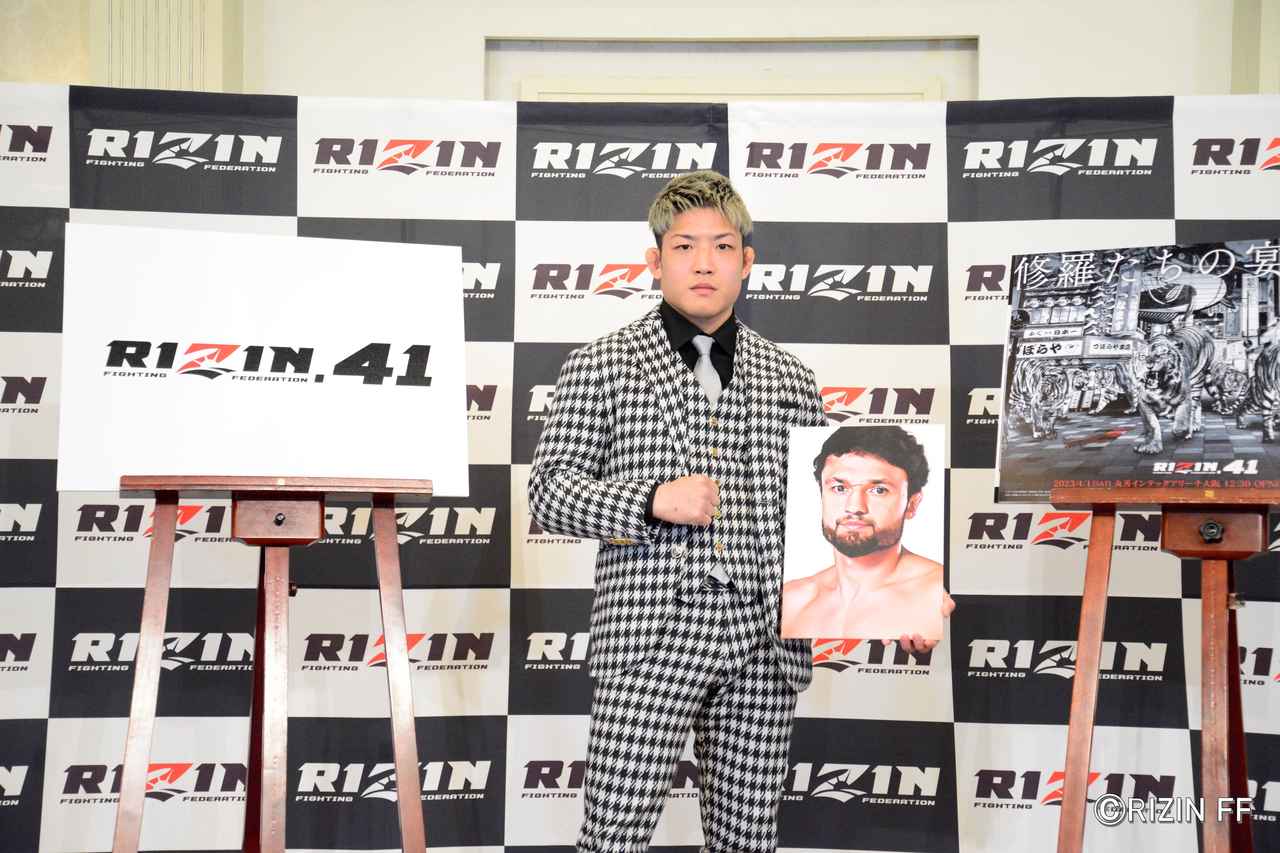 From the featherweight division, where the champion was replaced in October last year, it was decided to play against Yoshinori Horie, who will return for the first time in about a year, and Vugar Keramov, who will also return from injury.
Horie, who attended the press conference for the first time in a while, held the mic and said, "I'm very excited to be getting the opponent I want the most. I will go in there and show 100%. Keramov, come at me and try to kill me because I'm going to do the same."
Keramov said, "Hi, I'm excited to come back to Japan. I am fully recovered and cannot wait to show everybody my fighting skills. I will beat my opponent and go after the title this year."
Kintaro vs Kouji Ishizuka [61kg - RIZIN MMA rules]
RIZIN bantamweight current champion Kyoji Horiguchi has switched to flyweight, and from the bantamweight division, where the top front has been intensified again, a match between DEEP champion Koichi Ishizuka and Kintaro has been decided.
Kintaro commented, "It's been a while since I've last fought in Osaka, but I will show my hometown who's boss. He's durable and gritty - that's all I know about my opponent"
Ishizuka said, "This is my first match at RIZIN, and I'm very happy that I was able to face a wonderful opponent like Kintaro from the beginning." He added, "I would like to do my best to prepare well and show a good match."
Usami Patrick vs TBD [71kg - RIZIN MMA rules]
Regarding Sho Patrick Usami, who has been announced to fight without an opponent this time, CEO Sakakibara said, "Actually, we were planning to announce (the match card) with the foreign fighter today, but just before that, the foreign fighter said, 'Usami is too strong.' and declined."
In response to this, Usami said, "I was told that the opponent had turned down the fight, but Mr. Sakakibara, please make sure to sign a strong foreigner. I would like to prove myself, so please do your best!" Usami's opponent will be adjusted again and will be announced at a later date.
Other additional cards from the RIZIN.41 Osaka event, as well as cards from two events, April 30(Sunday) RIZIN LANDMARK 5 and May 6 (Saturday) RIZIN.42, will be finalized to be announced in late February.
Confirmed Bouts
RIZIN.41 - Maruzen Intec Arena, Osaka, April 1st
Kouzi vs Ryusei Ashizawa [TBD]
Usami Patrick vs TBD [71kg - RIZIN MMA rules]
Kintaro vs Kouji Ishizuka [61kg - RIZIN MMA rules]
Vugar Keramov vs Yoshinori Horie [66kg - RIZIN MMA rules]
Yusaku Nakamura vs Mehman Mamedov [57kg - RIZIN MMA rules]
Shinryu Makoto vs Daichi Kitakata [57kg - RIZIN MMA rules]
Shun vs Motoki [61kg - RIZIN Kickboxing rules]
SHINGEKI no YUUKI vs Sota "Cerberus" Kimura [66.5kg - RIZIN Kickboxing rules]
Asataro vs Shin Sakurai [57.5kg - RIZIN Kickboxing rules]
Follow RIZIN FF
Website - http://www.rizinff.com/
Facebook - https://www.facebook.com/rizinfightingfederation/
Twitter - @rizin_English
Twitter - @rizin_pr
Instagram – rizin_pr
TikTok – rizinffofficial
English News
【6/24(土)】RIZIN.43北海道大会 大会関連情報
【7/30(日)】超RIZIN.2 powered by U-NEXT 大会関連情報
【5/6(土)】RIZIN.42有明アリーナ 大会関連情報
【4/29(祝・土)】RIZIN LANDMARK 5 in YOYOGI 大会関連情報
おすすめコンテンツ