RIZIN.37 announces the 2022 Super Atomweight Grand Prix, with 4 international fighters.
RIZIN.37 announces the 2022 Super Atomweight Grand Prix, with 4 international fighters. Marcos Yoshio Souza returns against domestic champion Daichi Abe. Sora Yamamoto steps in to face Karanov as Shirakawa withdraws due to injury.
Tokyo – July 7th, RIZIN CEO Nobuyuki Sakakibara, held a press conference and announced updates about RIZIN.37 - the promotion's eight event of the year.
Six of Sherdog's top-10 Atomweights will compete against one another to determine once again who is the world's finest at 108lbs, along with a handsome prize of \7,000,000 for 1st place and \3,000,000 2nd place. CEO Sakakibara stated that he "is proud to have the highest level in the world in this division", and announced some changes to the card. "Shirakawa tore his bicep and is out. Sora Yamamoto will step in to face Vugar Karamov. Sora wasn't happy with his past performance in Okinawa and wanted a fight to redeem himself." The opening round will be held on July 31st, Semi Finals in September, Finals on New Years Eve. Further elaborating on the schedule, Sakakibara stated "The semi finals will take place at the end of September. Finals on NYE. We will not hold 2 fights in 1 fight this time. The way of Semi finals matchups are not determined yet."
RENA (12-4, 11-3 RIZIN FF) vs. Anastasiya Svetkivska (2-0, 0-0 RIZIN FF) 49kg MMA
RENA is the 4-time Shoot Boxing Girls S-Cup Champion, 2017 RIZIN Super Atomweight Grand Prix finalist and carries a 35-5-1 (11 KOs) combined kickboxing and shoot-boxing record. The 14-fight RIZIN veteran carries a 11-3 record under Japan's premier banner, with 9 stoppages and is 5-1 in her last 6 bouts. She lost a competitive back-and-forth decision to fellow participant, Si Woo Park in her last outing at RIZIN.33. Anastasiya Svetkivska is the 2019 IMMAF World Championships Gold Medalist, representing her native Ukraine. She put together an amatuer record of 8-1, including wins over the then 8-0 Colleen Augustin of Malaysia, and former HEX Strawweight Champion Olivia Ukmar of Australia. Since turning pro just 8 months ago, she has scored 2 first-round stoppage wins in Ukraine. Her strong amateur pedigree coupled with her lightning fast start as a pro should be sure to turn heads in her RIZIN debut.
Kanna Asakura (19-6, 10-5 RIZIN FF) vs. Si Woo Park (7-4, 1-0 RIZIN FF) 49kg MMA
Asakura is the 2017 Super Atomweight Grand Prix winner and two-time title challenger. Both of her title attempts came against two-time champion, Ayaka Hamasaki, with the second being an all-time classic battle. Now, after taking home a unanimous decision victory over Shooto Atomweight Champion Sarami at RIZIN.35 3 months ago, she has her sights set on claiming her second Grand Prix championship. Si Woo Park is the 2021 DEEP Atomweight Grand Prix Semifinalist. After starting her career 0-2, she put together a 5-fight win streak, notably defeating former DEEP JEWELS Strawweight Champion Emi Tomimatsu and DEEP JEWELS Microweight Champion & Atomweight Grand Prix Champion Saori Oshima. Despite coming up short in a rematch against recent RIZIN debutant Oshima in the aforementioned grand prix, she remains a top contender in the division, only losing to Oshima and Seika Izawa in her last 7 bouts. She also challenged Panchan Rina in a kickboxing match at REBELS 61 in June 2019, dropping a unanimous decision in her sole kickboxing match. She won her RIZIN debut at RIZIN.33 with a decision victory over RENA.
Ayaka Hamasaki (23-5, 9-3 RIZIN FF) vs. Jessica Aguilar (20-9, 0-0 RIZIN FF) 49kg MMA
The two-time Super Atomweight Champion is coming off of back-to-back losses for the first time in her career. Scoring 4 straight wins following her split decision loss to Seo Hee Ham at RIZIN.20, reclaiming her title and making one defense, her pair of matches against Seika Izawa potentially signaled a changing of the guard at 49kg. However, she has not wasted any time and jumps straight back into the deep end of the division, taking on former WSOF Strawweight Champion and 5-fight UFC veteran Jessica Aguilar. Aguilar, who holds 2 wins over JMMA legend and Hamasaki's mentor Megumi Fujii as well as a win over current UFC Strawweight Champion Carla Esparza, returns to Japan for just the second time in her career - last appearing at Vale Tudo Japan 3rd in 2013. Despite being in the twilight of her 16-year career, she looks to make a glorious run for another major world title.
Seika Izawa (6-0, 2-0 RIZIN FF) vs. Laura Fontoura (7-0, 0-0 RIZIN FF) 49kg MMA
RIZIN Super Atomweight Champion Seika Izawa has enjoyed a meteoric rise. At just 4-0, she finished one of the greatest pound-for-pound female fighters ever in two-time champion Ayaka Hamasaki in her debut at RIZIN.33. She would go on to repeat this feat just 4 months later at RIZIN.35, officially laying claim to the belt after their first fight being a non-title affair. Now, she takes on international competition for just the second time in her young career. Laura Fontoura is the PAWFC Strawweight Champion, winning the title this past January against RIZIN alum Andy Nguyen by 4th round armbar. With a stellar 7-0 record that has seen her score multiple sub-minute finishes, the 21-year-old Brazilian will look to shake up RIZIN's super atomweight division against the newly crowned queen.
Marcos Yoshio Souza (9-2, 1-1 RIZIN FF) vs. Daichi Abe (10-5, 1-1 RIZIN FF) 80kg MMA
In a battle of domestic champions, Former Real Welterweight Champion and elder brother of RIZIN Lightweight Champion Roberto, Marcos Souza takes on DEEP Interim Welterweight Champion and former Pancrase Welterweight Champion Daichi Abe. Both fighters came up short in their promotional debuts, but for different reasons. Marcos took on Japan's top welterweight in Keitaro Nakamura, and Abe depleted himself to fight Akira at lightweight. Now meeting at a catchweight, both fighters are eager to score their 2nd win in the RIZIN ring.
Vugar Karamov (16-4, 2-1 RIZIN FF) vs. Sora Yamamoto (16-6-2, 3-1 RIZIN FF) 66kg MMA
Tofiq Musayev's stablemate Karamov is a true well-rounded finisher, he has won 6 bouts by KO/TKO and 7 bouts by submission. After losing a controversial split decision to former champion, Yutaka Saito, the competitiveness of the bout elevated the Azerbaijani fighter's profile in the division. He was able to return to the RIZIN ring in 2022 with a lightning quick submission over Pancrase Interim Bantamweight Champion Taichi Nakajima at RIZIN.35 in April. With just one loss in the last 8 years and a 12-1 record in that time, Karamov remains a top contender in RIZIN's ever-growing featherweight division. Fighting NEXUS Featherweight Champion Yamamoto is 9-1 in his last 10 bouts. Despite losing his promotional debut at RIZIN TRIGGER 1st last November to Chihiro Suzuki, Yamamoto has since won 3 straight, with a 35-second KO win over Suguru Nii at RIZIN TRIGGER 2nd, a close decision win over veteran and fan-favorite Daisuke Nakamura, and most recently, a decision win against Guam's Kyle Aguon.
Johnny Case (27-8-1, 3-2 RIZIN FF) vs. Koji Takeda (16-3, 3-3 RIZIN FF) 66kg MMA
Case returned from his near 2 and ½ year layoff to face the inaugural and defending Lightweight Champion, Roberto Satoshi Souza, whom he defeated in the Lightweight Grand Prix quarterfinals in October of 2019. He was handed his second loss in the promotion, and just his second loss in the last 4 years. After enjoying a 3-fight win streak (all by finish) to start his RIZIN career off, he now faces the possibility of a 3-fight losing streak if he is unable to overcome his next opponent, former DEEP Lightweight Champion Koji Takeda. Takeda will be making his 7th appearance under Japan's premier banner. With a hat trick of wins over newly promoted DEEP Lightweight champion Juri Ohara and a win over fellow domestic champion in Pancrase's Takasuke Kume at RIZIN.27, the 26 year old is firmly at the top of the division. He scored his first finish in RIZIN at RIZIN.33 against Beynoah with a 2nd round armbar. Despite coming up short in his last bout at RIZIN.35 against Spike Carlyle, a win against Case puts him right back into the mix for a title shot.
Comment
RENA
"The original plan was a 8 woman domestic tournament but I was not interested. But now that the borders are opening up I decided to participate. I want to beat Izawa. Hamasaki is my teammate so I have no intentions of fighting her. But now that Izawa is the Champion, I would want to face her. I believe that I'm the only one who can beat Izawa. I will only fight Hamasaki if it's in the finals. I'm obligated to put on fun fights and get the finish."
Anastasiya Svetkivska
"Hello everyone, my name is Anastasiya and I'm from Ukraine. On the 31st of July, you will see my debut in the RIZIN organization. It doesn't matter who I'll fight, because I'm absolutely confident in my abilities and training. You will have a chance to see a spectacular fight from me, and to witness my spectacular victory. See you in RIZIN!"
Kanna Asakura
"This will be my second time participating in the GP. Despite the result of the last GP, I haven't been performing great recently. I will do my best to beat Park, and aim for the second win of the GP. I've trained with Park for my previous fight so I have mixed feelings. But we both know our strengths and weaknesses and now that the fight is confirmed, my job is to do my best and get the win. The level of competition is very high so I will like to show my new style."
Si Woo Park
"It's an honor to be able to show my performance on the best stage again. I will become the new star after this tournament. My opponent has a lot of experience, and is a nice person in general. I hope to put on a great match with her on July 31st."
Ayaka Hamasaki
"I was supposed to fight Jessica 11 years ago but it didn't happen because of the Earthquake. I feel destiny that this fight is happening after all of these years. I never thought this fight would happen after how it got canceled, but now that it's happening I am motivated and will do my best to get the win. I have been communicating with Fujii Megumi and we have some game plans and will work on them for the remaining days. I prefer not to fight Rena but if it happens I will beat her.This tournament has a lot of global competitors. My job is to put on exciting fights and get the finish."
Jessica Aguilar
"I am honored to be able to fight in Japan again, and on the biggest stage, RIZIN. I'm excited to be fighting Ayaka Hamasaki who is one of the best in the world. Because I am always wanting to face the best.."
Seika Izawa
"I'm grateful to be participating in such a fun tournament. I will win this all and raise the popularity of women's MMA in Japan. If that [RENA] fight happens, I will do my best to beat her. My opponent is a good jiu jitsu fighter and can finish fights. I will work hard and try to get a finish from her. I want to show that women have great technique and can put on fun fights."
Laura Fontoura
"My opponent, Seika Izawa, is undefeated and motivated to win, but I am more determined to win. Ever since the match has been confirmed, I have spent every day imagining how I will win. I am honored to be in this Grand Prix and I am excited about the opportunity to show the world what I can do. I will not miss this chance to become a champion and leave my name in the history books."
Marcos Yoshio Souza
"I am grateful to be able to fight on the RIZIN stage for the first time in a long time and am very much looking forward to it. I'm preparing myself to be at my best physically and mentaly. We respect Ave and hope to put on a fight that brings out the best of both of us."
Daichi Abe
"I would like to thank Marcos for taking this fight. He seems to be a good grappler but I have a Judo background and I will show him some decisive moves. I will teach him the samba of martial arts. I will bring the Rio Carnival with Marcos in this fight with Marcos."
Vugar Karamov
"I'm excited to show my skills in Japan once again. I will show no mercy against my opponent."
Sora Yamamoto
"I didn't expect to get another international opponent so soon. I wasn't able to show my true ability in my last fight so I will make a clear statement this time. I will show what I couldn't show in my last fight so look forward to my fight."
Koji Takeda
"Hi RIZIN fans! I will be fighting on the July 31st card. Although it was a short period of time, I trained abroad and have been ready for a fight. I will be facing another world class opponent. This is what I have been wanting so I am happy for this opportunity. I appreciate your support. Tan is power."
Johnny Case
"I'm so happy to be back fighting in Tokyo on such an incredible card with Rizin 37. My opponent (Koji Takeda) is a warrior as tough as they come and holds wins over some of the toughest players in the game. We are both fighting back from a loss and I know that he is going to bring the fight in every aspect. That being said, I'm really looking forward to the match up and it will be an honor to share the ring with him."
RIZIN.37 announces 7 bouts. Japan Bantamweight Grand Prix Semifinalists Inoue and Takizawa meet
RIZIN.37 announces 7 bouts. Japan Bantamweight Grand Prix Semifinalists Inoue and Takizawa meet. Sasaki welcomes fresh blood into RIZIN's featherweight division. JMMA veteran Tokoro returns against DEEP Flyweight Champ Takahashi. Sekine and Sudario clash in an exciting heavyweight tilt.
Tokyo – June 24th, RIZIN CEO Nobuyuki Sakakibara, held a press conference and announced updates about RIZIN.37 - the promotion's eight event of the year.
Naoki Inoue (15-3, 5-1 RIZIN FF) vs Kenta Takizawa (13-8, 3-3 RIZIN FF) 61kg MMA
Before suffering his first loss in nearly 3 years, many fans felt that Inoue was the favorite against eventual Grand Prix Champion Hiromasa Ougikubo. A gritty performance from the veteran ended Inoue's 5-fight win streak; the 4th-longest in promotional history. A lightning-fast stoppage victory that sent his handpicked opponent and JMMA legend Shintaro Ishiwatari into retirement followed by a slick performance against 25-fight veteran and Pancrase title challenger Kintaro colored Inoue's Grand Prix run for an eventual showdown with former champion and fan-favorite, Kai Asakura. That fight may still yet happen, should Inoue get past fellow semifinalist Kenta Takizawa. Takizawa comes in as the underdog, but is also coming off of two of the better performances of his career, stopping Yuki Motoya in half a round at RIZIN.30 and going toe-to-toe with divisional elite Asakura in the semifinal at RIZIN.33. The former Pancrase title challenger looks to seal the biggest win of his career and set up a potential rematch with either Asakura or Ougikubo.
Ulka Sasaki (23-10-2, 2-4 RIZIN FF) vs Yoshiki Nakahara (15-5, 0-0 RIZIN FF) 66kg MMA
Two-time Shooto champion Sasaki makes his 3rd appearance at 66kg after coming up short in his first 2 bouts against Yoshinori Horie and an exhilarating clash against top contender Kleber Koike. Former GLADIATOR Featherweight Champion Nakahara is 10-1 in his last 11 bouts, and notably defeated former DEEP Featherweight Champion Hiroto Uesako in his pro debut back in November 2012. With 9 finishes and 7 by KO (4 in the 1st round) against 12 of Sasaki's 23 wins coming by submission (11 by rear-naked choke), this will be a striker vs grappler matchup between two of Japan's finest talents at 66kg. Their career trajectories have been going in completely different directions. Sasaki is 5-9 in his last 14 outings, failing to put together 2-straight wins since 2014, meanwhile Nakahara is 11-3 in the same timeframe,
Yuki Motoya (30-10, 7-5 1NC RIZIN FF) vs Shinobu Ota (2-1, 2-1 RIZIN FF) 61kg MMA
Two-weight DEEP Champion Yuki Motoya kicked off 2022 with a solid showing in a unanimous decision win over Alan Yamaniha at RIZIN.35 2 months ago. Coming into the best stretch of his RIZIN career (5-2 in last 7 since August 2020), he looks to put together his first ever 3-fight win streak against Olympian and Silver Medalist Shinobu Ota. Shinobu Ota's credentials as a wrestler is unparalleled by any current mixed martial artist. The 2016 Olympic Games Wrestling Silver Medalist, 2018 Asian Games Wrestling Gold Medalist, and 2019 World Championships Wrestling Gold Medalist has had a rocky start to his MMA career. A submission loss to 67-fight veteran and 2011 DREAM Bantamweight GP Champion Hideo Tokoro in his debut followed by a labored unanimous decision victory over multiple time K-1 Champion Yuta Kubo. He was finally able to put all of his tools together in a dominant stoppage victory over 46-fight veteran and domestic champion Kazuma Sone last New Years at RIZIN.33. Now, he will stand across the ring against another JMMA veteran and domestic champion in Yuki Motoya. Can Motoya score his 8th win in RIZIN (moving into 3rd all-time in company history), or will Ota prove to be another contender in his Bantamweight debut?
YUSHI (1-1, 1-1 RIZIN FF) vs HARUKI (0-0, 0-0 RIZIN FF) 62kg Challenge Rules
YUSHI, is an amateur kickboxing tournament winner who holds a 8-7-1 amateur kickboxing record and has also competed in several body building tournaments in Japan. Despite coming up short in his RIZIN and MMA debut, he turned out a fantastic KO at RIZIN Landmark Vol.3 last month against ZENKI. HARUKI holds a 12-3 amateur kickboxing record with 7 knockouts, and is also has a background as a host club worker like his opponent. This fight will be held under RIZIN CHALLENGE RULES which consists of 3 rounds x 3 minutes, No face stomps and knees to the head of a grounded opponent. Elbows and soccer ball kicks will be allowed.
Hideki Sekine (12-5, 2-1 RIZIN FF) vs Tsuyoshi Sudario (4-1, 4-1 RIZIN FF) 120kg MMA
Sekine started his career 7-0 before suffering his first defeat against Brandon Vera for the ONE Championship Heavyweight title. Since then, he endured mixed results but was able to put together a 3-fight win streak beginning in 2021 - including an upset victory over Shoma Shibisai at RIZIN.33. In his last bout, he defeated Tsuyoshi Sudario's twin brother and MMA debutant, Satoshi Kamiyama, aka 'Takakenshin'. Sudario looks to take revenge on behalf of his twin after 8 months of inactivity - the longest of his nearly 2-year career.
Kota Miura (1-0, 1-0 RIZIN FF) vs Felipe Masoni (9-4, 0-0 RIZIN FF) 66kg MMA
The match that was supposed to materialize last month finally comes to fruition. The son of Japanese super star Kazuyoshi Miura, who holds the longest career in soccer and the oldest player ever in a football match in the highest national division worldwide, Miura will be making his second RIZIN appearance - this time under full MMA rules against an international opponent. Miura has been training kickboxing for about 3 years and has recently joined Olympic wrestler and MMA veteran Kazuyuki Miyata's team to pursue his passion for MMA. Felipe Masoni is the Serbian Battle Championship lightweight title challenger, and has 6 wins by stoppage. He returns to MMA after a 3-year hiatus and will prove to be a major step-up in competition for the young Miura.
Hideo Tokoro (35-30-2, 3-2 RIZIN FF) vs Makoto Takahashi (13-1-1, 1-0 RIZIN FF) 57kg MMA
44-year-old Tokoro debuted in September of 2000. A natural flyweight, he has competed against opponents weighing as much as 88kg (194lbs). However, the DREAM Bantamweight Grand Prix Champion is no stranger to facing young up-and-comers, and Takahashi should prove to be a solid test for the 22-year, 67-fight veteran. Makoto 'Shinryu' Takahashi the DEEP Flyweight Champion, winning the interim title in June of 2019, and unifying the crown in his last bout at DEEP 107 last month over interim champion Yamato Fujita. This will certainly be the 21-year-old's biggest test to date in his second RIZIN appearance, and he looks to send shockwaves through RIZIN's flyweight division with an upset over the veteran Tokoro.
Comment
Kenta Takizawa
"Wait for that moment to see Inoue going down hard."
Naoki Inoue
"I'm currently living in New York but I plan to finalize my fight camp in Japan."
Ulka Sasaki
"I hope to continue the momentum in the fight industry. Please watch the event in any way you can."
Yuki Nakahara
"I'm happy to be able to fight in RIZIN. I will do my best to put on a great performance."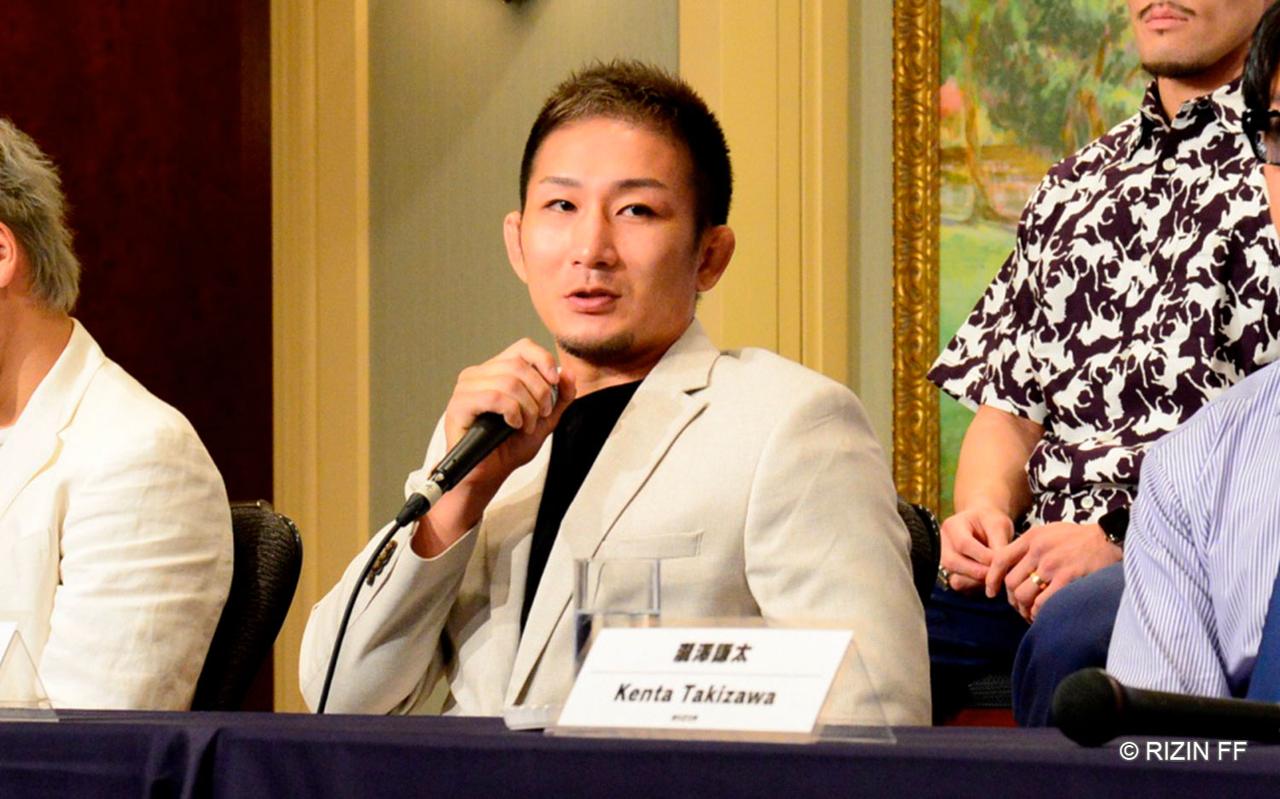 Yuki Motoya
"I've trained with him before, and I think he's become much better but I will get the win in the end."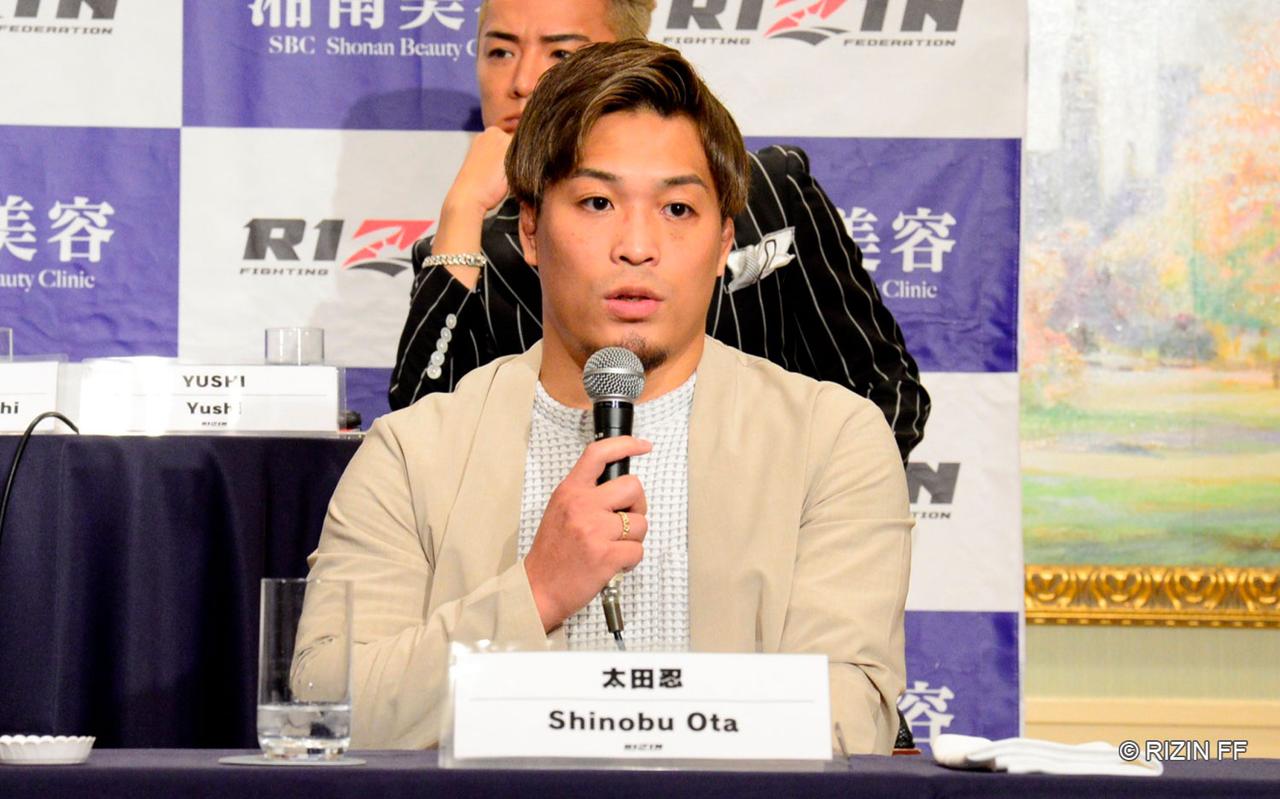 Shinobu Ota
"I've trained with him before but I want to show him that I'm a different fighter now. I think a win in this fight will get me in line to compete against the top guys in the organization so I will dominate him with respect."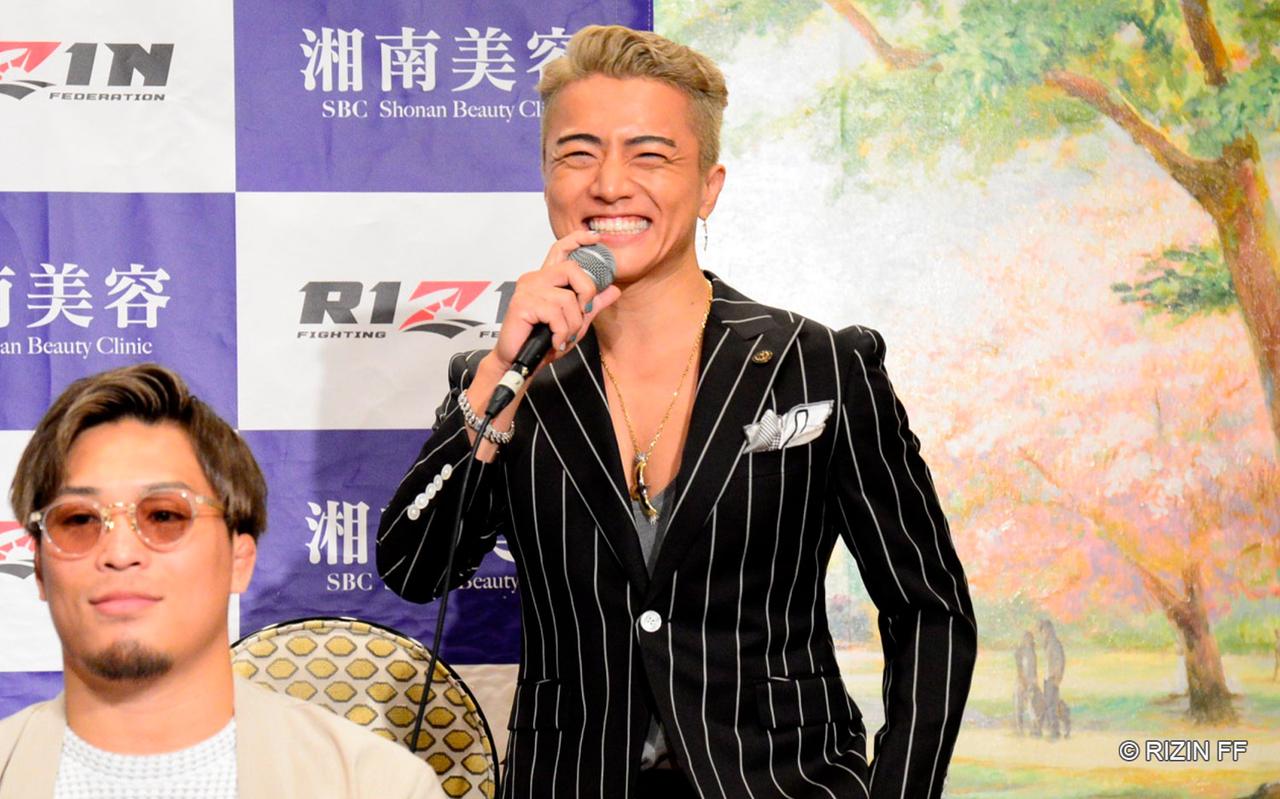 YUSHI
"I'm happy to be able to fight at the Saitama Super Arena again. I want to put on a show from the very beginning of the event. This fight will be a battle between 2 good looking princes."
Haruki
"I will fight YUSHI with full respect. I am aiming to take over his position of being the fancy good looking fighter."
Hideki Sekine
"I've got several offers for this fight before and it's finally happening. Sudario has finished all of his wins but I need to prove that pro wrestlers aren't all about getting finished. Let's bang."
Tsuyoshi Sudario
"My opponent is on a roll and I will take everything he has built in the past few fights."
Kota Miura
"I had to postpone my fight due to injury but I'm happy to be back in RIZIN. I will do everything it takes to get the win."
Felipe Masoni
"I'm happy to finally be fighting in RIZIN. I will use my soccerball kicks to get the win."
Hideo Tokoro
"I'm happy to be competing at the Saitama Super Arena under RIZIN rules once again. I will fight hard for 3 rounds and am determined not to lose against this risin prospect."
Makoto Takahashi
"The theme for this fight is to beat up old timers. This will be a one sided brutal beatdown"
Confirmed Bouts
RIZIN.37 - Saitama Super Arena, July 31st
RENA vs Anastasia Svetkivska [49kg - RIZIN MMA rules]
Kanna Asakura vs Si Woo Park [49kg - RIZIN MMA rules]
Ayaka Hamasaki vs Jessica Aguilar [49kg - RIZIN MMA rules]
Seika Izawa vs Laura Fontoura [49kg - RIZIN MMA rules]
Hideki Sekine vs Tsuyoshi Sudario [120kg - RIZIN MMA rules]
Johnny Case vs Koji Takeda [71kg - RIZIN MMA rules]
Vugar Karamov vs Sora Yamamoto [66kg - RIZIN MMA rules]
Ulka Sasaki vs Yuki Nakahara [66kg - RIZIN MMA rules]
Kota Miura vs Felipe Masoni [66kg - RIZIN MMA special rules]
YUSHI vs HARUKI [62kg - RIZIN MMA special rules]
Naoki Inoue vs Kenta Takizawa [61kg - RIZIN MMA rules]
Yuki Motoya vs Shinobu Ota [61kg - RIZIN MMA rules]
Hideo Tokoro vs Makoto Takahashi [57kg - RIZIN MMA rules]
Marcos Souza vs Daichi Age [80kg - RIZIN MMA rules]
Ryusei vs Kaishi [58kg - RIZIN Kickboxing rules]
RIZIN.37 Doors are expected to open at 12:30PM with the Opening Ceremony at 2:00PM on July 31st (Sun) at the Saitama Super Arena.
Follow RIZIN FF
Website - http://www.rizinff.com/
Facebook - https://www.facebook.com/rizinfightingfederation/
Twitter - @rizin_English
Twitter - @rizin_pr
Instagram – rizin_pr
TikTok – rizinffofficial
English News
【4/1(土)開催】 RIZIN.41 大会関連情報
【4/30(日)開催】 RIZIN LANDMARK 5 in YOYOGI 大会関連情報
【5/6(土)開催】 RIZIN.42 大会関連情報
おすすめコンテンツ