Bellator MMA and RIZIN Fighting Federation will be holding a historical co-promoted event at the end of the Year. As announced previously Bellator Japan will take place on Dcember 29th at the Saitama Super Arena featuring Fedor Emelianenko (38-6-1) vs Quinton "Rampage" Jackson (38-13), along with a 5 vs 5 BELLATOR vs RIZIN concept. Today, RIZIN held a press conference in Tokyo and announced several additional bouts for the Bellator Japan post lims along with the RIZIN.20 card including 2 RIZIN title fights.
The Bellator vs RIZIN cross promotional concept will consist of 5 total bouts, with 3 fights taking place on December 29th Bellator Japan powered by RIZIN event and 2 fights on December 31st RIZIN.20 event.
Nobuyuki Sakakibara announced 3 additional fights for BELLATOR JAPAN post-lims powered by RIZIN event, which includes 2017 RIZIN GP Champion Kanna Asakura (15-4) taking on KOTC Atomweight Champion Jayme Hinshaw (4-3). Japanese Heavyweight prospect Shoma Shibisai (5-2) meeting the big half of the Shemetov brothers Sergei Shemetov (9-6), and for the sole kickboxing bout in the cage, former K-1 star Ren Hiramoto (10-4 Kickboxing) will be facing DEEP Featherweight Champion Takahiro Ashida (23-1-2 MMA).
6 bouts were added to the RIZIN.20 event which includes 2 title fights. Kai Asakura (14-1) will be facing Manel Kape (14-4) for the vacant Bantamweight title, Kai Asakura won their first meeting in a razor thin split decision. Reining Light heavyweight Champion Jiri Prochazka (25-3-1) who is currently riding a 9 fight winning streak will be defending his title against former UFC veteran CB Dollaway (17-9). RIZIN star Rena Kubota (9-3) will be taking on Lindsey Vanzandt (7-2), which is a rematch from their first fight in Bellator. In their first meeting, Vandzandt choked out the Japanese star in the very first round. This time the rematch will be held in the ring, under RIZIN rules. While Japan will witness a new Bantamweight Champion on NYE, the number one title contender will be determined on the same night when former Pancrase Bantamweight Champion Shintaro Ishiwatari (26-7-4) faces TUF season 24runner up Hiromasa Ogikubo (19-4-2). The winner will be guaranteed the next title fight which would be scheduled early next year. Former Judo Olympic gold medalist Satoshi Ishii (22-10-1) will be making his promotional return after 32 months when he faces the always exciting American Jake Heun (14-9) in a 132lb catch weight bout. Russian social media sensation Vitaly Shemetov (23-10) will be making his second appearance with the promotion when he meets newcomer EFC Light heavyweight Champion Simon Biyong (6-1).
Bellator Japan powered by RIZIN will feature 2 parts during the event, the first part being a 5 fight main card which will air live SATURDAY, DEC. 28 AT 10 P.M. ET/9 P.M. CT ON PARAMOUNT NETWORK. And the post-lim fights held in the cage under RIZIN rules.
Fighter Quotes
Shoma Shibisai
"The only thing I am focused on is to make everybody watching think that I am the next Japanese heavyweight star. I will put in my best efforts to put on a great performance and win in an impressive way."
Sergei Shemetov
"RIZIN is a real factory of dreams!!!
Both brothers at the same arena!!!
Ahhhhhhhhhhhhhhhhhh!!!
That's fantastic!!!
What if once to arrange an event involving all brothers (and maybe sisters as well) from diffrent weight divisions.
MMA world knows a lot of prominent brothers: Emelyanenko brothers, Diaz brothers, Asakura brothers, Overeem brothers, Nogueira brothers... and now Shemetov brothers will show their best.
I wish my younger brother Vitalii Shemetov to find finally his love in a New Year.
I wish to all hardworking people in Japan to get a lot of happiness in New Year!
Trully to say I feel myself as big red man from a snowy cold land, like a Santa.
It is NEW YEAR EVE! It is Japan! It is RIZIIIIIIIN!
We believe in miracles! And you?"
Ren Hiramoto
"My name is Ren Hiramoto from K-1. This will be my first time in RIZIN. I'm grateful to my opponent that he will be fighting me under kickboxing rules. Ashida said he will knock me out so I will like to do the same to him."
Takahiro Ashida
"This will be my first fight in RIZIN. I will be fighting under kickboxing rules. My opponent was missing for almost 2 years and finally he shows up and has turned into a punk. I would like to use my striking to knock him out."
Kanna Asakura
"I'm very excited to be fighting in the cage. My opponent is a current Champion so I hope to take on this tough challenge and overcome my boundaries. I would like to get myself back on track to go after that title once again."
Jayme Hinshaw
"Kanna Asakura is a young fighter with a lot of experience . She can do it all - strike , wrestle , jitz and puts it together well . Although Kanna is a very good mixed martial artist I intend to win this fight . I am from New Mexico where fighting is a way of life !"
Vitaly Shemetov
"I was so happy to get news that my elder brother Sergei Shemetov will participate in Rizin-Bellator event on 29th Dec.
I thought that it is a real New Year present from RIZIN for red Shemetov brothers from Siberia.
But afterwards RIZIN gave me next present!!!
I AM ALSO INVOLVED IN RIZIN20!!!
I GOOOOOO!!!
Gambatte Kudasaiiii!!!
Detekoya!!!
RIZIN is like a Santa Klaus, it makes New Year presents!!!
Presnets for warriors and for audience!!!
Or maybe red brothers from Siberia will be RIZIN red Santa Klauses? =)
Anyway traditionally we will bring gifts from snowy Siberia.
We want to bring some real snow and ice from Siberia, but there is a problem, it will melt in airplane, it is not good to seat in airplane with wet pockets, so maybe we need to buy some small fridge and put ice and snow there. Hmmm... but how to explain it to customs?
Anyway snow from homeland will bring us power!!!
Rizin, Japan... you make me to believe in miracles.
But there is one more mirracle that I am still believing...
I believe that one day Akiko will suddenly come to arena...
she will see my warrior's wounds...
she will realize that I was fighting for her love...
all my warrior way in Japan was dedicated to her...
Dear all, struggle and fight for your love whatever obstacles you face on your way."
Simon Biyong
"I am honoured to be fighting for RIZIN, in one of the biggest events of the year. RIZIN FF is the future of MMA in Asia, I am happy to compete in RIZIN as the level is of the highest quality and I will be able to confront myself with top athletes to keep growing as an individual. Fighting in this organization for me is a dream come true. There are not many fighters in Europe who have the luck to exhibit their skills on this platform. The RIZIN ring I'll be fighting in has hosted the great names of Fedor Emilianenko and Floyd Mayweather, being able to be a part of the same show they were a part of is an immense honour."
Jake Heun
"Rizin's NYE card is the dream for anyone who knows fighting. My opponent is an Olympic gold medalist and will show up to fight. I'm excited to meet him in the middle of the ring on New Year's, at Saitama Super Arena. Living the dream"
Satoshi Ishii
"I am grateful from the bottom of my heart to once again be competing at the end of the year. The Japanese fans are so passionate it's almost too much."
Lindsey Vanzandt
"I've always wanted to go to Japan, but being able to fight in Japan is a dream.
I have all the respect in the world for everyone I fight, but I hope Rena knows what she asked for... the only difference between our fight at Madison Square Garden and the one happening on New Year's Eve will be the audience who get to watch me get my hand raised."
Rena Kubota
"The first fight I feel like I didn't even show 10% of what can really do. This time I will promise to show 100%. I will make Lindsey feel that she is fighting a totally different fighter."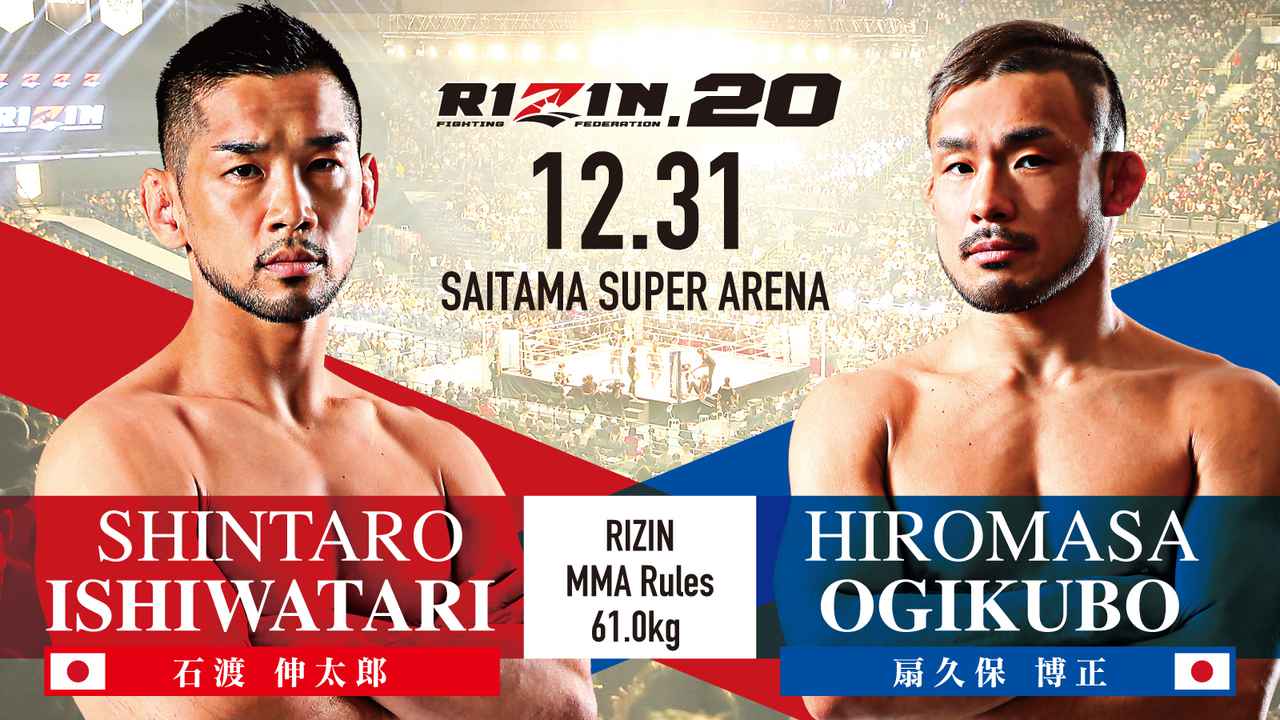 Shintaro Ishiwatari
"I am not happy with the fact Manel Kape got the title fight and not me. My opponent is very tough and he will not be easy to take out. But I will take all my emotions and frustrations of my current situation and put it out on my opponent. I will win and I will be the next in line for the title."
Hiromasa Ogikubo
"I would like to put on a fight that will remain in the books and in people's memories."
Jiri Prochazka
"I'm really looking forward for this Fight, because I want to defend my title. CB is very good technical opponent, and this will be challenge for me to handle this Fight clearly and uncompromising."
C.B. Dollaway
"I am honored to be fighting for the RIZIN and I am grateful to be given such an incredible opportunity to be fighting for their Light Heavyweight Title. My dream ever since I got into Mixed Martial Arts was to fight in Japan and to become a champion in a major organization. I am living my dream right now and I won't be denied come New Years Eve. I really like the match up. I have been training with one of the best Light Heavyweights in the world and current Bellator champion Ryan Bader. I am prepared to put on a great show the Japanese people and the world. December 31st I will be the new RIZIN world champion."
Kai Asakura
"I am very disappointed that I don't get to face Horiguchi on NYE. But I hope he recovers well and we can fight at his best condition. Kape has been running his mouth for a while so I hope to hit him in the face and shut him up. I will knock him out on NYE and become the new Bantamweight Champion and lead the division for RIZIN."
Manel Kape
"This is my time. This title fight was booked for me not Asakura, I don't care what he says, I will beat him. I beat him in the first fight and he knows it. He has been running from me all this time because he doesn't want a rematch with me. I don't care if he beat Horiguchi, I can beat all of these guys sitting here at the table in one night. I will prove that I am the Champion."
Confirmed fights
December 29th 2019
Bellator Japan – Unified MMA rules
Main card -
Fedor Emelianenko vs Quinton "Rampage" Jackson
Michael Chandler vs Benson Henderson
Lorenz Larkin vs Keita Nakamura [Bellator vs RIZIN]
Ilara Joanne vs Kana Watanabe [Bellator vs RIZIN]
Goiti Yamauchi vs Daron Cruickshank [Bellator vs RIZIN]
Bellator Japan Post-lim powered by RIZIN – RIZIN MMA rules
Andy Nguyen vs Ai Shimizu
Ryuichiro Sumimura vs Jon Tuck
Haruo Ochi vs Jarred Brooks
Yusuke Yachi vs Hiroto Uesako
Kanna Asakura vs Jayme Hinshaw
Shoma Shibisai vs Sergei Shemetov
Rena Hiramoto vs Takahiro Ashida [Kickboxing rules]
December 31st 2019
RIZIN.20
Kai Asakura vs Manel Kape [Title fight]
Jiri Prochazka vs C.B. Dollaway [Title fight]
Ayaka Hamasaki vs Seo Hee Ham [Title fight]
Johnny Case vs Tofiq Musaev [GP semifinals]
Patricky "Pitbull" Freire vs Luiz Gustavo [GP semifinals]
Yuki Motoya vs Patrick Mix [Bellator vs RIZIN]
Mikuru Asakura vs John Macapa [Bellator vs RIZIN]
Vitaly Shemetov vs Simon Biyong
Jake Heun vs Satoshi Ishii
Lindsey Vanzandt vs Rena Kubota
Shintaro Ishiwatari vs Hiromasa Ogikubo
Winner of Case x Musaev vs Winner of Pitbull x Gustavo [Lightweight GP final]
Bellator Japan powered by RIZIN
Doors open at 10:30AM event starts at 12:00PM on Sunday December 29th at the Saitama Super Arena. International tickets can be purchased at www.stubhub.com. Main card will air live SATURDAY, DEC. 28 AT 10 P.M. ET/9 P.M. CT ON PARAMOUNT NETWORK.
RIZIN.20
Doors open at 1:00PM and opening ceremony starts at 3:00PM on Tuesday December 31st 2019 at the Saitama Super Arena. International tickets can be purchased at www.stubhub.com. Event will air LIVE on FITE.TV.
Follow RIZIN FF
Follow Bellator MMA